Best IB Home Tutors To Score 7 Points In The IB Exams!
Tutor City has a pool of experienced pool of IB-trained teachers who offer personalised tutoring services for all subjects in the International Baccalaureate curriculum. Our tutors provide online lessons, 1-to-1 physical tuition and small group tuition as well. They are dedicated and passionate in what they do, making sure that every lesson will be effective for your child.

How much is IB tuition in Singapore?


The average hourly fees for IB tuition ranges from $50 per hour to $150 per hour, depending on the tutor's credentials, experience and the level to teach.
Tuition Rates
Per Hour

IB students in Uni 1

Graduates / Fulltime tutors 2

IB School Teachers

IB / IGCSE Year 7-10

$40 - $50

$60 - $70

$80 - $90

IB Year 1 / Grade 11

$50 - $70

$70 - $90

$90 - $140

IB Year 2 / Grade 12

$60 - $70

$80 - $100

$100 - $150
1. IB students who graduated with an IB Diploma and in University.
2. Includes graduates from A-level track but has been tutoring IB students for extended period of time.

IB vs A levels: What is IB?

The International Baccalaureate (IB) is an integrated program found in many countries worldwide that is catered for students studying in international schools. Unlike the standard Singapore education system, IB curriculum is structured in a way not only focusing on academic study, but also on cultivating good habits for life and understanding the cultural difference in the world. Read also: Choosing between IB and A level: 5 key differences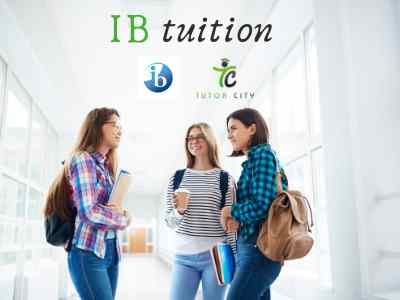 Looking for a private IB home tutor? Make A Request Now!
As the International Baccalaureate Singapore programme has a different course from the MOE O and A level system, many students struggle to cope with the IB curriculum on their own. The rigorous nature of IB in Singapore over the last decade means competition for places in top IB schools is extremely keen, and students have to up their performance to distinguish themselves from their peers.

IB offers programme to students ranging from 3 years to 19 years of age. It is categorized into three different programmes namely the Primary Years Programme (PYP), Middle Years Programme (MYP) and Diploma Programme (DP).

Benefits A Student Can Gain from IB Program

It's not for nothing why many Singaporean students enrolled in IB programs end up as top achievers and pioneers in their chosen fields. International schools in Singapore, simply put, go all the way in adhering to the core tenets of international baccalaureate education.

If you're not already aware of them, simply regard the nature of IB education as a whole, and it won't take long to pinpoint just what makes it different. It fosters and nurtures not only your academic prowess but other areas commonly ignored in most schools as well. That is where the innate challenge of IB programs lie, too, as it essentially means more burdens for the students to bear.

With that said, that is probably why a lot of parents and students tend to have second thoughts as to whether they'll choose IB programs over other paths to learning. To truly appreciate IB education, you need to take the time to learn how it will benefit you in this rapidly changing world.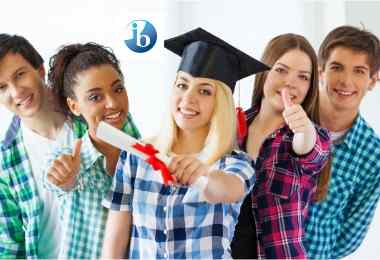 IB students learn in a more holistic way
And in today's globalised landscape, holistic directly translates to a better, more well-rounded education. After all, what could be a better fit with a global world than a global school? This serves as the most important benefit that students can gain from IB programs in this regard. If your child is conditioned from the outset by his school that there is more to learning than academics, he can avoid other vital aspects of his character from becoming stunted.

This, in turn, tends to make him more capable of handling real-world problems and quickly adapt to the evolving conditions of his chosen career. In short, IB programs acknowledge the inherent problems of "conventional" education, as evidenced by graduates failing to find work or a career path that is best suited to them. In the process, they seamlessly address these issues by offering more comprehensive learning opportunities to qualified students.

What does being "holistic" mean exactly?

It only means concentrating on the student's emotional, intellectual, and social development. This encourages students to think more independently, develop an awareness of other cultures, societal issues, and an appreciation for other languages (though this is arguably just the tip of the iceberg). The intellectual aspect, on the other hand, could not be more apparent in the fact that IB students often perform superiorly better in academics.

Most international schools have prestige readily attached to their names for a good reason. In Singapore, you need not look further than the schools whose students consistently top global IB exams like perennial front runner ACS Independent school, along with Hwa Chong International School and St. Joseph's Institution, among others.

The IB program, as a result, also undoubtedly serves as one of the prime drivers of the first-rate education that the country is known for. Considering the thoroughly high standards of education in the country, it won't be farfetched to say that it's almost a perfect marriage. If you want to lay a solid foundation for your child's continuous education in Singapore, there's almost no other choice that can rival the quality of IB programs, considering it extends beyond just focusing on academics.

IB students develops innovative thinking and gains easy access to effective technological applications in the classroom
Since IB education also has creative thinking as one of its main tenets, it's no surprise that schools that offer them are also the ones who are more open to using technology. International schools in Singapore like Nexus International and GEMS World Academy are but some top-notch examples of schools that eagerly utilise and hone technology to make the most of what it can offer to a classroom setting. And they're just getting started.

The fact that the said schools encourage their students to be more open to exercising innovative thinking only ensures that the continued evolution of education is nothing less than a certainty. The trajectory of technology, as is already apparent, is also already globalised in nature. The applications of robotics, artificial intelligence, machine learning, IoT, VR/AR, to cite a few, do well to highlight this. This is a crucial fact that pretty much underlines the synergistic relationship of technology and IB programs. That more and more international schools in Singapore are weaving technology to improve the average educational setting only drives the point further.

It actively encourages students to make the world a better place.

This may sound too idealistic to some, but one simply can't deny the utter value of educational institutions that encourage this thinking among their students. Since IB programs prepare you to handle real-world issues, you get to have the emotional, intellectual, and social tools needed to address them.

A lot of us want to change the world for the better, but unfortunately, you have the gain the needed edge to really make an impact. IB education basically lays this opportunity on your hands. And in a world that is facing pressing problems like climate change, there is certainly a greater need for innovative, results-driven individuals who not only possess the competency but also the compassion needed to make lasting, positive impacts that will resonate in the generations to come.

IB education, more or less, actively contributes to this, as evidenced by the way they structure their curriculums - and not a lot of educational institutions can say the same.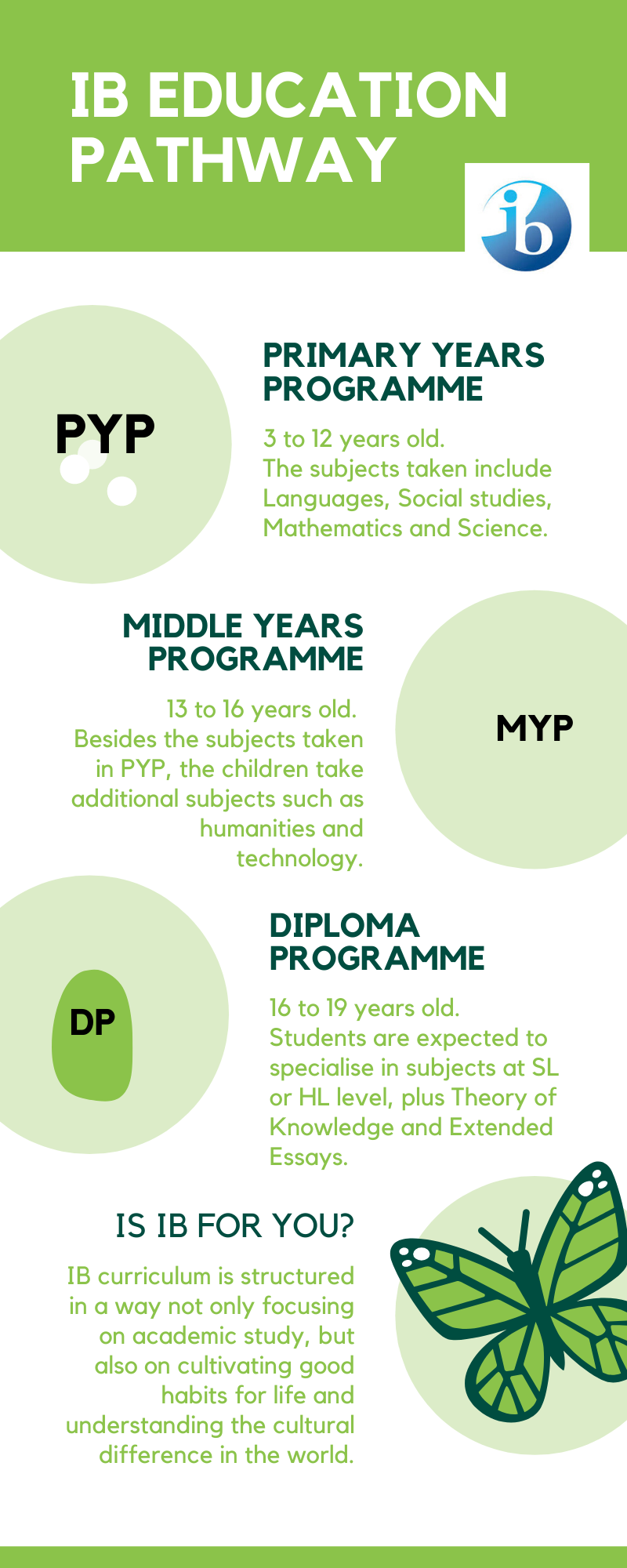 Learn more about IB education here
Making an all-rounder IB student

As you can see, IB programs' benefits go beyond just opening up the doors of the world's best universities and educational institutions to you. Rather, they really go all the way in honing your potential. You become sound in pretty much every essential aspect of your being while possessing the insights needed to truly know your role and place in the world.

Obviously, any consummate student will want to get the most out of his education, and more often than not, very few get the privilege to acquire what can be deemed as truly exceptional schooling. This is why if you have the chance to be included in the best educational programs you can get into, don't let it slip your grasp.

Use every resource at your disposal to smoothly earn your IB diploma. It just so happens that IB home tutors are one of the best options you have at present. Who knows? They may just pave the way to your graduation and continued educational development. Without a doubt, a lot of people who have since graduated from the IB course and have attained successful careers can attest to this.

IB Home Tuition Singapore and its benefits

1. Qualified IB Tutors: Our IB home tutors studied in international schools or teaching in IB schools before, some are still currently teaching there. Thus they are extremely familiar with the syllabus and exam formats.

2. Overcoming shyness: In a 1-to-1 setting, students are less shy about asking questions to an IB tutor as compared to a classroom environment where they fear being ridiculed by their peers.

3. Resources: Our IB home tutors share tips on how to solve questions in the easiest way and provide notes from their own studies.

4. Flexible timings: You can set the days and time according to your child's schedule. IB students have hectic school timetable and often have to find pockets of time to have tuition and IB home tutors usually can cater to it.

5. Personalised diagnostics: A good IB tuition teacher can identify obstacles and provide a customised lesson plan to tackle problem topics, something that cannot be done in a classroom or tuition centre.

IB Tuition trends in Singapore. Engage one for your child. Call 90672547 or online
Finding the best IB Tutor in Singapore with Tutor City

Tutor City is Singapore's premier tuition agency providing IB educators in all subject areas for International School students taking the IB syllabus. We aim to provide the best supplementary education to students in international schools and those intending to go on to higher education programmes in renowned universities.

The early years between 3 to 12 years old is the most critical period and it is imperative that students develop a solid foundation of the IB program. At the Middle Years Program MYP, your child need to learn topics in philosophy and technology which are unique to the IB syllabus. Upon reaching the IB diploma stage, students need to handle complex subjects such as Theory of Knowledge which require research and field work. This need for 1-to-1 IB home tuition increases as they climb up the IB ladder.

Our IB home tutors (International Baccalaureate) are highly qualified specialists in their respective fields of study. Most of them had achieved exceptional results in their academics, winning awards, competitions and scholarships along the way. Many of our IB tutors have also gone through the IB syllabus which is an added advantage as they are familiar with the IB curriculum and be able to aid your child to excel and outperform his/her peers in school. The education path is long and arduous.

With the help of our IB tutors, we are confident that the learning journey in the IB program will be a fruitful and fulfilling one. We are determined to provide the best tutoring services to help your child excel in their studies at all levels.
Tutor City - the No. 1 IB Home Tuition Agency

What is the IB Program pros and cons? The IB program primary objective is to develop international students' horizon to be wide and varied. It is demanding becuase IB students are expected to think out of the box, conduct extensive research work, undertake a 2nd language and write compelling essays.

To do well in these IB subject choices, it is an uphill task for most students but with the right private IB home tuition, they can access proper guidance to cross these learning obstacles. Our IB tuition singapore agency has qualified tutors for all ages 3 to 19 which students can benefit from, as they go through the varying aspects of the challenging syllabus. There are also students who sit for the exam as an IB diploma private candidate, who need even more help as they have no guidance from school teachers in IB schools in Singapore.

If you are looking for the best IB tuition agency in Singapore that has the top-notch customer servicing, quality tuition teachers and reasonable IB tuition rates, then you have just found it! We have made it our utmost cause to help eager parents to find their perfect IB home tutor.

With our easy-to-use request a tutor form, getting a tutor is quick and direct. We are also a phone call or SMS/whatsapp message away.
Are you ready to get a private IB home tutor for your child? Fill in the online form now!
List of International (IB) Schools in Singapore
1. Anglo-Chinese School (Independent)
2. Anglo-Chinese International School
3. Dulwich College
4. Canadian International School
5. NPS International School
6. SJI International School
7. Singapore American School
8. Stamford American International School
9. Hwa Chong International School
10. ISS International School
11. Nexus International School
12. North London Collegiate School Singapore
13 HWA International School
14. Chatsworth International School
15. Australian International School
16. Overseas Family School
17. United World College of South East Asia
18. Australian international school
19. Tanglin Trust School
20. EtonHouse International School
21. One World International school
22. Dover Court International School
23. Global Indian International school
24. Westbourne College Singapore
25. German European School
26. Emaar International School (EIS)
27. XCL World Academy
28. Gems World Academy
For a detailed description and subject offerings by each school, you can go to our international IB schools page here.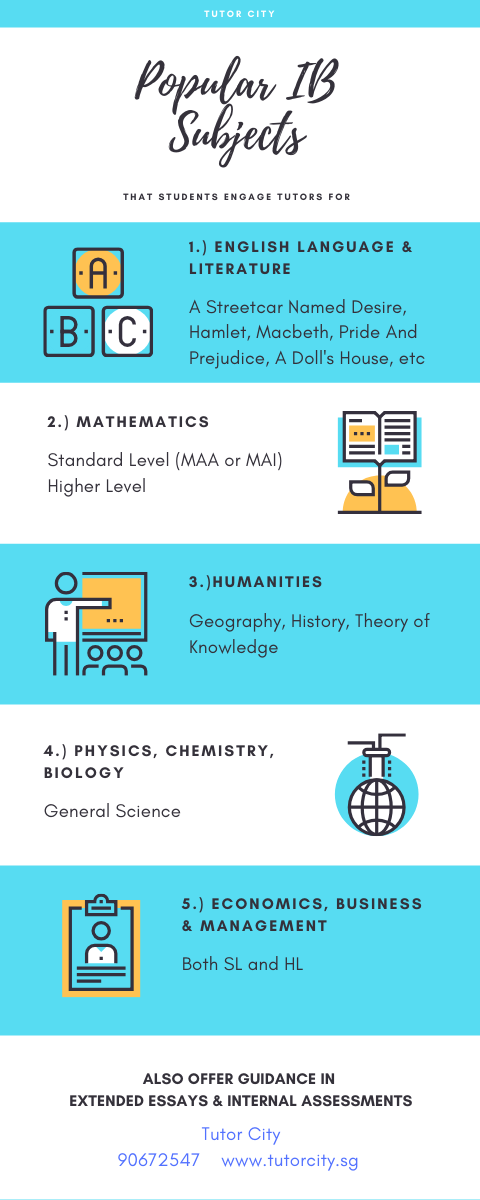 IB subjects: English Language & English Literature, Chinese, Malay, Tamil, Mathematics, Mathematical Studies, Physics, Chemistry, Biology, Business & Management, Economics, Extended Essay, Environmental Systems, Design Technology, Geography, History, Religious Knowledge, Music, Visual Arts,Theatre, Drama, Art & Design
Read also:
Learn how to score a 7 for IB Maths SL/HL
7 interesting facts about IB Psychology
8 Ways to score 7 points for IB Chemistry SL/HL
Top tips on how to score a 7 for IB Economics IA