Finding Tuition Assignments
Getting tutoring jobs or tuition assignments in Singapore is made easier with our simple online matching system.

Tutor City Tuition Agency is the leading agency for home tutors of all occupational types; you can give tuition as a freelance tutor, a fulltime tutor or you may be an MOE teacher looking for a side income.
Be it teaching for interest or earning an extra income, our agency can help you achieve your objectives efficiently by referring a steady stream of students to you.

There is no need to hunt for students in marketplaces or forums, just complete our online tutor registration form where you specify the subjects to teach and the locations – North, Northeast, West, Northwest, East, Central, South or anywhere, and we will start notifying you of teaching gigs that meets your criterias.
How do I become a tutor in Singapore?

Steps to be a private tutor:
Complete your education with minimum A-levels, Diploma or Degree.
Gain some experience by teaching during your studies or after work.
Build up your arsenal of teaching materials e.g. worksheets, exampapers, notes.
Attend short courses to boost your credentials, such as communication skills or teaching certs.

Advertise your services on forums, marketplaces, tuition agencies or private schools.
"Step-By-Step Process on how to be a tutor with Tutor City"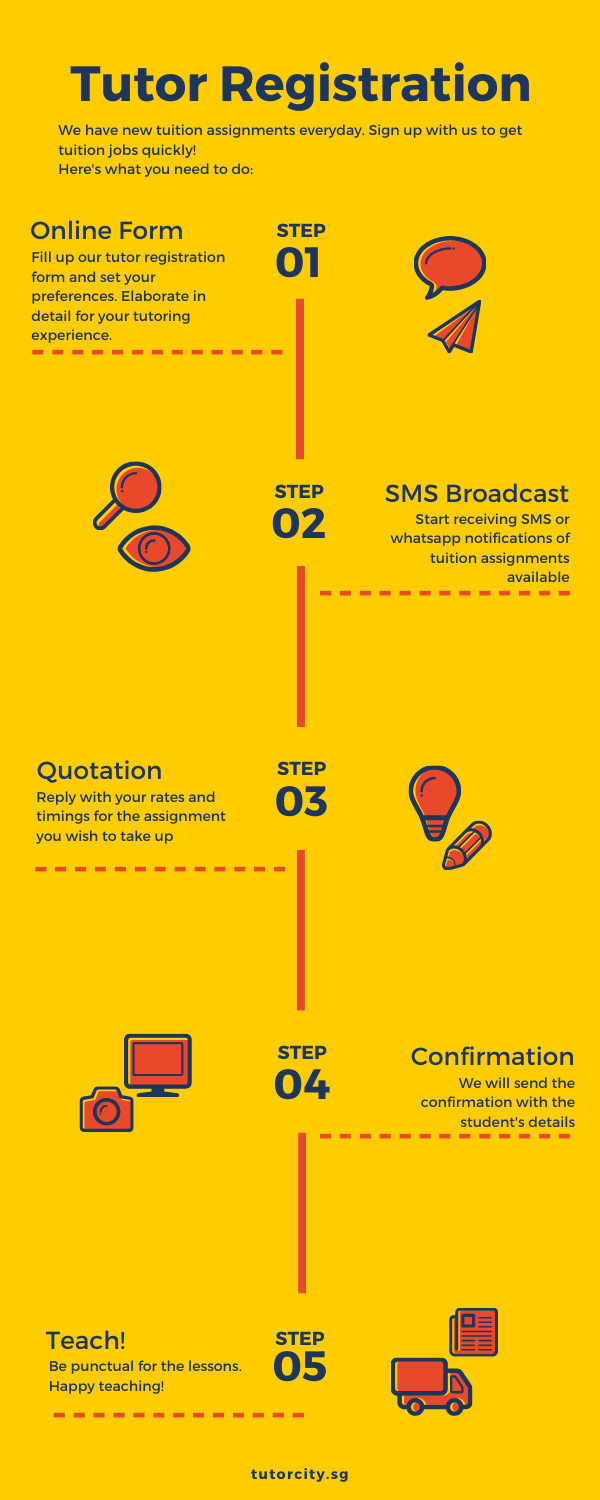 Can I make a living as a tutor?

Yes you can! Let's do the maths. For an average median rate of $30 per hour and say you have 3 students everyday for 2 hours each, that means a total of 6 hours x $30 = $180. If you work 24 days per calendar month, you will earn $4320 monthly.

At higher levels (e.g. A level / O level) or experienced ex-teachers, the rates go even higher. It is not surprising to hear of monthly incomes of $15,000 to $25,000 for some top-earners in Singapore.

Check the latest market rates for private tuition here.
Is there a market for tuition assignment in Singapore?

Definitely!

Our Singapore education system is demanding and competitive in nature, parents are constantly on the lookout for tuition centres and private tutors to help their child gain an edge over their peers.

There are many types of Singapore tutoring jobs, common ones like English, Maths, Chinese, Science tuition assignments for Primary, Secondary and JC tutor jobs.

Our parents have requests for group tuition, face-to-face tuition, online tuition so no matter which type you prefer, we will have suitable tuition jobs for you.

Good Singapore tutors are always being sought after to fill these tutoring positions.
How do I teach tuition?

Steps to give private tuition:
You have to be mentally prepared to invest time and effort to preparing materials
Read up ahead of the topic
Mark student's assessments, worksheets, test papers
Provide personalised teaching to your students.
An excellent home tutor not only coaches, but also build and motivate the student to take an interest in the subject as well.

Whether you are a part-time tutor or full-time tutor, all parents have expectations that you must be dedicated to helping their child improve, even if you are taking up as a part-time tuition job or tuition assignments for teachers.

Parents are paying tuition fees which are also their hard-earned money because they want good home tutors who will make a difference to their children's academic performance.
I am a school teacher, can I join you?

Yes, of course!

School teachers are highly sought-after for their wealth of classroom teaching experience and up-to-date knowledge of the latest MOE syllabus, you can command a premium tuition fee for these reasons alone. There are many school teachers we know who made the move to full-time private tuition after leaving the school.

Private full-time tutors has its flexibility in timings and lesser stress from the administrative workload which are attractive to school teachers, on top of the high hourly rate which amounts to a better income compared to a fixed salary.
How do I get a tutoring job with no experience?

You are most welcome to join us as a tutor even if you don't have any tutoring experience. As long as you have strong interest in educating the young and display a good aptitude in teaching, parents can appreciate your efforts.

How do I start tutoring in Singapore?

There are many tuition centres, student care centres, private schools, universities and tuition agencies who are always looking for tutors. You can start your tutoring career by joining any one of them. Of course, the easiest way to get tutoring jobs is to join agencies like Tutor City.

You can complete the online register as tutor form at the top of this page. Remember to be as specific as possible and elaborate in detail your tutoring biodata in the 'Experience' summary field, as well as the subjects you teach. It is also recommended that you upload a profile picture as parents like to see what their potential tutor looks like. You can focus on your specialising subject or provide multiple subject tutoring if you are comfortable with it.

After you have registered as a tutor with our tuition agency, we will start broadcasting new tuition assignments via SMS, whatsapp or email. Our message include the tutee's level, subject, location, tuition rate, days and time available etc and any other special requirements which the student asks for.

We have new tutoring jobs every day that covers tuition assignments north, tuition assignments east, tuition assignments west, tuition assignments northeast, tuition assignments central, and other areas as well.
How else can I find tuition assignments in Singapore?
If you are a person who possesses a certain skill or knowledge and has a talent for teaching you might want to try to find some tuition jobs in order to make some extra cash in your free time.

Singapore has a reputation for excellence in education, which means that private tutors with relevant qualifications and vast work experience are always in demand.
But even if you have not been in the teaching profession for decades do not despair!
You can still compete by offering uniquely engaging lessons and competitive tuition prices. In addition, if you have never offered your services to private students before do not be intimidated.

There are numerous ways in which you can enter the world of private tutoring, gain tuition assignments and plump up your bank account. This article will hopefully shed some light on the steps you need to take in order to start your career as a tutor in Singapore.
1. Finding tuition assignments online is the easiest way.
Indeed, since the advent of the internet this is basically the only way for a potential tutor to get hold of some tutoring jobs. All you need to do is type "tuition assignments in Singapore" into the search engine and your screen will be teeming with rows upon rows of various tuition agency websites, offering their services as intermediaries between you and your prospective students.
Make sure you put your time into research, read the small print and pick the ones that seem right for you. Some agencies have websites as well as Android and IOS applications.

Once you decide on the agency you'd like to partner with make sure to download their app as well, in order to make sure you don't miss any of the latest tuition assignments.
2. Registering on the tuition assignment agency's website.
The registration process has some minor differences depending on the agency you choose to go with.
But in general vast majority of them will ask you to create a profile and provide some relevant information so that you are able to participate in the selection process. The profile will require you to enter your email (I assume you already have one of those, or at least know how to create one) and make up a password.

They may also require that you upload a profile picture (try to choose the one where you look professional; holiday pics from tropical islands may be inappropriate). You may also be asked to write a few words about yourself. Use your space wisely, and try to make a good first impression.
Then you have to fill in a form. This may slightly differ from one agency to another. Overall you must provide information about your education and qualifications to assure the agency that you are qualified to teach the subject you have chosen to teach.
In addition, you will also have to indicate the locations where you are willing to teach (if you are providing home tutoring services). You have to indicate the regions that you are willing to travel to: East, West, Central, North, Northeast, South, Northwest etc.

And, last but not least, there is the matter of your schedule. There is a high probability you will be asked to indicate when exactly are you available to provide your services.
As well as this you might be asked to write a short personal statement, or a motivation letter as it is otherwise known, which will demonstrate why you have decided to embark on this journey of becoming a professional tutor.

After you have filled in all the necessary empty spaces and submitter your application it is up to the agency to activate your account (provided you satisfy their standards).
3. Online, or not online, that is the question.
Before you register with an agency that will provide you with tuition assignments it is important to decide how you are going to deliver your lessons.

Are you planning to engage in home tuition (this means receiving students at your home or going to their house to conduct the lesson), or will you be offering your services online? Some agencies may only be willing to provide one or the other, so make sure to read their terms and conditions before you sign up.
4. Finding tuition assignments comes at a price.
It goes without saying that tuition agencies charge certain fees for the services they provide. That's yet another thing you'd better read up on in advance. Some agencies may charge a one-time commission of 50 % of the fees you earn for the one-month course you teach.

But, don't be discouraged by the seemingly high percentage. Good tutors manage to retain a student for several months, several years even, so it is worth the initial investment.
5. Word of mouth promotion.
If you manage to impress your students, and even more importantly, if you manage to impress their parents, they will certainly share this information with their friends.

This may result in a few more students seeking to attain your tuition gig services. So make sure to approach your work with diligence and the good reputation that comes with it will help your tutoring business gain momentum.
6. Social media presence may help.
You don't always have to be dependent on the agency to find you new students. Try to market yourself on social media. Create a page on a popular social networking site where you can upload some demo lessons.

If anyone expresses interest in your services you may offer them a short trial class (this may be done online. So, one well-prepared 20-minute lesson may get you a new student).
In the end, if you have decent qualifications, some free time and an internet enabled device I don't see any reason why you can't try your hand at tutoring and find tuition assignments in Singapore.

All tutors can do with a bit of extra income and with modern technology permeating every single aspect of our existence nowadays, it has never been easier to get it.