What is the Tuition Rate in Singapore?
In general, the tutoring rates in Singapore are $25 to $70 per hour for primary level, $30 to $90 per hour for secondary level, and $40 to $130 per hour for JC or IB levels. School teachers command the highest fees due to their training in NIE (National Institute of Education) or other forms of educational certifications.

Tuition Rates
Per Hour

Part-Time
tutors 1

Full-Time
tutors

Ex/Current
Teachers

Pre-School

$20 - $25

$30 - $40

$40 - $50

Primary / PYP

$25 - $30

$35 - $50

$55 - $70

Secondary / MYP

$30 - $40

$45 - $60

$70 - $90

JC / IB DP

$40 - $60

$60 - $80

$90 - $130

Degree & Diploma

$50 - $60

$60 - $80

$90 - $120

Music / Piano 2

$30 - $40

$50 - $60

$60 - $70

Adult Language 3

$40 - $50

$50 - $60

$70 - $80
1. Includes students in polytechnics, universities and graduates tutoring part-time.
2. Either 45 min or 1 hour lessons. See our music page for details.
3. Language proficiency range from basic to advanced so rates will be quoted upon knowing each learner's needs.
4. For Special Needs education, rates are higher due to specific training and certifications which tutors need to have.
Tuition Rates For Different Levels
As we turn the page onto 2023, the tuition industry in Singapore has seen a new beginning, where online tuition is becoming more of a norm from the global coronavirus outbreak. Home-based learning became compulsory during the circuit breaker, and tutors and students have to adjust to a new set of studying habits.

What we all agree is that learning have to continue, be it online or physical tuition. Tuition in Singapore can be expensive, and although affordable tutoring services via online is available for those with tight budgets, the rates still depends on the tutor's credentials and track records.

Let's look at some of the rates for the various levels.

1. Preschool Tuition Rates
2. Primary School Tuition Rates
3. Secondary School Tuition Rates
4. JC Tuition Rates
5. IB Tuition Rates

1. Preschool Tuition Rates

Parents have been engaging preschool teachers to prepare their children for Primary 1, some start from 3 years old! Yes, its that young!

The preschool tutor would be teaching from storybooks, music, games to build up the interest and knowledge for English Phonics, Mandarin Oral skills and Mathematical abilities. It is not an easy job to handle young children, thus rates have been up to a respectable level these years.

Preschool Tuition Rate Table

| | |
| --- | --- |
| Tutor Type | Hourly |
| Part-Time Tutors | $20 - $25 |
| Full-Time tutors | $30 - $40 |
| Preschool Teacher | $40 - $50 |

2. Primary School Tuition Rates



This is where the rates start to increase as the child progresses on to PSLE, one of the most competitive exam in the world. PSLE tutors have to grapple with the uber-difficult Mathematics, along with English, Science and Mother Tongue.

Primary School Tuition Rate Table

| | |
| --- | --- |
| Tutor Type | Hourly |
| Part-Time Tutors | $25 - $30 |
| Full-Time tutor | $35 - $50 |
| School Teachers | $55 - $70 |

3. Secondary School Tuition Rates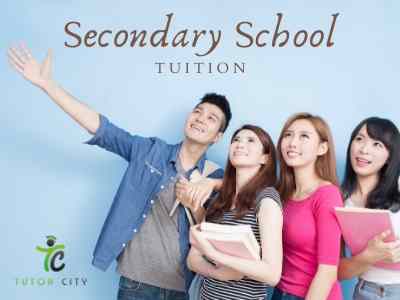 The next stage of a Singapore student is preparing for the GCE O-level or N-level exams, or for IP track students, the Year 1 to 4. Will your child be aiming for Polytechnic, Junior College or ITE? Seeking a good Secondary school tutor can help your child immensely.

Secondary School Tuition Rate Table

| | |
| --- | --- |
| Tutor Type | Hourly |
| Part-time Tutors | $30 - $40 |
| Full-time Tutors | $45 - $60 |
| School Teachers | $70 - $90 |

4. JC Tuition Rates



The GCE A-Levels requires deep critical thinking and advanced content to be digested, all in the span of 2 years! JC tutors need to be extremely knowledgeable in the subject they are teaching and they usually specialise in 1 or 2 subjects.

JC Tuition Rate Table

| | |
| --- | --- |
| Tutor Type | Hourly |
| Part-time Tutors | $40 - $60 |
| Full-time Tutors | $60 - $80 |
| JC Teachers | $90 - $130 |

5. IB Tuition Rates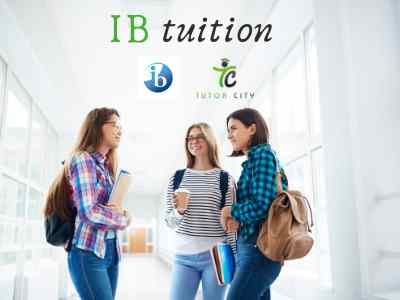 The International Baccalaureate is a holistic education that emphasizes on building character and imbues worldly knowledge into each student. Content subjects like Theory of Knowledge, Business & Management, volunteer activities are unique to IB education.

IB Tutors command a premium as the supply and demand of certified IB educators is often imbalanced, where the demand often exceeds supply.

IB Tuition Rate Table

| | |
| --- | --- |
| Tutor Type | Hourly |
| Part-time Tutors | $40 - $60 |
| Full-time Tutors | $60 - $80 |
| IB Teachers | $90 - $130 |
Affordable Tutoring Options for Low-income Families
There are other low-cost tutoring services for families who find the above rates to be too high. The Collaborative Tuition Programme (CTP) was started in 2002 and organized by the several self-help groups. The objective is to offer students from the different communities to gain access to affordable tuition classes.

Here is a list of them:

1. CDAC (Chinese Development Assistance Council)
Website: https://www.cdac.org.sg/developing-students/tuition-programme
- 50 locations islandwide
- Fees depend on income level. K1 to Primary is $80 per subject per month, Secondary is $120 per subject per month

2. Yayasan Mendaki
Website: https://www.mendaki.org.sg/tuition/
- 50 locations islandwide
- Fees range from $97 - $349 depending on levels and number of subjects

3. SINDA (Singapore Indian Development Association)
Website: https://www.sinda.org.sg/services/education
- Extensive range of programmes targeting Primary, Secondary, Tertiary students. Also has a scholarship.
What are the types of home tutors?

Our tutors are categorized according to their qualifications and experience listed below. Tutor City does not set the tuition rate as tutors are freelance workers and specifiy their own hourly rate for home tuition. The tuition rates singapore shown below are based on averages according to the asking rates we receive daily from tutors applying for our assignments.

Generally, there are 4 categories of home tutors in the Singapore market today, each with their own set of tuition rates, which also depends on the level and distance travelled.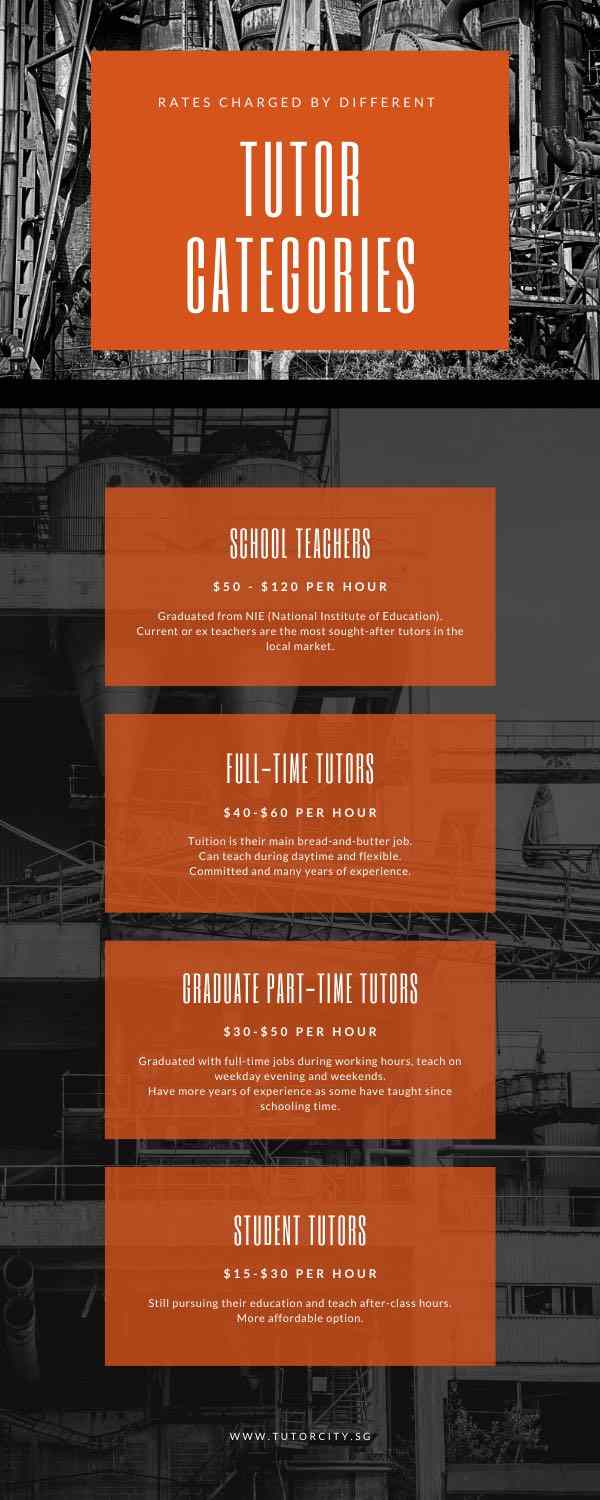 1. Polytechnic/JC/Undergraduate student tutors
As they are termed, student tutors are students who are still pursuing their education and therefore are able to relate to the academic stress and conditions your child is facing now since they are undergoing or had undergone the latest curriculum in their respective schools.
Student tutors are most cost effective due to their lower tuition prices and their schedule is very flexible as it depends on their own study timetable.

2. Part-time Tutors
Part-time tutors have full-time jobs during normal working hours, hence they are mostly available for tuition on evening and weekends. Part-time tutors are generally mature in age and will be able to share real-life working experience with the child. As part-time tutors have graduated and possess a certain level of tutoring experience, they command a slightly higher tutoring rates per hour depending on the number of years they have been tutoring and the type of qualification.

3. Full-Time Tutors
Full-time tutors provide tuition as their main bread-and-butter job, thus full-time tutors are able to teach during office hours which part-timers normally can't. The benefits which full-time tutors bring is the ability to identify weak areas faced by most children and provide the appropriate solutions. Full-time tutors are normally very familiar with the current syllabus as they tutor the same topics multiple times to different students. Due to their unique characteristics, full-time tutors charge a more premium 1 to 1 tuition rate compared to students and part-time tutors.

4. Ex-Teacher/Current Teacher
Teachers or ex-teachers are the most sought-after tutors in the local market. They have in-depth information about the changing trends of education in Singapore and some good teachers may even be able to spot potential questions that may appear in the exams.
Ex-teachers and current teachers have been trained by the National Institute of Education (NIE), therefore they have superior teaching and communication skills. Ex-teachers or current teachers command the highest home tuition singapore rates (often over $50/per hour or higher), thus they may not be in the affordable budget range of most parents.
Getting the right tutor at the right budget
As an eager parent to help your child excel, you will understand the benefits of an effective private tuition. It is truly assessible for all and no one should miss out on this.

Tutor City is the best private tuition agency in Singapore with the quality of tutors, excellent customer servicing and affordable private tuition rates. We have tutors for any subject in the MOE syllabus and international baccalaureate IB syllabus, helping many local students and IB students find the right tutor.

If you need further information on Primary school tuition rates, Secondary school tuition rates, JC tuition rates, IB tuition rates, we are a phone call or message away.
Engage a tutor with our easy-to-use Request a tutor form to ask more on 1 to 1 tuition rate.