Get the support your child needs to excel in mathematics!
Have you been seeking...
Tailored one-on-one private maths tuition to work on your child's specific learning needs
Achieve improved maths exam results and higher test scores within a shorter time
Tackle mathematical challenges with the dedicated support of an experienced maths tutor
Choose your preferred maths tutor from a pool of qualified maths experts
Enjoy the convenience of math tuition conducted at a location and time of your preference
Receive qualified maths tutor profile within 24 hours for evaluation and scheduling phone interviews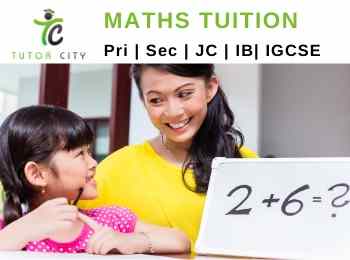 Benefits You Can Gain From Tutor City's Maths Tutors and Tuition
Improved maths exam performance and test scores can be achieved through private maths home tuition within a shorter time. Your child will receive personalised assistance to address unique mathematic struggles they face and ensure they receive guidance to understand complex maths concepts and questions. Learning is optimised and improvements can be seen more quickly.
Increased engagement and motivation experienced by your child. Our experienced maths home tutors have successfully coached many students through home tuition and can establish rapport with students with differing learning challenges. Lessons are delivered in a manner according to your child's pace, learning and communication style. Lessons will be more enjoyable and enriching to motivate your child's interest in maths.
Maths tuition in the comfort and security of your home, tailored to fit your child's busy school schedule. Eliminate the hassle of commuting, the problems of securing a spot or rescheduling lessons at a tuition centre Minimise logistical worries by opting for a maths home tutor that adapts to your specific needs and terms.
Leverage the effectiveness and client-centred approach of an

experienced home tuition service agency

with over ten years of proficiency in catering to parents' needs. We ensure a rapid response - within 24 hours, you will be presented with the profiles of suitably-matched maths tutors who can accommodate your preferences in terms of location, schedule, and budget for maths tuition.
With our extensive network of 20,000 private maths tutors, including trained school teachers, industry professionals, and top students from local and overseas universities, we are ready to assist your child's mathematics learning journey. Simply select a tutor that aligns with your budget and maths tuition requirements.
Be empowered to select the best maths tutor to aid your child's maths education journey by conducting phone interviews which empower you to make an informed decision about the best maths tutor for your child. Our tutor-matching service is provided at no cost to you. Should you find a tutor unsuitable after the initial lesson, you only pay for that completed session. We will then continue our efforts to pair you with a maths tutor who meets your criteria.
********
Over 400 Positive Reviews from Satisfied Parents
We have received numerous excellent testimonials about our proficient maths tutors from parents and students. Check out our positive Google reviews!
"Benson was prompt & clear in his replies.Taking my requirements seriously, he offered choice of tutors close to my criterias ~ thank you. As a parent, we all have different needs & concerns with regards to our child's academic support ~ regardless our child's abilities & Benson rendered the prompt & hassle-free outlet in my selection of a tutor promptly ~ i truly appreciate it, thank you thank you thank you."
Joan Tay
"The process is fast, smooth and prompt. I was struggled for months to find a good tutor! Glad we have Benson help up in searching for a good tutor for my P2 child. The tutor was very good and knowledgeable compare to other agencies. Very resourceful. Highly recommended."
Anna Chong
"Mr. Wee has been recommending tutors for my 3 children for many years. I am very impress by both his professionalism and impeccable service. His attention to details and efficiency has helped me source out many great tutors. The tutors are very knowledgeable and all my children's school grades have improved. Thank you so much."
Verneavia Tang
"Finding of tutor was fast and efficient within a day. I hope to find a tutor that can teach 3 subjects and they manage to find for me with a reasonable fee."
Sharon Gwee
********
How much do Maths tutors charge?

The average hourly fees for Math tuition ranges from $30 per hour to $130 per hour, depending on the tutor's credentials, experience and the level to teach.
Tuition Rates
Per Hour

Part-Time
tutors 1

Full-Time
tutors

Ex/Current
Teachers

Pre-School

$30 - $35

$40 - $45

$50 - $60

Lower Primary

$30 - $40

$45 - $50

$60 - $80

Upper Primary

$35 - $50

$55 - $70

$75 - $90

Lower Secondary

$35 - $50

$55 - $65

$70 - $100

Upper Secondary

$40 - $50

$60 - $70

$75 - $100

Junior College / IB

$50 - $60

$70 - $90

$100 - $150

Degree & Diploma

$60 - $80

$90 - $120

$120 - $150
1. Includes students in polytechnics, universities and graduates tutoring part-time.
2. If your child has special needs, go to our SPED page to understand the certifications and fees that SPED teachers are quoting.
Our good math tutors can teach PSLE maths tuition Singapore, O-level Elementary Mathematics (E maths), Additional Mathematics (A maths), JC H1 maths H2 maths H3 maths or IGCSE Maths / IB Maths for international students.
********
How does Maths Tuition with Tutor City's home tutor solve struggles students face?
Singapore's mathematics syllabus has become increasingly difficult in the past decade, with the Ministry of Education (MOE) raising the depth and breadth of maths topics to be tested to keep up with the mathematical skills needed for careers in the future. This has resulted in a growing demand for maths tuition Singapore.
Unfortunately, many students develop a fear of maths or endure years of dread towards the subject due to poor grades. This problem is often exacerbated by teachers labelling students as "bad in maths". Parents can only watch helplessly at the side-line as they are not equipped with the latest maths teaching methodology or are simply too busy with work and life.
At Tutor City, we recognise the math challenges your child faces and provide support through our maths tutor selection. Our experienced maths tutors are well-versed in the latest syllabus requirements and employ innovative teaching methods to help students overcome their fear of mathematics.
With the right maths tutor to nurture a positive mindset and foster an interest in the subject, your child will be empowered to excel in maths by unlocking their potential. Let us conquer any mathematical hurdle that comes your child's way.
Challenges students will encounter when mastering mathematics
Struggling to understand abstract and complex maths concept

Failing to develop good problem-solving skills such as analysing the question in problem sum, identifying relevant information and applying appropriate maths equations

Poor logical reasoning and critical thinking such as identifying patterns, making connections and applying maths principles to solve exam questions

Not familiar with mathematical equations and the steps needed to solve standard questions due to lack of practice and repetition.

Anxiety towards maths especially when facing challenging questions some students tend to give up and not attempt them at all.

Not being careful when working out solutions such as careless calculation mistakes, mis-reading questions or not writing the working out for every step to gain marks

Lack of time management skills, spending too much getting stuck on difficult questions and not having sufficient time to finish the paper

Unfamiliar with using mathematical tools such as protractors, graphic calculators or drawing diagrams, shapes etc

Have low self-esteem or fix mindset of being lousy in maths, resulting in a reluctance to complete maths homework and revision.
How Tutor City's home tutor can help students overcome challenges to improve maths exam grades
Here are some advantages private home tuition can help your child in maths:
1. Personalised One-to-one Teaching: Engaging a private maths tutor for your child offers the unique advantage of highly individualised lessons. The tutor can tailor their teaching approach and pace to your child's unique learning style. They can dive deeper into maths topics if your child shows advanced understanding, or take a slower pace to reinforce fundamental concepts if your child is struggling. This helps them to build confidence slowly at their own pace.
2. Comfortable Learning Space: By having maths tuition in your home, your child has the opportunity to learn in a familiar and supportive environment. This can be especially beneficial for younger learners to encourage them to ask questions and seeking clarification with a maths tutor in a safe and comfortable setting, rather than in a larger, more intimidating group context.
3. Customised Maths Learning Resources: An effective maths tutor can leverage a variety of resources, from a variety of assessment books, school worksheets and online materials such as videos to further enrich your child's understanding of maths. Additionally, they can spot regularly tested questions from past examination papers and to better equip your child for important tests like the A and O-level or PSLE examinations.
4. Time Efficiency and Convenience: Engaging a private tutor who can come to your home at your preferred time saves you from the hassle of commuting, freeing up time for other pursuits.
5. Accelerate Your Child's Learning Progress: Private maths tuition can lead to significant improvements in your child's maths grades in a relatively short period. The maths tutor can provide instant feedback and clarifications to optimise your child's learning. The tutor can also focus on your child's weak areas, making learning more strategic, rather than spending time on topics your child is already proficient in. During exam period, more intensive maths tuition sessions can also be scheduled for revision and also imparting important maths exam strategies such as time allocation.
********
What is the importance of Maths Tuition?
Mathematics is a compulsory school subject in Singapore and is crucial for students at all levels, from preschool all the way to junior college. Singapore maths is known internationally to have a rigorous curriculum that is challenging, places great emphasis on practical problem solving and evolves continuously to keep up with the mathematical skills needed for the 21st century.
Seeking maths tuition early helps students avoid struggles and developing a fear of maths that can hinder their progress to the next academic level. Maths is a subject where a strong numeracy foundation is essential as concepts are built upon themselves.
It is usually harder for students to catch up with complex maths questions, especially at the upper secondary or JC level, if they do not have a strong grasp of concepts from a young age. It is too late if students hold the misconception that they are "bad in maths" and lack self-confidence when the problem is not meeting the right maths tutor who can guide them patiently and help them realise their potential.
Students who cultivate solid maths techniques such as excellent number sense, heuristic problem-solving, logical reasoning and higher-order thinking skills gains significant advantage among their peers and set themselves up for academic success in mathematics, often scoring top grades in maths examinations when other weaker students find it difficult. This is the result of nurturing good mathematical aptitude, which does not happen overnight.
Proficiency in mathematics is now more important than ever as we shift into a technological future that focuses on career pathways that require an excellent understanding of maths and statistics due to the analytical and problem-solving skills it develops. Examples of these fields include computer science and IT, engineering, finance and accounting, data analysis and economics, and science and research.
Investing in maths tuition equips students with the necessary tools, confidence, and understanding to thrive in this demanding subject. At Tutor City, our expert maths tutors provide guidance to overcome challenges, improve skills, and unlock academic potential.
Singapore MOE Maths Syllabus and Topics in Schools
If you take a deeper look into MOE's maths curriculum from the primary level to secondary level and junior college, you will notice that it is well-structured and learning is sequential and progressive. This means that if students were to excel in maths in Singapore's education system at the tertiary level, they need to build a good foundation since more complex and advanced math concepts are built upon the more basic ones.
The content in terms of topics and skills taught is connected as students progress, as shown in the diagram from MOE's math syllabus. For example, there will be content gaps if a student takes O-level maths (without taking additional math) and wishes to take up H2 mathematics in JC, as illustrated in the figure below.
That is the reason why many Singapore parents turn to enlist the help of a qualified maths tutor to provide private maths tuition at a young age to give their child a headstart.
They do not want their child to fall behind since the learning of maths is hierarchical and there is no turning back the clock if the child fails to improve before a major exam that will determine the subject combination they can take at the next academic level and consequently their university courses and career choices.
As a parent, you may wonder why has the maths curriculum evolved so much since your time.
The MOE curriculum has constantly been revised to meet the skills needed for 21st century, this centres around competencies which your child needs to develop, such as justification of equations, using different strategies to solve an open-ended problem, formulating different mathematical models and inventive thinking, which include finding or utilising new methods to approach maths problems.
< MOE Secondary Maths Syllabus 2020>
As you can see from the diagram above in MOE's maths curriculum, it is simply insufficient for students to be well-versed in just the maths concepts. They need to have a comprehensive mathematics toolkit of skills to do well in the examinations.
Mathematics in Singapore's MOE schools have move beyond memorizing equations and applying them to questions. That is the reason why most parents find it difficult to teach their children, even at the primary school level and need to leave it to professional maths home tutors.
Some examples of skills include seeing the properties and relationships between different maths concepts and equations as well as using symbols, notations and diagrams to express maths equations and operations (e.g., drawing models, using guess and check tables).
At the junior college level, there are four maths syllabuses which are H1 maths, H2 maths, H2 further maths and H3 maths which is also the most advanced level of mathematics. H2 mathematics is the most common maths subject studied by most junior college students as it prepares them for a good foundation to enrol in maths, science and related courses in university.
Here are the topics covered in MOE's schools:
Primary Schools (Standard Maths)

Whole numbers

Fraction

Decimals

Percentage

Ratio

Distance, Rate & Speed

Money

Length

Mass

Volume

Time

Area &

Angles

Lines & Symmetry

2D Shapes & 3D Shapes

Picture graphs with scales

Bar graphs

Table & Line graphs

Pie charts

Averages

Algebra

Geometry: Special Quadrilaterals

Nets

Secondary School (O level maths)

Numbers and their operations

Ratio & proportion

Percentage

Rate & Speed

Algebraic expressions and formulae

Functions and graphs

Equations and inequalities

Angles, triangles and polygons

Mensuration

Data handling and analysis

Congruence and similarity

Pythagoras' theorem and trigonometry

Probability

Set language and notation

Matrices

Properties of circles

Secondary School (Additional maths O levels)

Quadratic functions

Equations and inequalities

Surds

Polynomials and Partial Fractions

Binomial expansions

Exponential and Logarithmic Functions

Trigonometric functions, identities and equations

Coordinate geometry in two dimensions

Proofs in plane geometry

Differentiation and integration

JC (A levels H2 maths)

Functions

Graphs and transformations

Equations and inequalities

Sequences and series

Basic properties of vectors in

two- and three-dimensions

Scalar and vector products in

Vectors

Three-dimensional vector geometry

Complex numbers expressed

in Cartesian form

Complex numbers expressed

in polar form

Differentiation

Maclaurin series

Integration techniques

Definite integrals

Definite integrals

Probability

Discrete random variables

Normal distribution

Sampling

Hypothesis testing

Correlation and Linear

regression
IB Maths Curriculum
The International Baccalaureate Diploma Programme (IBPD) is a 2-year pre-university programme for students between 16 to 19 years old. Students can choose to take up two different maths subjects which are Mathematics: Applications and Interpretation (AI) and Mathematics and Analysis and Approaches (AA).
According to the IB math syllabus write-up, AA maths has a stronger emphasis on the ability to construct, communicate and justify correct mathematical arguments. While AI has a stronger focus on data, statistics and calculus as the syllabus focuses on topics that are often used as applications or in mathematical modelling, which are useful for technology and data-related careers.
Maths at the IBDP is offered at the Standard Level or Higher Level, which the latter being more content heavy and rigorous.
Mathematics: Applications and Interpretation (AI) topics:
Number and algebra

Functions

Geometry and trigonometry

Statistics and probability

Calculus

Development of investigational, problem-solving and modelling skills and the exploration of an area of mathematics
Mathematics and Analysis and Approaches (AA) topics:
Number and algebra

Functions

Geometry and trigonometry

Statistics and probability

Calculus

Development of investigational, problem-solving and modelling skills and the exploration of an area of mathematics
What are the essential skills students need to score well in Maths?
At Tutor City, experienced maths home tutors will guide students to hone the required knowledge and skills during the maths tuition to tackle a range of maths exam questions to score maximum marks.
Primary/Secondary Levels
Strong number sense: good understanding of numbers, place and value, numerical relationships and concepts like addition, subtraction, multiplication and division

Excellent problem-solving abilities: analyse and solve maths questions effectively through understanding question accurately, devise strategies and apply the correct concepts to work out solutions. Secondary school students need to have the ability to apply multiple maths strategies to solve questions.

Good reasoning skills to think logically and critically when thinking through math problems. Identify the concept tested and the reasoning behind.

Memorisation of key maths facts/formula: such as time table, formula to find area, perimeter, circumference etc.

Mental calculation to do quick calculations such as quick multiplication, division, estimation, rounding etc

Solid foundation in maths concepts of the topics taught in syllabus such as decimals, fractions, geometry and data analysis for primary levels and algebra, geometry, trigonometry, calculus for secondary school students.

Ability to represent maths problem visually through the accurate drawing of models, tables, diagrams, charts and graphs.

Resilience and discipline. Not giving up to find a solution especially when they got the answer wrong. Discipline to keep practicing consistently.

Time management during exams and allocate duration to solve each question and not get stuck too long on challenging questions.

Communicate solutions accurately and neatly. Workings should explain clearly the steps to obtain the answer.

Analytical skills to break down complex questions into small steps, identify patterns and trends and connect between different maths concepts.
Tertiary Levels
Advanced problem-solving and critical thinking skills to tackle complex and more challenging maths problems that require multiple concepts.

Stronger understanding of more advanced maths concepts such as

algebraic concepts

, statistics and probability, discrete maths.

Able to successfully apply maths modelling and applications to solve real-world problems.

Good technology and computational skills such as using statistical software, graphing calculators to aid in calculations, data analysis, visualisation.

Effective time management to allocate sufficient time for exam review and practice, revising concepts and knowing the correct questions to seek clarifications from maths home tutor or teacher

Exam strategies such as understanding and analysing the questions correctly, familiarising with exam format and variety of questions that can be asked to test the maths concepts.
********
Why time spent in the classroom alone is insufficient for achieving high scores in Mathematics.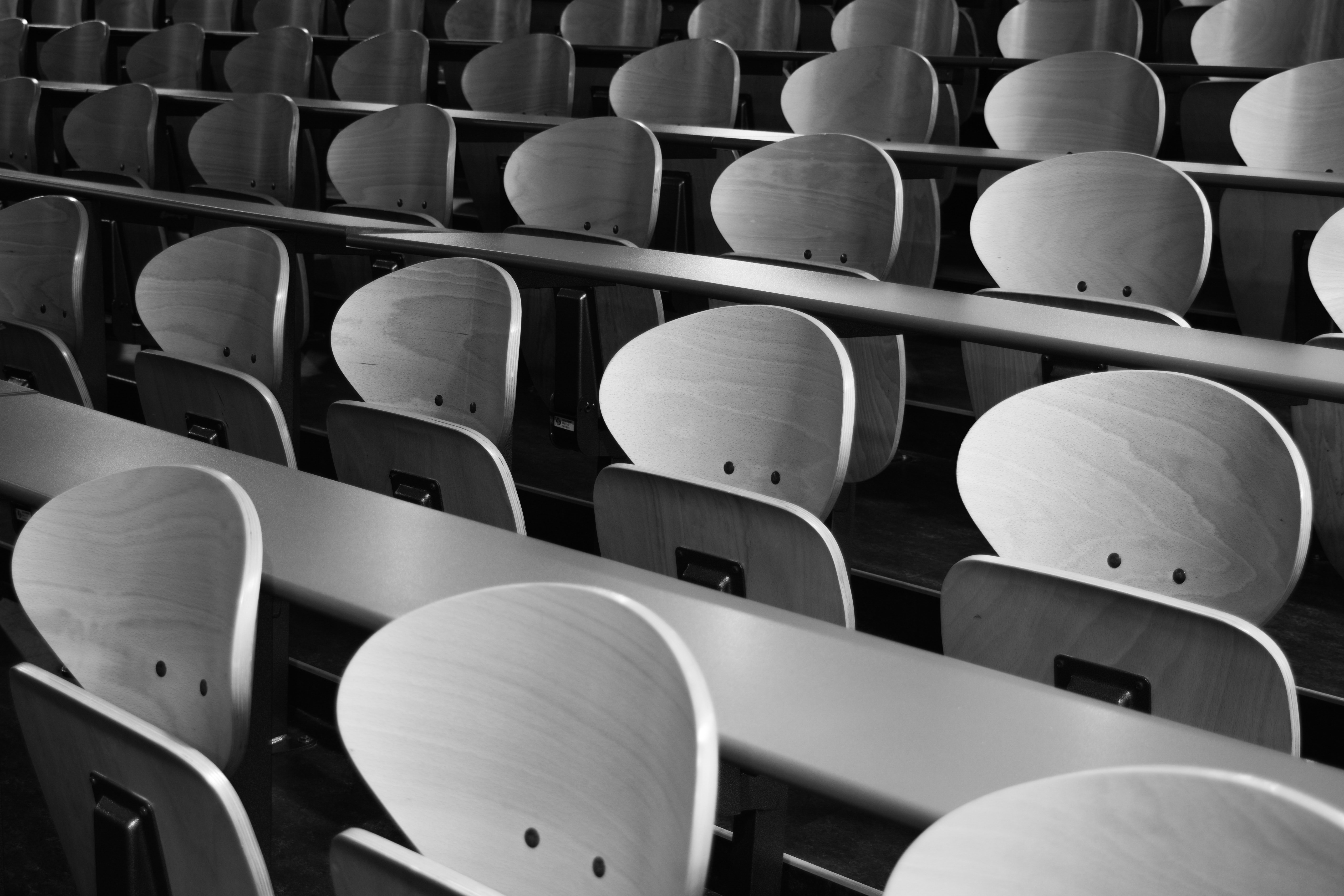 The sheer number of topics and concepts which the teacher needs to cover in the school maths syllabus during the school term simply make it impossible to have sufficient opportunities for maths practice.
Some school teachers might not even have sufficient time to cover all the topics before the students sit for high stake examinations such as PSLE, O or A levels maths. Parents who are more prepared would be aware of this and have private maths tuition to help their children reinforce their understanding and even learn topics in advance so that a wider time window is available for revision and exam preparation.
You would have noticed from the skills Tutor City listed above that maths require problem-solving and critical thinking skills; these do not develop overnight and require students to invest time and effort outside class to master maths process skills, building the fluency to solve a wide variety of different and complex maths problems to gain more confidence to score well.
To outsiders who have not touched a Rubik's cube before, trying to unscramble one can seem like an impossible task. Just like solving any challenging maths questions, solving a Rubik's cube is not simply based on IQ or trial and error. The solution is that there is a fixed algorithm or steps to learn, and frequent practising is needed to achieve fluency to solve the cube within a targeted time. The same principles apply to conquering maths exams and achieving high scores.
Moreover, in a class of between 20 to 30 students, there will be difference in learning speeds and styles. The school teacher cannot cater to students at both spectrums, those with higher maths ability and weaker students. This prevents brighter students from realising their full maths potential and a disinterest in maths for students who cannot catch up.
With home maths tuition, individual attention, clarification and support can be provided. Your child learns at his or her own pace and has time to understand concepts and solutions and internalise them fully. Moreover, the home tutor can also delve deeper into maths concepts and scaffold by asking the right questions to help students analyse connections between them so that your child gains a comprehensive understanding.
It's no wonder that students can experience remarkable leaps in their maths exam grades in a surprisingly short period of time with private maths tuition.
********
Maths tutors in Singapore: The different profiles
Do you know that there are differences between the types of maths home tutors in Singapore? Each tutor profile has its distinct advantages and disadvantages that could impact your child's learning of maths. As well as the hourly tuition fees they will charge.
To help you make the decision to engage the best tutor for your child's maths tuition, here is an explanation of the different tutor profiles and their pros and cons.
Full-time Maths Home Tutors
Just like any professional in their field, full-time tutors provide private maths tuition as a career and typically work about forty or more hours a week, tutoring students from various different backgrounds, schools and differing abilities.
Most of the full-time maths tutors are subject matter experts in maths, which could include primary maths, elementary maths, additional maths or even further mathematics. Some specialise in teaching H1,H2 or H3 level maths subjects in MOE Junior Colleges, whereas some are well-versed in IB or IGCSE syllabus.
Advantages of Engaging Full-time Maths Home Tutors
Typically, full-time tutors have achieved qualifications at the bachelor's level, such as degrees related to maths, statistics or accountancy, which is why they have an excellent understanding of maths topics and are able to break down complex maths concepts into easy-to-understand pieces of information for your child during maths tuition sessions.
Due to their experience and regular contact with parents and students, they have the ability to handle children of different ages, from primary school age 7 all the way up to 18-year-old junior college students. They are able to easily adapt their teaching materials and styles to the different personalities of children.
They are also familiar with the concerns of parents and are open to communication with parents in the form of feedback and will not hesitate to provide tips and guidance on how you can work together with them to support your child's maths learning at home.
As tutoring is their bread and butter, full-time maths tutors are committed and dedicated to the tuition schedule and will be likely to continue tutoring your child as he or she moves through the academic levels. Because they understand that building rapport with your child is important in a private tuition setting and that it is always easier to teach a student where a relationship is established. That is why they are not likely to keep switching students.
Disadvantages of Engaging Full-time Maths Home Tutors
As full-time maths home tutors are tuition experts, they tend to charge a higher hourly rate as compared to part-time tutors. This is due to their expertise in maths subjects as well as their vast experience tutoring full-time over the years.
Parents are aware of the good results that full-time maths tutors can achieve with their children. Some top-notched tutors are so popular due to their effectiveness that they might have limited available maths tuition timeslots for parents to choose from and you might have to compromise on the schedule if you are really keen to engage their home tuition service for your child.
Working Professionals Maths Part-time tutors
Part-time tutors who are working professionals hold a full-time day job as a career and provide home tuition service as their side hustle for extra supplementary income. Usually, this group of tutors come from varied educational backgrounds, holding diplomas, degrees, master's or even PhD qualifications.
Advantages of Engaging Part-time Maths Home Tutors Who Are Working Professionals
Most of the time, these working adults have either achieved stellar grades in maths during their schooling days or have a genuine passion for maths and wish to help students to realise their interest or potential in the subject. Some of them might be in a relevant maths career such as data scientists, statistician, auditors or in the finance industry which makes them the perfect tutor for your child if they are interested in getting into similar career fields.
In such cases, the maths tutors are able to share with your child career advice and how they use mathematical knowledge acquired in school in their day to day job roles and even provide their own educational journey as an inspiration to motivate your child.
Due to their work experiences, working adults are mature and have a great aptitude for tutoring or mentoring younger students. They can enrich your children's learning experiences by using real-world maths examples or happenings to make textbook concepts relevant for your child.
A portion of part-time working adult math tutors are fresh graduates from university or a relevant polytechnic diploma who have retained the latest knowledge of maths concepts and can be excellent tutors to impart exam strategies and techniques to your child.
Some of the part-time tutors who are working adults have been providing home tuition for several years and are experienced and familiar with the school maths syllabus. These tutors will also have good track records and testimonials from parents or students.
Disadvantages of Engaging Part-time Maths Home Tutors Who Are Working Professionals
As this group of tutors hold a full-time career, their tuition slots are usually limited to weekday evenings or certain timing during the weekends. It is typically difficult to obtain a weekday afternoon slot, for instance.
If the maths tutor is experienced, they might have several students and finding a common slot might be challenging; this is also true when arranging for make-up lessons. Due to their work schedule, if your child needs additional maths tuition prior to tests or examinations, you will need to communicate and book slots way in advance to synchronise the schedule.
Student Maths Part-time Tutors
This group of maths tutors are students who are presently studying in polytechnics, universities or masters. They provide maths tuition services for income to supplement their student life. They might or might not be pursuing a maths qualification. Typically, because of their profile, this group of tutors are younger and in a closer age range to your child.
Advantages of Engaging Part-time Maths Home Tutors Who Are Students
The biggest advantage of engaging student maths tutors is that they charge a lower rate as compared to other tutor profiles. This makes it more budget-friendly for parents who are looking at tuition for multiple subjects.
Due to the school schedule of students, they are able to provide more flexibility in terms of tuition slots during weekday afternoons, additional maths tuition lessons for catching up during their term break and makeup lessons are usually easier to arrange.
As this group of tutors are students themselves, they are familiar with the newer educational methodology in maths and assessment criteria, such as incorporating the use of IT such as math apps, simulations and modelling software or virtual manipulatives such such as geometric shapes to make learning relevant and engaging for your child.
They can also establish rapport easily with your child due to their closer age range and can adopt a teaching style which can build a better connection with your child, for instance, understanding the challenges and stresses which your child faces when learning maths. This builds a positive learning climate which will help your child to learn maths more effectively.
Lastly, as student tutors also go through the pressure of the need to do well in examinations, they fully understand the circumstance of your child and are in a good place to journey together with them. This is especially true for recent O-level or A-level graduates who managed to score well in maths subjects, and these student tutors can coach your child and inspire them to perform as well.
Disadvantages of Engaging Part-time Maths Home Tutors Who Are Students
It is essential to note that, unlike professional maths tutors, student tutors do not have the same years of tutoring experience in handling different types of students or have developed expertise in teaching strategies and methodologies.
As they are not subject matter experts yet, they might not have the deep and rich knowledge to teach more complex maths subjects such as higher-level junior college maths subjects.
Sometimes, student tutors might have an irregular school schedule due to their examinations, CCAs or other school commitments, which can limit their time to schedule home tuition lessons.
When engaging student maths tutors, it is important to consider the age gap between the tutor and your child as well as your child's receptiveness towards learning from a tutor who is closer in age. The dynamics between the student tutor and your child have to be taken into consideration.
When hiring a student part-time maths tutor, it is important to engage a reliable and trusted tuition agency to conduct proper screening and shortlisting to ensure that the student tutor is of quality and committed to tutoring your child.
MOE-Trained Maths Home Tutors
Maths home tutors in this category consist of two profiles: the MOE teachers who are currently teaching in schools or ex-MOE teachers who have left service and no longer teaching in schools.
The common factor is that these two groups are officially trained in NIE and are professionally certified teachers who have expertise in developing structured teaching plans, utilising teaching strategies on students and actual teaching experience in schools.
Advantages of Engaging MOE-Trained Maths Home Tutors
Tutors in this category are top-tier and very sought-after, especially by parents who are determined to pull up the socks of their children's maths grades and willing to put in the budget to engage this group of tutors to achieve the desired maths grades for their child within a short time.
MOE-trained tutors are very familiar with the school maths syllabus and are content matter experts; not only that, they are also aware of the workings behind how examination papers are set and marked by schools. This gives them an edge in being able to spot or predict maths exam questions and knowing exactly which are the more important maths concepts and topics your child should focus on, including the various maths methodologies or techniques to help your child obtain solutions quickly.
Being teaching professionals, they are laser-focused on pinpointing and addressing the weakness of your child and know exactly the teaching strategies they should employ to aid your child's understanding and improvement over a shorter period of time.
MOE-trained tutors have both familiarity and an excellent understanding of the specifics of the maths syllabus and will align their maths tuition to cover all aspects during the lesson. They are also aware of the commonly made mistakes or misconceptions students typically have due to the sheer number of students they have taught over the years.
Disadvantages of Engaging MOE-Trained Maths Home Tutors
Due to their teaching qualifications, effectiveness and strong demand from parents, MOE-trained maths tutors charge the highest tuition rate among all tutor profiles. It is a huge financial commitment to hire MOE-trained tutors, especially if there are a few children in the household or tuition is needed for multiple subjects.
The supply of current MOE-trained school tutors is very limited. Due to the change of regulatory procedure by the Singapore Public Service Division in 2021, school teachers can only teach tuition if approval is granted by their school principal and for valid reasons. Therefore, it is difficult for an MOE school teacher to be available for maths home tuition.
Lastly, as the dynamics of classroom teaching are different as compared to a smaller-group or one-to-one home tuition setting, which is often more intimate and personalised, it is still important to assess whether the personality and style of a current or ex-MOE tutor is suitable for your child. For instance, an authoritative teaching style might work well as a classroom management technique but might fail in a one-to-one setting with a student who is already struggling with maths.
********
Different Types of Maths Tuition in Singapore
1. Maths tuition in the tuition centre
Maths tuition in a tuition centre can be in a large or small group setting which ranges from a group of 6 to sometimes 30 or more students. Students usually have to travel to a physical location for tuition classes that are set out on a fixed schedule.
Some maths tuition centres specialise in maths. This allows the centre to focus more on curriculum and developing good maths teaching strategies while other centres offer tuition in multiple subjects.
As compared to home maths tuition, there is little freedom to select the maths tutor, especially one that can match your timeslot and preferred tuition centre outlet. Usually, the popular maths tutor's classes are packed full, and you might be put on a waitlist with an indefinite waiting time. Moreover, there is also additional time spent on commuting and make-up lessons can be hard to schedule since the lessons are less flexible as there is a need to cater to other students and classroom availability.
2. Home Maths tuition
Parents can hire a maths tutor to provide one-to-one tuition services either in the comfort of your own home or at the tutor's place (if your place is not conducive) at a timeslot which is convenient for you.
A private maths tutor does not play the role of a teacher, which is defined as someone who will deliver lessons in a more formal and bigger setting. Therefore, the skillsets of being a good tutor can be different compared to that of a teacher.
Home tuition is in a more intimate and private setting, effective home tutors are better able to aid weaker students in mastering maths quickly because they are usually equipped with good interpersonal skills. This allows them to build rapport and credibility with their students to elevate their joy and learning experience as compared to a group setting.
3. Private small group maths tuition
Due to budget constraints, some tertiary students or their parents might hire a private maths tutor to teach a small group of 2 to 4 students who can be friends or classmates at an indicated location, such as the tutor's place or a co-working space and split the hourly tutor fees among themselves.
Besides reducing tuition costs, small-group private maths tuition is popular at the tertiary level (upper secondary or JC, IB) because students can share their ideas and help clarify each other's misconceptions through discussions. Each student in the group can also bring their own understanding, perspectives and experiences when approaching maths exam questions. This helps to shorten the learning curve for your child and lessen similar mistakes that were made by their peers.
Lastly, learning in a group enhances motivation as the interaction can help students to be more engaged and look forward to attending the maths tuition sessions.
4. Online maths tuition
Remote learning has taken off post-covid, and both tuition centres and private home tutors offer the option of online maths tuition for students who prefer this.
This option can be explored, for instance, if a maths tutor is not able to meet your schedule due to the commuting time needed to travel to your place as he or she has a lesson prior to yours. Remote maths tuition is advantageous if you would like to minimise your child's contact with people so as not to fall sick, especially when it is close to important examinations such as PSLE or O/A Levels.
********
How to select a Maths home tutor for tuition lessons?
Here are some essential qualities you should look for in a maths tutor:
1. Ability to cater to unique maths learning needs of your child: Among the pool of experienced maths tutors available, it's important to find a tutor whose teaching approach aligns with your child's specific learning needs. For example, some children might need a patient and encouraging maths tutor who can repeat the steps and present the solutions in many ways such as diagrams. While some children need a firmer and stricter maths home tutor to instill better discipline and consistently in completing the homework assigned and being more careful with maths workings.
2. A deep understanding of your child's challenges: A truly remarkable maths tutor can easily pin-point the specific struggles your child may be experiencing with mathematical concepts. Our exceptional maths tutors in Singapore are equipped with a variety of skills and significant experience from tutoring students from various backgrounds and abilities, ensuring that your child has all they need to excel in maths.
3. Commitment and dedication: During maths private tuition, our tutors dedicate their full attention to teaching your child, as compared to tutors who need to manage a group. They adjust their teaching speed to your child's pace, ensuring each step in problem-solving is understood before proceeding to the next concept or topic as compared to following a scheduled curriculum. They are also willing to reiterate solutions and guide your child through the entire process to obtain the solution for better understanding.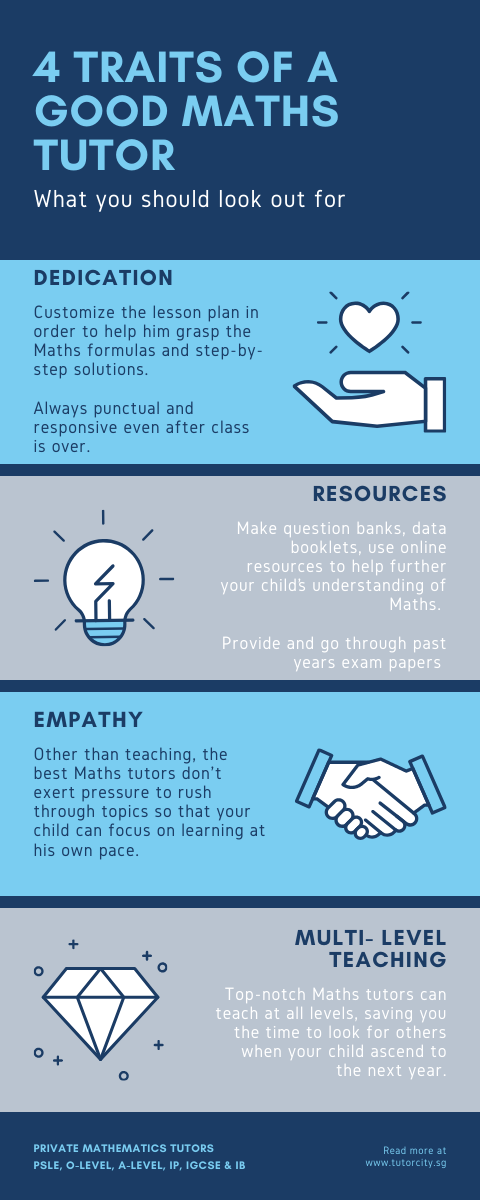 "4 traits of a good math tutor, what you should look out for"
Support from Tutor City to select a suitable maths tutor
Tutor City is committed to helping you select the best maths tutor for your child. Here is the support you will receive when hiring a tutor for maths tuition:
Carefully screen and highly qualified maths tutors with excellent teaching skills and experience

Fast response time of within 24 hours to receive tutor profiles for your selection when you put in a maths

tutor request form

Arrangement of a phone interview with the shortlisted tutor

Free consultation with us to understand your requirements and advise you on a suitable maths tutor profile

Follow up service on the feedback of the maths tutor after your first lesson

Flexibility to change tutor if you find him or her unsuitable, only the lessons taught will be charged

100% no fees charged to you for our maths tutor-matching service
********
Tutor City: Singapore's Premier Maths Tuition Agency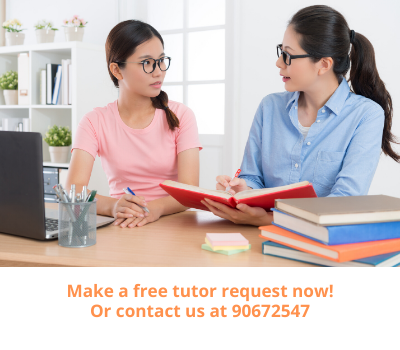 Tutor City is Singapore's premier maths tuition agency, we strive to provide top-notch customer service to help students find their ideal maths home tutor.
Our mission is to help parents save time and effort in looking for a maths tutor by offering customer-friendly tutor-matching services through our qualified tutors that are thoroughly screened, regardless of the budget and tuition location.
Put in a tutor request form with us now.