Best PSLE Home Tuition in Singapore
Feeling stressed out over the PSLE exam?

The level of difficulty in the PSLE examinations has been getting harder in recent years, with the recent social media firestorm over the 2019 PSLE Maths exam paper. The PSLE cut off points for entry to top secondary schools has been getting more competitive as seen by MOE raising the bar with each passing year, what was being tested at Secondary level is now incorporated into the Primary curriculum. Even with a new PSLE grading system, parents still push their children to achieve top scores to get into a school they want.

Need A PSLE Tutor Urgently? Make a free tutor request now
Levels Of PSLE Tuition
At Tutor City, we provide a full range of PSLE tuition services. We have every subject so students can choose the ones they are giving and excel in their examinations. Here are all the subject levels of PSLE that we provide tuition for:

English

Mother Tongue

Math

Science

Foundation English

Chinese

Higher Chinese

Foundation Chinese

Malay

Higher Malay

Foundation Malay

Tamil

Higher Tamil

Foundation Tamil

Foundation Math

Foundation Science
Our tutors are experienced in all these subjects, and they will ensure students get the highest grade in their PSLE. Tutor City always strives for excellence so that you can expect nothing less from us. We have qualified tutors for all these subject levels of PSLE.
How much do PSLE tutors charge?

The average hourly fees for PSLE tuition ranges from $25 per hour to $70 per hour, depending on the tutor's credentials, experience and the level to teach.

Tuition Rates
Per Hour

Part-Time
tutors 1

Full-Time
tutors

Ex/Current
Teachers

Pre-School

$20 - $25

$30 - $40

$40 - $50

Primary / PYP

$25 - $30

$35 - $50

$55 - $70

Secondary / MYP

$30 - $40

$45 - $60

$70 - $90

JC / IB DP

$40 - $60

$60 - $80

$90 - $130

Degree & Diploma

$50 - $60

$60 - $80

$90 - $120

Music / Piano 2

$30 - $40

$50 - $60

$60 - $70

Adult Language 3

$40 - $50

$50 - $60

$70 - $80
1. Includes students in polytechnics, universities and graduates tutoring part-time.
2. Either 45 min or 1 hour lessons. See our music page for details.
3. Language proficiency range from basic to advanced so rates will be quoted upon knowing each learner's needs.
4. For Special Needs education, rates are higher due to specific training and certifications which tutors need to have.
Kids these days don't get it easy, they have to learn these advanced formulas, languages and science in a short 6-year span. PSLE home tuition is as popular as O level or A level tuition. Worried parents often study together with their children in the hope of being able to coach them along the way, sometimes to no avail as the questions are too difficult to solve. From 2021, MOE has set a new scoring system to emphasize more on individual performance than relative to their peers.

Read the detailed guide here
What To Expect From Tutor City's PSLE Tuition

Before you enroll your child in PSLE tuition, you will need to understand if the tutoring service matches your expectations. That is why we highlight everything you can expect from our qualified tutors. Here are all the expectations we strive to meet:

Individual attention, focus, and guidance to students

Simple techniques to memorize content for PSLE

Simple explanations of concepts for all PSLE subjects

Additional study materials such as past papers and notes from top schools in Singapore

Engaging and interactive lesson plans to enhance interest in the subject

Tips and tricks to ace the PSLE examination

Guidance of answering techniques to enhance the performance of students

Significant improvement in PSLE results

Please choose from our pool of thousands of qualified tutors
Tutor City meets all these expectations of the students and parents. That is why you can count on us to provide one of the most positive learning environments. It will enhance the progress of your child, and you will notice a significant improvement.
Common Challenges Faced By Students Of PSLE In Singapore

The PSLE is one of the most important annual examinations in Singapore. Parents prepare their children months in advance so they can excel. Over the course of our tutoring service, we have noticed many students facing the same challenges.

That is why we ensure our PSLE tuition service helps students overcome these challenges so they can get into the best secondary schools. Here are some of the most common challenges all PSLE students face:

Lack of familiarity with national examinations

Overwhelming amount of stress and pressure to perform well in PSLE

Difficulty understanding the importance of PSLE

Inability to focus

Overwhelmed with the amount of content to memorize

Problems following the lesson pace in school

Difficulty in the application of concepts

Difficulty in answering well during the examination

Making careless mistakes and losing marks

Inefficient time management that leads to incomplete exam

Difficulty with understanding concepts taught in class
Every student in Singapore giving the PSLE faces some of these challenges. At Tutor City, our teachers help students overcome these challenges so they can get the best results. By the end, they will be well-prepared to handle their PSLE and solve any difficult question that comes their way.
Private PSLE tuition can help your child immensely

1. Choosing a tutor: Select from our amazing pool of qualified PSLE tutors. Our PSLE tuition teachers are extremely familiar with the syllabus and exam formats for PSLE.

2. Overcoming fear: In a 1-to-1 setting, students are less shy about asking questions as compared to a classroom environment where they fear of being ridiculed by their peers.

3. Provide materials & exam papers: Good PSLE tuition teachers share tips on how to explain in the easiest way and provide notes / past year exampapers.

4. Flexible timings: You can set the days and time according to your child's schedule.

5. Customised learning style: A good PSLE tutor Singapore can identify weak areas and provide a customised lesson plan, something that cannot be done in a classroom or tuition centre.

6. Convenience: A home tutor teach at your home, reducing time wasted in commuting.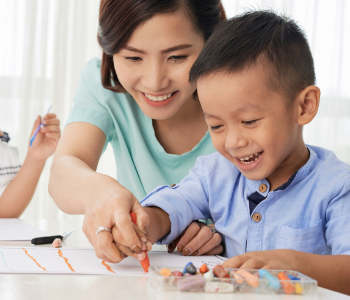 Let our tutors help! See our impressive tutor listings
Topics Covered By Tutor City's PSLE Tuition
Here are some of the PSLE English/Chinese/Tamil/Malay and Mother Tongue topics we cover:

Continuous writing

Situational writing

Vocabulary

Grammar

Writing

Comprehension

Synthesis or transformation

Listening

Oral communication

Critical thinking

Stimulus-based conversation

Reading aloud

And much more
Here are some of the PSLE Mathematics topics we cover:

Ratio

Numbers and algebra

Four operations

Fraction and division

Measurement and geometry

Decimals

Percentage

Angles

Area and volume

Statistics

Triangles

And much more
Here are some of the PSLE Science topics we cover:

Diversity of materials

Diversity of living and non-living things

Cycles in plants and animals

Plant system

Cycles in matter and water

Human system

Electrical system

Cell system

Interaction of forces

Energy forms and uses

Interaction within the environment

Energy conversion

And much more
Primary School Leaving Examination (PSLE)

The school leaving examination at Primary 6, also known as the Primary School Leaving Examination (PSLE) is conducted in Singapore annually. It is an examination that every student have to go through before being assigned to different streams in Secondary School. The subjects to be tested include English, Mother Tongue, Mathematics and Science. Students have to attain certain score so that they can choose and advance to their desired Secondary School.

In fact, the PSLE is a very important examination in Primary School which determines the educational route that your child will be taking in the future. The learning environment plays a significant role in contributing to your child's educational journey. A good learning environment is able to augment your child's learning capability and can boost his/her self esteem. Down the road, your child will be more confident to take up more challenges in his/her academic journey.
Skills Taught By PSLE Tutors At Tutor City

If students want to achieve top marks in the PSLE, they need the right skills to excel in their examinations. That is why our tutors make sure that students are well-equipped with these skills. Here are some important skills every student will need to have to score well:

Analyzing questions and understanding various problems

Ensuring that students write in English that is internationally acceptable

Accurate usage of punctuation, spelling, and grammar

Interpreting questions accurately

Efficient articulation and pronunciation during oral examinations

Correct application of mathematical rules and concepts

Effective usage of exam strategies

Tips and tricks to memorize the syllabus content for PSLE

Accurate analysis and interpretation of data

Having a strong foundation of topics tested in the examination
With these skills, students will ace their examination and get top marks in no time. During our PSLE tuition sessions, we focus on each of these skills so students can be well-prepared to tackle their examinations. After all, it is one of the most important national examinations they will take at the time.
Why choose Tutor City for PSLE home tuition?

A good PSLE score is crucial to enrol into a good Secondary School. In order to achieve academic excellence, it is important to provide proper guidance from the expert.

In school, the teacher might not be able to provide individual attention to each of the students. Some of the students might have problem catching up with the syllabus and others might have difficulty coping leading to lagging behind their peers. Moreover, parents are too busy with their works and do not have enough time to coach their children. All these lead to tremendous stress to the parents and the child.

Not to worry! Tutor City is able to help you! Tutor City has a pool of dedicated PSLE home tutors who are familiar with the PSLE syllabus and are experienced in providing PSLE tuition. We aim to help your child to build a good understanding of his/her subjects and to excel in the PSLE, and not forgetting to make his/her academic learning journey an enjoyable one.

Are you ready to get a private tutor for your child? Make a free tutor request now
The benefits of home tuition is far more than you can imagined! PSLE home tuition allows tutor to pay 1-to-1 individual attention to your child. Your child will feel more comfortable interacting with the tutor and will not feel shy to express questions and doubts during lessons. This enables your child to learn at his/her own pace without being influence by classmates.

PSLE home tuition serves to expose the child to more content, collaborative illustrations, work examples and practice questions. Especially in PSLE science questions or maths questions where they tend to be tricky and baffling to most of us. PSLE composition and PSLE listening comprehension are 2 components of the English exams which many students also struggle with.

Our committed tutors will access your child and will tailored their teaching methods based on individual unique learning style, so as to maximize his/her potentials. Our tutors will cater their teachings to target and improve the child's weak areas, and will rectify mistakes instantly with quality solutions. Our tutors will also assist your child to learn ahead of his/her lessons so that your child will have more time to prepare for PSLE. Parents will be provided feedback from our tutors so that parents can better understand and monitor their child's progress.

In order to achieve academic excellence and to gain a competitive edge over other children, it is important to provide your child with proper guidance through quality home tuition.
Qualities To Look For In A PSLE Tutor

You have to choose the right PSLE tutor for your child. That is why you need to look for qualities that will help them teach well. Here are some of the essential qualities you should look for in a PSLE tutor:

1. Familiarity With PSLE Syllabus

The MOE syllabus for PSLE is subject to changes. The questions asked in the examination become challenging every year. That is why PSLE tutors need to be familiar with the latest PSLE syllabus and examination questions.

The goal of every qualified PSLE tutor should be to complement the lessons taught in school. That is the key to ensuring that children score top marks and do great in their PSLE. That is where Tutor City comes in.

We include the tutor's experience and if they are teaching similar levels in our recommendations. Looking at this information will allow you to make an informed decision. You will be able to choose the best tutor for your child.

2. Qualifications

If you want your child to score well, you will need a tutor with the right qualifications and capabilities. Tutors trained by NIE and MOE are the best options for you. They have the relevant qualification and training to conduct the best PSLE tuition.

However, one thing to keep in mind is also experience. Full-time or part-time tutors who have obtained relevant qualifications and have experience teaching PSLE will also be proficient in teaching children. You can also look at their academic achievements to understand whether they will be the right fit for your child.

At Tutor City, we mention the qualifications, experience, and academic achievements of our tutors. It will help you make an informed decision as you will better understand the capabilities of the tutor.

3. Ability To Work On Weaknesses

All students have certain areas of weaknesses. They might be facing problems in a particular topic or subject. That is why your PSLE tutor should be effective in gauging the student's weaknesses and then helping them work on them.

Teachers with the right qualifications and experience have the ability to spot weaknesses within a few teaching sessions. Once they understand these, tutors should devise a lesson plan accordingly to help students overcome these weaknesses. Such ability is one of the hallmarks of a great tutor.

At Tutor City, we always include the teaching experience and the record of previous students' improvements to help you make an informed decision. We want you to have the best PSLE tuition service in Singapore.
Read also:
Singapore PSLE results: So What's next?
5 useful apps to prep your child for PSLE
Getting your child ready for PSLE - How parents can help