Primary School Tuition: Best 30 Tuition Options for P1-P6 and PSLE in Singapore
Primary education is a critical period in any child's academic journey. In Singapore, it is a mandatory foundational experience for all, shaping a child's learning habits, attitudes and perspectives.
But with a highly competitive educational system and demanding curriculum, many students struggle to keep up with their peers, while parents wonder how they can best support their child's learning journey. This is where primary school tuition centres can be helpful. As avenues for additional support and resources outside the classroom, these centres go a long way in helping students reinforce their understanding of key concepts, and develop the skills and practice they need to succeed.
Is Tuition Necessary for Primary School?
Photo by Element5 Digital on Unsplash
Tuition has become increasingly common, with many parents opting for it to supplement their child's education. 80% of primary school students in Singapore are receiving some form of private tuition.
Many parents in Singapore often debate whether or not tuition is necessary for their child's primary school education. According to BlackBox research, 46% of Singaporeans think tuition is necessary for their child to stay competitive. With students expected to perform at a high level from a young age, parents may feel pressure to provide their children with additional resources and support to keep up with their peers. Tuition, therefore, may be seen as a way to give their child an edge in such a competitive system or help with a particular subject or exam. Additionally, some parents may see tuition as a way to give their child an advantage in a system where success is often measured by academic achievements, For example, a parent may enrol their child in tuition to help them with a particular subject they struggle with or to prepare for a major exam like the Primary School Leaving Examination (PSLE).
Others may view it as placing undue stress on young children. Despite the benefits of tuition, some critics argue that it places undue stress and pressure on young children, and may lead to a lack of interest in learning or burnout in the long run.
It is important for parents to carefully consider their child's needs and abilities, as well as the potential benefits and drawbacks of tuition, before deciding whether or not to enrol them in a programme. Ultimately, the goal should be to provide children with a well-rounded education that helps them develop a love for learning and prepares them for a successful future.
What are the Different Types of Primary School Tuition in Singapore?
The decision to enrol a child in tuition is up to each parent, but it's important to consider the needs of your child and which type of tuition might be most suitable for them. Here are some of the types of primary school tuition available in Singapore for your child.
Group Tuition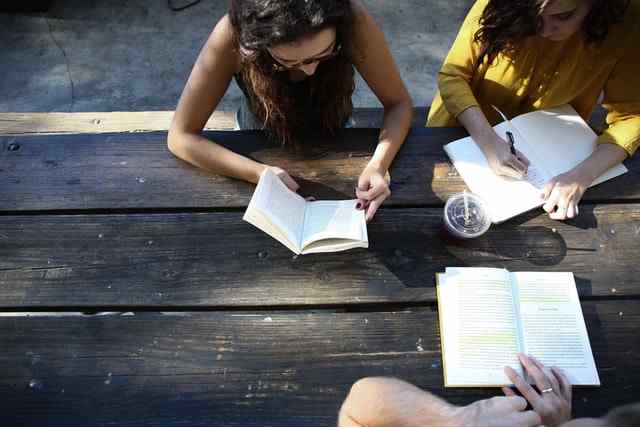 Group tuition is a popular form of education that involves a small group of students being taught together by a tutor or teacher. This type of tuition is often seen as a more affordable option than private tuition, as the cost is usually divided between the students in the group.
One of the primary benefits of group tuition is the opportunity for students to learn from and interact with their peers. In a group setting, students can collaborate on assignments, share ideas, and ask questions in a supportive environment. This can help students build confidence in their abilities and develop social skills, which are important for success both academically and in the real world. By working alongside their peers, students can feel a sense of accountability to keep up with the group and stay on top of their studies.
This type of tuition also allows students to receive instant feedback from the tutor. As the tutor is working with a small group of students, they can monitor each student's progress closely and provide individualized feedback on their performance. This can help students identify areas where they need improvement, and take steps to improve their understanding of the subject matter.
Private Tuition
Those looking for a more personalised level of learning may benefit from private tuition. This is a popular option for students who require a more tailored approach to their education, or for those who are struggling in certain areas of their studies.
The beauty of private tuition lies in the individualized attention that students receive from their tutors. Unlike in a traditional classroom setting, where teachers may not have the time or resources to attend to each student, private tuition allows students to receive targeted and specific help in areas where they may be struggling. This can help them to improve their understanding of difficult concepts and ultimately excel in their studies.
Another benefit is the flexibility that it provides. Students can schedule their lessons at a time that is convenient for them, whether it's after school, on weekends, or during holidays. This means that they can receive additional support and guidance when they need it most, without having to worry about conflicting schedules.
Private tuition is also an excellent option for students who require extra motivation or a more challenging curriculum. Tutors can tailor their teaching style and approach to suit the student's learning style, which can help to keep them engaged and motivated throughout their studies.
Online Tuition/Digital Tuition
Popularised by the pandemic, online tuition has quickly become a popular option for students who need additional academic support that is flexible and convenient. With online tuition, students no longer need to travel to a physical location for tuition, saving time and money. Instead, they can access their lessons from anywhere they are, as long as they have an internet connection. This saves plenty of time and money and makes it easier for them to balance tuition with other commitments such as school, extracurricular activities and family responsibilities.
Within online tuition comes a subset of digital tuition options, which refers to digital resources online that enhance learning experiences. This can include interactive tools, videos, apps, and online quizzes to reinforce key concepts and improve retention. Additionally, such resources can also track progress and provide personalised feedback, helping students, tutors and parents stay on top of their learning.
However, despite its many benefits, online tuition does come with its fair share of challenges. Issues such as technical disruptions and software malfunctions may come up occasionally, disrupting the flow of lessons. The lack of personal touch and human connection may also make it more difficult for students to focus and stay engaged in learning.
Home Tuition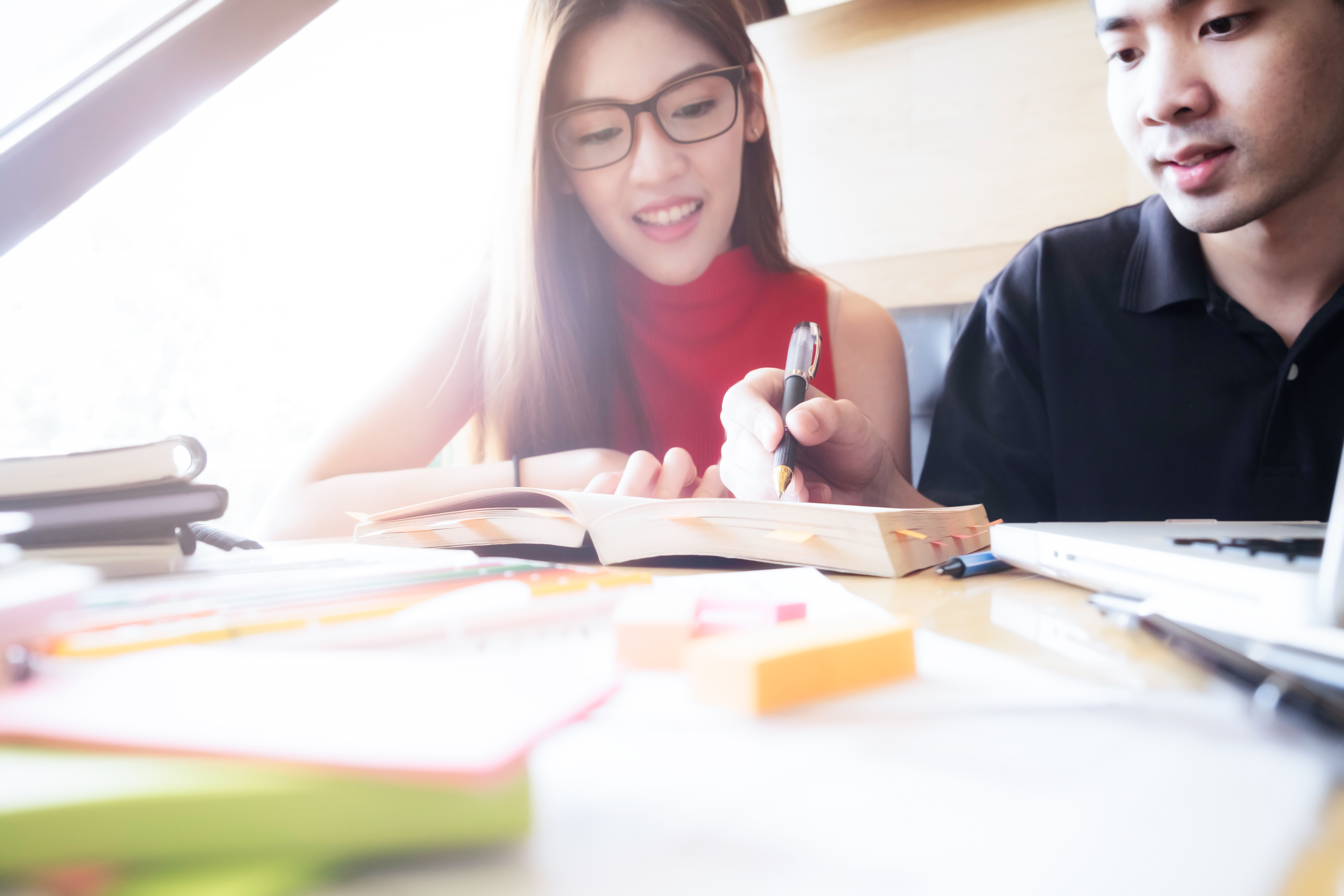 A subset of private tuition, home tuition has gained popularity amongst parents who recognise the benefits of having a tutor come to their home to work with their child.
Unlike group tuition or private tuition in centres, home tuition allows parents to schedule sessions at a time that is most convenient for them and their child. This means that parents can work around their timing and ensure that their child receives the attention and support that they need to succeed in their studies. The one-on-one nature of home tuition means that tutors can tailor their teaching approach to the individual needs and learning styles of each student. This personalized attention allows students to progress at their own pace and ask questions that they may not feel comfortable asking in a larger group setting.
Home tuition also provides a comfortable and familiar learning environment for students. This can help them feel more relaxed and confident, allowing them to focus better and reduce distractions that can arise in a group or classroom setting. Furthermore, home tuition can provide a greater level of flexibility when it comes to the curriculum and learning goals. Tutors can work with students to create a customized learning plan that takes into account the student's specific needs and goals. This approach can help students achieve their academic goals more efficiently and effectively.
With no additional expenses such as rent, equipment or staffing, home tuition may also be more cost-effective than other forms of private tuition. Additionally, parents do not have to worry about transportation costs to bring their child to and from a tutoring centre or group session.
How to Choose the Right Tuition Centre
In Singapore, tuition and enrichment efforts have become increasingly important for parents as they strive to give their children the best education possible. As of 2023, the Ministry of Education's website lists around 800 registered tuition and enrichment centres, offering a wide range of subjects and specializations. This overwhelming number of options can make it challenging for parents to choose the best tuition centre for their child's specific needs. However, asking yourself some essential questions can make this task less daunting.
1. What are my child's learning needs?

The ultimate goal of tuition is to provide your child with the additional support they need to succeed academically. In order to be able to pick the right centre, you would have to know the areas where your child will need additional support. Take the time to assess your child's academic strengths and weaknesses, and understand their own goals and objectives.

For instance, if your child is struggling with maths or science, it might be best to look for a tuition centre that specialises in that subject. Some centres offer specialised programmes or classes for specific age groups or academic levels, so it's essential to take this into account as well in your search.

Every child has their own unique style and learning preferences. Therefore, you must consider any specific learning styles that your child may have, such as visual or auditory learning. By doing so, you can identify a tuition centre that caters to those needs and provides a tailored approach to your child's learning.

2. How much am I willing to spend?

The cost of tuition in Singapore can add up — Singaporeans spend between $112 to $2,000 every month on tuition fees. This cost can depend on the type of tuition you go for, the number of hours, the location, reputation or track of the tuition centre.

It's important to consider how much you're willing to spend on tuition and choose a centre that fits your budget. You don't want to overspend and be strapped for cash, but you also don't want to skimp on your child's education. Set a budget for yourself, and shortlist a few tuition centres that are within this range. Take into account the value that each centre is providing for their fees. Are they offering additional benefits or resources, such as specialised materials, or extra activities?

The cost of tuition should be viewed as an investment in your child's education and future. Find a balance between quality and affordability. With a little research and budgeting, you can find a centre that provides the support your child needs without breaking the bank.
3. How accessible is the tuition centre?

While Singapore is relatively easy to get around, you also wouldn't want your child spending the bulk of their time travelling more than studying. Choose a centre that is convenient to travel to, especially if your child will be travelling there after long school days. Can your child take a bus, MRT, or walk there? The last thing you want for them is to be stuck in traffic, get lost, or be periodically late for lessons.
4. What is the reputation of the centre in the community?

The reputation of a tuition centre can speak volumes about its ability to provide quality education and support for your child. Take the time to do your research and make an informed decision before you select.

Find out what other parents and students are saying about the tuition centre you're considering. You can check out online reviews, ask around your social circle, or even drop by the centre to get a feel for the vibe. Are they known for producing results?

Positive reviews and recommendations from other parents and students can give you a good idea of the quality of the tuition centre's teaching and services. On the other hand, if you hear a lot of negative feedback or complaints, it might be best to steer clear and keep looking for other options.

It's also important to consider the centre's overall image and professionalism. Does the centre have a well-maintained and organized facility? Are the staff members friendly and knowledgeable? A centre that values professionalism and maintains a positive image can demonstrate its commitment to providing quality education and support to its students.
5. How qualified are the tutors? What is their experience like?

Now, a tuition centre is truly nothing without its tutors. These are the people who will be working closely with your child, so you want to make sure that they are knowledgable, approachable, and friendly, Your child should feel comfortable asking them questions and seeking their help.

Take the time to check the tutors' credentials and experience. A good primary school tuition centre should provide information on their tutors' qualifications, such as their academic background and teaching experience. You'll want to look out particularly for tutors experienced in teaching primary school students and have the necessary credentials to do so.
6. What is the learning environment like?

Every centre differs in its learning environment and teaching approach. Some centres may focus on a more traditional and structured approach, using textbooks and lectures to impart knowledge, while others may incorporate more hands-on, interactive activities to engage students.

Some tuition centres may offer free or low-cost trial classes, which is a good way for you to determine if their teaching methods are a good fit for your child's learning styles and needs. A good tuition centre will have a well-designed curriculum that aligns with the primary school syllabus and incorporates effective teaching methods that your child responds to. They should also have experienced and qualified tutors who can deliver lessons effectively and cater to your child.
7. How flexible are they in meeting my child's needs?

Perhaps your child might be engaging in extracurricular activities or hobbies that they don't want to compromise. Or maybe they have unique learning needs that require more attention or flexibility.

That's why it's important to look for a tuition centre that can offer flexible scheduling or customised programs that can fit your child's unique needs. A nurturing and supportive environment is also crucial, where your child can feel comfortable asking questions and receiving the attention they need.
8. Does the centre offer extracurricular activities?

A well-rounded education is important for a child's holistic development. Some tuition centres recognise the importance of extracurricular or enrichment activities and offer them as part of their programmes. This can include activities such as music, arts and crafts, or even workshops on creative writing or financial literacy. Such activities can help children learn to develop other soft skills outside of academia.
Our Comprehensive Review of 30 Top Primary School Tuition Centres in Singapore
Looking for a tuition centre that can cater to your child's academic needs can be an overwhelming task, especially with so many options available. To make your search easier, we've collated a comprehensive list of 30 of the top primary school tuition centres in Singapore.

Picture retrieved from: link

Aspire Hub Education is an innovative and student-centric tuition centre dedicated to helping students achieve their personal best.
Educators at Aspire Hub take a unique approach to teaching, by adopting a coaching mindset with their students. This coaching methodology addresses the uniqueness of each student and allows them to optimise their guidance according to their individual learning needs. With just 6 to 8 students per class, class sizes are also kept small for conducive coaching. Beyond tuition, their centres also enrichment programmes and workshops during the holidays, helping their students maximise the most out of their learning.
With a focus on personalised learning and a nurturing approach, Aspire Hub stands out as a primary school tuition centre that truly prioritizes the success of each student.
Name

Aspire Hub Education

Website

Contact Number

6235 2018

Location & Accessibility

16 centres Islandwide, view their branches here

Primary Level Subjects Taught

Primary 1 to 6

English, Maths and Science

Trial Classes

Available

Highlights

Unique coaching methodology

Availability of trial classes before commitment

Small class sizes

Enrichment classes available

Testimonials

The Aspire Hub learning experience has helped me achieve my goals by providing a conducive environment for learning alongside an awesome tutor that gives a lot of care and guidance, making lessons really enjoyable and memorable. Having such a tutor such as Jon Lim allows the boundary for learning to widen as he teaches me more than just Math, such as life lessons.

Thus, I would never feel intimidated to ask questions when I have doubts, which in turn allows my learning to be more productive, hence achieving my goals.

- Review from Student Cheryl Ong Zixuan

My child is actually from P5 when we first started at JP. We signed up for 3 subjects, From C shot up to A*. Really impressive. Well recommended.

Great place for learning! I love how the classes are kept small (6-8 students), so that each student will receive more attention from the coaches. Classes are also customised to the pace of individual students' learning and relevant to what is being taught in our school.
KRTC is one of Singapore's leading education centres with a proven track record of success. Since its establishment in 1988, the centre has enrolled over 100,000 students and is now present in almost 30 centres island-wide.
At KRTC, the greatest asset is their teachers' credentials. All teachers are subject specialists with excellent academic qualifications and have graduated from the National Institute of Education or an equivalent institution. They also have teaching experience in both public and private schools and are committed to making teaching a full-time and lifelong career. This means that every student is taught by a highly qualified and experienced teacher who is passionate about helping them achieve their full potential.
With highly qualified and experienced teachers, a wide range of programmes and strategic locations all over the island, KRTC makes for a great choice as a primary school tuition option.

Name

Kent Ridge Education Hub

Website

Contact Number

63541044

Email

enquiry@krtc.com.sg

Location & Accessibility

20 outlets islandwide, view their branches here

Primary Level Subjects Taught

Primary 1 to 6

English, Maths, Science, Chinese, Higher Chinese

Trial Classes

Available

Highlights

Long track record and years of service

Wide range of enrichment courses

AEIS preparation programme available for international students

Testimonials

My daughter, Anjana went to Read in a week for about 1.5 years. Teacher Sherlyn is fantastic. As a tutor, she took extra care and was very patient to ensure that she learnt thoroughly. My daughter still uses are tips to read, and her progress was very gd. I'm glad that she could be with her over the years, even conducting online classes during the outbreak. Thanks so much for your dedication!

Mr Wong's Science lesson is very interesting. I definitely learnt a lot of things. Mr Wong is a very responsible and experienced teacher. In P5 End Year Examination, I got 76 for Science, but after I went for KRTC tuition, my grades improved and I got AL1 for my PSLE! Mr Wong is a very patient and dedicated teacher. He always explains science concepts when I am in doubt.

I am actually lost of words to express the exceptional hard work teacher Lisa has put in over a short period of two months for both my 8 and 9 year old boys. I truly appreciate her help in handling them so well and tactfully. The way she was interacting with the boys has make learning so interesting. Her expertise in teaching has put my mind so much at ease. Teaching my two active boys have always been a challenge to me however teacher Lisa has become their perfect friend and a great teacher to learn from. Thank you for your dedication.
Out of all the PSLE subjects, English is one of the most critical for primary level students to master. But unlike subjects like Maths and Science, English does not have a straightforward formula that students can memorize and apply. This makes it challenging for students to excel in the subject, especially with rigorous assessment guidelines implemented.
Acclaimed English language specialists EduEdge Learning Hub seeks to change this. They've developed a unique approach to teaching English called the Total English Mastery System (TEMS) that breaks the language down into easy-to-apply and easy-to-remember formulas. The centre's unique method of learning English using formulas has been successful in helping students achieve remarkable improvements.
With their experienced and passionate team of tutors (AKA language specialists), EduEdge Learning Hub is committed to helping primary school students master English and achieve their academic goals.

Name

EduEdge Learning Hub

Website

Contact Number

9797 6581

Email

edwin.cheng@eduedge.com.sg

Location & Accessibility

2 outlets


King Albert Park

Link@896 mall

896 Dunearn Road #04-02A, Singapore 589 472

Nearest MRT: King Albert Park

Serangoon (Next to Nanyang JC)

301 Serangoon Avenue 2, Singapore 550 301

Nearest MRT: Serangoon MRT or Lorong Chuan MRT

Primary Level Subjects Taught

Primary 4, 5 and 6 Students, with a focus on English only

Trial Classes

Not available

Highlights

Unique formula-style learning method

Free personalised analysis for your child

Testimonials

Lessons in eduedge are definitely enjoyable. The teachers are engaging and we have class discussions on most days where we get to share and brainstorm ideas with our friends. The content provided also goes way more in depth than my school. For oral, essays and situational writings, teachers elaborate each point very well which helps us generate more ideas as we write. As for grammar, we touch on it once a while but enough such that we are able to remember key grammar rules. The teachers are also very friendly and approachable so we are always encouraged to ask questions. Overall, I love it here in EduEdge!

The best English Language Specialist in Singapore you'll find.

When looking for a good education provider, there are 2 things we all look for:

- Good curriculum

- Great teachers

And this is where EduEdge is unmatched elsewhere. Their Formula-Style Teaching Method cannot be found anywhere else. Based on what I know, they developed their own unique teaching method over many years to help students learn English faster and more easily. Spending hours on curriculum development so they have their own unique curriculum that's more powerful and useful for students. The quality of their teachers/teaching team is also of a higher calibre compared to elsewhere. Nowhere else have I found teachers so well trained, that take care of the students both in their studies as well as in their well-being. Upon deeper research, I found that they make all their teachers undergo stringent training that last months and months before they are even allowed to teach a class!

Thank you, EduEdge - For putting in so much time, effort, and resources into making sure your centre is world-class and delivers for parents and students at a high level. For any parent out there, if you're looking for the best of the best to be working with your child in their English - Check out what they do. You will be amazed.

I like how interactive the lessons are like whether you are attending it online or onsite. Personally, I take online lessons and I thought it would be as boring as my other tuition. However, the EduEdge teachers plan the lessons ahead carefully, making sure all the students understand what is being taught and are engaged. The methods EduEdge teaches have benefited me and it allowed me to do comprehension much more easily. EduEdge also gives detailed feedback every time I hand in my work and it allows me to understand what I can improve.
As the name suggests, Lil' but Mighty is on a mission to help young students achieve big results. This boutique tuition centre in Singapore specialises in English language tuition, employing unique strategies and a step-by-step approach to inculcate a passion for learning with their students.
One of the unique features of Lil' but Mighty is their "Learn, Share, Replay" methodology, which empowers students to teach what they have learned. This approach not only reinforces the students' knowledge but also promotes leadership skills, confidence, and communication skills. It is a remarkable approach that sets Lil' but Mighty apart from other primary school tuition centres in Singapore.
The centre's commitment to excellence is reflected in the outstanding results achieved by its students. Lil' but Mighty students consistently achieve high scores in the PSLE and school assessments, and many of their students have gone on to excel in secondary school and beyond. Their team of experienced and dedicated teachers are committed to helping their students fulfil their potential.
Altogether, they are a great choice for parents who are looking for a primary school tuition centre with heart.

Name

Lil' But Mighty English

Website

Contact Number

9646 0930 / 8311 6157

Email

enquiries@lilbutmightyenglish.com

Location & Accessibility

5 outlets islandwide, view branches here

Primary Level Subjects Taught

English

Trial Classes

Available

Highlights

Boutique learning centre with a personalised touch

Enrichment workshops and self-paced online learning courses available for education beyond tuition

Testimonials

My twins just gotten their psle result recently. one with AL 2 and the other AL 3. I would say that their result were better than what we had expected and definitely great improvement before they switch over to lbm. the previous center had frequent turn over of teachers and quite disruptive. The Good thing about lbm is that they have specified lesson plan and a standard ways of remembering the English rules. Both my kids enjoyed their lesson every time and were motivated to complete their homework properly as there is some sort of reward system in place. the relationship with the teachers were also very good and close. thank you LBM and we are looking forward to continue secondary lesson next year.

I like the small class size which ensure that each student receives the necessary support and guidance. A different theme is covered each month and the students are able to practice their English skills in a more enjoyable setting. The curriculum is comprehensive in developing the students' language skills in all areas, including spelling, grammar, comprehension, and composition.

Signed up for holiday oral workshop and their 16lessons P2O workshop for my son who took PSLE 2021. My son enjoyed the zoom classes, their notes are easy to comprehend and creative. Wanted to specially compliment Teacher Joel Lim, he is very patient and kind, he will always explain the lesson very well til the students understand. My son improved his oral and his overall English. From AL5(SA1) to AL3(Prelim) to AL2(PSLE). We are very happy and grateful. Thank you Mr Joel Lim!

At Ace Scorers, their primary focus is results. With a maximum of 8 students per class, their experienced tutors are able to provide individualized attention to each and every student, ensuring that they receive the guidance and support needed to succeed. Their comprehensive in-house notes complement the curriculum taught in school, making it easier for students to keep up with their studies. These notes are designed to help students understand key concepts and apply them in real-life scenarios. By doing so, students are better equipped to tackle difficult questions and exams.
With 15 years of experience and a proven track record of success, they pride themselves on their team of certified teachers who have graduated from top institutions such as NUS and NTU. Their teachers are experienced and passionate about education, and they are committed to helping students achieve their full potential. In addition, their PSLE tutoring programme is taught by ex-MOE teachers, giving students access to the expertise of those who have worked within the Singapore education system.
Name

Ace Scorers Enrichment Centre

Website

Contact Number

6289 4551

Email

acescorers@gmail.com

Location & Accessibility

2A Maju Avenue, Singapore, Singapore

Nearest MRT: Serangoon

Primary Level Subjects Taught

Primary 1 to 6

English, Maths and Science

Trial Classes

Not Available

Highlights

Small class sizes

Comprehensive resources provided

Experienced tutors and long service

Affordable prices

Testimonials

My daughter has been with Ace Scorers since P6. Mr Teng's lively and relatable methods helped her grades improve year on year. She's now in Ace Scorers Sec 3 A Math class and her confidence in the subject has improved. I'm enrolling my younger child in the Centre after the circuit breaker. Admin is efficient and prompt too. Highly recommended if you are looking for a fuss-free tuition centre with passionate tutors for your child in upper primary and in secondary.

Reliable tuition center, reasonable fees with caring teacher with students interest as priority unlike other commercial center who are out there to squeeze parents money. For those center who have been selling their courses like big poster, parents are paying for their marketing fees. Highly recommended for this center.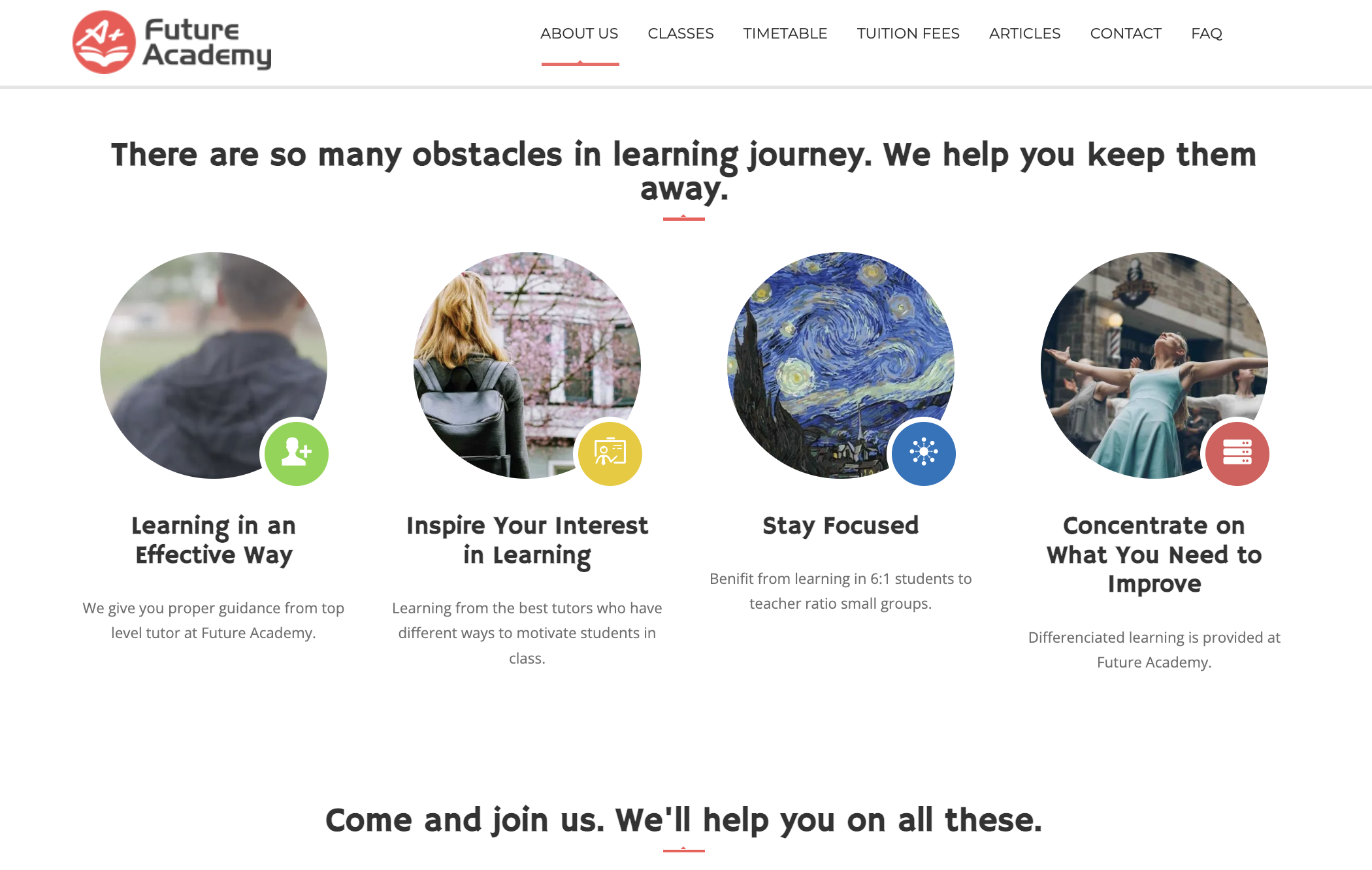 Led by experienced educators Ms Chen and Mr Lau, both of whom have worked in top-tier schools such as Raffles Girls' School and Hwa Chong Institution, this centre offers tailored learning programs for students of almost all levels.
What sets Future Academy apart from other tuition centres is its focus on small-group tuition classes. Each class size is capped at 5 students, meaning your child will receive personalised attention and guidance from highly-credentialed tutors. They pride themselves on catering to the specific needs of students and apply a differentiated learning approach to provide the support needed during their academic journey.
Name

Future Academy

Website

Contact Number

68846566/84577888

Email

info@fa.edu.sg

Location & Accessibility

Bugis / Rochor

175A Bencoolen Street #06-05, Burlington Square, Singapore 189650
Nearest MRT: Rochor


Bukit Timah / Beauty World

170 Upper Bukit Timah Road #15-04, Bukit Timah Shopping Centre, Singapore 588179
Nearest MRT: Beauty World


Toa Payoh / Braddell


381 Lor 1 Toa Payoh #01-12, OnePeople.sg, Singapore 319758

Nearest MRT: Braddell




Primary Level Subjects Taught

Primary 4, 5 and 6

English, Maths, Science, Chinese, Math Olympiad, DSA

Trial Classes

Not Available

Highlights

Testimonials

The teachers are very encouraging and give a lot of guidance and opportunities for practice during each session. Moreover, the notes are pretty detailed and explain each concept well enough for students to form a big picture understanding of the overall topic.

My son attended 2-weekend crash course for final GEP selection. Yesterday I received letter from MOE saying he's been selected to attend P4 GEP in 2023. I was amazed beyond words. During those 2 wks Future Academy exposed him to various qns / scenarios in Maths & English so he would be familiar in exams. I highly recommend Future Academy

My experience here as of now has been extremely satisfactory. My tutors are engaging and helpful. I feel comfortable asking questions and the answers I receive are in depth and comprehensive. The teaching is not just for exams and is holistic which i believe is very beneficial for my learning. The materials provided are useful and practical for revision.

Seth has been attending Math tuition under Ms Chen for the past 2 years. Ms Chen is very good at clarifying concepts and motivating her students. His grades have since improved and remained consistently good. More importantly, his confidence and interest in math has been boosted!

I would like to thank Ms Liu too, for her last-minute coaching. Seth has seen a marked improvement in science within a short period of time!
Recognised as one of the most popular tuition centres in Singapore, The Learning Lab provides comprehensive tuition and enrichment classes for students across all levels. With over 18 years of experience and counting, their track record and success have led them to grow not just in Singapore, but across Asia.
As a primary school tuition centre, they are dedicated to helping students achieve their personal best, by nurturing a growth mindset and curiosity to learn. Their curriculum is constantly updated and aligned with the latest MOE syllabus to ensure students are well-prepared for examinations and beyond. With a strong emphasis on critical thinking, creativity and effective communication, The Learning Lab aims to prepare students not just for academic success, but for lifelong learning and personal growth.
Name

The Learning Lab

Website

Contact Number

6733 8711

Email

enquiry@thelearninglab.com.sg

Location & Accessibility

8 outlets islandwide, view their branches here




Primary Level Subjects Taught

Primary 1 to 6

English, Maths, Science

Trial Classes

Available

Highlights

Testimonials

I want to thank David from The Learning Lab for accomodating my request to my kids for Science classes@ united square. I had a negative service experience from another enrichment centre coming from a programme director although they do have good teachers and physical infrastructure. However, the culture seems to be harvesting negative spirit.

The Learning Lab provides swift and fuss-free services. They recommended me to pick up the fastrack curriculum specially designed for kids from certain schools. It is worth paying every single cent for the excellent service and the great teachers from TLL. This is my 3rd year with TLL in two other subjects. I have decided to park another Science subject with them as well. The flexibility and the various locations of the centres to help the child in make up classes are definitely a plus point to subscribe to them. They go beyond the extra mile even if the child could not make it within the week of lesson plan for replacement class. Special arrangement will be made to ensure the child's competency is caught up.

There were so much empathy and understanding in conversation with your TLL staff. I certainly appreciate that. So far, TLL service staff and teachers are definitely well trained. They display high interest in providing service excellence. For the cost I am paying at other centres, TLL is a remarkable choice.

Ms Adeline from Rochester is a very committed Math teacher. My son's score has always been in the above 85 scoring range. He was below average before we met Ms Adeline. With that, thank you guys for taking care of us.

Although it may be slightly expensive, the classes are great and all the worksheets and programs are helpful. There are also great facilities there like a library and environment is clean. Teachers are all helpful kind and compassionate making it a great learning environment for your kids.

The Learning Lab is a perfect embodiment of how great companies are built on great products. Throughout the 8 years that my three children have been taking lessons at The Learning Lab, the teachers and staff have consistently delivered an excellent educational experience for them.

My eldest son, Arif, always looked forward to attending his classes! As a GEP student, he thoroughly relished how lessons are enriched with current affairs, famous personalities and interesting case studies. In his own words, "The lessons come alive". It also helped that his teachers displayed tremendous dedication and extramural excellence, which fuelled his passion for learning. His time at The Learning Lab definitely stretched him well beyond his years, which was well reflected when he emerged as the 2nd highest PSLE scorer nationwide in 2011.

I will continue to entrust their education to TLL, as it has continually equipped my children with the tools and motivation to go further in life and succeed in their future undertakings.
Branding itself as a 'PSLE powerhouse', Think Teach Academy's range of primary school tuition programmes challenges and excites students to achieve content mastery and ace their exams.
As a tuition centre on a mission to 'nurture the thinkers of tomorrow', tutors apply relatable examples and easy-to-remember tips and techniques to power students to learn effectively by asking the right questions and exploring different methodologies to develop their exam smarts.

Name

Think Teach Academy

Website

Contact Number

9769 2396

Email

ivan@thinkteachacademy.com

Location & Accessibility

Upper Thomson

246C Upper Thomson Road, Thomson Garden Estate, Singapore 574370

Nearest MRT: Marymount and Bishan

King Albert Park

9 King Albert Park, KAP Mall, #02-04/07/25/26, Singapore 598332

Nearest MRT: King Albert Park


Siglap

55 Siglap Road, Siglap Centre, #01-12 and #02-30, Singapore 455871

Nearest MRT: Kembangan and Bedok

Kovan

988 Upper Serangoon Road, Stars of Kovan, #01-42, Singapore 534733

Nearest MRT: Kovan MRT





Primary Level Subjects Taught

Primary 4 to 6

English, Maths, Science, Chinese

Trial Class

Available

Highlights

Unique methodology

Specialisation in PSLE subjects

Periodic feedback on your child's progress

Tailored and comprehensive notes

Testimonials

My daughter started with Think Teach when she was in P6. She just received her PSLE results. An "A" for Math is really amazing. An "A*" for her Science is awesome! TTA helped her overcome her "mental block" on both subjects, Math and Science. Even though she started her lessons with TTA after the first quarter of P6, TTA managed to elevate her marks tremendously. Her confidence level towards her studies is way higher and she is more composed when it comes to tests/exams in school. Thank you very much Think Teach Academy!

My girl enjoyed going to tuition! She improved by 10 marks for Math from P5 SA2 to P6 Prelims. Her Science also improved from a weak to a strong A. Her English was a borderline A to a stronger A in just a short span of 9 months during the COVID period. TTA also eased my financial burden by giving a discount during the online COVID classes! Thank you TTA

Bernadette only joined Think Teach in P6 but she has learnt many grammar rules and composition writing techniques within this short span of time. Algene has also personally helped her and we are very grateful to him. She attained A* for her English. Centre is very professional and I have just enrolled my younger girl with them as well. Thank you Think Teach!
Recognised as a 4-time winner of the "Best Enrichment and Learning School" Award. Edufirst Learning Centre comprises experienced teachers and tutors dedicated to maximising the potential of your child. The curriculum is constantly updated and up to MOE standards, and learning materials are tailored to each child's needs, so you can be sure that your child is learning at their own pace and style. With constant updates on your child's progress, you can have peace of mind knowing that your child is on the right track. And if you ever have any questions or concerns, you can reach out to them anytime by phone call or SMS with a quick response time.
Busy parents would appreciate the free homework clinic, where students can arrange a consultation with their tutors for support on their homework. With their nurturing and supportive environment, your child can reach their full potential and achieve academic excellence.
Name

Edufirst Learning Centre

Website

Contact Number

91067716

Email

enquiry@edufirst.com.sg

Location & Accessibility

17 outlets islandwide, view all branches here




Primary Level Subjects Taught

Primary 1 to 6

English, Maths, Science, Chinese, Creative Writing, Malay, Tamil

Trial Class

Yes

Highlights

E-lessons available

AEIS lessons for international students

Plenty of outlets islandwide

NIE-trained specialists

Free homework clinic

Testimonials

My son attended Edu first Jurong, Jcube for P1 English & Maths lessons for AEIS with Teacher Bernard. Teacher Bernard is an awesome teacher! I love his attentiveness and caring attitude towards the kids. I for sure know that my kid enjoys too.

My son loves going for lessons and always look forward to it. I can see teacher Bernard dedication towards him and hopes he will continue to guide him & all other students too.

Environment is good and their lesson syllabus system is excellent. Since it's a group setting, he enjoys making new friends and socializing. The worksheets they give them are up to MOE standards.

Highly recommend Edu first & Teacher Bernard.

Didn't regret choosing this centre for my primary 1 son! I was skeptical at first as i wasn't sure if my kid would be okay but i was well assured that he is well taken care of and yes he was so happy since the first day. Always looking forward to go student care after school. If i have enquiries, i will be answered promptly. Teacher liza is an awesome teacher! I love her attentiveness and caring attitude towards the kids. I for sure know that my kid is safe and he sure enjoys his time at student care!

My daughter this year is in P3. She used to dislike chinese and her attitude towards tuition is very bad. But ever since sending her to EduFirst, her attitude and behaviour started to change in a good way. Her teacher is very patient and always engages with the kids, ensuring that they fully understand what is being taught. My daughter's Chinese results went from a Band 3 in SA1 to a Band 1 in SA2. Thanks to Teacher Sybelle's teaching and guidance, now my child looks forward to going for tuition classes.

Highly recommended!
Students at Genius Plus Academy go through a unique learning journey that primes them for success. As a Math Specialist Tuition Centre run by former school teachers, the primary school tuition centre takes a student-centric approach to learning.
Experienced teachers and tutors have a deep understanding of the curriculum and the psychology behind how students learn, allowing them to develop a tailored in-house targeted at helping students ace their mathematics. Parental intervention is also highly encouraged, with the centre keeping parents constantly informed about their child's development and providing a supportive environment that encourages collaboration between students, parents, and tutors.
From Primary 6 programmes to placements in the schools and programmes of their choice, their students consistently achieve impressive results that reflect the hard work, resilience, and perseverance they have shown.
Name

Genius Plus Academy

Website

Contact Number

9736 3029

Email

eileen@tuitiongenius.com

Location & Accessibility

Bukit Timah


Coronation Plaza 587 Bukit Timah Road #03-30 Singapore 269707
Nearest MRT: Tan Kah Kee

Punggol
660A Edgedale Plains #02-04 Singapore 821660
Nearest MRT: Punggol


Thomson/Marymount
Thomson V Two 11 Sin Ming Road #B1-18
Singapore 575629
Nearest MRT: Marymount/Upper Thompson

Primary Level Subjects Taught

Primary 1 to 6 Maths

Trial Classes

Not Available

Highlights

Specialised focused on Mathematics

Led by experienced teachers

Testimonials

Eileen Toh leads a very professional and dedicated team at Genius Plus Academy. Our daughter attended class and private sessions from Primary 4 - 6 under Eileen's guidance. We saw a notable improvement in our daughter's mathematics scores.

Eileen Toh has a sincere approach with her students and also forges good friendships with them on a personal level.

Genius Plus Academy comes highly recommended!

This is not a paid review nor was I a personal friend of centre . Am writing this review not just because my gal achieved distinction for the much-talk-about challenging PSLE maths paper 2019. My gal truly learnt a lot n benefited a lot learning from Ms Eileen.

Previously during the mid of P5 , My gal started attending a very popular tuition centre but her grades plummeted by a lot to almost failure which shocked me . Tried seeking help from the tutor of that centre , it was challenging as no direct mobile messaging was allowed. Cannot blame the other tutor as their system is different .

After switching to Genius Plus Maths , within a short time , my daughter's grades rose again to A* .

I find Ms Eileen's teaching techniques very effective and makes it a breeze for diligent learners such as my gal and without having me to add much additional workload such as assessments and past year papers for her.

Am very grateful that Ms Eileen provided the helpline where I could easily message to her whenever my daughter faced difficult questions . And when time permits , she took extra time after class to go through with her the key questions that are more in line with syllabus . If not , she would go provide the solutions via WhatsApp .

Also just before the actual PSLE , she even messaged all parents to remind them about prep classes and etc . She also created separate group chat for any parents who wishes to post PSLE questions .

The amount of preparation n dedication Ms Eileen Toh had prepared for the children is tremendous. And other things too , little actions or offer of help that touches me too .

More importantly, my daughter enjoyed learning from her . It has the right pace for her .

Thank you so so much Ms Eileen Toh for your excellent works!! . You are the best primary school maths tutor I ever known .

With a consistent and stellar track record, it's no wonder that Mind Stretcher is a trusted education partner for many parents.
Since 2002, the centre has been providing a wide range of tuition and enrichment classes to students in Singapore through innovative and effective pedagogies. Their commitment to education goes beyond the classroom with their best-selling Edu-Webinars and Workshops that have been attended by at least 20,000 students since May 2020.
Beyond tuition, they also hold plenty of value-added workshops, boot camps and webinars for students of all ages to hone their skills and improve their chances or academic success.

Name

Mind Stretcher

Website

Contact Number

8883 8004

Email

enquiries@mindstretcher.com

Location & Accessibility

25 outlets islandwide, view branches here

Primary Level Subjects Taught

Primary 1 to 6 English, Maths, Science and Creative Writing

Trial Classes

Available

Highlights

Easily accessible and available islandwide

Strong track record

Enrichment courses going beyond the classroom

Testimonials

Mrs Shum is a very dedicated teacher. She has given me detailed feedback to improve my writing and her lessons are very engaging. I really appreciate the personalised feedback which helps me identify areas I should work on more. She goes the extra mile to share interesting facts every lesson which has helped expand my general knowledge in so many ways. With Mrs Shum's tips and MS Worksheets explaining how to master various components, I'm able to answer questions with greater confidence. Lastly, Mrs Shum cares deeply about our emotional well-being, and she always reminds us that trying our best is more important than the results.

I am writing this email to compliment one of your teachers at your centre, who had taught my son, Gan Eu Jin, for the past one and a half years. In view of a change of Eu Jin's CCA training schedule as of 1 Jul 2017, I had no choice but to pull him out of Teacher Rachel's Sat 2pm Pri 5 class as of last week and transferred him to another session at the East Campus. As such, I would like to covey my thanks to Teacher Rachel for her patience, guidance and care given to Eu Jin during her weekly session with him for the last many months. Teacher Rachel has always been so reassuring and encouraging towards my son. In addition, I am very sure her teaching techniques, emotional support, dedication and commitment had, in no small way, contributed to my son's enthusiasm in attending classes at Mind Stretcher as well as his good results so far in writing tests. Pls convey my thanks to Teacher Rachel and I will definitely recommend Mind Stretcher for their Writer Toolbox classes and especially with awesome teachers like Teacher Rachel helming them! Keep up the good work MS!
Touted as the #1 primary school tuition centre for math, NickleBee Tutors pride themselves on helping students excel through individualised attention and differentiated learning. Their in-house materials help students master problem-solving skills & heuristics, through their proprietary frameworks and methodology, giving them the confidence and speed to solve challenging PSLE Math Problem Sums efficiently and accurately.
Students looking for a challenge can consider the advanced PSLE Math Masterclass, perfect for those looking to undertake the study of PSLE Math at a higher level and sharpen their ability to solve challenging and non-routine 'Olympiad-style' math questions.
Name

NickleBee Tutors

Website

Contact Number

9188 4710

Email

nicklebeetutors@gmail.com

Location & Accessibility

Bishan
Bishan North Shopping Mall
279 Bishan Street 23, #01-26 (2nd floor), Singapore 570279
Nearest MRT: Bishan


Bukit Timah
Link@896 Shopping Mall, 896 Dunearn Road, #03-03H, Singapore 589472
Nearest MRT: King Albert Park


Sengkang

212 Compassvale Drive, Singapore 542212
Nearest MRT: Sengkang


Primary Level Subjects Taught

Primary 3 to 6 Maths

Trial Classes

Not Available

Highlights

Specialised focused on Primary Mathematics

Small class sizes

Specialised and proven methodology

Testimonials

My twins have been attending NickleBee this past one year. After scouting around and shortlisting a few enrichment centres, I decided to go with NickleBee. One of the pluses is that it has a small student-teacher ratio that allows Mr Zhou to focus more on each individual student, as every child develops at their own pace. Also, my children look forward to their weekly lessons and do not drag their feet to class. Their enthusiasm is a clear definition of them enjoying their lessons.

Through Mr Zhou's clear and concised teaching methods, my children's understanding of Maths concepts have improved and they have also developed a positive learning disposition with the subject. As such, both produced consistent good work throughout the year in their own respective schools. They also sat for their EYE papers confidently and attained very good results.

Not only does Mr Zhou help my children in excelling academically, but he also imparts good values to make them better students. He is a dedicated teacher who brings the best out in his students and motivates them to embrace challenges.

I'd highly recommend NickleBee Tutors.

I have been attending math tuition with Nicklebee tutors since P5. Under Mr Zhou's guidance, I scored well for my PSLE math paper in 2019. I am now still having secondary math lessons with Ms Chen at Nicklebee and it is helping me immensely with 'A' Math and 'E' Math.

Very good. 10/10 Would recommend.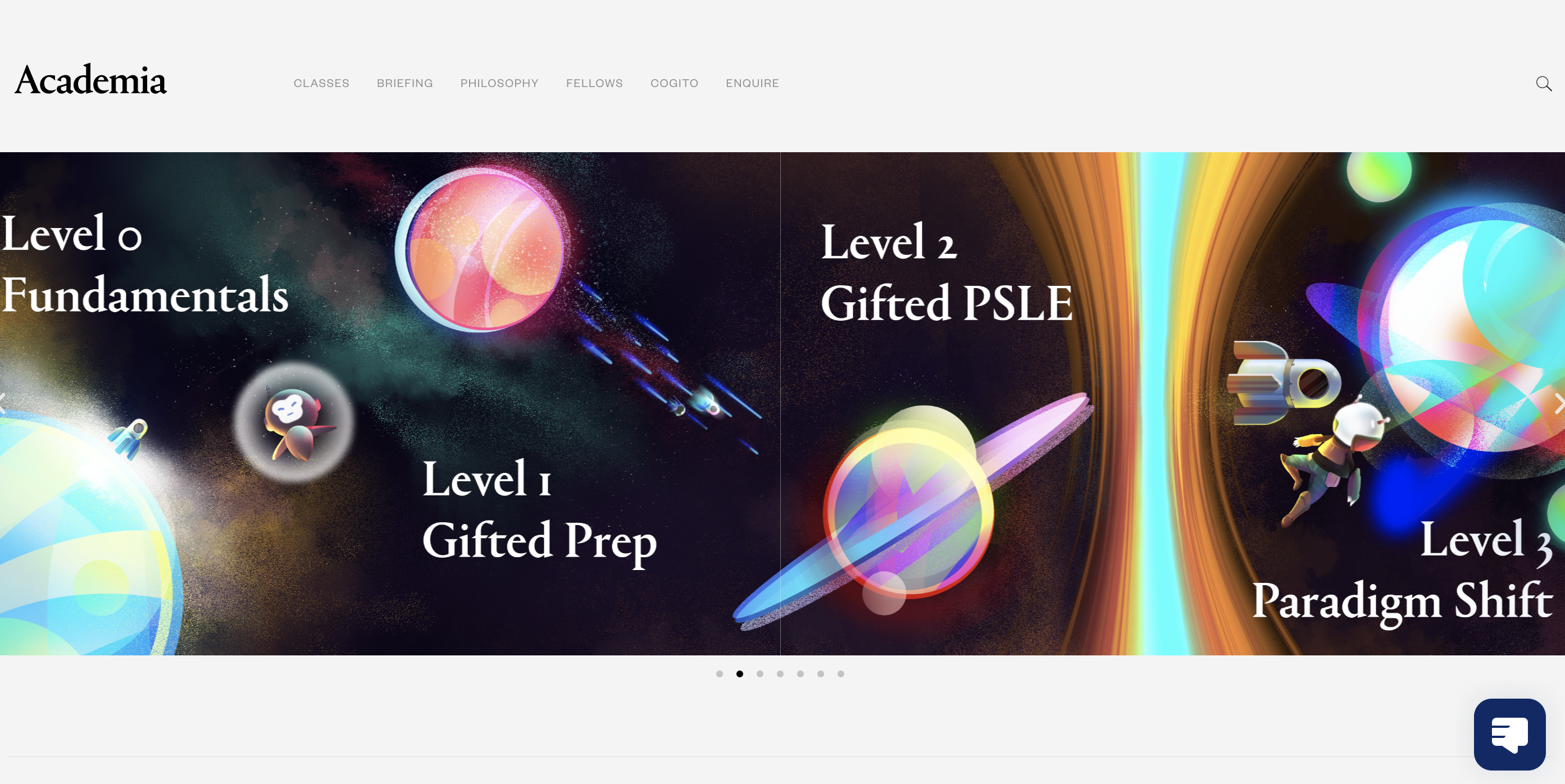 Academia isn't your typical primary school tuition centre. Founded by a Princeton graduate and local top student, Academia is dedicated to inculcating a love for learning, making it intuitive and effective for students of all ages.
What sets Academia apart from other tutoring providers is its innovative blend of Singapore's top-notch education system with research-driven pedagogies from some of the world's most prestigious institutions, including Ivy League schools and Oxbridge. This unique approach to education ensures that students receive an intuitive and engaging learning experience that draws on their natural ability to understand and apply new knowledge.
This means that you can be assured that your child receives unparalleled access to expertise and a specialist team that is dedicated to empowering them to succeed both in and out of the classroom.
Name

Academia

Website

Contact Number

9777 3532

Email

learn@academia.com.sg

Location & Accessibility

6 Sin Ming Road #01-15, Singapore 575585


Primary Level Subjects Taught

Primary 1 to 6

Trial Classes

Not Available

Highlight

Specialised focused on English

Unique pedagogy

Enrichment programmes that go beyond classroom learning

Testimonials

Our girls have been attending classes in Academia for years. The teachers are highly qualified and driven. They are passionate and take pride in their work. On many occasions, they have spent time helping our girls in class and after class. Never failed to answer any questions we had. The teachers provide clarity and concise answers with good examples so that we can fully comprehend. The learning materials given are like no other. It is carefully crafted and curated to a high level of expectation specifically to prepare and develop the students further. On top of that, Academia also uploaded many quizzes and practices online for students. We am truly heartened by their efforts and am thankful that our girls have shown vast improvement and doing well. Thank you A team for your awesome service!

A great tuition centre indeed! My son improved from AL3 to AL1 through attending the courses in this centre! Even though the questions may be harder, the students can actually learn more from these questions as they attempted the more challenging ones. They can cope with the questions in PSLE more easily as they already knew how to answer these questions and have more confidence when attempting the PSLE questions. I feel Academia Education is one of the best English tuition centres in Singapore. The teachers are also very experienced and came from various famous universities, such as Princeton University. They are strict but caring. I would strongly recommend people to enrol in this fabulous centre :)

My child joined Academia during his P6 Term 1. Just over the few months till the PSLE, we noticed the great improvement he has achieved in his English language and how much he has benefited from the tuition, especially in composition writing. Kudos to Mr Johann Loh and the assistant teacher! Mr Johann Loh is very professional and dedicated to his students. I am also very impressed by the syllabus and contents that Academia has put together for P6 students.The admin team has been very prompt and supportive to respond to our queries as well. The entire learning journey has been an extremely satisfactory experience for us the parents and the child. I will be more than happy to recommend Academia to those who require supplementary learning.

Keep up the good work, Academia team.

Review from Parent Kaye Ng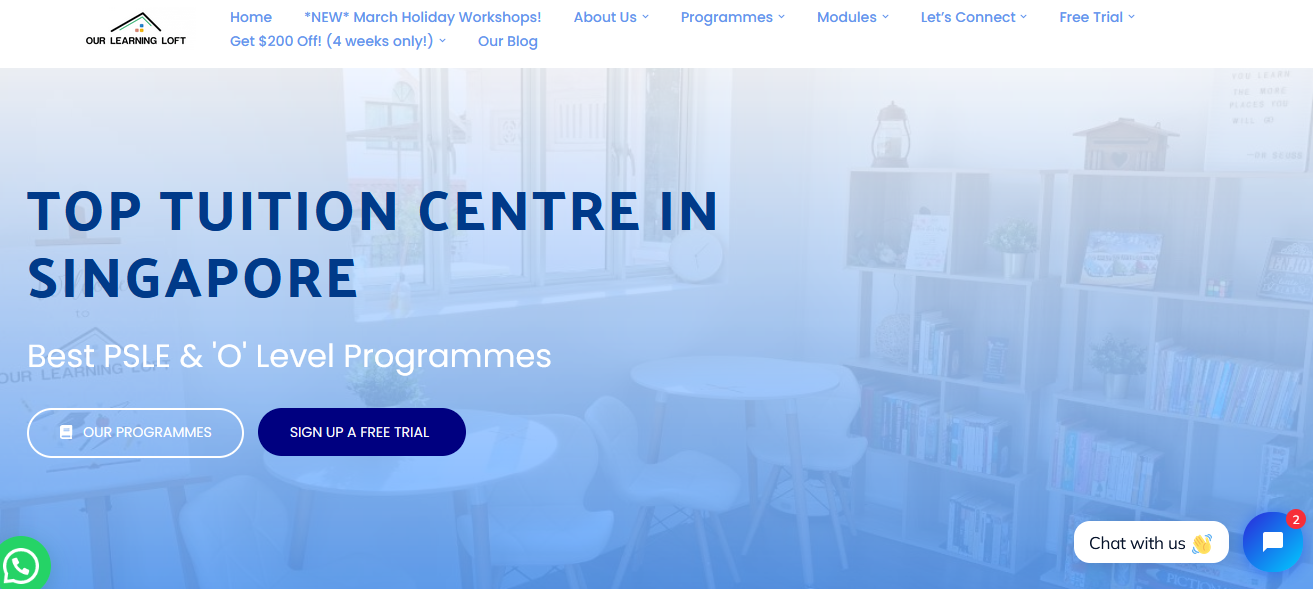 At Our Learning Loft, the focus is not only on academic excellence but also on holistic development. Their highly experienced team of tutors use an approach known as the 3Es, which stands for Educate, Expose and Elicit. This approach helps students not only excel academically but also develop values and practical skills that will serve them well in life.
The centre also boasts a stellar track record, with 94% of their primary school students achieving an A in their subjects — a testament to the effectiveness of their methodology. Each class size is also kept small, to cater to personalised needs.

Name

Our Learning Loft

Website

Contact Number

8657 7897/6908 8884

Email

hello@ourlearningloft.com

Location & Accessibility

613A Bukit Timah Rd, Singapore 269715

Nearest MRT: Tan Kah Kee

Primary Level Subjects Taught

Primary 4 to 6, English, Maths and Science

Trial Classes

Available

Highlights

Boutique tuition centre

Proven track record

Small class size

Enrichment workshops

Testimonials

Teacher Joy from Learning Loft has a knack in connecting with the students. Although I may feel it's not pushing the children the way I want it but at the end of the day, the children look forward going to the class and come back happy, I am relieved. I feel this acts as a form of motivation for the subject and also means that the teacher is approachable for my reserved kids to know that they can ask whenever they need help for various Maths questions. This is crucial because while the children improve their grades, they also get to enjoy the journey. My eldest girl achieved AL3 for her PSLE Maths.

Thank you Teacher Joy!

The teachers there have helped me improved in my math and science grades. They helped me understand the topics easier and the worksheets provided is a good way of training for exams

Relatable and experienced teacher: Mr Julian Lee has been tutoring my son. He has been effective in delivering Science concepts in an interesting manner. My son looks forward to his lessons! His passion for educating kids is commendable.

Great location: the center is conveniently located beside the MRT and is cosily furnished.

A Grader Learning Centre is an established tuition centre chain in Singapore, offering high-quality tuition and enrichment programmes. With over 17 convenient locations across the island, A Grader is dedicated to providing accessible education to all.
Every class at A Grader Learning Centre is limited to 12 students, ensuring each child receives individual attention and personalized learning. Since its establishment in 2013, A Grader has impacted over 20,000 students, with an impressive improvement rate of over 83.4%. The centre takes pride in its excellent reputation, with hundreds of positive reviews on its website.
A Grader Learning Centre also provides the proprietary EverLoop Improvement System, an on-demand service which offers students additional resources to help them revise and improve. This includes extra worksheets, comprehensive learning videos, and revision papers.
Name

AGrader Learning Centre

Website

Contact Number

9665 1713

Email

enquiry@agrader.sg

Location & Accessibility

16 outlets islandwide, view branches here

Primary Level Subjects Taught

Primary 1 to 6
English, Maths, Science and Creative Writing

Trial Class

Available

Highlights

Strong resource system for post-tuition support

Proven track record

Accessible with many outlets

Testimonials

My girl started having Math tuition in P5 last year, and her results have improved significantly. So I enrolled her for Science tuition this year to prepare for PSLE. Most importantly, she enjoys her lessons at AGrader, and that's very important to us parents.

She just finished her March booster program for Eng too, and she has learnt a lot from it!

I enrolled my child for the online lessons due to time slots were not convenient for the physical lessons, and I found that the online lessons are as good. Class size is just about right, and I like how the teacher calls out every single student every now and then to make sure they are ok. I also love that they will mail out the Everloop System revision packs over so my child can attempt the paper at her own pace, and watch the videos online for those she got wrong. She has the laminated cheat sheets "decorated" on the wall for easier reference too. I learned that she has a better understanding on topics that were taught at A Graders and then again at school so learning in school is not a worry for her now. Highly recommended!

Ms Arina, English teacher from Tiong Bahru. She never fails to motivate me and is very caring. She helped my improve my English skills and makes the lesson very interesting. Examples of some skills she has taught me would be: how to score well in comprehension open ended and how to score full marks for my grammar cloze which used to be my weakest area in the English paper.

Nowadays, I feel very motivated to further improve my English skills, hence I will always book English everloop whenever I have time.

Happy Teacher's Day! Thank you for teaching me!
BrightMinds Education is a tuition centre known for its dedication to providing high-quality academic support to students of all ages. Their team is made up of experienced full-time tutors, who are well-versed in the current MOE syllabus taught in primary schools. You can be assured that your child will have the edge in improving their skills across subjects, with a high degree of confidence for acing their tests.
As a boutique learning centre, BrightMinds has a unique advantage over its competitors, choosing to cater its expertise to the needs of individual students. This expertise allows them to design lessons that are not only engaging and effective but also relevant and up-to-date with the latest academic standards.
Name

BrightMinds Education

Website

Contact Number

91474941, 63530180, 63666865

Email

brightmindscentre@gmail.com

Location & Accessibility

Woodlands


Blk 883 Woodlands North Plaza St 82 #02-464
Singapore 730883

Blk 763 Woodlands Ave 6 #01-70 Singapore 730763

Nearest MRT: Woodlands, Woodlands North, Admiralty





Primary Level Subjects Taught

Primary 3 to 6
English, Maths, Science, Chinese and Creative Writing

Trial Classes

Available

Highlights

Testimonials

Brightminds Education' tutors are very dedicated and knowledgeable. They are able to make classroom learning interesting. Our children come home feeling happy and always look forward for the next lessons. They said that Ms Marie and Mr Prem give them sunny smiles, and are friendly, helpful and encouraging. A big THANK YOU to all your tutors. Mrs S.P.

Brightminds tuition is really helpful for my two kids.my elder son started from P1 onwards. Both maths and English. He improved to all the assessments to accomplished.

Before that regarding maths the teacher said needs to concentrate. At that time I tried to teach him at home. But couldn't go well. I realised he needs a different approach. He joined Brightminds after that. I was closely following his performance with the worksheets given at the centre. I would like to thank Ms Siti and Ms Mary especially. They made him to improve a lot in word problems, English grammar. Handwriting etc...

My younger son also was slow in writing and spelling in preschool level. This one I was noticed at home. He was also started going brightminds. Ms Mary is his tutor. After a few months later, I was so happy with his handwriting and maths sums.

Thank you brightminds and his Teachers for your help.

I'm very pleased with Brightminds Education's services. My child academic performances have shown significant improvements since she started tuition. My child said that Brightminds tuition teachers are very kind and helpful. Also, they always check to make sure students understand the lessons taught. Even if they miss the class they arrange for the missed class. Thank you so much for enlightening them, and making lessons interesting and meaningful.


The Pique Lab is all about fostering a love for science through education. According to their website, their proven methodology has helped over 20,000 students achieve stellar results in PSLE science.
Their approach involves cultivating curiosity, helping students identify question types, develop strong thought processes, and apply answering techniques to shorten their learning curve. Not only will students enjoy the learning process, but they're also more motivated and confident to excel in their academic journey.
Name

The Pique Lab

Website

Contact Number

86211533

Email

hello@thepiquelab.com

Location & Accessibility

Serene Centre

10 Jln Serene, #02-20 Singapore 258748
Nearest MRT: Botanic Gardens

Crown Centre

557 Bukit Timah Road, #01-06/07 & #02-02/15/20/21,

Crown Centre, Singapore 269694
Nearest MRT: Botanic Gardens

Primary Level Subjects Taught

Primary 3 to 6
Science

Trial Classes

Available

Highlights

Testimonials

Highly recommends Pique Lab for quality science tuition. Best part we like about this tuition ctr, they provide useful notes in colourful booklet, ignite the child's learning interest. Teacher shared proper answering techniques for open ended questions..We have been there for 1yr+, taught by Mr Firhad, somehow manage to pull up her grades by 1AL.. Thank you Pique Lab!!

My child thoroughly enjoyed Mr Derrick Toh's lessons which were engaging and interactive. Mr Derrick ensures that every student participates in his lessons by allowing each of them a chance to answer the questions he poses to the class.

Mr Derrick's lessons are also full of energy. You can hear his passion in teaching and desire to help the students from the vigour of his voice. During the Electrical Circuit Masterclass that my child attended, Mr Derrick also utilised games that not only make the class interesting, but also help the students learn in a fun way.

I'd definitely recommend The Pique Lab and Mr Derrick Toh to anyone who is looking for Primary School Science enrichment.

From Primary 4 to 5, my Science grades were worsening from 80% to 70%, and from 70% to 60%, causing me to feel very discouraged and lost all interest in Science. Then, I did not fully understand the concepts taught in school, and just went for the examinations without any preparation. However, when I joined The Pique Lab in Primary 5, their thorough explanation of questions and engaging way of teaching re-piqued my interest for Science. Their colourful yet informative notes made revision much more efficient and effective. Therefore, with their guidance, I was able to achieve A* for PSLE, and 90s for Secondary 1. I would recommend The Pique Lab to parents and students.



If you're searching for an affordable and effective tuition centre for your primary school child in Singapore, Mavis Tutorial Centre is an excellent option to consider. With a whopping 36 years of experience and 15 centres across the island, they have become one of the most trusted and sought-after tuition providers in Singapore.
One of the things that make Mavis Tutorial Centre stand out from the rest is its innovative teaching methods, designed to help children excel in their studies while keeping them engaged and interested in learning. The full-time tutors, many of whom are former school teachers, go above and beyond towards hands-on learning methods to challenge and motivate young learners.
Name

Mavis Tutorial Centre

Website

Contact Number

6786 8718

Email

enquiries@mavistutorial.com

Location & Accessibility

15 locations islandwide, view branches here

Primary Level Subjects Taught

Primary 1 to 6
English, Maths, Science, Chinese

Trial Classes

Not Available

Highlights

Testimonials

Mavis Tutorial Centre has been providing utmost guidance for my three daughters the past five years. The Teachers are professional with theirs works, showing care and compassion beyond theirs scope of works. I will not hesitate to recommend Mavis Tutorial Centre whom still doubts it's professionalism. These are my humble confidence in Mavis. Thank you.

The teachers are all professional and fun. My 2 kids enjoy their lessons there. Have been with Mavis for 4 years. Would definitely recommend my friends here.

My daughter have been in Mavis for 2 years. The teachers update my daughter every term which I felt it is good to see my daughter progress. My daughter enjoy her class in Mavis as the teachers are really engaging in their teaching.

My kids have been with Mavis since P1, now P5. What I like is, Mavis started in Dec, kids learn in advance of school and revision can start earlier. Jurong Point Mavis, good location and helpful staff and teachers.
The Learning Board offers a unique approach to learning English, focussing on deep understanding and problem-solving skills. Unlike conventional tuition centres that zero in on skills, The Learning Board motivates students by encouraging them through a change in mindset, and in turn, empowering them to apply effective strategies that bring results. Aptly dubbed as 'motivation-based learning', their programmes aim not just for results, but to foster a genuine love for the subject.
The Learning Board's programmes are compliant with the latest syllabuses from MOE, with small class sizes ensuring each student receives adequate attention. Qualified teachers use a lively delivery style to keep students engaged, and provide specialised resources such as SMART Sheets to support their learning.

Name

The Learning Board

Website

Contact Number

9271 0648

Email

info@thelearningboard.com.sg

Location & Accessibility

Kembangan


Kembangan Court, 5 Jalan Masjid #01-14
Singapore 418924

Nearest MRT: Kembangan

Hougang


The Midtown, 1187 Upper Serangoon Rd, #01-67

Singapore 533971
Nearest MRT: Hougang

Primary Level Subjects Taught

Primary 4 to 6
English, Science

Trial Classes

Not Available

Highlights

Testimonials

A wonderful, nurturing and supportive small group environment for PSLE English drill and practice! My son went away with an A after languishing between a C-B in Pri 5. Saw improvement within six months. Teacher Clarence was extremely helpful during Circuit Breaker and switched almost immediately to Zoom classes so that the students kept up with their exam prep. Oral exam practice was included too. All in all, very happy with our time here!

Teacher Clarence was a very professional and experienced teacher who teached in all points of English. His explanation, especially about the previous PSLE composition topics,was very clear. He helped me improved from 71 to AL2 and helped me get into hwa chong. Thank you, Teacher Clarence!

Within a short 3 month, Teacher Clarence helped push my son's psle grade from a C to B. A holistic teacher in a vibrant learning environment. Thanks Clarence!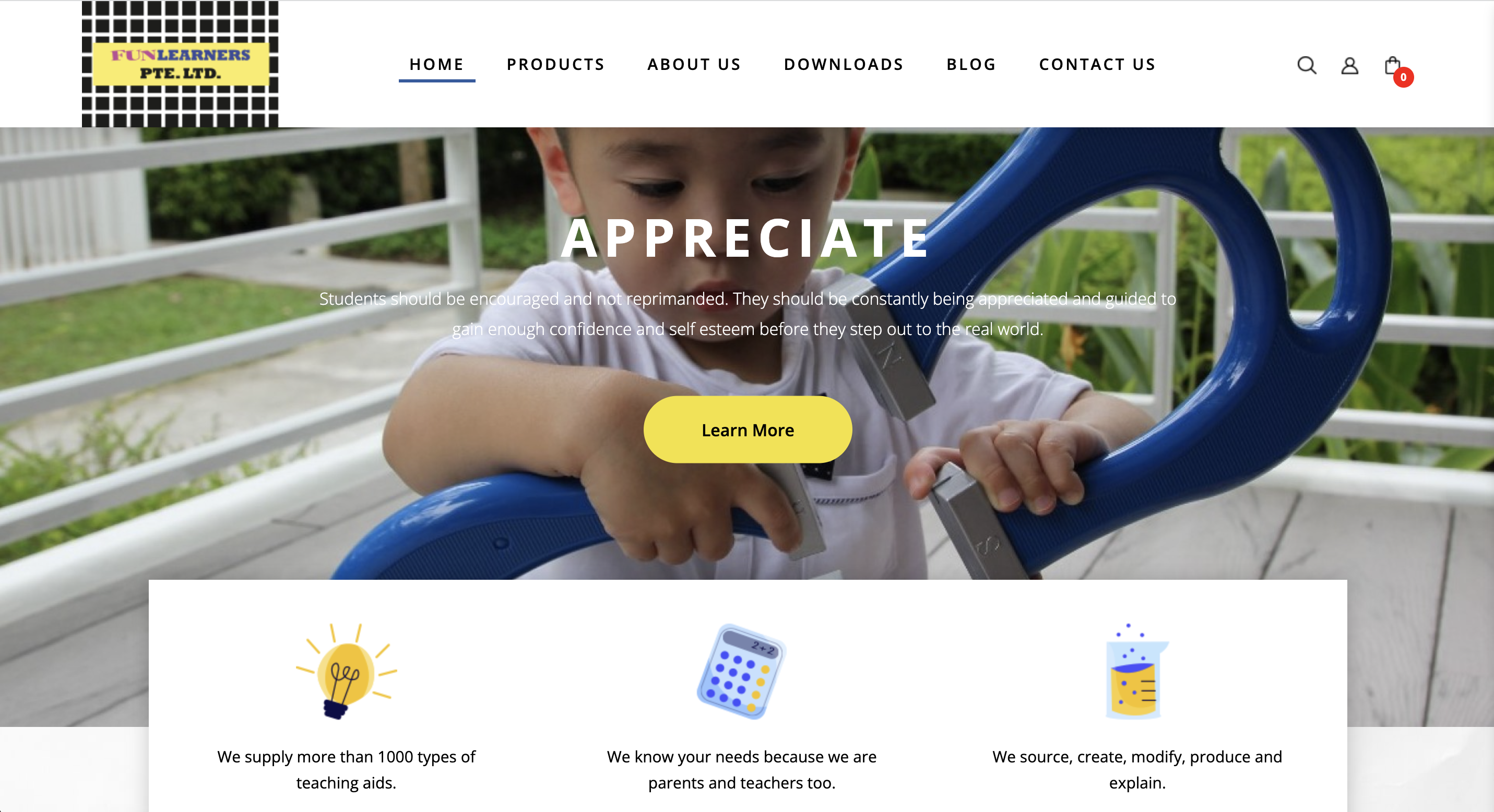 If you're looking for a place to nurture your child's academic potential and unlock their full potential, Fun Learners' School is the place to be. Having provided quality education services since 2005, Fun Learners' School has a range of educational services and resources for their tuition and enrichment courses including blended learning, AI-powered question bank and even school teacher training.
The principal of the centre, Mr Chee, even authored primary school textbooks in collaboration with renowned publisher Marshall Cavendish, which was nominated as the Top Six Educational Books in 2020. So you can be sure that your child is in trusted hands!
Name

Fun Learners School

Website

Contact Number

6567 3208/8938 3689

Email

Contact@funlearners.edu.sg

Location & Accessibility

Blk 371, Bukit Batok Street 31, #02-328 & #02-326,

Singapore 650371
Nearest MRT: Bukit Gombak

Primary Level Subjects Taught

Primary 1 to 6
English, Maths, Science, Chinese, Creative Writing, Chinese Creative Writing

Trial Classes

Available

Highlights

Holiday programmes available

Multiple learning modes

Variety of resources available for students to access

Testimonials

Fun Learners' School provides excellent pedagogy for English, Mathematics and Chinese subjects for primary and secondary levels. My grand-son and grand-daughter have achieved excellent results in school after 3 months of tuition classes with Fun Learners' School.

Fun Learners' School's teachers are qualified, possess high academic qualifications and ex-MOE teachers with many years of teaching experience.

The group settings in classroom are small which allow teachers to focus of every student's needs and challenges.

My sincere appreciation to all the teachers of Fun Learners' School for their passion and commitment as good educators and custodians for my grand-son and grand-daughter's academic guidance.

Keep up the good works!

Lessons are fun, interesting and engaging. The materials were well-thought out and contain many challenging questions for practice. Recorded lectures are useful in helping the child to recap what was being covered during the lessons. Teachers are caring and encouraging, and provided feedback on the child's performance.

FLS provides helpful lessons and has an elaborate curriculum design that enables me to learn effectively. Lessons are fun and interesting as well. The teachers are also very encouraging and with their guidance, I feel more confident and can better understand the concepts.



For parents in search of a tuition centre that prioritizes methodological education, Eton Education should be at the top of your list. They believe in enabling students to achieve "the flow"— a systematic and consistent thought process driven by clear decision-making.\
Their innovative approach to teaching is centred around a three-step process that strengthens students' concepts, identifies question patterns, and guides them towards achieving the correct solution. This approach goes beyond just achieving good grades - Eton Education aims to empower students with a growth mindset that will serve them well beyond the classroom.

Name

Eton Tuition Centre

Website

Contact Number

6385 3133 / 8065 8540

Email

enquiries@etontuition.com

Location & Accessibility

424 Hougang Ave 6, #B1-74, Singapore 530424
Nearest MRT: Hougang

Primary Level Subjects Taught

Primary 5 and 6
Maths and Science

Trial Class

Available

Highlights

Clear methodology

Small class sizes

Customised resources

Testimonials

Highly focussed on providing students with optimal education benefits in their classes by having a maximum of 8 students per class and where possible, ensuring students in classes forned are from the same school. Customised notes and practice questions are great too.

I really enjoyed Mr Tan's lesson as it did not have a very formal tone but was more jovial. It really helped me not just understand but also enjoy the subject as a while, which I did not before coming to tution. He also gives amazing practices and notes that are very helpful in preparation of exams, and exposes us to all sorts of question types the school might ask during exams.
Founded by a dynamic husband and wife duo, Dr Anngieline Lu and Mr Vitor Lee, Everyday Tuition Centre posts an innovative and supportive learning environment that encourages students to aim high and achieve their goals. Their experienced tutors come from highly competent backgrounds, with most of them PhD graduates, ex-MOE teachers, or track record teachers. Primary school subjects include English, Maths, Science and Chinese, and classes are extremely affordable with packages to help your child excel.
Name

Everyday Tuition

Website

Contact Number

8500 8938

Email

manager@everydaytuition.com

Location & Accessibility

Bukit Timah


Bukit Timah Shopping Centre,

170 Upper Bukit Timah Road, 03-70

Singapore 588179
Nearest MRT: Beauty World


Katong
865 Mountbatten Road

#02-04

Katong Shopping Centre

Singapore 437844
Nearest MRT: Dakota




Primary Level Subjects Taught

Primary 1 to 6
English, Maths, Science and Chinese

Trial Classes

Not Available

Highlights

Led by highly qualified tutors

Customised packages available

Testimonials

Dr Lu is a very responsible teacher. She called and shared with me about my daughter's progress and her character even though she only attended less than 4 lessons. We signed up 3 subjects each for my daughter (S2) & son (P6). The centre also have quality teachers that teach Math, Science and Chinese very well for Primary and Secondary levels. Besides that, I give all the admins 5 stars always prompt reply and fast action, tumb up!

I am impressed with the teachers. Giving out detailed notes which helps in better understanding of the topics. Teachers are fantastic. Teaching methods are interesting that make my kids focus and looking forward to every zoom lessons. Whenever the kids are facing problems with homeworks, teachers will be there to guide anytime

My son attends online Zoom lesson. Good strategies to learn English. Teaching atmosphere is interactive and encouraging! Highly recommended for students who is lack of motivation as the tutor is flexible in giving tuition homework ( not compulsory) if your child resists tuition homework a lot. Highly recommended

Stag Match is a primary school tuition centre like no other. With a clear mission to develop stronger academic skills, better concentration and focus, higher confidence and motivation, and stronger test-taking and study skills, their goal is to help your child succeed in all areas of life.
Their approach combines a collegiate-based system with a first-class education, specially tailored to bring out the best thinker in your child. Beyond tuition, their range of enrichment courses includes robotics and coding and other science-based workshops to inculcate a love for learning within students.

Name

Stag Match Tuition Centre

Website

Contact Number

9363 1471

Email

info@stagmatch.com.sg

Location & Accessibility

12 branches islandwide, view here




Primary Level Subjects Taught

Primary 1 to 6
English, Maths, Science and Chinese

Trial Classes

Not Available

Highlights

Multiple branches, easy to access

Variety of enrichment programmes

Student care option also available

Testimonials

A convenient tuition centre located in the community centre. There are many subjects of study provided by this center. Subject in creative English is very help for the child to understand the language and produce in write to structure the it all. The lesson room are air conditioned to get the students with better comfort during their learning period.

I have been studying at Stag Match since 2011. During my tuition with Stag Match, I have excelled a lot in my academics and achieved scholarship in my school. I am proud of myself and Stag Match has been a contributing factor to my achievement.

I find Stag Match has helped me to understand the topics of the subjects well and helped me in improving my results with the well planned materials given to us.

With two centralised outlets at Yishun and Punggol, eduKate offers customised classes catering to each student's individual learning needs. Their team of full-time industry specialists are committed to nurturing curiosity and helping them develop solid exam smarts and life skills that will prove valuable beyond the classroom.
Their curriculum follows the guidelines laid out by MOE, and small group sizes allow for students to feel comfortable asking questions and clarify their doubts. Students are also taught various methods and tricks to answer and score better, and they learn the marking scheme to understand where marks are awarded.
Name

EduKate

Website

Contact Number

8823 1234

Email

admin@edukatesg.com

Location & Accessibility

Primary Level Subjects Taught

Primary 1 to 6
English, Maths, Science

Trial Class

Not Available

Highlights

Testimonials

Son just received 83/100 for his P5CA2 Mathematics. He is taking classes with eduKate for the last two years. He improved year on year on his Math.

The first year improvements were smaller than this year, maybe he was not too used to the classes because he joined somewhere in June.

Of course by now, he is one of their old boys so he feels much more confident. My son will usually come back and tell me how much he learnt and how much fun he had going for classes.

Tutors are professional. Works with my son on his weaker topics. They go through the topics systematically, and provide a lot of extra knowledge to increase my son's knowledge. They go through questions if he do not understand. Close to exams, they start training my son with past year exam papers.

Overall, they are a good team of tutors that supports my son and they do care a lot. Recommended to start lessons with them early in P4-5.

Daughter attends P5 English and Maths tuition with them.

Friendly tutors are patient, kind and attentive. After they did a few lessons with my daughter, they decided that she needed some extra lessons and they took the extra step to ask her to stay longer and get all her work done properly. They monitor my daughter's progress and works with her on her weaknesses. That level of caring about their students are amazing. Very much appreciated.

They are definitely on the upper end of the price range in Yishun, so it took me a bit of thinking before I committed, but the level of teaching and professionalism given reflects the price. You do get what you pay for here.

Daughter is still improving after a few months with them, but the changes are positive and she feels better now when she is doing her homework.

There is not much to complain other than the slightly premium fees but the tutors pretty much do everything and don't have any other hidden costs or surprises. They start on time, haven't had a cancellation on me and if there are any changes, they'll contact me to make sure everything is done properly. I will definitely recommend them to you.
With more than two decades of experience, SmartLab has established a comprehensive and unique educational programme that yields outstanding results in the core subjects of maths, science, and English.
SmartLab's classes are small and engaging, which means their experienced teachers can explain key topics in-depth and make sure that every student feels supported. They're not just focused on exams though, they want to encourage a love of learning in all their students.
And, to make learning even more exciting, SmartLab recently launched their e-learn app. It's perfect for students who want to explore science further and practice outside of class time.
Name

Smart Lab

Website

Contact Number

81585744

Email

adminbishan@smartlab.com.sg

Location & Accessibility

4 outlets islandwide, view branches here

Primary Level Subjects Taught

Primary 4 to 6
English, Maths, Science

Trial Class

Not Available

Highlgihts

Testimonials

At Term 2 my daughter struggling with her Maths, her Math Teacher decided to change her from Standard Maths to Foundation Maths.

With the help of SmartLab Education Centre all their hardwork my daughter got Best In Mathematics and she got A in her PSLE.

Thank you so much

(edit: it's been 8 yrs!! been w them since p5 to j2 so gone through psle - A* math, A science, Os - A1 for pure chem&phy and As - A for h2 chem&phy, w them and the journey was amazing) been with them for 6 years now and will definitely continue! the materials are really good and comprehensive and despite lesson time being much shorter than other tuitions, a lot is covered during lessons but not overwhelmingly much that it's hard to take in. the pace of lessons is tailored to each students nearing exams when revision is the main priority. teachers are very well spoken and really competent and very understanding as well, will definitely give their time of day to answer any questions you may have. i am and will continue to recommend smartlab tuition to anyone looking for extra help in studies or just looking for consistent studying to maintain a score!



Simply Education takes a collaborative approach to learning. Parents, tutors and students work closely together to pinpoint strengths and weaknesses and provide support and resources for academic confidence.
The centre first started out as a hub for mathematics tuition, before growing into offering courses for English, maths and science eventually. Their academic tutors carry years of experience under their belts, and all are equally dedicated and passionate about delivering personalised lessons and a holistic learning environment for primary-level students.
Name

Simply Education

Website

Contact Number

6784 0790

Email

tuition@simplyeducation.com.sg

Location & Accessibility

Tiong Bahru


Blk 18 Jalan Membina

#04-05 Singapore 164018

Nearest MRT: Tiong Bahru

Tampines

Blk 201D Tampines Street 21

#03-1153 Singapore 524201
Nearest MRT: Tampines

Hougang


Blk 806 Hougang Central

#03-154 Singapore 530806

Nearest MRT: Hougang

Primary Level Subjects Taught

Primary 1 to 6
English, Maths, Science

Trial Classes

Available

Highlights

Testimonials

I like this tuition centre as it helped me improved my grades a lot and the lessons are very fun and captivating.The teachers there are very patient and encourage us to ask questions which improved my learning more.

Experienced tutors who are dynamic and engaging. Concepts are easily understandabble. If you are looking for tuition that is effective, SimplyEducation is highly recommended. Thank you Mr Low, Mr Foong and other tutors.

Tutors who genuinely go the extra mile for their students' success. Definitely would recommend!
For over 28 years, Stepping Stones Study Centre has been providing quality and affordable primary school tuition classes. Their comprehensive range of courses supplements the current school syllabus, with an emphasis on developing critical thinking skills and creative techniques for handling school exams.
Most materials used are produced by the centre's NIE-trained tutors, who are dedicated to providing insightful and challenging resources in accordance with the latest MOE syllabus. Regular parental feedback and open communication channels ensure that parents are kept up-to-date on their child's progress. With numerous classes, various subjects, and different days of lessons to choose from, students have the flexibility to select the classes they need.

Name

Stepping Stones Study Centre

Website

Contact Number

9010 3525

Email

enquiry@steppingstones.edu.sg

Location & Accessibility

Blk 439 Fajar Road

#B1-428

Singapore 670439

Nearest MRT: Bukit Panjang

Primary Level Subjects Taught

Primary 1 to 6
English, Maths, Science and Chinese

Trial Classes

Not Available

Highlights

Long track record of experience

Comprehensive materials and resources

NIE-trained tutors

Testimonials

Before I joined this tuition centre, i did not have high hopes of improving. But after joining Stepping Stones Learning Centre, the teachers guided me in strengthening my concepts for Maths & Science and correcting my common mistakes for English. I enjoyed the classes as the teachers were funny and friendly. Both Teacher Ben & Teacher Adam has helped me to improve my scores for PSLE.

My girl, joined at beginning of P6, as her English result is not improving much, despite doing a lot of assessment books. Her Paper2 result is very inconsistent. After attending for the whole P6 term, her grammar (hence related components) is much better. Teacher Adam is very patient with her and explain in a way so that she can remember better. Recommend for students who need that extra push.

My boy only started to attend Math lesson this year at the Bangkit branch. Thank you Tr. Adam for your dedication and willingness to spend extra time to help him understand better. He displayed interest in the subject more and is more confident in attempting more difficult qns by applying what he had learnt under your teaching. Thank you very much.

Just as the name suggests, Miracle Learning Centre is more than just an ordinary primary school tuition centre, it's where miracles happen. Founded in 2008 by Dr Lew and Mrs Lew, the centre has been helping students excel through their easy-to-understand explanations and good application techniques.
The centre specialises in maths and science tuition, with experienced tutors working closely with students through customised worksheets and study resources. With over 20 years of experience as an ex-teacher herself, Mrs Lew is highly regarded for her exceptional teaching methods. Her determination to help students succeed reflects across all their tutors, and this is reflected in the glowing reviews from students who have benefitted from their expertise.

Name

Miracle Learning Centre

Website

Contact Number

6463 8756/8128 6089

Email

miraclelearning@gmail.com

Location & Accessibility

144 Upper Bukit Timah Road #03-01

Beauty World Centre Singapore 588177

Nearest MRT: Beauty World

Primary Level Subjects Taught

Primary 1 to 6
Maths and Science

Trial Classes

Not Available

Highlights

Testimonials

We made the right choice by signing my girl up with Miracle. She enjoyed her Maths and Science lessons there and achieved vast improvement in her work. She scored AL1 for both Maths and Science in her PSLE. Great thanks to Mdm Song and Mr Lim for guiding Ashley.

Thank you very much for Mrs Lim's kind help and patience in 2022. My Daughter has made improvements her science . Mrs Lim is a responsible teacher and she keep me posted on kid's progress. Now she is also helping my daughter's math. Let's work together to help my daughter on her math and science learning journey.

Thank you very much Mrs Lim and Miracle Center.

Mr Matin in my science teacher. His classes are very enjoyable, and I always look forward his lessons. He has a very easygoing personality, which makes the lessons much more fun and flexible. He is an inspiration to young students like me who learn science. From a scale of 1-10, I rate him an 11.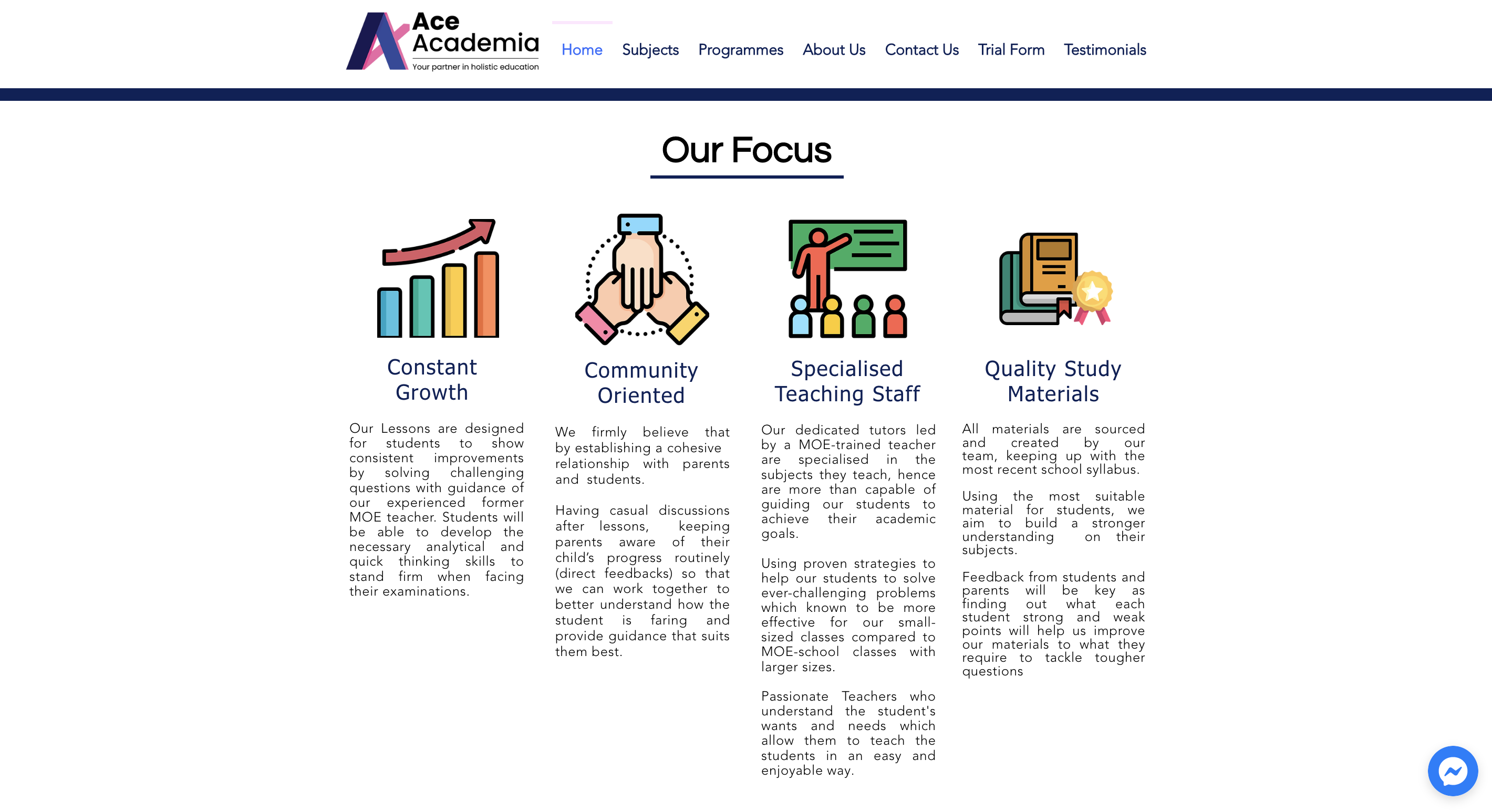 With lessons designed to show consistent improvement and a community-oriented approach, Ace Academia believes in establishing a strong and cohesive relationship between parents, students and teachers.
Their specialised teaching staff, led by a MOE-trained teacher, are dedicated to guiding students to reach their full potential using proven strategies for small-sized classes. They also provide quality study materials and emphasise a holistic learning experience, ensuring every student feels secure and comfortable. With a team of passionate teachers and affordable rates, Ace Academia is the perfect choice for parents who want the best for their child's academic success.

Name

Ace Academia

Website

Contact Number

9698 2248

Email

enquiry@aceacademia.com.sg

Location & Accessibility

433 Clementi Avenue 3, 01-266, Singapore 120433

Nearest MRT: Clementi

Primary Level Subjects Taught

Primary 1 to 6
Maths and Science

Trial Classes

Available

Highlights

Testimonials

My P4 boy is under Mr Warren for both Math & Science. The group size is small & rates are reasonable. Most importantly, my boy looks forward to his classes & is more confident. Mr Warren is very patient & is willing to go beyond to help weaker students.

With the guidance of Ace Academia, my daughter was able to boost her grades. They went through my daughter's previous exam paper before she went in. There are many fascinating and supportive teachers to be found there. My daughter's grades began to improve after she arrived. The teacher's teaching methods are amazing. I strongly recommend this centre to everyone.

Came across Ace Academia in Facebook and decided to get my son down for a complimentary math trial. Decided to give it a try since the new sign up promotion is attractive. My son has shown improvement and did well in his exam. Although the centre is relatively new, the staffs and the teachers are definitely in the market for some time and know their stuffs.

Popularised by their Super Writers English Tuition classes, Learning Journey Education Centre takes a simple yet effective approach to teaching. Their team of dedicated teachers provide the support and guidance that learners need to grow at their own pace and realise their full potential. Their track record is a testament to this—with 75% of their PSLE cohort scoring AL1-AL4 consistently over the last 8 years. Their rigorous in-house curriculum is curated with useful practical techniques to help our students apply their learnings seamlessly.

Name

Learning Journey Education Centre

Website

Contact Number

9720 8802

Email

admin@learningjourney.edu.sg

Location & Accessibility

Serangoon North

Block 540 Serangoon North Ave 4 #B1-109

Singapore 550540
Nearest MRT: Kovan

Punggol East

Blk 658 Punggol East #01-09

Singapore 820658

Nearest MRT: Punggol

Primary Level Subjects Taught

Primary 1 to 6
English, Chinese

Trial Classes

Not Available

Highlights

Specialised focused on language classes

Variety of enrichment programmes

Testimonials

My daughter has been attending at Learning Journey since P4 and coming to Sec4 next year. She enjoyed the lessons. Small classes with dedicated teachers. Introduce different kinds of answering techniques to tackle comprehension questions and also exposure to various composition topics. Good study materials and this has helped her a lot and increase her confidence level. Appreciated and thank you to Learning Journey and her teachers who had taught her past years and now. Highly recommended!

My son is enrolled at the Bishan branch for their trial class for super writers chinese creative writing. It's only our second lesson but the teacher is already able to point out all the problems he has and had a long chat with me to help him. I love her professionalism ! Highly recommendable ! I am glad I made the right choice

My 2 girls are with Learning Journey for many years, from Pri to Sec. The teachers are dedicated and professional with effective teachings. Special kudos to Teacher Sarah & Hema! Liaising officer Emmanuel is awesome too.
Children with special needs or specific learning disabilities studying in the mainstream academic curriculum may need more attention and specialised services. BrightStart Tuition Centre is one of the few centres in Singapore providing a safe and nurturing environment specifically designed to meet these unique needs.

The centre has a team of dedicated teaching specialists trained to work with special needs students. Whether it's providing additional support for students with learning difficulties or challenging advanced students, their teachers are skilled at adapting their teaching methods to suit the needs of each individual student.

| | |
| --- | --- |
| Name | BrightStar Tuition Centre |
| Website | |
| Contact Number | 9622 1449 |
| Email | enquiry@brightstartuition.sg |

Choosing the Right Primary School Tuition Centre: Giving Your Child the Best Start in Life
Primary school education is a crucial foundation for a child's future academic and personal success. In Singapore's competitive landscape, it's imperative for parents to invest in tuition at a primary level, to help their children keep up with their peers. The right tuition centre can make a significant difference in a child's academic journey, providing them with the support, guidance and resources they need to excel.
At the same time, we recognize that every child is unique and has their own learning needs and styles. This is where home tuition comes in, providing personalized and tailored learning experiences that cater to each child's individual needs. As a home tuition agency, we are committed to connecting parents with experienced and qualified tutors who can provide effective and engaging lessons in the comfort of their own homes.
Investing in your child's education is one of the best decisions you can make as a parent. Reach out to us here to find out how we work with you to help your child excel.