Receive the help your child needs to succeed in science.
Have you been seeking...
An experienced home tutor to provide individualised attention and help your child excel in science
Lessons at the comfort of your preferred location and timing
Choose a suitable tutor from a wide pool of qualified science tutors
A science tutor to support your child by catering to his learning style and pace
Better examination performance and test scores
Fast turnaround time to receive science tutor profiles for shortlisting and phone interview
Benefits You Can Gain From Tutor City's Science Tutors
Better examination science performance and test scores can be achieved through private home tuition. No matter whether it is the MOE or

International Baccalaureate (IB) science syllabus

, our qualified tutors are familiar with and confident to teach the topics. With the dedicated one-to-one attention of a proficient science tutor, your child is sure to gain the edge needed for better academic performance.
Efficient and customer-focused service from an experienced home tuition service agency that has more than a decade of expertise in understanding the needs of parents. Within 24 hours, you will receive the profiles of eligible science tutors that can provide science tuition at your stated location, timing and budget.
Motivate and adapt to your child's science learning needs through customised lessons and personalised teaching styles. Our team of science home tutors can provide initial assessments and understand your child's personality and what motivates him or her to deliver the lessons in a manner that suits your child's pace and preferred communication style. This is only possible through science home tuition.
Our pool of 20,000 science home tutors

consisting of trained school teachers, working professionals and top local and overseas university students are on the lookout for students and readily available to help your child with science. You have the freedom to choose one that meets your budget and requirements.
Science tuition in the convenience and safety of your home and time slots. Your child's schedule is completely packed with CCA and enrichment activities. Cut down the headache of time spent commuting, finding an available timeslot in a tuition centre or arrangement of replacement lessons. Reduce the stress of logistics by having science tuition based on your own terms.
Take charge of your child's learning through phone interviews with shortlisted science tutors to make a better decision on which tutor is best suited for your child. You do not need to pay for our tutor-matching service and if a science tutor is deemed as not suitable after the first lesson, just pay for the lesson completed, we will continue to match you with another suitable tutor.
********
Over 400 Positive Reviews from Satisfied Parents
Our track record of assisting students over the years speaks for itself. Check out our numerous positive Google reviews from satisfied parents and students.
"Benson was prompt & clear in his replies. Taking my requirements seriously, he offered choice of tutors close to my criteria ~ thank you. As a parent, we all have different needs & concerns with regards to our child's academic support ~ regardless our child's abilities & Benson rendered the prompt & hassle-free outlet in my selection of a tutor promptly ~ i truly appreciate it, thank you thank you thank you."
Tay Joan
"Came across Tutor City's good reviews and decided to try it out. Benson was very quick at replying to my enquiries and turn-around time for providing me with suitable tutors was very fast. Really happy with the prompt and hassle free service. Already engaged a second tutor for another subject with him. Definitely recommended"
Yve
"Very efficient & flexible service we found the right person after doing a trial class. Thank you again for the speed of response & flexibility."
Emma Mourad
"They were very prompt in clarifying my doubts, and helping me find a suitable tutor for my brother for Sec 4 Physics. My needs were kept in mind, when suitable tutor profiles were shared for us to choose from. Very happy with their service! :)"
Dharisiniah Muraleemohanan
********
How much does Science tuition cost in Singapore?
The average hourly fees for science tuition range from $30 per hour to $100 per hour, depending on the tutor's credentials, experience and level of teaching.

Tuition Rates
Per Hour

Part-Time
tutors 1

Full-Time
tutors

Ex/Current
Teachers

Primary 3-6

$30 - $40

$50 - $60

$70 - $90

Lower Secondary

$35 - $50

$55 - $65

$70 - $100

Upper Secondary

$40 - $50

$60 - $70

$75 - $100

Junior College / IB

$50 - $60

$70 - $90

$100 - $150

Degree & Diploma

$60 - $80

$90 - $120

$120 - $150
1. Includes students in polytechnics, universities and graduates tutoring part-time.
2. Science is offered from Primary 3 in MOE schools.
3. If your child has special needs, go to our SPED page to understand the certifications and fees that SPED teachers are quoting.
Having private science tuition in Singapore does not have to be costly. In fact, it can be affordable. You can select a suitable science tutor profile based on your budget after considering the pros and cons of each category of home tutor, as explained above.
At Tutor City, we're dedicated to enabling your child to learn effectively and thrive in Science. Our team of Science Tutors is proficient in teaching various levels.
We have over 20,000 active home tutors who are qualified and experienced to guide students taking national-level science examinations such as PSLE, O levels, A levels, IB and IGSCE.
In our list, we have capable science tutors who deliver quality lessons and are committed to providing a good learning experience for your child. With over a decade of experience serving parents and their children, we're confident in the abilities of our selected science home tutors. We can quickly identify the right match to meet your needs and provide value-added advice to help you make a good decision.
Our Science Tutors are proficient in teaching a range of levels, including PSLE, O level, A level, IB, and IGCSE.
Primary Science Tuition (P3-P6)

, PSLE Science

Lower Secondary Science Tuition

(Sec 1& 2)

Upper Secondary Science Tuition

Pure Physics

,

Chemistry

,

Biology

, Combined Science Tuition 'O', 'N' level, IP programme

Junior College Science, 'A' levels H1/H2/H3 Physics, Chemistry, Biology

IGCSE Core & Extended Syllabus Science for Grades 7-11, Physics, Chemistry, Biology

IB PYP, MYP, and Diploma Program – SL/HL Physics, Chemistry, Biology
********
How does Science Tuition with Tutor City's home tutor solve the struggles students face?
Due to its wide and extensive content and practical application, Science can be a difficult subject for many students to master and excel in. In fact, students who do not have additional guidance and support outside the classroom often struggle to keep up with the syllabus. Here are some challenges students face when learning science and how Tutor City's private science tuition can greatly assist them.
Subject mastery challenges students will encounter when learning science
Poor understanding of concepts from Physics, Chemistry, and Biology subjects at the secondary and JC levels and primary level Science

Struggle with using science concepts and models to solve problems and understand concepts

Challenges with analysing and interpreting scientific data

Overwhelmed by the volume of laws and rules and their application to scientific equations and calculations

Difficulty in performing scientific calculations

Poor planning and conduct of science experiments

Difficulty in using scientific reasoning to evaluate real-world problems
Learning challenges students will encounter when learning science
Poor self-confidence and disinterest in science due to past or repeated failure

Disengaged and not motivated to learn science as students cannot see the relevancy of the subject

Unsure of the correct answering technique to use for open-ended questions

Lack of the higher-level order skills needed to understand and answer science questions accurately

Difficulty memorising and applying scientific concepts

Inefficient time management during the examination

Difficulty in understanding how to use the data booklet
How Tutor City's home tutor can help students overcome challenges to improve science grades
Tutor City has been recommending tutors specialising in Science for over a decade, and we understand the various challenges students face. Our science tutors have noticed the same patterns over time and gained insight into students' problems when it comes to this subject.
That is why our tutors devise the curriculum and plan lessons in such a way that it is customised to target the weak areas of the students to help them overcome challenges in science. Do not wait for the problem to worsen. If your child is struggling in science, seek the assistance of our experienced Science tutors to help them improve.
Why Science Home Tuition is Effective
Here are some advantages private home tuition can help your child in science:
1. One-to-one individualised attention, teaching style and pace is highly customised to cater to your child's learning needs. Science tutors can delve deeper into the topic to further stimulate your child's interest if they have higher ability or move slower to help your child build a stronger foundation if they are weak in science.
2. Supportive and conducive learning environment. Your child will feel safe as the tuition is in the comfort of your home. This is important, especially for children learning primary school science. They will then be more open to asking questions and clarifying their doubts instead of having the fear or anxiety to do so in a bigger group setting.
3. Assessment books and materials resources: Good science tutor singapore can make question banks, data booklets, use online resources to help further your child's understanding of science. The tutor can also provide and go through past year science exam papers to better prepare for the O-level or PSLE Science examination.
4. Time saving. Dedicated science tutor Singapore can provide tuition in your house at your preferred time, saving you the commuting time which can be spent on other activities.
5. Improvement of science grades in a shorter period of time. Your child's learning is optimised as the tutor can provide more immediate feedback and clarifications to help your child improve quickly. Learning becomes more strategic as more time can be spent on covering science topics or concepts which your child has trouble with instead of wasting them on topics which your child is already good at, which occurs when following a standard curriculum.
********
What is the importance of Science Tuition?
Science is a compulsory subject in all of the school syllabus no matter whether it is in MOE schools or the IB programme. It enables students to understand the natural world around us as well as the principles through the application of skills such as observation, classification, calculation and explanation.
It does not matter whether your child decides to major in a science education field for his or her tertiary education or enter a scientific career in the future; the emphasis should be placed on laying a good science foundation due to the essential cognitive skills your child will pick up if he or she manages to master the subject well. Some examples include critical thinking, problem-solving, research and analytical skills.
Obtaining good grades in science subjects also opens more doors for your child's future education, such as being able to have a wider selection of courses which they can pursue at the tertiary levels. Some of these include a prestigious education path, which leads to the most respected and sought-after careers in medicine, biotech, research and data science.
The Science Syllabus and Topics in Schools
If we take a look at the topics that are covered in the science syllabus in school, we will notice that students are expected to learn and be familiar with the broad and varied topics that encompass science (physics, chemistry, biology) as a subject. Each topic has its own unique concepts and principles, which students need to understand clearly and not be confused.
Primary School Science topics

Diversity of materials

Diversity of living and non-living things

Cycles in matter and water

Cycles in plants and animals

Plant system

Human system

Cell system

Interaction of forces

Electrical system

Interactions within the environment

Energy conversion

Energy forms and uses

Secondary School/IGCSE Science topics

Thermal physics

Measurement

Waves

Newtonian mechanics

Electricity and magnetism

Atomic structure and stoichiometry

Experimental chemistry

Periodicity

Chemistry of reactions

Atmosphere

Cell structure and organization

Principles of biology

Organic chemistry

Maintenance and regulation of life processes

Transport in humans and flowering plants

Nutrition and humans and plants

Reproduction

Continuity of life

Organisms and their environment

Molecular genetics

IBDP/JC H1/H2 Science topics

Genetics and inheritance

The cell and biomolecules of life

Energy and equilibrium

Infectious diseases

Biological evolution

Impact of climate change on animals and plants

Chemical bonding

Atomic structure

Thermodynamics

Kinetics

Chemical equilibria

Gaseous state

Electrochemistry

Periodic table

Chemistry of aqueous solutions

Measurement

IBDP/JC SL/HL Science topics

Evolution and biodiversity

Photosynthesis

Cell respiration

Cell and molecular biology

Human physiology

Plant biology

Metabolism

Imaging

Animal physiology

Astrophysics

Biotechnology and bioinformatics

Atomic structure

Neurobiology and behavior

Waves

Electricity

Chemical bonding and structure

Ecology and conservation

Redox processes

Medicinal chemistry

Quantum and nuclear physics

Fields

Relativity

Circular motion and gravitation
What are the essential skills students need to score well in Science?
Unlike other academic subjects, such as languages and humanities, science subjects impart a unique set of skills during their pursuit of the subject in school.
MOE Science Curriculum
If you refer to the practices of science framework drawn up by Singapore's MOE, you will notice that the learning of science subjects in schools should incorporate three aspects:
1. Learning and understanding concepts (understanding the nature of scientific knowledge)
2. Ability to synthesize and apply the concepts learned such as through explanation or practical experiments (demonstrate ways of thinking and doing in science)
3. Ability to connect and correlate learnings in textbooks into the real-world applications and happenings (relating science-technology-society-environment)
<"The practices of science model"-Extracted from MOE Primary School Science 2023 latest curriculum framework>
IB Science Curriculum
The IB science curriculum emphasises inquiry at its core, where students will need to apply skills to explore and investigate the connection of science to their everyday life and further expand it out to the global phenomenon and context.
You would have realised that, similar to MOE's science learning outcomes, students will need to acquire and demostrate key critical skills if they were to perform well.
<Assessment Criteria of Science Subject-International Baccalaureate Middle Years Programme>
So what are the key critical skills to score well in science? We have provided a list for you to refer to:
Academic science skills
Strong understanding and knowledge of scientific concepts in syllabus

Tips and tricks to memorize scientific concepts

Critical thinking skills to raise questions and analyse the information or evidence provided

Problem-solving and idea-generating skills demonstrated in the design of experiments or investigations

Accurate observation, ability to classify, explain or identify the correlation of experiment outcomes or natural phenomenon

Strong logical reasoning abilities to discern possible outcomes based on concepts

Balancing of equations

Construction of equations

Analysing and interpreting data and finding patterns and trends

Communication of ideas and information clearly
Exam-focused science skills
Interpreting questions accurately

Identification of concepts and their application to the question

Effective time management strategies

Efficient use of the data booklet provided

Clear and concise procedures of science experiments

Sequential and clear workings of scientific calculations
Why classroom time is simply not sufficient to score well in Science
You would have realised by now that having good knowledge of science concepts taught in the syllabus is only half the battle won. Students will need consistent practice and exposure to a wide variety of science questions so as not to have any unpleasant surprises during an important examination.
Just like the training of fitness of your physical body, doing consistently the same exercises will only make certain muscle groups work better. You need to do a variety of different exercises to train different parts of your muscles to be in excellent shape.
The same principles apply when mastering science; students will need to be strategic in their learning, where different skills are taught and honed, although the focus might be on one core topic. For instance, for the topic of energy, students not only need to be aware of the basic principles but also demonstrate the ability to design experiments, perform calculations and analyse data that is given to formulate their conclusions and be able to communicate them clearly.
As your child progresses to upper secondary and junior colleges science, there is also a practical lab component which forms part of the assessment. As with all hands-on activities, time is needed to practise and develop the learning aptitudes to ace this portion. Some of it includes paying attention to details, as mistakes such as misreading instructions can cause students to fail their practical science exam. Students will also need to be familiar with the handling of science apparatus.
However, given the limited classroom time in a school environment, most teachers might already be rushing through the science syllabus to cover all concepts on time. They are simply insufficient time to break down and explain the science concepts clearly, not to mention the time to incorporate different questions or delve deeper into topics. Science lab lessons in class are also often rushed and do not offer sufficient time to truly spur the students' curiosity to seek out additional information, which can help them to have a deeper comprehension of the scientific principles behind the lab sessions.
In a class of 20 to 30 students, the teacher rarely has time to address the individual questions and doubts that each student has to clear up their misconceptions or answer their burning questions. The student's learning is curtailed if there is no reliable alternative resource, such as a good science tutor to guide them in science. This can potentially become a vicious cycle as students might perform badly in their exams, and without proper guidance, they might lose interest and confidence in the subject and, worse, harbour the incorrect thinking that they are simply "lousy" or "bad" in science.
Lastly, the school teacher uses the standard science answer key to go through the questions in the worksheet for all students, they do not have the chance to provide individualised feedback on your child's work. For instance, when both students have obtained zero marks for the same question, one might have failed to analyse the data correctly, whereas another might not have understood the question at all. If they had personalised help such as science tuition, the tutor would have pinned down the exact problem to lessen the chance of the child making the same mistake in an exam. Effective feedback is crucial for improvement.
********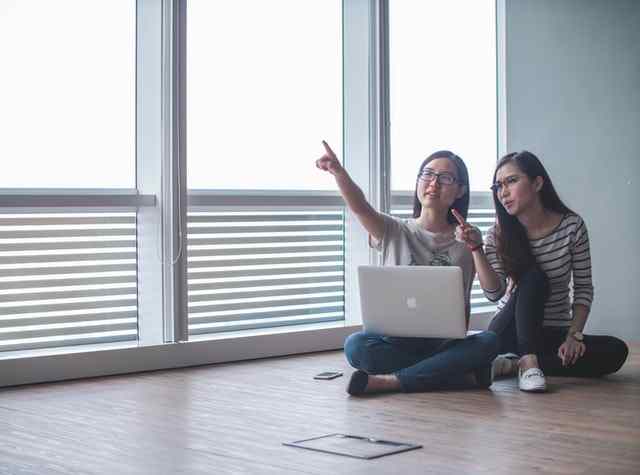 Science tutors in Singapore: The different profiles
Do you know that there are differences between the types of science home tutors in Singapore? Each tutor profile has its distinct advantages and disadvantages that could impact your child's learning of science. As well as the hourly tuition fees they will charge.
To help you make the decision to engage the best tutor for your child's science tuition, here is an explanation of the different tutor profiles and their pros and cons.
Full-time Science Home Tutors
Just like any professional in their field, full-time tutors provide private science tuition as a career and typically work about forty or more hours a week, tutoring students from various different backgrounds, schools and differing abilities.
Most of the full-time science tutors are subject matter experts in science, which could include primary science, combined science, physics, chemistry or biology. Some specialise in teaching certain levels such as secondary science or H1,H2 or H3 level science subjects in MOE Junior Colleges, whereas some are well-versed in IB or IGCSE syllabus.
Advantages of Engaging Full-time Science Home Tutors
Typically, full-time tutors have achieved qualifications at the bachelor's level, such as degrees in science, which is why they have an excellent understanding of science topics and are able to break down complex science concepts into easy-to-understand pieces of information for your child during science tuition sessions.
Due to their experience and regular contact with parents and students, they have the ability to handle children of different ages, from primary school age 7 all the way up to 18-year-old junior college students. They are able to easily adapt their teaching materials and styles to the different personalities of children.
They are also familiar with the concerns of parents and are open to communication with parents in the form of feedback and will not hesitate to provide tips and guidance on how you can work together with them to better support your child's science learning at home.
As tutoring is their bread and butter, full-time science tutors are committed and dedicated to the tuition schedule and will be likely to continue tutoring your child as he or she moves through the academic levels. Because they understand that building rapport with your child is important in a private tuition setting and that it is always easier to teach a student where a relationship is established. That is why they are not likely to keep switching students.
Disadvantages of Engaging Full-time Science Home Tutors
As full-time science home tutors are tuition experts, they tend to charge a higher hourly rate as compared to part-time tutors. This is due to their expertise in science subjects as well as their vast experience tutoring full-time over the years.
Parents are aware of the good results that full-time science tutors can achieve with their children. Some top-notched tutors are so popular due to their effectiveness that they might have limited available science tuition timeslots for parents to choose from and you might have to compromise on the schedule if you are really keen to engage their home tuition service for your child.
Working Professionals Science Part-time tutors
Part-time tutors who are working professionals hold a full-time day job as a career and provide home tuition service as their side hustle for extra supplementary income. Usually, this group of tutors come from varied educational backgrounds, holding diplomas, degrees, master's or even PhD qualifications.
Advantages of Engaging Part-time Science Home Tutors Who Are Working Professionals
Most of the time, these working adults have either achieved stellar grades in science during their schooling days or have a genuine passion for science and wish to help students to realise their interest or potential in the subject. Some of them might be in a relevant science industry career such as biomedical, chemistry or engineering, which makes them the perfect tutor for your child if they are interested in getting into similar career fields. In such cases, the science tutors are able to share with your child career advice and the day-to-day roles of different STEM careers and even provide their own educational journey as an inspiration to motivate your child.
Due to their work experiences, working adults are mature and have a great aptitude for tutoring or mentoring younger students. They can enrich your children's learning experiences by using real-world science examples or happenings to make textbook concepts relevant for your child.
A portion of part-time working adult tutors is fresh graduates from university or polytechnic science faculty who have retained the latest knowledge of science concepts and can be excellent tutors to impart exam strategies and techniques to your child.
Some of the part-time tutors who are working adults have been providing home tuition for several years and are experienced and familiar with the school syllabus. These tutors will also have good track records and testimonials from parents or students.
Disadvantages of Engaging Part-time Science Home Tutors Who Are Students
It is essential to note that, unlike professional science tutors, student tutors do not have the same years of tutoring experience in handling different types of students or have developed expertise in teaching strategies and methodologies.
As they are not subject matter experts yet, they might not have the deep and rich knowledge to teach more complex science subjects such as higher-level junior college science subjects.
Sometimes, student tutors might have an irregular school schedule due to their examinations, CCAs or other school commitments, which can limit their time to schedule home tuition lessons.
When engaging student science tutors, it is important to consider the age gap between the tutor and your child as well as your child's receptiveness towards learning from a tutor who is closer in age. The dynamics between the student tutor and your child have to be taken into consideration.
When hiring a student part-time science tutor, it is important to engage a reliable and trusted tuition agency to conduct proper screening and shortlisting to ensure that the student tutor is of quality and committed to tutoring your child.
MOE-Trained Science Home Tutors
Science home tutors in this category consist of two profiles: the MOE teachers who are currently teaching in schools or ex-MOE teachers who have left service and no longer teaching in schools.
The common factor is that these two groups are officially trained in NIE and are professionally certified teachers who have expertise in developing structured teaching plans, utilising teaching strategies on students and actual teaching experience in schools.
Advantages of Engaging MOE-Trained Science Home Tutors
Tutors in this category are top-tier and very sought-after, especially by parents who are determined to pull up the socks of their children's science grades and willing to put in the budget to engage this group of tutors to achieve the desired science grades for their child within a short time.
MOE-trained tutors are very familiar with the school syllabus and are content matter experts; not only that, they are also aware of the workings behind how examination papers are set and marked by schools. This gives them an edge in being able to spot or predict exam questions and knowing exactly which are the more important science concepts and topics your child should focus on, including the answering techniques required for science questions for a student to score well.
Being teaching professionals, they are laser-focused on pinpointing and addressing the weakness of your child and know exactly the teaching strategies they should employ to aid your child's understanding and improvement over a shorter period of time.
MOE-trained tutors have both familiarity and an excellent understanding of the specifics of the syllabus and will align their science tuition to cover all aspects during the lesson. They are also aware of the commonly made mistakes or misconceptions students typically have due to the sheer number of students they have taught over the years.
Disadvantages of Engaging MOE-Trained Science Home Tutors
Due to their teaching qualifications, effectiveness and strong demand from parents, MOE-trained science tutors charge the highest tuition rate among all tutor profiles. It is a huge financial commitment to hire MOE-trained tutors, especially if there are a few children in the household or tuition is needed for multiple subjects.
The supply of current MOE-trained school tutors is very limited. Due to the change of regulatory procedure by the Singapore Public Service Division in 2021, school teachers can only teach tuition if approval is granted by their school principal and for valid reasons. Therefore, it is difficult for a MOE school teacher to be available for science home tuition.
Lastly, as the dynamics of classroom teaching are different as compared to a smaller-group or one-to-one home tuition setting, which is often more intimate and personalised, it is still important to assess whether the personality and style of a current or ex-MOE tutor is suitable for your child. For instance, an authoritative teaching style might work well as a classroom management technique but might fail in a one-to-one setting with a student who is already struggling with science.
Different Types of Science Tuition in Singapore
1. Science tuition in the tuition centre
Science tuition in a tuition centre can be in a large or small group setting which ranges from a group of 6 to sometimes 30 or more students. Students usually have to travel to a physical location for tuition classes that are set out on a fixed schedule.
Some science tuition centres specialise in science, which means that they only offer tuition in physics, chemistry, biology and combined science. This allows the centre to focus more on curriculum and developing good science teaching strategies while other centres offer tuition in multiple subjects.
As compared to home science tuition, there is little freedom to select the science tutor, especially one that can match your timeslot and preferred tuition centre outlet. Usually, the popular science tutor's classes are packed full, and you might be put on a waitlist with an indefinite waiting time. Moreover, there is also additional time spent on commuting and make-up lessons can be hard to schedule since the lessons are less flexible as there is a need to cater to other students and classroom availability.
2. Home science tuition
Parents can hire a science tutor to provide one-to-one tuition services either in the comfort of your own home or at the tutor's place (if your place is not conducive) at a timeslot which is convenient for you.
A private science tutor does not play the role of a teacher, which is defined as someone who will deliver lessons in a more formal and bigger setting. Therefore, the skillsets of being a good tutor can be different compared to that of a teacher.
Home tuition is in a more intimate and private setting, effective home tutors are better able to aid weaker students in mastering science quickly because they are usually equipped with good interpersonal skills. This allows them to build rapport and credibility with their students to elevate their joy and learning experience as compared to a group setting.
3. Private small group science tuition
Due to budget constraints, some tertiary students or their parents might hire a private science tutor to teach a small group of 2 to 4 students who can be friends or classmates at an indicated location, such as the tutor's place or a co-working space and split the hourly tutor fees among themselves.
Besides reducing tuition costs, small-group private science tuition is popular at the tertiary level (upper secondary or JC, IB) because students can share their ideas and help clarify each other's misconceptions through discussions. Each student in the group can also bring their own understanding, perspectives and experiences when approaching science exam questions. This helps to shorten the learning curve for your child and lessen similar mistakes that were made by their peers.
Lastly, learning in a group enhances motivation as the interaction can help students to be more engaged and look forward to attending the science tuition sessions.
4. Online science tuition
Remote learning has taken off post-covid, and both tuition centres and private home tutors offer the option of online science tuition for students who prefer this.
This option can be explored, for instance, if a science tutor is not able to meet your schedule due to the commuting time needed to travel to your place as he or she has a lesson prior to yours. Remote science tuition is advantageous if you would like to minimise your child's contact with people so as not to fall sick, especially when it is close to important examinations such as PSLE or O/A Levels.
********
How to select a science home tutor for tuition lessons?
To help you narrow your search, here are some essential qualities you should look for in a science tutor:
1. Experience
Tutors providing science tuition need to have a few years of experience teaching at the same level. It shows that they have the capability to help students excel at that level. That is why experience is the first thing you should look for when finding the right tutor for your child.
With experience comes expertise, and such tutors will make sure that students don't make common mistakes in their examinations. At Tutor City, we recommend tutors that have years of teaching experience of a similar level. You can count on us to provide the best recommendation so you can choose a tutor that best fits your child's needs.
2. Ability To Spot Weaknesses
The best science tutors understand the challenges students face. They also use the tutoring sessions to understand the weaknesses of the student in the subject. Once they recognize these weaknesses, they can devise a schedule that helps students overcome their weaknesses.
At Tutor City, we have incredibly experienced science tutors. They easily spot weaknesses of the students and help them improve. You will notice a significant improvement in results in no time.
3. Access To Additional Learning Resources
Our tutors have years of experience in conducting science tuition. Over the years, they have collected additional learning materials from the top schools in Singapore. These materials will aid students in their learning journey and help them improve their science examination results.
At Tutor City, we ensure that our recommendations include if the science tutor will be providing learning resources.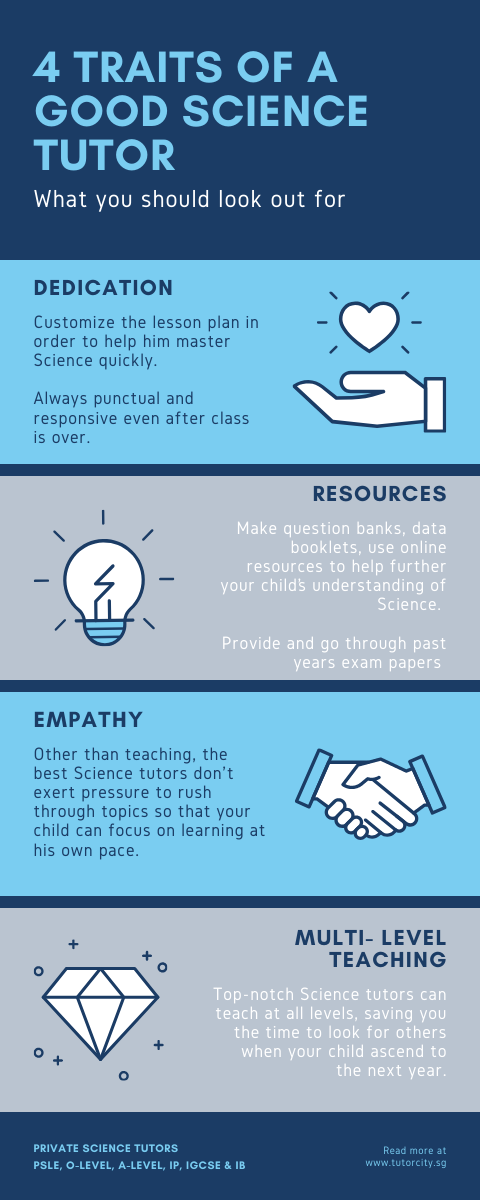 Support from Tutor City to select a suitable science tutor
Tutor City is committed to helping you select the best science tutor for your child. Here is the support you will receive when hiring a tutor for science tuition:
Carefully screen and highly qualified science tutors with excellent teaching skills and experience

Fast response time of within 24 hours to receive tutor profiles for your selection when you put in a science tutor request form

Arrangement of a phone interview with the shortlisted tutor

Free consultation with us to understand your requirements and advise you on a suitable science tutor profile

Follow up service on the feedback of the science tutor after your first lesson

Flexibility to change tutor if you find him or her unsuitable, only the lessons taught will be charged

100% no fees charged to you for our science tutor-matching service
Tutor City: Singapore's Premier Science Tuition Agency
Tutor City is Singapore's premier science tuition agency, we strive to provide top-notch customer service to help students find their ideal science home tutor.
Our mission is to help parents save time and effort in looking for a science tutor by offering customer-friendly tutor-matching services through our qualified tutors that are thoroughly screened, regardless of the budget and tuition location.
Put in a tutor request form with us now.