Best JC Tuition in Singapore - Top 30 Comprehensive Review
In Singapore, the competitive fight for a spot in local university lies in doing well in 'A' Levels. The battle doesn't only begin when a student first steps into the exam hall, but from the moment they first enrol in JC. In fact, by the time the 'A' Levels roll around, half the battle has already been fought, and the ones who will come up on top are those who have done adequate preparation.
For an increasing group of students, this means enrolling in classes with a reputable tuition centre. Whether you struggle with GP, Physics or Maths, you can bet there's a JC tuition centre out there that follows the MOE 'A' Levels syllabus closely and can cater to your needs.
Factors to Consider When Choosing A JC Tuition Centre
With so many JC tuition centres around today, it can be tough selecting the best one to suit your needs. Of course, there's no one-size-fits-all answer to this; taking into account each student's individual strengths, weaknesses and learning styles, the best tuition centre for you may look very different from the one your friend attends.
Below are some factors to take into consideration when choosing a JC tuition centre that ticks all your boxes:
Location: Ideally, you will want somewhere a tuition centre that's centrally located or near your place of residence. After a long day of school and CCAs, having to travel more than 30 minutes to your tuition centre can cut into the time you have for rest and revision. With this in mind, you may want to look out for JC tuition centres with multiple branches across the island.
Subjects offered: You know your own strengths and weaknesses best. Chances are, you won't require tuition in every subject you are taking. Identify the one(s) you most need help with and start looking along those lines.
Teacher-to-student ratio: Do you find you have trouble getting the individualised attention you need in school because your teacher is always busy with other students? If so, your best choice would be one-on-one sessions or a tuition centre with small class sizes.
Proven track record: Before taking the next step and enrolling in any tuition centre, be sure to find out more about their track record and reputation. How many of their students go ahead to obtain an A/B in 'A' Levels? If you have friends or siblings who are already enrolled or have previously taken classes there, talk to them!
Top 30 JC Tuition Centres
1. Sophia Education
Located centrally, Sophia Education has earned its name as a top tuition centre in Singapore. Not only can students take their pick from group classes and 1-on-1 sessions, free exam papers and notes can be downloaded on their website for extra practice and revision purposes.
All tutors go through a strict selection process to ensure that they have the relevant experience and expertise to cater to students' needs. The focus is on providing personalised support that students struggle to get in schools and make learning fun, which in turn leads to better results.
Name

Sophia Education

Website

https://sophiaeducation.sg/

Contact Details

Call/SMS: 3129 4400

Email: admin@sophiaeducation.sg

Outlets

Dhoby Ghaut Headquarters

#02-09/10/11 Singapore Shopping Center, 190 Clemenceau Ave, Singapore 239924

Levels & Subjects

GP, Maths, Physics, Chemistry, Biology, Economics, Literature, Geography

Unique Selling Points

Small class sizes: Group classes are capped at 2-6 students each, and 1-on-1 lessons are also available for students who require more individualised attention.

14-days money back guarantee: Unsure whether this is the right JC tuition centre for you or your child? Their 1st lesson dissatisfaction policy allows you to try it out risk-free and get your money back if you are not happy for any reason.

Free revision materials provided: Students can download notes and exam papers for practice in their own time, facilitating a convenient routine for revision.

Students' Reviews

Good tuition center, flexible lesson structure where students can request teachers follow consultation teaching format instead of doing new questions/papers.

Review by Finn

They teach us new things and test us for memorization and get us ready for our exams and having our exam results high marks! Thank you Mr Alex!

Review by Mekaela Lim

Tutor is clear in explanations and good at explaining complexities using simpler words that make bio easier to understand. Notes could be more comprehensive but are of good quality nonetheless. Would recommend for the comfortable learning experience.

Review by Belinda Ho
2. SG Physics, Chemistry, Math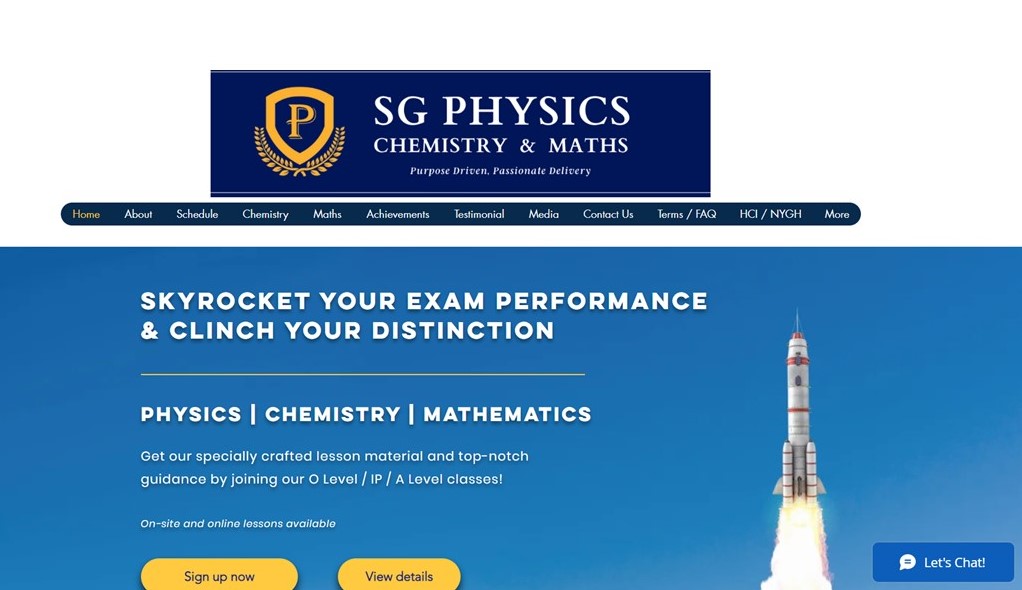 SG Physics, Chemistry, Math is a highly esteemed tuition centre with a rich history spanning nearly a decade. Renowned for its exceptional standards, the centre boasts a team of seven accomplished tutors who bring a wealth of expertise to the table. Their impressive credentials include being PSC scholars, former heads of department in the Ministry of Education, published authors of esteemed O and A levels assessment books, and recipients of prestigious teaching awards.
At SG Physics, Chemistry, Math, the core teaching philosophies revolve around igniting students' interest, fostering self-motivation, and ensuring a comprehensive grasp of the subjects.
The centre's first priority is to ignite students' interest in Physics, Chemistry, and Math. Through captivating teaching methods, real-life applications, and interactive experiments, students are inspired to explore the depths of these subjects and uncover their practical relevance and intrinsic allure.
Creating a positive learning environment is paramount at SG Physics, Chemistry, Math. Here, students are empowered to become self-motivated learners. The nurturing atmosphere encourages questioning, celebrates innovative ideas, and recognizes individual strengths. By fostering confidence and self-belief, students are motivated to embrace challenges and reach their full potential.
Comprehensive understanding is the hallmark of SG Physics, Chemistry, Math. The tutors employ a clear and thorough teaching approach, breaking down complex concepts into easily digestible components. Emphasising conceptual understanding, practical application, and problem-solving skills, they equip students with the necessary tools to excel in their examinations. Through personalised attention and guidance, the centre ensures that each student's unique learning needs are met.
Name

SG Physics, Chemistry, Math

Website

https://www.sgphysics.com/

Contact Details

Call/Whatsapp: 81356556

Email: admin@wynnedu.com

Outlets

1. Bishan
513 Bishan Street 13, #01-500, Singapore 570513 (Besides Bishan Bus Interchange)

2. Bukit Timah
170 Upper Bukit Timah Rd, B2-13B, Bukit Timah Shopping Centre, Singapore 588179 (Besides Beauty World MRT)

3. Jurong East
135 Jurong Gateway Road, #04-315, Singapore 600135 (Besides Jcube Shopping Centre)

4. Tampines
Block 201E, Tampines Street 23, #02-106, Singapore 527201 (Besides Tampines East CC)

Level & Subjects

Secondary/JC Physics, Chemistry, Math

Unique Selling Points

- Qualified tutors: award-winning, top-rated former MOE teachers, quality of teaching is ensured.
- Learning materials: pictorial notes that effectively simplifies complex concepts, especially useful for visual learners
- Specialists: highly specialised tuition in only maths and sciences, expert in physics syllabus and topics.

Track records: Excellent reviews by past and current students emphasising their improvement in grades. For Secondary subjects, generally about 80%-85% of students scored between Grade A1 - B3 after attending lessons. For JC subjects, generally about 80%-85% of students scored between Grade A - B after attending lessons

Students' reviews

1. Mr Lee made me enjoy Physics because he makes the lessons interesting and easy to understand. He would always check with the class to ensure that we understand the concepts and is quick and patient in clarifying my doubts whenever I need help in doing any physics question. He also teaches the class useful methods in solving questions which allows me to solve them easily and quickly.
Review by Sharleez

2. Mr. Quek is a fantastic instructor who does his best to comprehend students' mindsets. He explains esoteric ideas using relatable examples that are simple to comprehend and can be easily understood. He creates practice questions in a variety of formats to assist us to help make us comfortable with the many types of questions that may be asked. In addition to teaching, he also transmits expertise on test techniques so that we may answer questions correctly and quickly. Many thanks, Mr. Quek!
Review by Junyi

3. I think Mr Quek is a really dedicated and emphatic teacher that goes out of his way to care for our welfare and general well being! He is also really generous in terms of giving us consultations during the holiday breaks, as well as recorded videos for us to catch up on Physics concepts.
Review by Charlotte
3. Future Academy
Future Academy is the go-to tuition centre for JC students looking to overcome various obstacles in learning and prepare for the 'A' Levels. Their experienced team of tutors comprise former top school teachers from RGS, HCI and more.
Live online classes are also available for students who require more flexible arrangements, providing all the benefits of in-person classes. Students can get immediate feedback from tutors and make use of virtual classroom tools for a highly interactive experience.
Name

Future Academy

Website

https://www.fa.edu.sg/

Contact Details

Call/SMS: 6884 6566 / 8457 7888

Email: info@fa.edu.sg

Outlets

Bugis / Rochor

175A Bencoolen Street #06-05, Burlington Square, Singapore 189650

Bukit Timah / Beauty World

170 Upper Bukit Timah Road #15-04, Bukit Timah Shopping Centre,
Singapore 588179

Toa Payoh / Braddell

381 Lor 1 Toa Payoh #01-12, OnePeople.sg, Singapore 319758

Levels & Subjects

GP, Maths, Physics, Chemistry, Biology, Economics

Unique Selling Points

MOE-registered: You can be sure of getting the best tuition teachers in Singapore at Future Academy. Headed by a former RGS teacher and HCI Head of Department (HoD), only the most qualified and experienced tutors are hired to teach here.

Multiple branches available: Enjoy optimal convenience when getting to your classes with 3 different outlets to choose from. Choose the branch nearest to your home to minimise travel time without compromising on quality of instruction!

Small class sizes: All classes are capped at a student-to-teacher ratio of 6:1, ensuring that tutors have the capacity to provide more individualised attention to each student.

Students' Reviews

My experience here as of now has been extremely satisfactory. My tutors are engaging and helpful. I feel comfortable asking questions and the answers I recieve are in depth and comprehensive. The teaching is not just for exams and is holistic which I believe is very beneficial for my learning. The materials provided are useful and practical for revision.

Review by Hansen Teo

My tutor is very nice and she is very patient when helping me with questions I don't understand. The environment is very conducive for my learning and I don't feel scared to ask questions. Everyone is welcoming and does their best to help you.

Review by Rosabelle

My teacher gave me a lot of worksheets to give me exposure to different math topics. My math has improved greatly thanks to the centre!

Review by Shaine Pang
4.

Learners' Lodge
Also known as the 'A' Level specialist, Learners' Lodge focuses on helping students develop critical thinking skills that will serve them well in a variety of subjects. Students are taught exam-taking techniques for different question formats, from multiple choice to open-ended and essay questions. Not only does this approach lead to better results, it also increases students' confidence in areas they tend to be weaker in.
Name

Learners' Lodge

Website

https://www.learnerslodge.com.sg/

Contact Details

Call/SMS: 9119 9655

Email: enquiries@qeducation.sg

Outlets

Learners' Lodge @ Bishan

Blk 236 Bishan Street 22 #B1-154 Singapore 570236

Learners' Lodge @ Jurong

Blk 134 Jurong Gateway Road #02-309B Singapore 600134

Learners' Lodge @ Kembangan

14D Jalan Masjid Kingston Terrace, #01-04 Singapore 418935

Learners' Lodge @ Kovan

Blk 221 Hougang Street 21 #B1-100 Singapore 530221

Learners' Lodge @ Marymount

Block 255 Bishan Street 22 #B1-462 Singapore 570255

Levels & Subjects

GP, Maths, Physics, Chemistry, Biology, Economics

Unique Selling Points

Focus on depth over breadth: Instead of attempting to cover as many topics as possible within a short time, Learners' Lodge focuses on depth over breadth. Only when students have developed a strong grasp on the basics are more complex ideas introduced.

Concise notes provided: Having a concise set of notes can make a big difference when it comes to revision. Students are provided with high-quality notes to improve the efficiency of the studying process and improve their academic performance.

Students' Reviews

Thank you to Mr Harry Tiew for being such a humorous teacher who makes each Economics lesson interesting for me. I used to think of Economics as just another subject to pass in the A levels but your lessons have made me gain a deep interest in the subject such that I am now even considering to study it in university. Thank you for being a resourceful teacher who teaches beyond the syllabus so that we can understand why we are learning certain concepts. Lastly, thank you for always going out of your way to help us, whenever we text you our questions, you reply us and solve our problems even after tuition hours. I could never have gotten my A without your help. Thank you!

Review by Ng Liang Pin

Mr Mike Wang has really helped me a lot for my chemistry, guiding me with extra tips and tricks for exams, offering us extra help even outside of class. He was our guiding light through out the stressful period of Alevels and always manages to encourage us through jokes.

Dear Mr Mike, you have been a key factor in my improvement, helping me achieve A from an initial E and your tips have allowed me to better manage my time in exams. Thank you so much!!

Review by Estee
5. MaxiMind EduHub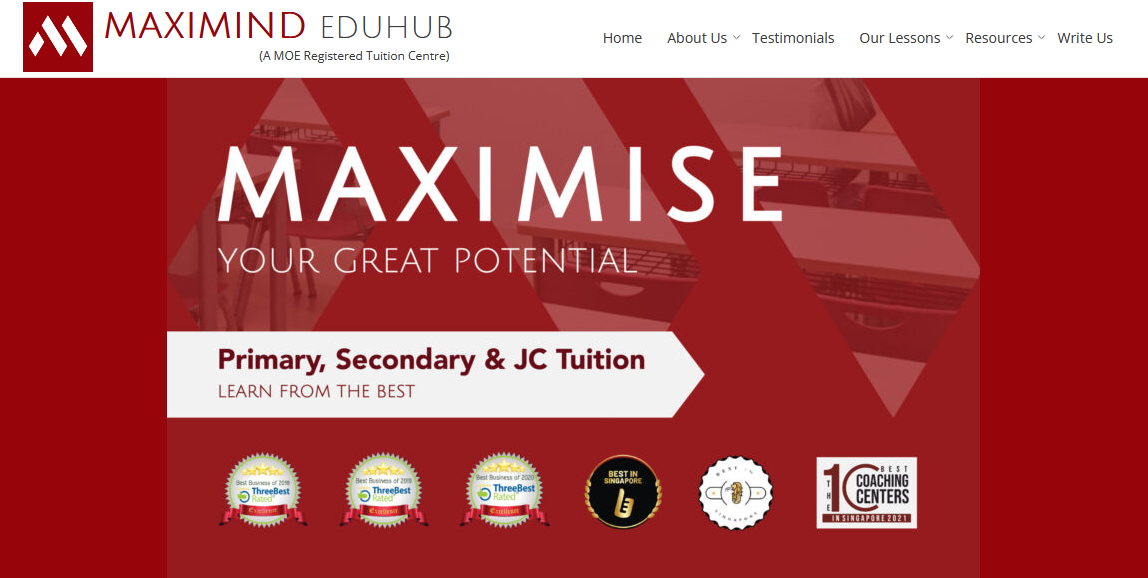 This MOE-registered tuition centre has been featured in The Excelligent, one of the top education magazines in the world. Their in-house curriculum strictly follows MOE syllabus, and programs are designed to maximise exam success. Here, tutors are mentors who seek to turn students' weaknesses into strengths and build up their confidence instead of being an authoritative figure in the classroom.
Name

MaxiMind EduHub

Website

https://www.maximind.sg/

Contact Details

Call/SMS: 6909 2728 / 9859 9686

Email: contact@maximind.sg

Outlets

5 Tampines St 32 #02-12 Tampines Mart
Singapore 529284

Levels & Subjects

Maths, Physics, Chemistry, Economics

Unique Selling Points

Online tuition available: Students with a busy schedule can benefit from online classes. Being able to study from wherever you are comes with the benefits of eliminating travel time as well as familiarising you with virtual tools that will come in useful for future purposes.

Highly qualified tutors: All tutors at Quintessential Education have either graduated from or lectured at top JCs in Singapore. This ensures that they have a deep understanding of the latest curriculum and are equipped with the experience to provide students with the direction they need.

Students' Reviews

Mr Neo is a patient teacher and was always willing to help me, answering my queries even late at night. He was very attentive to the fact that I was a slow learner and performed badly before joining his class, finding different ways to make me understand concepts. He was very thorough in his teaching, providing me with questions that challenges me and going through each question to find the root of my mistakes. Mr Neo went the extra mile before the exam to provide a summary page of my mistakes I have frequently made throughout the year. It was very helpful in my revision and it reminded me not to make those mistakes in exam. Thanks to him, I improved my H2 Maths from a U to a B for my A Levels :D

Review by Aiyshah

After attending the lessons, both my math and english improved by a few grades. Teachers here are very friendly and nice too! Nice environment to study in!

Review by Tian Xi
6. Aspire Hub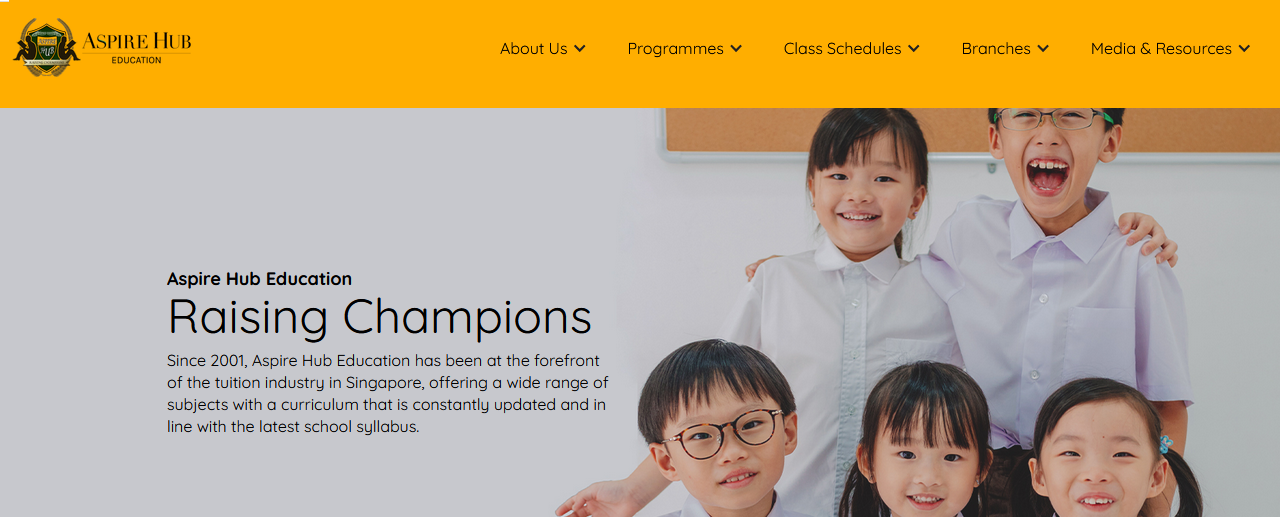 With 16 outlets scattered nationwide, Aspire Hub is one of the best JC tuition centres you can find. Not only can students enjoy optimal convenience when it comes to attending classes, they will also find a teaching method that caters to their unique learning style. All teachers are fully qualified and go through in-house training before taking on classes. Whether you are taking H1 Mathematics or H2 Mathematics at 'A' Levels, tutors are well equipped to deal with all your queries and guide you through the syllabus.
Name

Aspire Hub

Website

https://www.aspirehub.com/

Contact Details

Call/SMS: 6235 2018 / 9821 6612

Email: info-av@aspirehub.com (Great World City Headquarters)

Outlets

Great World City Headquarters

1 Kim Seng Promenade, #03-122, Singapore 237994
‍AMK Hub

53 Ang Mo Kio Ave 3, #03-04, #03-24, Singapore 569933

Hillion Mall

17 Petir Road, Hillion Mall, #B1-64, Singapore 678278

Paya Lebar Quarter

10 Paya Lebar Rd, Paya Lebar Quarter #03-21 (Near Popular), Singapore 409057

Alexandra Village

Blk 122 Bukit Merah Lane 1, #01-54/56/58, Singapore 150122

Bedok Mall

311 New Upper Changi Road, #B1-06, Singapore 467360

Bedok Central

Blk 203, Bedok North Street 1, #01-459 (2nd storey), Singapore 460203

Bukit Timah

144 Upper Bukit Timah Road, #03-06A Singapore 588177

Jurong Point

1 Jurong West Central 2, Jurong Point, #01-40/41/42, Singapore 648886

Parkway Parade

80 Marine Parade Road, Parkway Parade #01-58, #03-31 Singapore 44926

Rochester Mall

35 Rochester Drive, Rochester Mall, #02-08, Singapore 138639

Seletar Mall

33 Sengkang West Avenue, #03-14/15, The Seletar Mall, Singapore 797653

NEX

23 Serangoon Central, Nex, #04R-79 (near Library), Singapore 556083

United Square

101 Thomson Road, United Square #01-33/34/35, Singapore 307591

Thomson

193A Upper Thomson Road, Singapore 574338

West Mall

1 Bukit Batok Central Link, West Mall #02-21/22, Singapore 658713

Levels & Subjects

GP, Maths, Physics, Chemistry, Biology

Unique Selling Points

More than 15 outlets nationwide: No more travelling long distances after a long day of school. Choose the outlet nearest to your home and attend your classes conveniently!

Personal coaching sessions available: Students who require extra assistance can benefit from personal coaching sessions that focus on progressive learning.

Students' Reviews

Teacher Yi Pei has been super patient and understanding. She always ensures that we understand the concepts fully and that we are cleared of any doubts. She takes things step-by-step thus it is easy to comprehend and follow. Her guidance has really helped me gain confidence in Maths and I would not have been able to achieve an A1 without her!

Review by Sarah Yeo Yuan-Li

Being a student councillor takes up a lot of my time. Going to tuition with Mr Rick helps me catch up with whatever I missed during school.
I am able to prepare well for my tutorials and tests. The lesson is fun and it helps that I have many of my friends here with me for tuition.

Review by Evelyn Tan
7. New Dawn Learning Studio
Established in 2015, New Dawn Learning Studio makes use of an open-space concept to encourage collaborative learning. Whether students are attending classes in classrooms or engaging in smaller group activities in a glass pod, the openness of the space contributed to a friendly and welcoming environment. The purpose is to inculcate a sense of belonging in students and take away the stress that would normally accompany learning, in the process building up confidence and achieving better results.
Name

New Dawn Learning Studio

Website

https://newdawnlearning.com.sg/

Contact Details

Call/SMS: 8112 6470 / 9880 1259

Outlets

Blk 712 Ang Mo Kio Ave 6 #03-4056 Singapore

Levels & Subjects

Maths, Physics, Chemistry

Unique Selling Points

Glass pods and library available: With glass pods available for small group discussions and revision sessions, students always have a conducive environment in which to study. A recently added library allows students to tap on numerous resources to supplement their learning.

Personalised study materials: Study materials are meticulously crafted by tutors, allowing students to have a personal point of reference even when studying from home.

Welcoming study environment: Students can find many comfortable seating nooks throughout the centre that promote efficient self-study sessions.

Students' Reviews

I entered New Dawn after the Mid Year Examinations (MYE). At that time, my maths was a U grade and I was afraid that I was going to fail my maths at the A levels. Since I joined late, there were chapters that they had gone through and I missed them. But, I am very thankful for Mr Daniel for going out of his way and giving me a mini crash course after classes. The way that Mr Daniel crafted his notes and practices (question types) benefitted me as I could see the similarity in the questions, allowing me to grasp concepts which gave me a headache in the past. In just a short period time (half a year), my maths improved from a U grade to an A grade in A Levels, and I made it to the honour roll in my school. For those students who aren't scoring well in your school examinations, just continue to press on and join New Dawn!

Review by Cassandra

I have been a student at New Dawn for three years and throughout my few years here, lessons at New Dawn definitely helped me with improving my grades. Mathematics and Chemistry in JC had never been easy, but attending H2 Math and H2 Chemistry tuition classes at New Dawn certainly helped me clear my numerous doubts and gain a better understanding of the subject's content. Lessons here are very well-paced and the notes provided are concise and succinct, especially the math summary sheets which summarises the important formulas for every chapter. In addition, the centre provides a conducive learning environment and the study pods/ spaces are one of the highlights as I never ever had to worry about hogging a place in a cafe to study. Thank you, Teacher Joseph and Teacher Daniel for your guidance and I truly appreciate all the help you have given!!

Review by Desiree Toh
8. My Mustard Seed Tuition Centre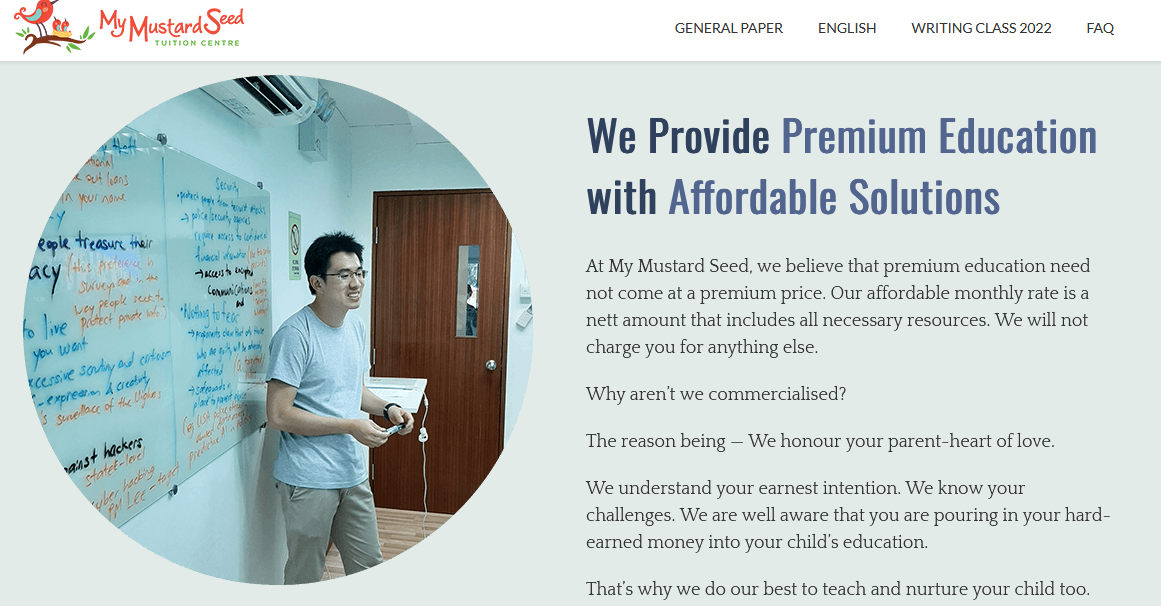 Students who are struggling with GP in particular will benefit from the Socratics approach employed by the tutors at My Mustard Seed Tuition Centre. The focus in keeping fees affordable without compromising on quality. Students are encouraged to ask and answer questions in developing their ability to make strong arguments. Each lesson revolves around the discussion of two or three major world events, with tutors guiding students through the process of considering different viewpoints and forming their own analysis.
Name

My Mustard Seed Tuition Centre

Website

https://mymustardseed.com.sg/

Contact Details

Call/SMS: 9100 8878

Email:

Outlets

Block 201B Tampines Street 21, #02-1069,
Singapore 522201

Levels & Subjects

GP

Unique Selling Points

Interactive classes: Instead of focusing on content knowledge, which can have the opposite effect, students will take part in active discussions of current affairs and be guided to develop their own arguments.

All marking done in-house: All essays are marked personally by Mr Liau with feedback provided. Marking is never outsourced and students can contact Mr Liau directly with any queries.

High-quality notes provided: Detailed notes with explanations are provided after every class alongside structured outlines, sample essays and tips on answering questions.

Students' Reviews

Classes were interesting and getting to participate definitely helped. The marking and feedback of work was very helpful and concise. I think the most beneficial was the extra notes on different topics which helped me gain more content knowledge approaching the end of J2.

Review by Jay Li

I think it's the engagement in class which allows me to know what kind of mistakes I would normally make and learn from it. The clear explanations and examples given also makes it alot more easier to link everything together and to know how to answer the questions

Review by Suet Mun Jasmine Low

Mr Liau is a very genuine and sincere teacher who is always there to answer our questions and provide us insightful perspectives. The detailed notes provided and the engaging lessons have allowed me to gain newfound appreciation for the subject and become more aware of pressing global issues that we are facing.

Review by Ker Chong Lim
9. EDvolution Learning Studio
With 12 years of teaching experience, principal tutor Mr Liew is committed to helping his students at EDvolution succeed. Here, students can find a warm and supportive environment where they need not be afraid to ask questions and get them answered. Having obtained a Distinction in Teaching Practice from NIE and as a former VJC teacher, Mr Liew is highly qualified to assist students in understanding current affairs and improving their argumentative writing skills.
Name

EDvolution Learning Studio

Website

https://edvolution.com.sg/

Contact Details

Call/SMS: 6908 1656 / 9843 1655

Email: expressyourwords@gmail.com

Outlets

02-09 Crown Centre, 557 Bukit Timah Road, 269694 Singapore

Levels & Subjects

GP

Unique Selling Points

Strategic teaching and learning strategies: The focus is largely on learning smart. Students will acquire strategies to tackle GP successfully through rigorous and intensive training.

Boot camp available: Students who already possess the necessary skills to tackle GP but require additional help with content can sign up for the JC2 'A' Level Power Crash Course, where the focus will be on building up content knowledge.

Students' Reviews

Mr Liew is a great GP tutor that really helped push me in the right direction during the two months of intensive crash courses before the A-Level exams. His lessons really helped my essays & AQ (Application Question) answers to be filled with much more substance. I eventually got an A for my A-Level GP result! I am really grateful for his assistance in GP!

Review by Xin Ying

Mr. Jonathan Liew has been a very fervent teacher who puts in effort into nurturing me to be more proficient in my General Paper(GP). With his effective GP tuition programme, my grades took a tremendous leap from an S in Promo exam to an A in my A-Level GP result!

With well prepared lessons, he never failed to engage me with information and current affairs,thus enriching my content knowledge. I believe that he is a great teacher who will be able to engage well with his students at EDvolution Learning Studio and help them do well in A-Level General Paper.

Review by Royton Tan
10. Irwin's Study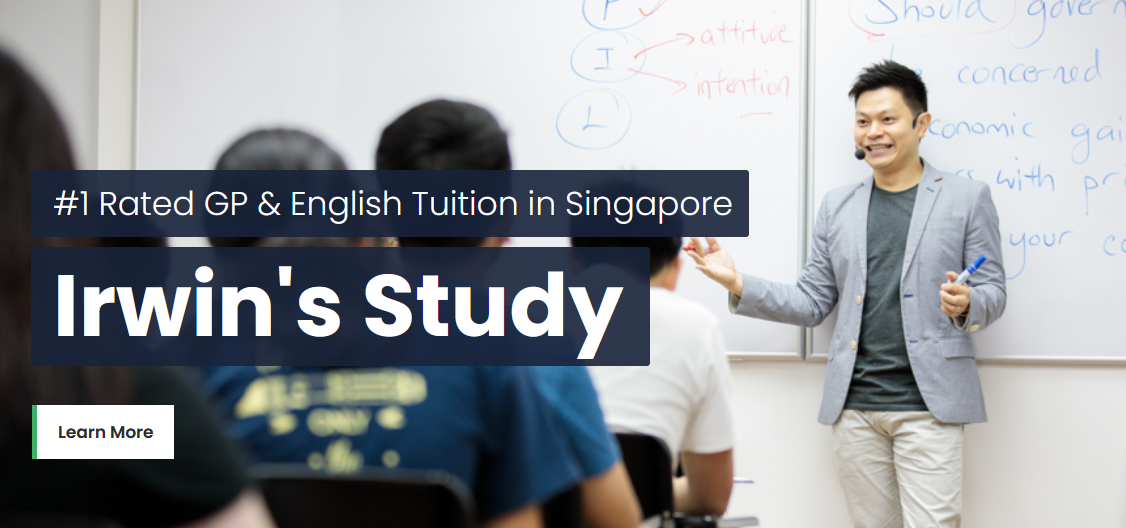 Founded by a former MOE lecturer who is also a graduate of RI, Oxford and London School of Economics (LSE), Irwin's Study has a strong track record of producing successful students. Their curriculum adheres closely to the GP syllabus set by MOE, and students can purchase the bestselling GP books written by founder Irwin to supplement their studies.
Busy students can also opt for online classes, where they can be assured that the content covered is the same. As these classes are conducted live, students can interact with the tutor, ask questions and seek individual consultations as they normally would!
Name

Irwin's Study

Website

https://www.irwins-study.com

Contact Details

Call/SMS: 9833 3156

Email: ask@irwins-study.com

Outlets

West Centre

Bukit Timah Shopping Centre
170 Upper Bukit Timah Road
#B2-13
Singapore 588179

East Centre

Blk 201E
Tampines Street 23
#02-106
Singapore 527201

Levels & Subjects

GP

Unique Selling Points

Provides subsidised tuition to underprivileged students: Irwin's Study partners with MENDAKI to provide tuition at a subsidised rate to students from low-income families.

Impressive track record: 80% of students manage to achieve an A/B in 'A' Levels each year.

Live online classes available: Students whose schedules do not fit class times can opt for online lessons instead, which are conducted live.

Students' Reviews

Mr Irwin's teaching style really suited me and has indeed helped me grasped GP better. As a person who learns through analysing sample essays or answers, Mr Irwin has helped me to gain a better understanding of writing a proper the essay structure, identifying different question types in both essays and SAQs, applying the different answering techniques and also providing adequate resource materials for content preparation. Additionally with the alternation of focusing between paper 1 and paper 2 every 2 weeks, it has helped me to balance my efforts in improving those both components of GP.

Review by Lim Ze Yan

I love that Mr See never neglects any of the sections in the GP paper. We practise paper 1 for one week, then paper 2 the following week, and the cycle repeats. I find this continuous "cycle" very helpful in helping me to remember the skills required to master GP. Mr See also puts in the extra effort to pick out unique words for us to remember. This is to strengthen our grasp of the English language, and to ensure that we do well for the language component of GP. In class, we are also taught special methods/tips to do well in GP, these tips are not available anywhere else, you can only learn of them from Mr See!

Review by Thecla Lim
11. Path Finder Tuition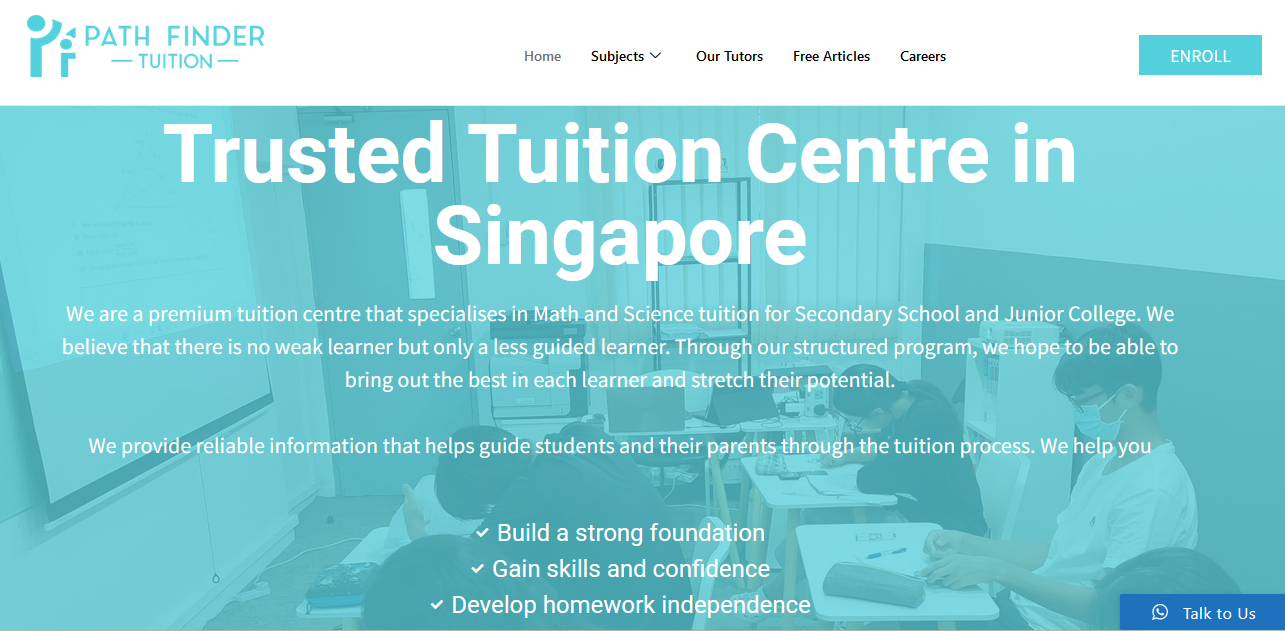 A tuition centre that focuses on math and science, Path Finder Tuition works on the premise that there are no weak learners. Concise revision notes are provided for students, and a structured curriculum that follows the MOE syllabus is utilised.
Boasting an impressive track record of 100% grade improvement with minimum of six months' lessons, the team at Path Finder Tuition takes pride in nurturing their students instead of focusing solely on content mastery.
Name

Path Finder Tuition

Website

https://pftuition.sg/

Contact Details

Call/SMS: 8113 2816 / 9748 7013

Outlets

West

7 Jurong West Ave 5, #02-02, S649486

Central

Blk 80B Toa Payoh Lor 4, #01-440 S312080

Levels & Subjects

Maths, Physics, Chemistry, Biology

Unique Selling Points

Out-of-hours support: Students are provided with their tutors' contact details so that they can reach out with any questions outside hours. This ensures that learning can take place round the clock.

Individually tailored programs: Learning is never one size fits all, and to this end, personalised attention is given to each student. This takes into account the curriculum they are following at school as well as their individual strengths and weaknesses.

Students' Reviews

Was taught by Mr Leon and had a great experience! He was extremely positive and also tried using various methods to help me better understand the physics concepts.

Review by Phoebe Tan

Path Finder Tution has definitely helped me improve in my sciences which is evident from the change in the quality of my work and i owe it to Path Finder. Although i only went here for a year i was able to pick many useful skills to do better. Mr Leon has a good structure to his lessons, is able to make the time more efficient and and also answer any questions immediately. He also takes interest in our well-being outside of the tuition as well such as helping us manage our time during the long holidays. Mr Sebastian's lessons are also very interesting and got me more interested in the subject. He is able to answer queries in a way that easier to understand and will ensure we are clear of the things being taught before moving on. His teaching method may be unique yet it caters to your learning needs. Both my tutors offer the best help both in and outside the tuition through WhatsApp. Thank You Path Finder!

Review by Jeyakumar Mahin
12. Making Sense
Making Sense is a tuition centre that specialises in Chemistry, with both structured and personalised learning programmes available. They work on the premise that a good teacher can help a student to love a subject. Students can tap on a wide range of provided resources including summaries, cheat sheets and structured practices prepared by the tutors.
Name

Making Sense

Website

https://www.makingsense-sg.com/

Contact Details

Call/SMS: 6634 2208

Email: info@makingsense-sg.com

Outlets

Bugis

116 Middle Road
ICB Enterprise House #07-02
Singapore 188972

Balmoral Plaza

271 Bukit Timah Road
Balmoral Plaza #B1-09
Singapore 259708

Bukit Timah

170 Upper Bukit Timah Road
Bukit Timah Shopping Centre #01-01
Singapore 588179

Tampines

3 Tampines Central 1
Tampines Plaza One
#03-02 Singapore 529540

Royal Square

103 Irrawaddy Rd
Royal Square #02-01/04
Singapore 329566

Levels & Subjects

Chemistry

Unique Selling Points

Strong track record: 90% of Making Sense students attain an A/B for their 'A' Levels each year.

Specialisation: Focusing solely on science allows tutors to devote all their time into providing the best instruction and resources for students.

After-class support: Out of hours, students can rely on free face-to-face and Telegram sessions for any queries they may have.

Students' Reviews

Making Sense is the best Alevel chemistry tuition I have even went to! The chemistry tutors are really hardworking and always do their best to help us understand various concepts. They make lessons so fun and enlightening which have really built up my interest in chemistry! Despite not really liking chemistry at the start, I really look forward to going to tuition and expanding my knowledge about this subject! You will not regret joining!

Review by Yi Xuan Sa

Making Sense is arguably the best (and most value for money) chemistry tuition in Singapore! The notes given to us were extremely concise and help us prepare well for exams. Not only that, Mr William and Mr Kelvin (A level Chemistry Tutors) are extremely competent and passionate about what they teach, making lessons a lot more enjoyable and engaging. My chemistry grades have improved significantly after joining Making Sense and I am really thankful.

Review by Sammi Lim
13. Twig Learning Centre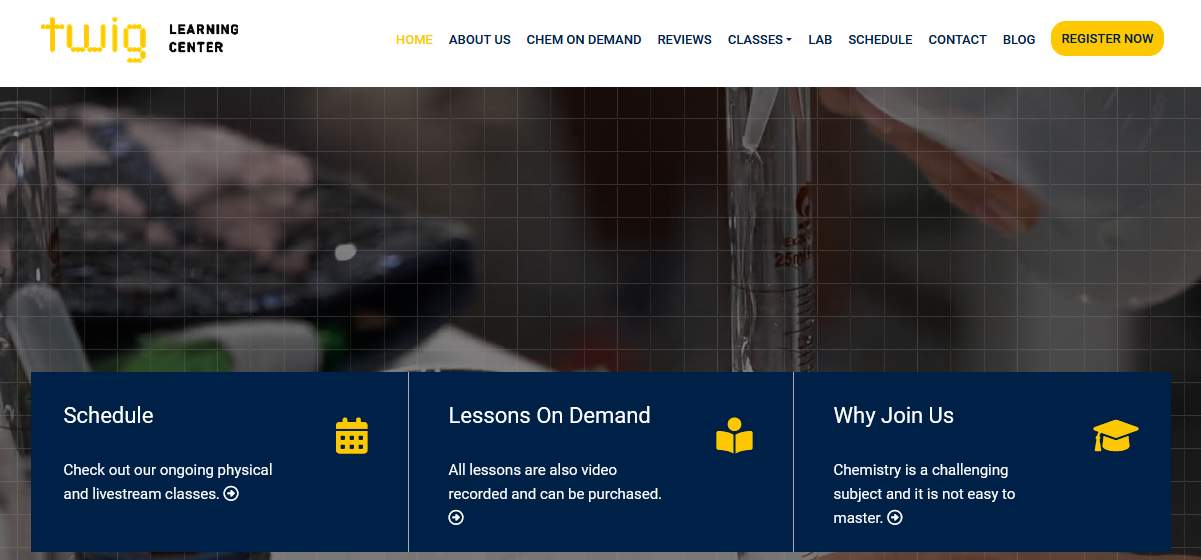 One of the largest selling points of Twig Learning Centre is its onsite laboratory, where mock practical exams are conducted regularly. Not only does this allow students to gain hands-on experience, it makes the subject come alive in a way that cannot be achieved in the classroom. Students will receive clear and concise notes to facilitate self-learning, and a thoughtfully selected range of questions ranging from easy to difficult are provided for student practice.
Name

Twig Learning Centre

Website

https://twig.sg/

Contact Details

Call/SMS: 8338 7476

Email: hello@twig.sg

Outlets

Main Branch

271 Bukit Timah Road, Balmoral Plaza #B1-01 Singapore 259708

Bishan

Blk 503, Bishan Street 11, #01-456, Singapore 570503

Braddell

381 Lor 1 Toa Payoh, Singapore 319758

Levels & Subjects

Chemistry

Unique Selling Points

Topical courses available: Students can choose to take classes focusing on a specific topic they need help extra help with such as atomic bonding, the periodic table and more.

Onsite laboratory: The laboratory experience is a huge part of learning when it comes to a subject like chemistry. Students will be able to gain hands-on practice and benefit from mock practical exams under the guidance of tutors.

Students' Reviews

Mr Koh's Chemistry lessons are very insightful and much more productive than the usual lessons in school. Every question done in class is handpicked by him for a specific learning point, which are not taught in class yet very helpful in the exams.
He will also provide many good questions for us to practice at home and stay back after each lesson to answer our questions. Despite only being at Twig for 3 months, his lessons helped me improve my Chemistry grade significantly to an A in the A levels. Thank you Mr Koh!

Review by Keng Guan Tan

Mr Koh is a warm and friendly mentor who goes out of his way to explain Chemistry concepts in a concise and easy-to-understand manner. His many years of experience allows his students to learn important exam tips and specific techniques to ace the subject!

Review by Wilfred Ong
14. Achievers Dream Chemistry Specialist
This reputable tuition centre specialises in Chemistry and makes use of the latest technology to promote learning. Learning is facilitated through an AI-powered app, which provides students with auto-generated worksheets based on their learning needs. On top of that, students can benefit from an onsite laboratory from which to prepare adequately for their practical exams. With everything this tuition centre can provide, it's no wonder that 90% of students achieve an A/B grade in their 'A' Levels!
Name

Achievers Dream The Chemistry Specialist

Website

https://www.achieversdream.com.sg/

Contact Details

Call/SMS: 9653 8814 / 8028 2514

Email: admin@achieversdream.com.sg

Outlets

Bukit Timah Headquarters

9 Jalan Bingka, Singapore 588905

Lorong Chuan

Levels & Subjects

Chemistry

Unique Selling Points

Onsite lab to facilitate exam preparation: To circumvent the problem of school labs closing in the run-up towards exams, students can make use of the onsite lab at Achievers Dream to prepare for their practical exams.

Super app for student use: Learn from anywhere with a super app, the first of its kind by any tuition centre that specialises in Chemistry in Singapore. Powered by artificial intelligence, students can access a range of practice questions and receive feedback on the go.

Students' Reviews

Achievers dream is very good at teaching students chemistry. AD teacher's classes are very fun and engaging and the lessons are enjoyable. Since joining AD, my chemistry grades have improved and i now like the subject more. The summary sheets and notes helps me to consolidate my knowledge and quickly refer whenever I am facing difficulties. Anyone struggling with chemistry should definitely attend achievers dream.

Review by Brian Phan

the teachers in AD are very engaging and they will make sure that the students understand all the concepts before moving on. AD also gives out cheat sheets that very easy to refer to. my results have improved so much since joining and i can easily answer questions I previously did not get correct. AD teachers teaching methods are not about memory work but they really go in depth about the concept, sometimes giving acronyms to make it easier to understand. AD has allowed me to gain confidence in answering questions during exams!

Review by Tiffany Liung

Prior to joining Achievers Dream, chemistry has always been a subject which I struggled in performing well for despite putting in great effort into the subject. Decided to enroll in AD and I have the teachers to thank for being so detailed in their coverage of the content, answering techniques and challenging questions. Their passion for the subject is contagious as well! Achievers Dream's specially curated practical lessons also gave me more confidence in my practical skills, and eventually I got a B in my A levels. Thank you AD!

Review by Lew Wei Xuan
15. Zenith Education Studio
At Zenith Education Studio, it's all about the students. Those who are unable to make it to their regular class have the option of attending a makeup class within the same week. Although classes are conducted on a group basis, students are able to seek out tutors for 1-to-1 consultations nearing the exam period. With a comfortable student lounge at each centre, students will not have to go far to find a conducive environment for self-study.
Name

Zenith Education Studio

Website

https://zenitheducationstudio.com/

Contact Details

Call/SMS: 8768 7651 / 8822 3770

Email: hello@learnatzenith.com

Outlets

Suntec City Head Office

6 Temasek Boulevard (Suntec City Tower 4)
#09-02
S038986

Buona Vista

35 Rochester Drive (Rochester Mall)
#03-22, #02-23/24
Singapore 138639

Bukit Timah

587 Bukit Timah Road (Coronation Plaza)
#01-05
S269707

Paya Lebar

11 Tanjong Katong Road (KINEX MALL)
#02-09

Potong Pasir

25 Tai Thong Crescent (Senett Estate)
25/25A
Singapore 347856

Levels & Subjects

GP, Maths, Physics, Chemistry, Biology, Economics

Unique Selling Points

Student lounge areas: The student lounge in each centre comes equipped with complimentary snacks, drink dispensers and coffee machines, students need search no further for a conducive study environment.

Additional perks: Enrolled students can enjoy discounts at various F&B outlets and health services across the island, including An Acai Affair, Pasta Play and The Dental Studio.

Students' Reviews

Back in J1, I was hovering around 10th percentile for Economics because I was guilty of using "GP-ish" phrases (which cost me a lot of marks) on top of having a weak foundation. Having joined Zenith just 8 months before the A-Levels, I was able to clarify my doubts through the free consultations with the tutors there as well as had plenty of practice for both the essay and case study components -- which I lacked in school. With the tutor's effective answering techniques, I managed to improve from a U grade for promos to a C grade in prelims and hopefully an A at my A-Levels.

Review by Elliot-John Oh

I was only in Zenith for my J2 year for a couple of months and it truly did help me tremendously in executing my tests and major school exams. I was really inconsistent in my Economics throughout JC but since joining, it had equipped me with the proper exam skill sets to score my maximum marks in examinations. The teachers are really interactive and impart knowledge to their students in a very interactive manner. Many of them took a further step to personally get to know the students properly so that 1 on 1 feedback can be better conveyed. The dedication the teachers showed at Zenith was like no other, they even extended their weekends and even late nights for both physical and online consults which were something that aided me tremendously during the busy As period.

Review by Wong Xin Qi
16. Miss Chen's Tuition Centre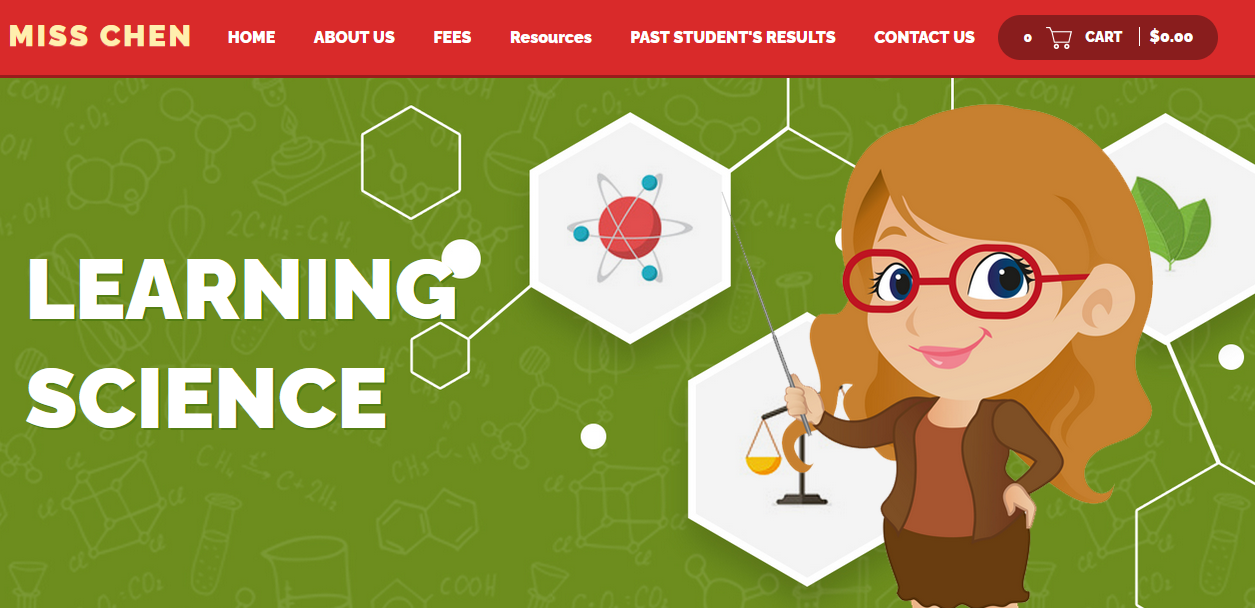 This tuition centre is run by two dedicated teachers: Miss Chen, a NUS life science graduate who is also former teacher at Nan Chiau High School and Miss Leong, who has more than 10 years of experience in tutoring Physics. Together, the two make a dynamic team that is dedicated to helping students study more efficiently and prepare them for exam taking.
Name

Miss Chen's Tuition Centre

Website

https://misschen.com.sg/

Contact Details

Call/SMS: 9788 6170

Email: enquiry@misschen.com.sg

Outlets

Blk 347 Ang Mo Kio Ave 3 #01-2124 Singapore 560347

Levels & Subjects

Physics, Chemistry, Biology

Unique Selling Points

Revision notes available online: Students can easily access revision notes on the website, grouped by topic for easy identification.

Additional resources for purchase: Exam papers can be purchased starting from just $1.00 each for students who need more practice.

Students' Reviews

I joined Ms Leong's physics class from 2021 to 2022, as I had fared badly in my J1 Common Test. I initially found that physics was hard to understand and many questions looked foreign to me. However, Ms Leong teaches in such an efficient way that concepts were easier to visualise and understand, and the notes she provides are concise and easy to revise especially before exams. She emphasises key learning points, common exam questions and common pitfalls, while purposefully collating questions to pinpoint these areas. The amount of practice she gives is also useful for me to reinforce my learning, remember formulas more effectively and increase exposure to questions. Ms Leong genuinely cares for her students and under her guidance, studying Physics was less daunting and I managed to improve drastically in my subsequent exams.

Review by Sarah

I started joining chem tuition under Miss Chen from mid 2022, in the middle of J2. Ms Chen is a dedicated teacher who is able to point out areas to work on accurately and adjust her teaching method and pace to guide you. She is also very knowledgeable and patient. With Ms Chen's teaching and support, I have improved from straight Us in JC to a B in A Levels

Review by Titus Ho
17. Einstein Education Hub
Einstein Education Hub is a tuition centre that focuses on Maths and Physics. Here, the focus is on high achievement and students will get the chance to interact directly with tutors during lessons. A step-by-step approach is taken, where tutors only move on to the next topic once students have fully grasped the fundamentals of the current topic.
Name

Einstein Education Hub

Website

https://einstein.com.sg/

Contact Details

Call/SMS: 6288 7238

Email: info@einstein.com.sg

Outlets

Kovan

Blk 208 Hougang St 21 #04-209 Singapore 530208

Hougang

Blk 425 Hougang Ave 6 #B1-62 Singapore 530425

Levels & Subjects

Maths, Physics

Unique Selling Points

Focus on student engagement: All students will have the opportunity to ask and answer questions in class, ensuring a high level of engagement.

Feedback provided: Homework will be assigned during each session and subsequently, fully marked with explanatory detail by the next session.

Students' Reviews

The tutor for my Math class made sure that each question was explained step-by-step without glossing over any of the concepts required to answer the question. Her explanations were also a lot easier to understand as compared to my aforementioned school lectures. She also made sure that I understand every facet of the concept and is willing to clarify all my doubts before moving on.

Review by Kate

The tutor in the Achievers' class helps me understand better the current topics that my school is teaching. Not only does the tutor clarifies all my doubts or queries on the topics, he is also very helpful and always stays back with me to go through my personal questions.

Review by Bryan
18. Miracle Learning Centre
Specialising in Maths and Sciences, Miracle Learning Centre has been awarded the 'Top Math Tuition in Singapore' and boasts a team of highly qualified tutors. Classes are conducted in small groups, enabling tutors to give each student more individualised attention. Study notes and worksheets are provided at no additional charge during each session, allowing students to make the most of these resources in their own time.
Name

Miracle Learning Centre

Website

https://miraclelearningcentre.com/

Contact Details

Call/SMS: 6463 8756 / 8128 6089

Email: miraclelearning@gmail.com

Outlets

144 Upper Bukit Timah Road #03-01
Beauty World Centre Singapore 588177

Levels & Subjects

Maths, Physics, Chemistry

Unique Selling Points

Small class sizes: Tutors are better equipped to help students overcome their individual challenges when their attention is not stretched thin by too many students.

Wide range of slots: Keeping in mind that students have busy schedules, there are many class slots to choose from for maximum convenience.

Students' Reviews

5/5 stars well deserved. My chemistry teacher, Mr Yang, is phenomenal at teaching chemistry and helped me pull my grade up to a solid high A in H2 chemistry in a just few weeks and it's only going up. His teaching is easy to understand and remember and he's very knowledgeable about the "meta" of examinations.

Review by Shardul

Mr Lim has helped solidify my concepts and improved my understanding of chemistry. His lessons have been of great help to my learning and I have seen a big improvement in my chemistry grade over the year

Review by Kyaw Naing Htet

Miracle Learning Centre was a great experience for me. At first, my Chemistry was terrible and on the verge of failure, and I struggled to cope with my classmates. However, the teachers were very patient with me and gave me pointers and compiled very thorough notes so that I would be able to understand the applications and methods to find the answers. After many months of practice and lessons, I managed to get a 70% on my Midyears. I am very grateful to my teachers for their patience and understanding, and for constantly giving me encouragement, causing me to not give up and to do even better. Miracle Learning Centre really has given me miracles, and has not only improved my score, but has also helped me regain my confidence in Chemistry.

Review by Megan Sim
19. Achevas
Achevas is a tuition centre that focuses on tutoring students in H2 Maths, allowing them to produce specialised resources that benefit their students. With more than 2,500 H2 Maths explanatory videos that are produced in-house, students can learn from anywhere and enhance their understanding. A theory- and practice-centred approach is utilised in teaching, and this technique has been tried, tested and perfected over ten years.
Name

Achevas

Website

https://www.achevas.com/

Contact Details

Call/SMS: 8648 6582

Email: learn@archevas.com

Outlets

21 Jurong Gateway, CPF Jurong Building (Entrance C), #04-01, Singapore 608546

Levels & Subjects

Maths

Unique Selling Points

Online platforms to enhance learning: Outside class time, students can tap on two online platforms to enhance learning: Archevas TV and Archevas MasterClass. Through these platforms, students can access a range of explanatory videos and lectures.

Flexible replacement classes: Students who can't make it to a class will receive a full recording of the session as well as all relevant study materials. Replacement classes can also be arranged at another convenient date.

Students' Reviews

Achevas' learning methodology has greatly strengthened my fundamental understanding of math concepts especially in topics such as Vectors and Calculus. By dissecting complex formulas into basic core concepts, I can understand and apply. Jack provides concise notes that are great studying material. He is a jovial and encouraging tutor who is akin to a friend. He does not stress us but provides us as much help as he can during the A level period. His interactive and enjoyable lessons are something I look forward to every week.

Review by Tong Ping Hui

Math was torture until I found Achevas. Jack's explanations were so clear, it was like an evil veil was magically lifted from my eyes so that suddenly I could do math!! He has a precise, systematic answer explanation for how to do everything (except integration techniques, for which the answer was, sadly but truly, "practice"). And if you forget, you can find it on Achevas TV, or just ask Jack again! He was always really approachable and easygoing, and I never dreaded lessons. I highly highly recommend Achevas x10000. I know I wouldn't have survived JC Math without it!

Review by Sarah-Kei Lauw
20. The Math Lab
As suggested by its name, this tuition centre focuses solely on teaching Maths. All tutors are full-time, allowing them to dedicate their time fully to nurturing students. Many tutors are First Class Honours degree holders. Students can choose between standard group classes and smaller groups, with a full pack of revision materials provided regardless.
Name

The Math Lab

Website

https://themathlab.com.sg/

Contact Details

Call/SMS: 6475 0624

Outlets

Kovan Central Branch

203 Hougang St 21, #01-83
Singapore 530203

Farrer Road Branch

Blk 4, Queen's Road #02-121
Singapore 260004

Ang Mo Kio Branch

163 Ang Mo Kio Ave 4, Singapore 560163

Levels & Subjects

Maths

Unique Selling Points

Conducive learning environment: All classrooms are equipped with HDTVs, tablets and conference-style tables to optimise student engagement.

Follows MOE syllabus: Each year, the syllabus is crafted according to what is taught in schools by a team of experienced MOE teachers, ensuring that it is as comprehensive as possible.

Fuss-free refund policy: Stop classes anytime in the first month and receive a full refund for any unattended sessions.

Students' Reviews

Mr Aaron Teo is a great teacher. His clear instructions helped me to develop a strong understanding of the mathematical concepts. He is patient and dedicated, and is willing to spend much time to help me.

Review by Jordan Tan

Classes were engaging and enriching. Teachers are very knowledgeable and experienced, and it shows clearly. The agency was also fast to reply my tuition inquiries

Review by Sylvester Goh

very engaging and detailed lessons which helped me improve my h2 math grades! very engaging and detailed lessons which helped me improve my h2 math grades!

Review by Rachael Chan
21. Number Skill Learning Centre
At Number Skill Learning Centre, students retain the flexibility to attend classes both onsite and online. With 100% of students agreeing that online learning is effective, tutors make use of numerous tools to ensure that engagement is kept high.
Tutor Mr Gary Ang is the author of a H2 Maths assessment book and has been featured in the media for his views on education.
Name

Number Skill Learning Centre

Website

https://www.numberskill.com/

Contact Details

Call/SMS: 9763 2567

Email: admin@numberskill.com

Outlets

170 Upper Bukit Timah Road, Bukit Timah Shopping Centre, #B1-15, Singapore 588179

Levels & Subjects

Maths, Chemistry

Unique Selling Points

Online classes available: Students can choose between in-person and online classes to suit their needs. A range of virtual tools are utilised to promote engagement, including Class Notebook and Microsoft Teams.

Access resources from anywhere: From notes and revision materials to recordings of live lessons, students can leverage on a wide selection of resources to help them learn.

Students' Reviews

Mr Gary Ang, is a caring teacher who cares deeply for his students. He actively engages all of us with the use of really cool technology, such as his whiteboard. He teaches consicely and with passion.

Review by Naveen Saathappan

Mr Ang is a dedicated, down-to-earth, inspiring and patient tutor who helps students to easily assimilate complex mathematical concepts without losing depth, which is essential in order to score for H2 Math. Many who are struggling with H2 Math (like myself) would understand that confidence, coupled with the right amount of the right type of practice are often lacking, which results in undesirable grades. Mr Ang's lessons effectively tackle these areas of weaknesses, but it doesn't stop there – he makes a point to instill in every student a solid foundation for each topic (that your school won't really teach) and relate these mathematical concepts to real-life, which is especially important in the revised 9758 syllabus. The enriching yet entertaining lessons effectively encouraged me to press on and realise that there is nothing that cannot be solved if you really know the principles behind what you're learning. Thank you Mr Ang for all the help you have rendered in the arduous 2 years of JC!

Review by Beatrix
22. Raymond's Math & Science Studio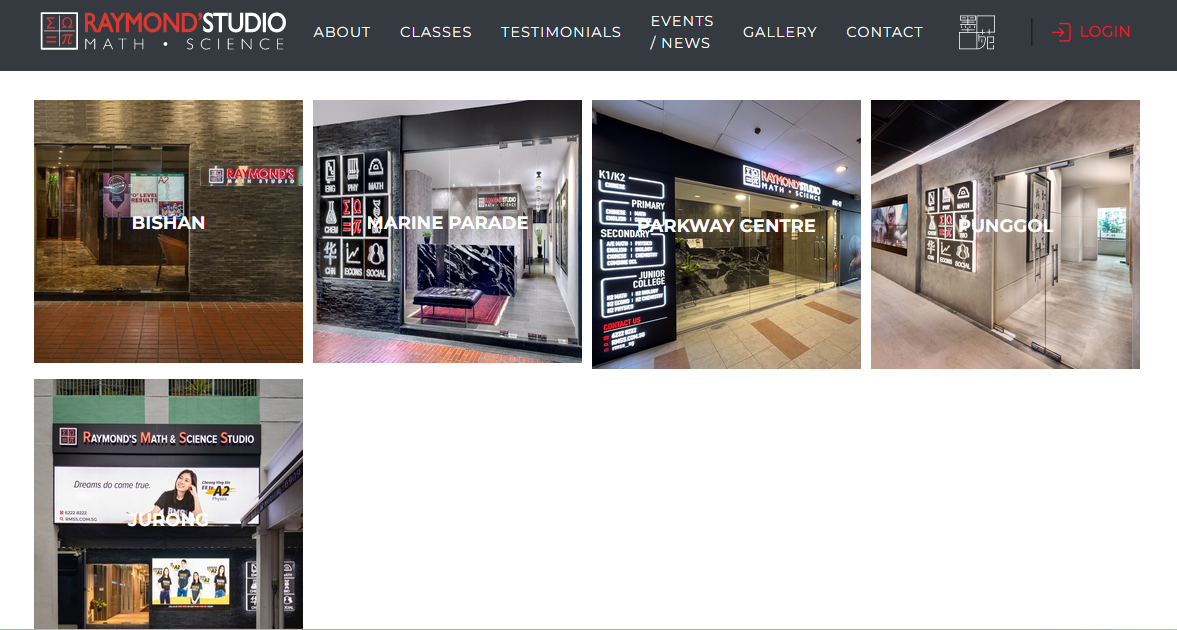 At Raymond's Math & Science Tuition, tutors are passionate about helping students reach their full potential and they achieve this by first instilling passion for the subject. Under constant guidance and motivation, students are given the confidence they need to improve their grades and achieve exam success. A regular schedule of events ensures that something is always happening at the tuition centre.
Name

Raymond's Math & Science Studio

Website

https://www.rmss.com.sg/web/index.php

Contact Details

Call/SMS: 6222 8222

Email: contact@rmss.com.sg

Outlets

Bishan

280 Bishan St 24 #01-22, Singapore 570280

Jurong

130 Jurong Gateway Rd, #01-235, Singapore 600130

Punggol

Oasis Terraces 681 Punggol Drive, #05-13, Singapore 820681

Marine Parade

82 Marine Parade Central, #01-600, Singapore 440082

Levels & Subjects

Maths, Physics, Chemistry, Biology, Economics

Unique Selling Points

Resources are developed in-house: The dedicated team of tutors develop their own resources in-house, ensuring that students are equipped with all the information they need for topical mastery.

Schedule of events: From free trial classes to holiday programmes, students can take their pick from a schedule of events to take part in, keeping learning interesting.

Students' Reviews

I studied there from 2015 to 2016. The teachers there really went the extra mile to help their students. I remember a few days prior to the final exam, I would send my tutor, Mr Tham Amath questions at 1am and he still answered omg. Really miss studying there. They really make you want to do well.

Review by Mitchelle Lee

My lessons with Mr Ang was a short yet memorable one. During lessons, he would explain concepts such that all his students understand it fully and when someone is lost, he wouldn't mind explaining it all over again. Additionally, he gives additional practices to master our concepts such that we know our content inside out. With all these help that I've received from him, I managed to jump from a b4 at MYEs to an a1 at prelims, which is something that wouldn't have been possible without his concise teaching. His tips and tricks made learning science more enjoyable and I now walk into the exam hall with full confidence. So to anyone out there who's looking for a tutor who explains concepts clearly in a simplified manner, Mr Ang is the one! Thank you Mr Ang, without your guidance I wouldn't have made such a huge progress in a matter of months

Review by Wei Ping Tee
23. The Physics Café
With four branches across the island, students of The Physics Café can enjoy optimal convenience when it comes to attending classes. Not just that, a hybrid learning programme is available, allowing students the flexibility to join classes online as and when their schedule calls for it. Tutors keep classes interesting and light-hearted by cracking jokes from time to time – despite that, they are 100% serious about achieving results!
Name

The Physics Cafe

Website

https://www.thephysicscafe.com/

Contact Details

WhatsApp: 9100 1235

Email: admin@pmc.sg

Outlets

Headquarters

Central

101 Thomson Road, #01-29/30/31/32 S307591

East

10 Eunos Road 8, Singapore Post Centre #01-207 S408600

North

Levels & Subjects

Maths, Physics, Chemistry

Unique Selling Points

Multiple branches: Students can get to classes conveniently with multiple branches located across the island.

Impressive track record: Many students go on to achieve A grades in 'A' Level Physics.

Hybrid classes available: For optimal convenience, students can choose to attend onsite or online classes according to their schedules.

Students' Reviews

Mr Sim's popular physics notes are concise and comprehensive. He never fails to break down a chapter into different key concepts and ideas, making it easier for us to understand. Even a particularly difficult chapter will seem manageable and much less intimidating. He would even classify questions into different types where you would use the same type of calculations for. This simplifies things and makes it easier to tackle questions in an exam. I particularly like his idea of using a "SOP" to solve physics questions.

Review by Soo Lin

Mr Sim, I would definitely recommend my friends to join the physics cafe. The Physics Cafe made me interested in physics again due to Mr Sim's enthusiastic and clear teaching. Finally physics made sense. The lecture notes are also very useful as they are not just summarized but include tough questions that might potentially come up for school exams and ultimately A levels. At the same time, the occasional small tests motivated me and trained me to be more calm and focused in exams. A skill which I felt was of utmost importance in exams. Ultimately I felt that the physics cafe really helped me a lot in my learning of physics.

Review by Nicholas Sim
24. Calvin Kong Physics

At Calvin Kong Physics, it's all about making learning fun without compromising on results. Students are kept engaged with weekly quizzes, where the top scorers can walk away with prizes. An online learning portal allows students to revisit previous lessons and revise at their own pace. Nearing the exam period, students have the option of attending booster classes that will help them to achieve full clarity before the big day!
Name

Calvin Kong Physics

Website

https://www.calvinkongphysics.com/

Contact Details

Call/SMS: 8246 5685

Email: calvinkongphysics@yahoo.com

Outlets

Blk 449 Clementi Avenue 3 #01-261 Singapore 120449

Levels & Subjects

Physics

Unique Selling Points

Onsite laboratory: With a fully equipped Physics lab onsite, students will be well prepared for both theory and practical exams.

Out-of-hours support: On top of all assignments being marked and returned, students can also access WhatsApp support outside of hours.

Students' Reviews

Mr Calvin Kong is a friendly and humorous teacher who is able to make Physics an enjoyable subject. During lessons, he tries to ensure that everyone is able to keep up with him, so that no one feels lost. For the blander aspects of Physics, he spices them up with links to our daily lives. And for some of the tougher chapters, he goes through them in greater detail with many helpful drawings. I have had fun learning under him. Review by Gabirel Goh

The class is always engaging and Mr Kong is extremely approachable. That makes it easier to ask questions if we have any so that we don't go home feeling confused. The lesson materials given are very helpful as it contains the summarised content and important points. They are only 2 pages long per chapter, making it easier to read and revise compared to school notes that come in thick stacks with many words. Learning Physics here is definitely more enjoyable than learning in school.

Review by Bryna Lee
25. KungFu Physics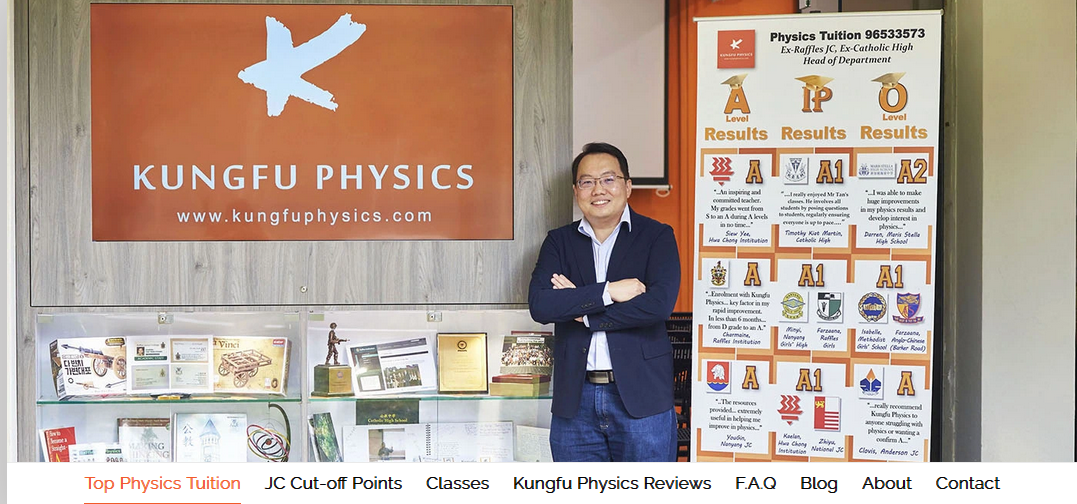 KungFu Physics is helmed by a former RJC lecturer who has thrice been the recipient of the MOE Outstanding Award. Concepts are taught through real-life applications and students are encouraged to see how science through a new light. The classroom atmosphere is welcoming, allowing students to develop the motivation to excel in Physics while forming new friendships.
Name

KungFu Physics

Website

https://kungfuphysics.com/

Contact Details

Call/SMS: 9653 3573

Email: mrgabrieltan@kungfuphysics.com

Outlets

503 Bishan St 11 #01-456
Singapore 570503

Levels & Subjects

Physics

Unique Selling Points

Onsite and Zoom classes available: Students can choose to attend classes in person or online according to their needs and schedules.

Mini tests conducted regularly: Student progress is monitored through regular mini tests, allowing tutors to pick up on any areas of weakness and address them timely.

Students' Reviews

Mr Tan explains difficult concepts clearly, which makes learning them much easier. He also helped me to fill in the gaps of my physics foundation, which played an important role in improving my physics grades. Furthermore, the notes are well written and very useful, be it for learning new topics or last minute revision.

Review by Changkuan

Mr Tan's lessons helped me a lot for my H2 physics. I was able to understand better and apply concepts learnt much easier with his lessons. His notes and summaries are very helpful to review just before exams as well!

Review by Kang Zhi Yu
26. Mr Karman Chua
Mr Karman Chua makes use of carefully drawn diagrams to explain Biology concepts to students, with the understanding that long and repetitive explanations don't always work. Every topic in the syllabus is covered, and students can also purchase a guidebook authored by Mr Chua for further study.
Name

Mr Karman Chua

Website

https://mrkarmanchua.com/

Contact Details

Call/SMS: 8488 9832

Email: karmanchua@gmail.com

Outlets

116 Bishan Street 12, Singapore 570116

Levels & Subjects

Biology

Unique Selling Points

Engaging learning environment: Instead of a strict lecture-style environment, students are encouraged to take part in conversations and bring their own perspectives to the table.

Diagrammatic notes: Students who find that lengthy text explanations don't work for them will benefit from the diagrammatic notes produced by Mr Chua, which are so popular that his students requested photocopies of them!

Students' Reviews

Mr Chua has been a thoughtful, caring and patient teacher who has guided me throughout my 'A' Levels, journeying with us every step of the way. Employing the use of key concepts and syllabus outlines as well as his availability of clarifying and asking him questions over WhatsApp!! Thank you Mr Chua

Review by Chan Samuel

MR CHUA IS THE BEST BIO TEACHER!! I joined the online lessons and the quality is not compromised!! I have learned a lot from his lessons, he goes all out to help his students, and he is really patient !! Under his guide, I started to enjoy Biology as a subject and I stopped hardcore memorising for examinations, instead I approach each and every question with thorough understanding of what they the questions are testing for. You will be in good hands if you join his tuition !! COME JOIN AND YOU WILL NOT REGRET!! Review by Si Hui Ong

Mr Chua is an extremely patient tutor who inspired me with his love for Biology. He truly cares for his students and is one of the best tutors I have ever met. throughout his time with me, he made me more confident in exam situations and really strengthened my foundation in biology. I highly recommend his tuition classes and his book as well!

Review by Kyna Poh
27. Economics Café
Focusing solely on Economics, this tuition centre is able to centralise all its time and resources on providing students with the most comprehensive guidance and resources out there. The principal tutor, Mr Edmund Quek, doesn't believe in teaching Economics, but helping students understand Economics. This is achieved through breaking down complex concepts into bite-sized pieces that are easy to digest.
Name

Economics Café

Website

https://www.economicscafe.com.sg/

Contact Details

Call/SMS: 8268 8918

Outlets

Block 505B Bishan Street 11 #01-422 Singapore 572505

Levels & Subjects

Economics

Unique Selling Points

Learning based on real-life application: Instead of repeatedly drumming textbook concepts into students' heads, newspaper articles are provided to illustrate how these concepts translate into real life.

Question dissection: During exams, time is of the essence. Students are taught how to break questions down into smaller components to conduct analysis before putting these parts back together.

Students' Reviews

Mr Quek broke difficult concepts down into easily remembered chunks and taught us to write organized and clear essays that hits all the right notes with the Cambridge examiners. He would always ensure that we were following his lessons and adjust his pace accordingly so that we do not fall behind. Even during the Circuit Breaker period, his lessons were just as effective and over time I understood the key to writing proper Economics essays. From an E grade in JC1 Promos, I clinched an A in the 2020 A Levels under his tutelage.

Review by Jade Ow Yanhui

Mr Quek is highly qualified and has CRYSTAL CLEAR understanding of the concepts being taught and tested in schools. Apart from being really engaging, he is most importantly able to present concepts in a clear and concise manner. Mr Quek certainly cleared my clouds of uncertainty and doubt about economics, helped me shoot up from a U to an A for A levels in a span of one year, and also made me enjoy the subject a lot more.

Review by Gabriel Tay
28. Economics Tuition Genius (ETG)
ETG prides itself on providing the best Economics tuition in Singapore. Each term, students will receive a new textbook containing model essays and summaries. The principal tutor, Mr Eugene Toh, holds double Master's Degrees and has been featured on several media outlets, including Lianhe Zaobao and Straits Times. In addition, a free-flow pantry is available to all students to make use of, and it is kept stocked with cup noodles, snacks and beverages!
Name

Economics Tuition Genius (ETG)

Website

https://www.tuitiongenius.com

Contact Details

Call/SMS: 8182 3036

Email: eugene@tuitiongenius.com

Outlets

Bukit Timah

587 Bukit Timah Road #03-01B, Coronation Plaza,
Sngapore 269707

Bishan/Marymount/Thomson

11 Sin Ming Rd, B1-18, Singapore 575629

Levels & Subjects

GP, Economics

Unique Selling Points

Resources exclusive to students: Upon registration, students will receive a set of resources, including guidebooks, that are not available anywhere else.

Strong track record of predictions: Over the years, ETG has documented a strong track record of predicting 'A' Levels questions. Within a period of two months before the exam, an average of 83% of similar questions were introduced to students for practice.

Students' Reviews

Mr Toh's lessons are all very engaging, providing us with real life examples relating them to economic concepts which enables us to understand the concepts better. He is very passionate and is willing to help students clear their doubts. After attending his lessons, I am able to understand concepts which I found difficult to understand at first. If you're looking for an economics tuition, Mr Toh's classes are definitely worth signing up for! Review by Jolyn Yap

Economic At Tuition Genius is definitely one of the best tuition centre I have ever been so far. Mr Toh's class is engaging and fascinating as he is always able to relate economic contents with the things that happened around us in a humorous way. This makes the theory part so much easier to understand and enjoyable to learn. Beyond our usual classes, he also makes an extra effort to give consultation and prepare extra resources such as compiling the latest economic news for his students.

Review by Alfred Wu Yi
29. EconsLab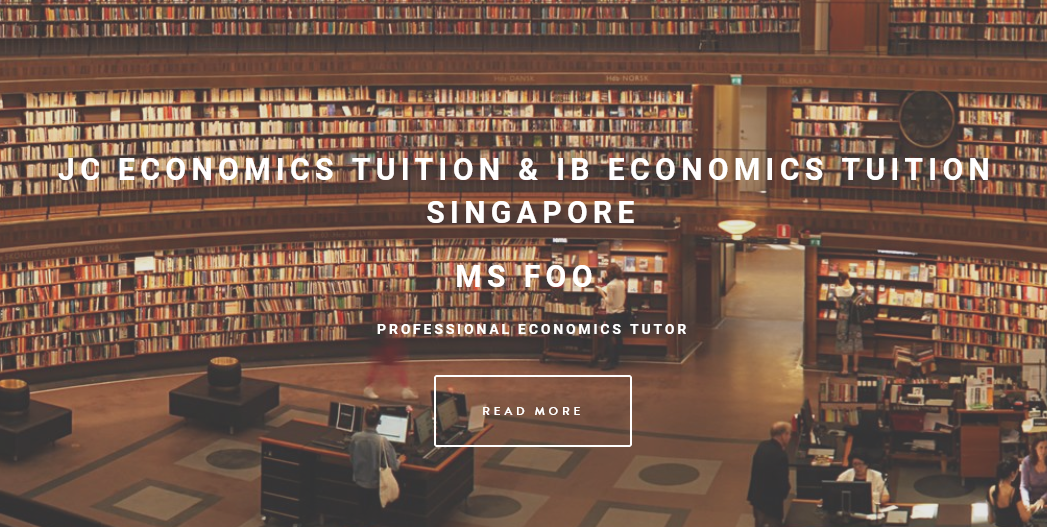 At EconsLab, the tutors do not believe in blind memorisation, but instead aid students in understanding the concepts and building up their confidence. Additionally, they believe that there's no such thing as a stupid question, fostering a learning environment where students are comfortable with clearing any doubts. The pace of learning is catered to students' needs, and topics can be retaught when necessary
Name

EconsLab

Website

https://econslab.com/

Contact Details

Call/SMS: 9723 5149

Email: econslab@gmail.com

Outlets

Bugis

420 North Bridge Road, #04-30 North Bridge Centre, Singapore 188727

Bishan

Blk 279, Bishan Street 24, #01-26, Singapore 570279

Levels & Subjects

Economics

Unique Selling Points

Supplementary resources: Economics is a social science, and to this end, supplementary resources such as news articles are distributed regularly to students. From these, they can glimpse useful data that will be of use in 'A' Levels.

Monthly assessments: A monthly assessment is held to monitor student progress and allow tutors to identify the areas they are struggling with.

Students' Reviews

Ms Foo is a really kind and effective Economics teacher that cares a lot about her students. Her lessons are clear and she provides comprehensive answers to ensure we hit all the necessary points when answering exam questions. She ensures that our concepts are sound and she succeeds in addressing our weak points for the quickest and best improvement in Economics. If you want a great Economics tutor look no further!

Review by Cedric Koh

Ms Foo makes her econs lessons very engaging and is really willing to clarify all our doubts. During lesson she would make the effort to ensure that we all understand the concepts being taught and also patiently explain to us if we don't understand. Thanks to her I was able to improve in the subject and clinch an A for A levels! Thank you Ms Foo!

Review by Melody
30. iEconomics
iEconomics comes with a strong track record, with 90% of students scoring an A/B in their 'A' Levels. The principal tutor, Ms Ang, believes that all students learn at their own pace and adapts her teaching style accordingly. Lessons are interactive to keep engagement levels high, and a range of supplementary resources can be found on their website and Facebook page, where students can also ask questions and expect a prompt response.
Name

iEconomics

Website

https://www.ieconomicstuition.com/

Contact Details

Call/SMS: 9732 9931

Email: ieconomicstuition@gmail.com

Outlets

Yishun/Woodlands

Blk 156 Yishun Street 11 S760156

Bishan/AMK

Blk 513, Bishan Street 13 S570513

Jurong

Blk 135 Jurong Gateway Road S600135

Levels & Subjects

Economics

Unique Selling Points

Facebook page as discussion platform: Students can access free assignments and essays on iEconomics' Facebook page in preparation for exams. In addition, they can also take part in discussions and pose questions to tutors here, which will be promptly answered.

Free essay answers provided: Essay answers can be found on the website, allowing students to carry out their learning from anywhere.

Students' Reviews

Economics was my worst subject in JC1 and even till the mid of JC2. I got constant "U"s for Econs until i came to iEconomics. Ms Ang helped me figure out where i was going wrong and imparted useful skills to help me understand important concepts.

I'm proud to say that with the help of iEconomics, I improved from a "U" to a "B" in Prelims within 5 months, and finally achieved an "A" grade in the A LevelsiEconomics is really a life-changer for students struggling in Economics!

Review by Yamuna

Prior to joining iEconomics, I was struggling with this profound subject. Luckily I joined iEconomics and I experienced a 5-grade jump in only 3 months! Thanks to Ms Ang, who enthusiastically and patiently helped me out with Economics! The notes provided are easy to understand and straight to the point which were extremely effective in helping students score well for the subject.

I highly recommend iEconomics to all students!

Review by Ang Wenqi

Ms Ang from iEconomics is a very dedicated and experienced tutor who will ensure that every student builds a strong Economics foundation in a short period of time. With the succinct and reliable notes, iEconomics effectively helps students work at their full potential to achieve top grades for Economics.

I'm happy to have joined iEconomics and would recommend this to students who want to do well in the subject!

Review by Grace Chua
31. (bonus) Quintessential Education
Quintessential Education believes in designing effective programs that will provide holistic support to students throughout their academic journeys. Here, you will find a professional group of mentors who have graduated from top schools around the world, including ACS, Raffles, Oxbridge and various Ivy League colleges.
Their teaching model aims to bridge the gap between rote learning and exam-centric revision. With teaching materials that are developed in-house, students at Quintessential Education can benefit from a tried-and-tested system that goes beyond textbook memorisation and focuses on the skills they will require to succeed in the 'A' Levels.
Name

Quintessential Education

Website

https://qeducation.sg/

Contact Details

Call/SMS: 6100 9338 / 9655 0590

Email: enquiries@qeducation.sg

Outlets

545 Orchard Road #14-06/09 Singapore 238882

Levels & Subjects

GP, Maths, Physics, Chemistry, Economics

Unique Selling Points

Exam-based teaching: Teaching largely revolves around systematic practices and topical content, with the aim of improving exam taking techniques. Students are regularly given feedback and review exercises to build up their skills and confidence before the run-up to 'A' Levels.

Highly qualified tutors: All tutors at Quintessential Education have either graduated from or lectured at top JCs in Singapore. This ensures that they have a deep understanding of the latest curriculum and are equipped with the experience to provide students with the direction they need.

Students' Reviews

Effective tuition centre that has hardworking teachers that clearly care very much for their students. The notes my tutor provided were essential in my learning and he paced our lessons well since the day I joined his class before I entered school. I was able to understand concepts far quicker in my school classes from the tuition here as well. Highly recommend coming here for any subjects.

Review by Kai

Seeked Economics HL tutoring, got 7 and A for Economics EE. Sean (my tutor) was very patient and understanding, and clarified any questions I had. Outside of lesson time, he was very responsive to the many questions I would ask. Thank you Sean and Quintessential!

Review by Aden Low

Tuition here was really great. My tutor was friendly and easy to converse with, really took the time to ensure i understood and could grasp the topic at hand. The environment is also very sleek and not too distracting and the session was one of the best tuition sessions I've had with any tuition centre.

Review by Ivette Chiew
Identifying the Best JC Tuition Centre for Your Needs
With a variety of options available today, it's important to know what to look out for in a top JC tuition centre. To make the best decision, you will first have to understand your unique needs, such as your areas of weakness and the subjects you require more help with, whether that's Chemistry, Maths or Economics. If you have a particularly busy schedule, you may even be considering online tuition, or a tutor who can come to your home at your convenience.
For parents, cost is another thing to factor in: you will want to make sure that your money is well-spent, which is typically measured by the improvement in your child's grades.
Tuition Comes with A Range of Benefits
It comes as no surprise that an increasing number of tuition centres have popped up in Singapore over the years. With the competition to snag a place in local universities, you will want to give yourself as strong an edge as possible. Tuition can give you just that, encompassing:
Personalised attention: With a higher student-to-teacher ratio in school, you may not get the chance to clear all your doubts and ask all the questions you have. With smaller class sizes, tuition provides you with an opportunity to receive personalised attention from a qualified tutor.
More focused direction: It is often the case that students require more help with a specific topic or a particular area of interest, instead of being poor at the entire subject. Tuition can cover the gaps in students' understanding and with the flexibility to seek out personal consultations with tutors, a more focused direction can be provided, where students get to work on their areas of weakness.
Out-of-hours support: Balancing academics, CCAs and social activities can be difficult. When you finally get some time to fit in revision, it's always reassuring to know that someone is there to provide guidance and support. Many tutors make themselves available outside of classroom hours, allowing students to reach them via chat apps or social media platforms. This ensures a prompt response to any queries you may have and no unnecessary hold-ups in your revision process!
Search for A Qualified Tutor with Tutor City
Need help identifying a tutor who ticks all your boxes, but don't know where to start?
At Tutor City, we help you cut through the noise. Finding a suitable tutor is easy – all you need to do is adjust the filters to meet your needs, and you will instantly have a pageful of recommendations featuring the most popular tutors!