Best Physics Tuition Singapore Top 30 Review
Best Physics Tuition in Singapore- Top 30 Comprehensive Review
This article is a comprehensive guide to Singapore's best physics tuition providers. We have compiled a list of reputable physics tutors, along with a description of their service, specialities and students' reviews.
Physics Tuition in Singapore
Physics is a science that studies the natural world in a highly structured way. A set of basic principles and laws can be used to explain and predict a wide range of physical events and phenomena.
Studying physics requires students to apply theoretical concepts and models, including mathematical ones, to interpret observations and make predictions based on those observations.
Through this, students learn skills such as investigation, reasoning, analysis and evaluation.
It is not uncommon for students to have negative attitudes toward physics. Some view it as dull and difficult, while others lament the heavy curriculum load and express difficulty in comprehending fundamental physics concepts in order to do well in examinations. It is not surprising that many students turn to physics tuition for a head start.
In Singapore's MOE schools, Physics is a mandatory subject taught to Secondary Three students and is a crucial component in the O-levels examination.
Depending on their combined science results in Secondary Two, students can choose to study pure physics, a higher-level physics comprising 20 topics according to MOE's syllabus, or combined physics which comprises 16 topics as stated in the latest MOE's syllabus.
At the Junior College level, students have the option to study and sit for A levels physics examinations at three different levels - H1, H2, or H3. H1 Physics covers the subject with less depth and breadth, while H3 Physics is the most advanced.
Choosing the Best Physics Tuition Centre: Points to Consider
1. Accessibility
There is wisdom in the phrase "time is money". Time is a precious resource that should be used wisely, especially by parents and students.
If your school is in the eastern part of Singapore, would you want to spend time commuting to and fro a physics tuition centre located in the western part of Singapore, especially after a tiring school day?
Remember that travelling time is an opportunity cost, which can be put to better use, such as more revision time or simply rest. When choosing a centre, consider one near the place you are going before and after class.
If a centre is highly recommended, check in to see if they offer online classes.
2. Reputation of the Physics Tuition Centre
A reputable centre will help students achieve better results than a less credible one.
Here are some indicators of a credible physics tuition centre to help you decision-made:
Quality curriculum structure that is aligned with the MOE syllabus

Testimonials of real students and the results they achieved after enrolling in the centre.

Customer satisfaction, reviews and ratings of the centre's payment policies and service found on Google, Facebook or other platforms

Centre's history, such as year of establishment and number of students taught; newer centres have fewer track records for assessment

Credentials of the tutors, such as experience, qualifications and reviews
3. Teaching Method of Tutors
To help students grasp abstract physics concepts, star tutors employ a mix of teaching methods during their lessons.
Some of these methodologies include inquiry-based learning, where students own and direct their own learning or collaborative learning, such as group discussions and presentations.
Speak to the tutor to identify whether you will be comfortable with his or her teaching method and is aligned with your learning style.
Consider the personality of the tutor as well. Some tutors are more consultative and may be open to answering individual students' questions over WhatsApp or email. Others like to motivate students using techniques such as positive reinforcement.
4. Learning Materials
Request to look at materials such as class slides and worksheets if possible. Better-quality physics tuition centres prepare their custom teaching materials through a curriculum team and do not simply use assessment books.
Some might even include examination strategies, techniques, and helpful revision notes to help their students achieve stellar results.
5. Fees and Class Size
Consider the class size when determining whether the tuition fee fits your budget.
Some classes are kept small, with only 2 to 8 students per class. This allows the tutor to spend more time explaining concepts or clarifying any doubts students may have. The fees for such classes can be higher as compared to those of 20 students.
In smaller physics group tuition, the tutor is better placed to pace the lesson according to the student's learning abilities, and there is less distraction for the student.
A larger physics group tuition class might be less expensive and fit your budget better.
Best Physics Tuition Centres
After understanding the points to consider when looking for a physics tuition centre, refer below to the curated list of the best physics tuition centres in Singapore before making your decision.
1. SG Physics, Chemistry, Math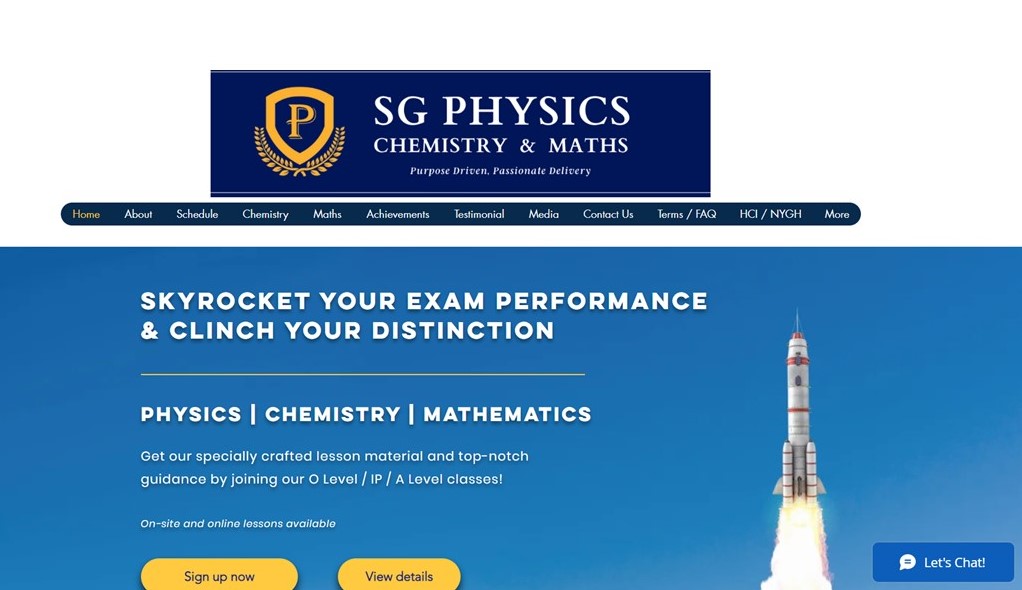 SG Physics, Chemistry, Math is a highly esteemed tuition centre with a rich history spanning nearly a decade. Renowned for its exceptional standards, the centre boasts a team of seven accomplished tutors who bring a wealth of expertise to the table. Their impressive credentials include being PSC scholars, former heads of department in the Ministry of Education, published authors of esteemed O and A levels assessment books, and recipients of prestigious teaching awards.
At SG Physics, Chemistry, Math, the core teaching philosophies revolve around igniting students' interest, fostering self-motivation, and ensuring a comprehensive grasp of the subjects.
The centre's first priority is to ignite students' interest in Physics, Chemistry, and Math. Through captivating teaching methods, real-life applications, and interactive experiments, students are inspired to explore the depths of these subjects and uncover their practical relevance and intrinsic allure.
Creating a positive learning environment is paramount at SG Physics, Chemistry, Math. Here, students are empowered to become self-motivated learners. The nurturing atmosphere encourages questioning, celebrates innovative ideas, and recognizes individual strengths. By fostering confidence and self-belief, students are motivated to embrace challenges and reach their full potential.
Comprehensive understanding is the hallmark of SG Physics, Chemistry, Math. The tutors employ a clear and thorough teaching approach, breaking down complex concepts into easily digestible components. Emphasising conceptual understanding, practical application, and problem-solving skills, they equip students with the necessary tools to excel in their examinations. Through personalised attention and guidance, the centre ensures that each student's unique learning needs are met.
Name

SG Physics, Chemistry, Math

Website

Contact Details

Call/Whatsapp: 81356556

Email: admin@wynnedu.com

Outlets

1. Bishan
513 Bishan Street 13, #01-500, Singapore 570513 (Besides Bishan Bus Interchange)

2. Bukit Timah
170 Upper Bukit Timah Rd, B2-13B, Bukit Timah Shopping Centre, Singapore 588179 (Besides Beauty World MRT)

3. Jurong East
135 Jurong Gateway Road, #04-315, Singapore 600135 (Besides Jcube Shopping Centre)

4. Tampines
Block 201E, Tampines Street 23, #02-106, Singapore 527201 (Besides Tampines East CC)

Level & Subjects

Secondary/JC Physics, Chemistry, Math

Unique Selling Points

- Qualified tutors: award-winning, top-rated former MOE teachers, quality of teaching is ensured.
- Learning materials: pictorial notes that effectively simplifies complex concepts, especially useful for visual learners
- Specialists: highly specialised tuition in only maths and sciences, expert in physics syllabus and topics.

Track records: Excellent reviews by past and current students emphasising their improvement in grades. For Secondary subjects, generally about 80%-85% of students scored between Grade A1 - B3 after attending lessons. For JC subjects, generally about 80%-85% of students scored between Grade A - B after attending lessons

Students' reviews

1. Mr Lee made me enjoy Physics because he makes the lessons interesting and easy to understand. He would always check with the class to ensure that we understand the concepts and is quick and patient in clarifying my doubts whenever I need help in doing any physics question. He also teaches the class useful methods in solving questions which allows me to solve them easily and quickly.
Review by Sharleez

2. Mr Khoo is a very dedicated physics teacher who never fails to explain concepts clearly and concisely when we are learning new syllabus content. We are also provided with decent volumes of practice questions which thoroughly covers all corners of the syllabus scope which aids in increasing our exposure to various question types. Mr Khoo can also relate very well to the problems and misconceptions which we as students face when studying the subject. Thanks to his guidance, I was able to go from barely scraping through physics class to achieving 84/100 for my physics final examination (our equivalent of the O-levels)!
Review by Miguel Lim

3. I think Mr Quek is a really dedicated and emphatic teacher that goes out of his way to care for our welfare and general well being! He is also really generous in terms of giving us consultations during the holiday breaks, as well as recorded videos for us to catch up on Physics concepts.
Review by Charlotte
2. Physics.com.sg by Phang Yu Hon
Mr Phang Yu Hon, known as the "millionaire tutor", is featured in local newspapers as one of the top five super tutors who rake in a million-dollar revenue every year. This is all due to his signature physics programme, "First Class in Physics Tuition".
Mr Phangthe only teacher at his centre, has a wealth of experience teaching students from all backgrounds and abilities. He started tutoring way back in year 1999.
The RI alumni graduated with a first-class honours degree in electrical engineering and has authored A levels physics ten-year-series books. Students under his tutelage will surely achieve flying colours.
Name

Physics.com.sg by Phang Yu Hon

Website

https://www.physics.com.sg/

Contact Details

Call: 6275 6800

Outlets

Block 507, Bishan Street 11, #01-398 (2nd Storey), Singapore 570507

Level & Subjects

Secondary/IP/JC Physics

Unique Selling Points

Highly qualified tutor: tutor Mr Phang has attained many prestigious qualifications including a first class honours degree

Online lessons: cut down on travelling time and attend lessons from the comfort of your home

Good track records: testimonials from students from top schools

Innovative methodology: more than a handful of students have commented on his innovative, entertaining and interactive approach which stimulate their interest in physics

Students' reviews

I was Mr Phang's student from 2007--2009, and I still remember him and his lessons fondly. I have since studied physics at Cambridge and Oxford, and I would argue that my time here remains one of the highlights of my physics education.

Review by Valerian Hall-Chen

With his quirky methods of memorising details and injecting humour into his lessons, it certainly made learning physics more enjoyable!

Review by Celia Ong

His crystal-clear lectures and accompanying analogies, which are quirky and humorous, making his lessons enlightening, interesting and enjoyable.

Review by Tan Yong Khai
Mr. Terence Pang, NUS Bachelor (Honours) Mechanical Engineering, started teaching in 2014. Shortly after, he founded Aspire Thinking Learning Centre. Fuelled by the belief that learning should be both enriching and enjoyable, the centre focuses on small class sizes (not more than 5), to maximise teacher-student interaction so as ensure that students have sufficient opportunities to clarify doubts and ask questions.
Mr Terence is extremely familiar with the syllabus of the subject at NA, O Levels, IP, A and IB levels.
This enables him to help students easily ace their examinations by focusing on teaching concepts that are likely to tested in exams.
Lessons are aligned closely to the MOE curriculum. Questions and worksheets are curated specifically to the students' learning needs to help them excel and achieve personal goals.
Periodic tests and mini quizzes are conducted to check for students understanding of topics and concepts learnt.
A passionate educator, Mr Terence focuses on students' mental well-being too. An ICF-Certified Life Coach, Mr Terence ensures that students are mentally prepared and motivated for tests and exams through goal setting and career guidance workshops.
Mr Terence heads a team of tutors who are just as passionate and knowledgeable. Combined with lesson updates via their in-house learning management system, students' progress are closely monitored to make sure no one is left behind.
Name

Aspire Thinking

Website

https://www.aspirethinking.com/

Contact Details

Call: 87498157

Email: info@aspirethinking.com

Outlets

120 Bishan Street 12, #01-69, Singapore 570120

Level & Subjects

Secondary/IP/JC Physics

Unique Selling Points

Specialised tutor: subject matter expert with qualification from a reputable institution

Trial class: available to test and review whether the tutor's teaching style is suitable for

Class size: maximum 6 students where every student has opportunities to clarify doubts

Additional support: tutor is also a certified life-coach and is able to employ cognitive techniques to help students with exams stress and anxiety

Students' reviews

I took Physics tuition when I was in Secondary 3 for O Levels and my understanding of the concepts were very narrow. But after I came in, Mr Terence helped to explain the concepts in a much easier and interesting way for me to remember and I was more confident in my Physics. He brought in a lot of real-life examples in which we could apply the Physics to and this made it much more easier to understand. His lessons were very fun and engaging and I looked forward to attending his lessons every week! He also made sure we had enough practice and address all our misunderstandings of the topics. Thank you Mr Terence for helping me achieve my goals for Physics !

Review by Jocelin

I came to this tuition center when I was in sec 3 struggling with physics. Mr Terence is a very patient teacher who can explain complicated concepts in a simple manner, and he also manages to make lessons fun. He gave plenty of practices for me to do and this made me confident for exams. Thank you Aspire Thinking Learning Centre for helping me get an A1 for O level Physics!

Review by Coline Phitoyo

Mr Terence boasts several admirable traits that deem him an excellent and reliable tutor. He is resourceful and never fails to spoil his students with an abundance of notes and practice papers. Additionally, the small class size ensures that more attention is directed toward each individual, as observed from how Mr Terence's teaching style is effectively tailored to the needs of his students. As a dedicated educator, Mr Terence is very approachable and contactable, evident from his detailed responses to my queries not only during lessons, but also on Whatsapp. He is determined to resolve his students' doubts and goes out of his way to simplify sophisticated concepts and provide helpful examples. Under Mr Terence's tutelage, my Physics grades improved from F9 in Secondary 3 to A in 'A' levels for H2 Physics while my interest in the subject has grown substantially. Hence I can affirm with full confidence that Mr Terence can be relied upon to salvage your grades and propel you to greater heights.

Bryan Chia (Hwa Chong JC)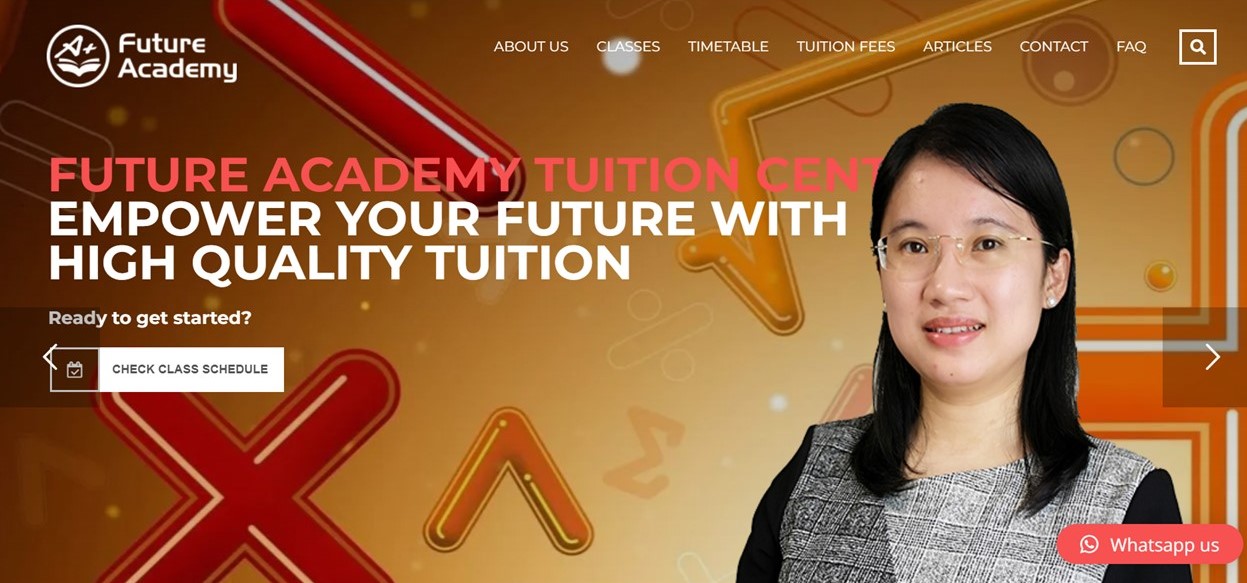 Future Academy is a top choice for students who wish to excel in mathematics and science. The centre offers tailored learning programmes to help students excel in physics.
Led by top JC and IP tutors Mr. Jason Lau (Hwa Chong Institution HOD of Maths) and Ms Yvonne Chen (former Raffles Girls' School teacher), students can expect to receive expert tuition that is not only proven to be effective but also easy to grasp content.
To ensure that each student is on the right track, regular assessments and progress updates are conducted to monitor individual students' learning.
Name

Future Academy

Website

https://www.fa.edu.sg/

Contact Details

Call: 6884 6566

Email: 6884 6566

Outlets

Bugis / Rochor

175A Bencoolen Street #06-05, Burlington Square, Singapore 189650

Bukit Timah / Beauty World

170 Upper Bukit Timah Road #15-04, Bukit Timah Shopping Centre, Singapore 588179

Toa Payoh / Braddell

381 Lor 1 Toa Payoh #01-12, OnePeople.sg, Singapore 319758

Level & Subjects

Secondary/IP/JC Physics

Unique Selling Points

Class size: kept small, about 6 students maximum

Profile of tutors: each tutor is selected carefully by the founders to ensure that they are of quality, reliable and trustable, their profiles are available on its website.

Update on progress: frequent communication with parents to update on student's progress

Online lessons: virtual classes available through its generic video conferencing platform

Students' reviews

Future academy is a very good and helpful place for your grades to improve. Teachers there are very helpful and will help you in any time you need. They are very good in picking out on your weaknesses and helping you to strengthen them. Really recommend as it helped me to improve.

Review by Ji-tesh

I would strongly recommend to come to future academy. The science teacher teaches your child the best techniques to solve open ended questions. First I didn't know how to analyse and read the questions but after attending a term of this academy I was able to solve the questions and I also found some of them easy. During the exam I used the tactics my science teacher thought me and I did very well in my test. I also attend math lesson and I was also able to solve complicated world problems. He also thought us many other ways on analysing the questions. Thank you.

Review by Hema

First before I joined this tuition I did not know how to answer open ended questions. But after i joined this tuition I learnt the tactic to answer the question. The science teacher thought me how to solve the open ended question. I memorised the tactic on how to solve the open ended question. Thus when I go for exam I will use the tactic to solve the question, and I will be able to solve it. The science teacher teaches me very well and I think whoever is in his class he or she will do very well in their exam. I will like to recommend you to his class and this centre is awesome.

Review by Arun Kumar
As a specialist in A-level tuition, Learners' Lodge is a top choice for IP/Junior college students seeking help in Math, Science and General Paper (GP).
With more than 15 years of teaching experience under their belt, the team at Learners' Lodge has continuously refined their teaching methods to better serve their students.
Learners' Lodge has a unique teaching style that makes lessons interesting, engaging and fun while breaking down complicated physics concepts so students can easily understand even the most abstract and complex concepts.
Name

Learners' Lodge

Website

https://www.learnerslodge.com.sg/

Contact Details

Call: 9119 9655

Email: sales@learnerslodge.com.sg

Outlets

Learners' Lodge @ Marymount

Block 255 Bishan Street 22, #B1-462, Singapore 570255

Learners' Lodge @ Bishan

Blk 236 Bishan Street 22 #B1-154, Singapore 570236

Learners' Lodge @ Kovan

Blk 221 Hougang Street 21, #B1-100, Singapore 530221

Learners' Lodge @ Jurong

Blk 134 Jurong Gateway Road, #02-309B, Singapore 600134

Learners' Lodge @ Kembangan

14D Jalan Masjid, Kingston Terrace, #01-04, Singapore 418935

Level & Subjects

IP/JC Physics

Unique Selling Points

Learning materials: customised learning notes useful for revision and exam preparation

Student-centered learning: positive and supportive environment where no questions are deemed "stupid"

Qualified tutors: highly specialised tutors that teach only A-level subjects exclusively and know the syllabus inside out.

Location: 6 branches island wide

Students' reviews

Thank you Mr Teng Kah Seng for your guidance and patience!! I remember first coming in to learners lodge failing one math exam after another. little did I knew, after one year at learners lodge, I managed to go from an S to an A for a levels :)) Mr Teng was always there, constantly encouraging and guiding me along, offering us his tips and tricks that sure proved useful in the end. I hope more students will be able to benefit from his teaching in the future!!

Review by Andres Neo

Mr Mike Wang has really helped me alot for my chemistry, guiding me with extra tips and tricks for exams, offering us extra help even outside of class.

He was our guiding light throughout the stressful period of Alevels and always manages to encourage us through jokes.

Dear Mr Mike, you have been a key factor in my improvement, helping me achieve A from an initial E and your tips have allowed me to better manage my time in exams. Thank you so much!!

Review by Estee

I am using this opportunity to thank my GP and Physics tutors Mr Nicholas Lim and Mr Daniel Yeo respectively who were both engaging, patient and incredibly supportive teachers. Their course materials were very useful and definitely a key factor in helping me do well. They also patiently listened to my questions after class and took the time to explain to me things I did not understand during the course of the lesson. Thank you, Mr Lim and Mr Yeo!

Review by Sakthivel-Mohitha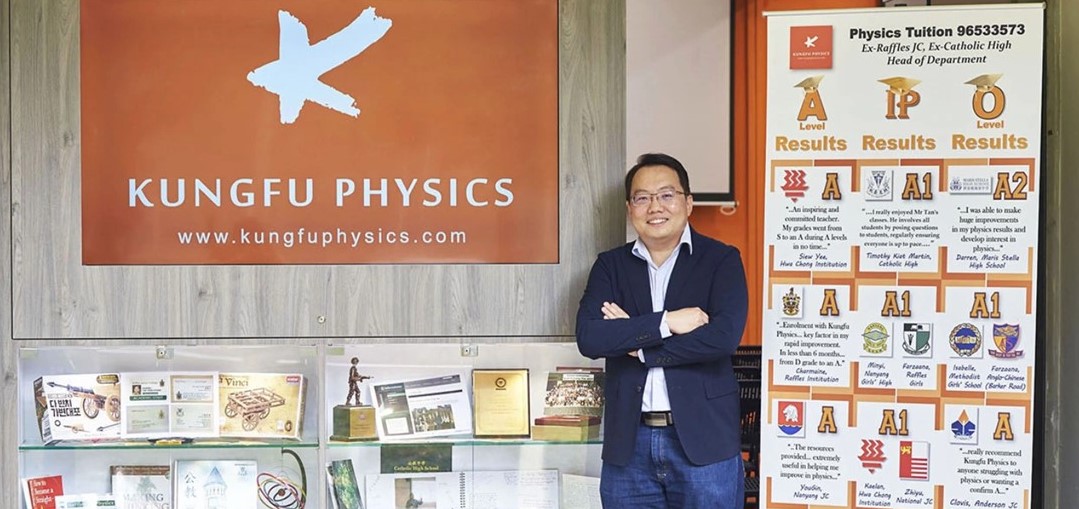 Led by head tutor Mr Gabriel Tan, a former Raffles JC teacher, this specialised physics tuition centre has a team of knowledgeable and experienced tutors who are dedicated to helping students unleash their maximum potential in the subject.
Just as one would master the art of Kungfu, the centre will impart skills to students using a secret formula manual - a special summary booklet that covers all tested physics concepts which they can use to revise and refresh their memory to ace their exams.
The centre boasts an impressive track record, which it is proud to demonstrate by publishing the outstanding grades achieved by its students on its website.
Name

Kungfu Physics

Website

https://kungfuphysics.com/

Contact Details

Call: 96533573

Email: mrgabrieltan@kungfuphysics.com

Outlets

503 Bishan St 11 #01-456

Singapore 570503

Level & Subjects

Secondary/IP/JC Physics

Unique Selling Points

Qualified tutor: Ex HOD/Assistant HOD Physics at Catholic and Raffles Institution.

Whatsapp support: Whatsapp enquiries to head tutor Mr Tan anytime to receive help in your work

Learning materials: "Secret manual" of summary booklet consisting of accurate, updated and concise revision notes

Online lessons: zoom sessions available for popular weekend classes

Students' reviews

Mr Tan's lessons and notes are structured in a manner that enables students to master the Physics syllabus with ease. He also ensures that all his students receive adequate practice and are familiar with the content knowledge and question types before going for exams. Despite holding lessons virtually, Mr Tan is able to remain engaging and smoothly deliver his lessons. Mr Tan is a caring and patient teacher who will go the extra mile to help his students. I have greatly benefitted from being taught by him and strongly recommend him to anyone who is struggling with the subject.

Review by Sarah Choo

Mr Tan is a fantastic and dedicated teacher. His lessons are very engaging, his notes are very condensed yet it covers all the essentials in each chapter. This helped my revision for exams tremendously.

I remember feeling very hopeless for my O Levels as I kept failing physics in Secondary 3. However, ever since joining Mr Tan's class, my grades for physics improved drastically and remained consistent throughout my Secondary 4 year.

Review by Melinda Tay

I am thankful to Mr Tan for always being patient with us. Whenever there are important concepts and knowledge that we frequently forget, Mr Tan will patiently go through them with us. Mr Tan is also very approachable, and he will always clarify any doubts that we have when we ask him. Thanks to Mr Tan, I have gained confidence in understanding Physics concepts and answering Physics questions.

Review by Zachary Say
At The Learner's Council, students' critical thinking skills are highly valued and nurtured. The centre believes in a tailored approach to learning and offers customisable classes to accommodate students with different levels of understanding.
The centre prides itself on having a team of unwaveringly dedicated tutors who have a genuine passion and care for their students. They will go the extra mile to make sure students fully grasp and can apply the concepts to achieve great performance.
The centre has a stellar record of having close to 100% of their students achieve A grades at O-level examinations, and 80% achieve A grades at A-level.
Name

The Learner's Council

Website

https://thelearnerscouncil.com/

Contact Details

Call: 82924288

Email: hello@learnerscouncil.com

Outlets

1 Fifth Avenue, Guthrie House, #03-06, Singapore 268802

Level & Subjects

Secondary/IP/JC Physics

Unique Selling Points

Qualified tutors: tutors are Raffles-affiliated, MOE-trained and experts in their subjects

Support beyond classroom: students have access to tutors on mobile and e-learning videos to enhance learning

Track records: high number of A grade students

Teaching method: engaging content to make classes fun and enriching

Students' reviews

Mitchell scored A for Physics. Thank you for helping him attain it! … Needless to say, will recommend you to my friends if their kids are looking for Physics tutor

Review by Parent of Mitchell Chew

Ms Hong is a really caring and amazing teacher. Her teaching is easy to follow and she makes sure we completely understand before moving on. She stays back with us even after class to help us with questions.

She analyzes our work and exam papers to understand our weakness and strengths and advise us how to improve on it.

Her materials are really helpful and tough, which allow us to do better. I also really appreciate her words of motivation, which makes me want to work harder.

Ms Hong is probably the best physics tutor!

Review by Marvis

Mdm Chia is so caring and patient, she really inspired me to try harder and work on my Physics. She found time out of her hectic weekend to see me for additional consultations, which helped me understand important concepts better. The worksheets were also great practice and helped me consolidate my learning.

Review by Lauren Pang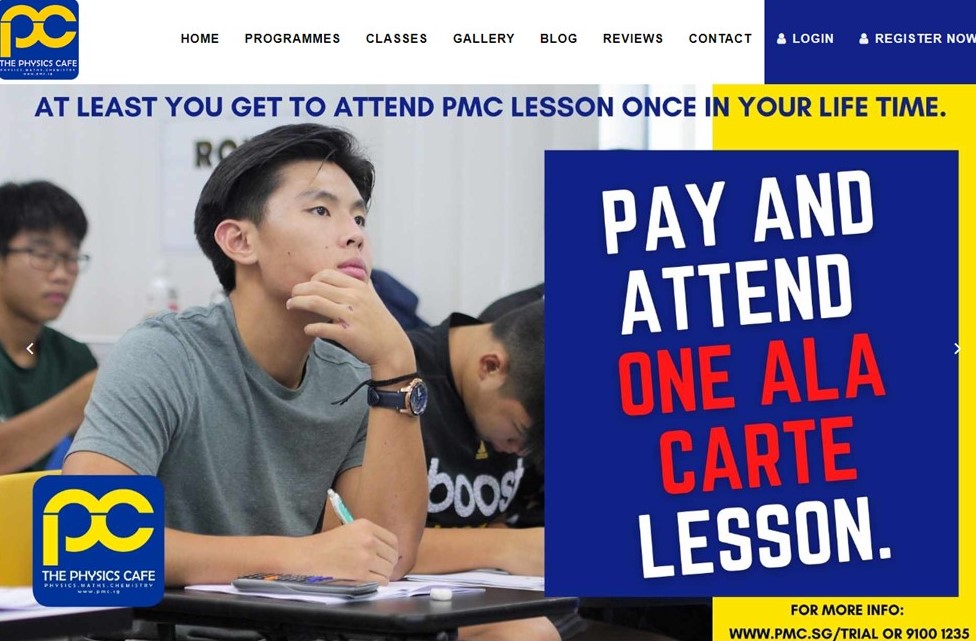 To create an inspiring and less-stressful environment when they enter The Physics Café, the founder Mr Dave Sim housed an in-house café and social spaces such as a library within the centre for students to interact and hang out before and after their lessons.
It is no wonder that the tuition lessons by the former Raffles JC physics teacher are popular and much sought-after. Besides the perks, Mr Sim has consistently delivered high-quality lessons since 2010 with an excellent track record of over 500 testimonials (and counting) by ex-students.
We heard the centre has over 1,000 students and their tutors are very engaging and open to answering questions from students.
Name

The Physics Cafe

Website

https://www.thephysicscafe.com/

Contact Details

Whatsapp: 91001235

Email: admin@pmc.sg

Outlets

MC Digital HQ] Next to Marymount MRT, 37 Jalan Pemimpin S577177

United Square Level 1 next to Novena MRT, 101 Thomson Road, #01-29/30/31/32 S307591

Singpost Centre Level 1 next to Paya Lebar MRT, 10 Eunos Road 8, Singapore Post Centre #01-207 S408600

Bishan North next to CHS and EJC near Bishan MRT 284 Bishan St 22 #01-201 S570284

Level & Subjects

Secondary /IP/JC Physics

Unique Selling Points

Ala carte lessons available: you can pay for one lesson instead of a monthly tuition commitment

Online lessons: online sessions available for popular class slots

Multiple branches: in the east, central and north of Singapore

Excellent track records: 8 out of 10 students scored A for A level physics and 9 out of 10 students scored A for O level physics. Name list of student's achievement is also published on website indicating credible claims.

Students' reviews

Physics cafe provides good notes and lesson materials. Mr Sim has also helped me clarify my doubts and participate actively in the lesson. After just 5 lessons my results have improved to a B grade in prelims from a D, definitely would recommend!

Review by Hoong Chee Xian

Mr Sim is a charismatic and fun teacher he breaks down difficult concepts and is an excellent teacher. he has helped me improve my understanding of a level physics!!! join pmc to get a for a levels

Review by Joshua Low

The PMC journey has made my mastery in physics truly reach one that I can be proud of, and the grasp of the concepts that one can gain here is rather remarkable. Mr Sim is a charismatic and engaging tutor that really brings the magic to every lesson that he conducts, making sure that everyone fully understands the concepts being taught. Overall, definitely worth the price to pay upfront, and I can guarantee that you'll walk out 100 times more confident in physics.

Review by Shobhit Mishra
Set up by successful undergraduate entrepreneur Evan Heng, Zenith Studio aims to provide students with a one-stop service to help them navigate the educational landscape until they land their dream job.
Going beyond the textbooks, the centre focuses on empowering students with a well-rounded education that includes mentorship in crucial areas such as career counselling, university application and scholarship/interview preparation.
Its teaching methodology includes active, discussed-based learning to help students foster critical thinking skills and a specially designed method for memory retention.
Name

Zenith Studo

Website

https://zenitheducationstudio.com/

Contact Details

Whatsapp: 8768 7651

Email: hello@LearnAtZenith.com

Outlets

Suntec City Head Office

6 Temasek Boulevard (Suntec City Tower 4) #09-02 S038986

Buona Vista

35 Rochester Dr, #03-22 Rochester Mall, Singapore 138639

Potong Pasir

25 Tai Thong Cres, Singapore 347856

Bukit Timah

611A Bukit Timah Rd, Singapore 269713

Paya Lebar

11 Tanjong Katong Road, KINEX, #02-09, Singapore 437157

Level & Subjects

Secondary /IP/JC Physics

Unique Selling Points

Proven track record: focus on value-adding to student, 95% A level students achieved A or B grade with 65% achieved distinctions and 85% distinction for upper secondary students.

Learning methodology: promise to deliver lessons that are fun and exciting and students are able to practise practical application of content.

Additional support: tutors provide 24/7 support through Whatsapp, telegram zoom and even advise such as career counselling, university application and scholarship/interview consult

Exam techniques: tutors will impart tips and strategies to score in exams

Students' reviews

Without the help from my teachers at Zenith, I would have never been able to achieve the results that I got at my A-Level results day. The amount of extra effort teachers gave me beyond tuition hours, such as replying my questions past-midnight or insisting on me coming in early for free 1-1 consults before lesson made the difference.

Review by Kimberly Wong

Lessons at Zenith equipped me with the critical skills that helped me escape thefor dreaded U Grade and surpass all expectations I had for myself! They streamlined and simplified complicated concepts and taught me how to organize my essays on a macro and micro level. Most importantly, my teacher would share with us study techniques and always motivated us with his kind messages. His unwavering support allowed me to succeed and get into my dream university course.

Review by Grace Goh

The tutors are really good teachers who make learning a lot more enjoyable. Anyone struggling academically will find learning concepts and content easier. Not to mention, they also ensure plenty of opportunities to hone your answering techniques which are really important in the A-Level syllabus! Apart from that, there were really great welfare/perks for us which made the whole experience at Zenith, unlike a dreary tuition center where we're just forced to learn and learn. All in all, Zenith was a great tuition center & I enjoyed my experience there! Highly recommended for other JC students struggling in economics/physics/math/chemistry.

Review by Stella Tan
10. Concept First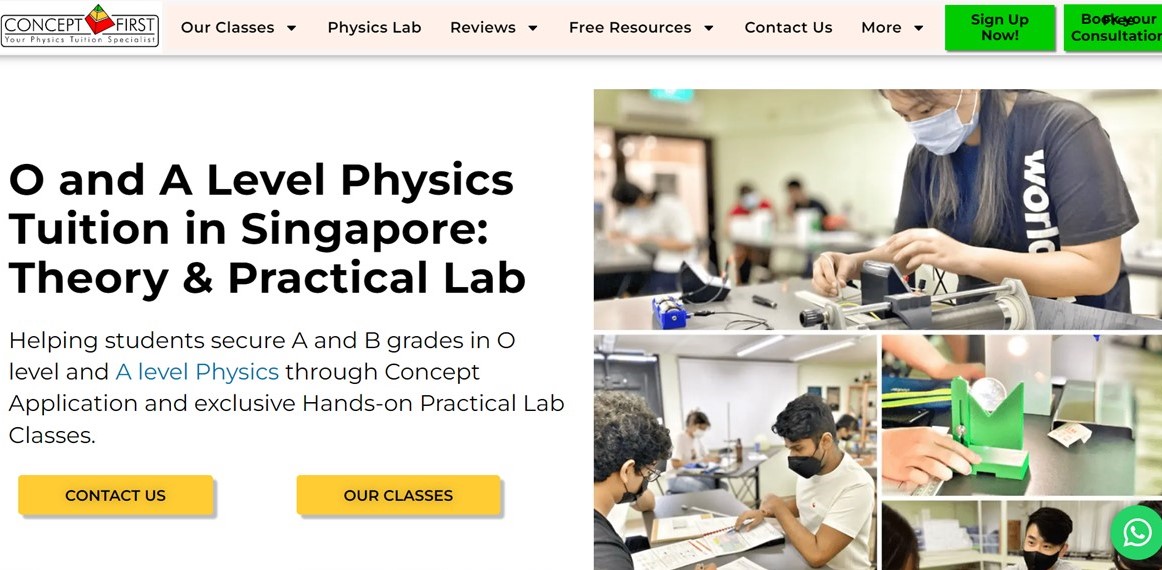 Concept First can help students achieve mastery of physics.
Prior to the first lesson, students will attend a personal one-hour session with a top physics expert and will receive an in-depth analysis including valuable feedback on their strengths and weaknesses and personalised tips and techniques to take their academic performance to the next level.
The centre has developed a unique "CF360" framework which combines concepts with practical learning as well as revision tools and digital resources for optimum mastery of the subject.
Recognising the importance of the 20% practical component in A and O-level physics exams, the centre even has its own in-house physics lab for students to perform hands-on experiments to ace that exam component.
Name

Concept First

Website

https://conceptfirst.com.sg/

Contact Details

Call: 8246 5685

Email:admin@conceptfirst.com.sg

Outlets

449 Clementi Avenue 3 #01-261 (Level 2, 120449

Level & Subjects

Secondary /JC Physics

Unique Selling Points

Physics lab facility: student can sign on their physics lab sessions to gain confidence for practical exams

Unique CF360 Methodology: in-house curriculum developed a learning system that combines concepts, practical and tools to best help students learn

Student learning portal: online resource platform available easy access to all learning materials

Quality of tutors: the centre cites former MOE teachers, senior teachers, MOE teaching scholars and authors as part of their strong tutoring team

Students' reviews

Concept First's classes have been of great help to me. My tutor puts a lot of effort into making his notes as concise as possible and in compiling questions of various difficulties for us to try. I would definitely recommend giving his classes a shot!

Review by Dhilllon

To say that Mr Ram is a good teacher is an understatement. He is a very approachable and friendly teacher. I never had any hesitation when asking him to clarify my doubts, and he would take his time out of his busy schedule to do so. Sometimes even after explaining a question multiple times, I would still not understand. However, he would be very patient and explain it again. Mr Ram has impeccable Physics knowledge. He is clearly well-knowledged and he is able to transfer the knowledge to us seamlessly. He not only teaches us what is in the syllabus, but he also gives us extra information that would come in handy in examinations. He is one of the main reasons why I am doing very well in modern Physics. He has all the qualities of an excellent teacher!

Review by Mohd Ashiq

My tutor at Concept First is a dedicated and patient teacher who provides well-organized Physics lessons for his students. As a student with a weak foundation in Physics, the structure of his lessons has been able to help me first strengthen my foundation, and then slowly work towards solving higher order questions. He also explains all the Physics concepts clearly, and teaches us some tricks to remember them more easily. He also constantly checks and ensures that we understand the concepts taught, and never fails to answer any of our questions. Overall, I have enjoyed my lessons with Concept First, and his lessons have been useful in helping me improve my Physics!

Review by Nicole
Founded by power couple Dr Lew, a RI and RJC alumni and medical doctor together with his wife Mrs Lew, an ex-school teacher with 20 years of teaching experience, Miracle Learning Centre strives to help students learn better and faster.
The centre helps academically weak students gain confidence through a thorough explanation of complex concepts and application techniques so that they can move on to excel academically.
Quality of the lessons is guaranteed as tutors are trained by NIE, with years of teaching experience. The founder's children have excelled in Singapore's education system, with one of them in the GEP programme and another a Maths Olympiad champion.
Name

Miracle Learning Centre

Website

https://miraclelearningcentre.com/

Contact Details

Call: 6463 8756

Email: miraclelearning@gmail.com

Outlets

144 Upper Bukit Timah Road

#03-01 Beauty World Centre

Singapore 588177

Level & Subjects

Secondary /JC Physics

Unique Selling Points

Quality of tutors: NIE-trained, ex-teachers with years of experience

Learning materials: exclusive notes and books published by centre to help students with learning

Subjects focused: specialised centre with experts focusing only on maths and science

Differentiated learning: accepts students of all abilities no matter you are weak or strong in science, they believe that every student has potential to excel

Students' reviews

Mr Gregory Wong is an exceptional physics teacher, one who teaches with nothing but pure class. He never fails to inspire us to achieve the impossible. He is an excellent role model of someone who reads voraciously, hunting for answers, expanding his field of knowledge and wisdom so that he can help us reach our true potential. On top of being a remarkable physics teacher, Mr Wong is sensitive to his students and cares deeply for the people around him. He is able to display a great sense of empathy and is able to relate easily to his students when they do not perform well in their examination. Most importantly, Mr Wong is supportive of his students and never gives up on any of them. For this, I would like to say thank you Mr Wong, for going the extra mile.

Review by Jing Ming

Thank you Mr Wong, I finally understand Physics after coming to your Physics lesson. Tks for being so interactive, I really enjoyed the Physics lessons!!! The explanations given were also very clear and he made Physics more interesting.

Review by Jeremy

Mr Tan is a very friendly teacher and goes out of his way to do his best for his students. He is very humorous and always makes lesson fun and exciting. Personally, I require more materials as my school is covering extra syllabus. Mr Tan always helps me with the extra topics for both math and science. With his help, I have gotten A1 for every single exam paper this year for math and science. He is a kind and generous teacher, always encouraging and motivating his students to do better. Overall, Mr Tan is really helpful and kind, a great person in general.

Review by Ernest Lam
12. Best Physics Tuition Centre
Helmed by Mr Tony Chee, an ex-curriculum researcher in NIE, an ex-MOE senior head, a Public Service Commission (PSC) scholar and author of A level physics ten-year-series, Best Physics Tuition Centre is a highly specialised physics tuition centre for IP and JC students.
All classes are taught by Mr Chee personally. He strives to help students master the subject in an enjoyable manner through real-world applications and personal anecdotes.
His stellar track record includes former students who went on to excel academically at top overseas universities such as MIT, Princeton, Cambridge and Oxford.
Name

Best Physics Tuition Centre

Website

https://tuitionphysics.com/

Contact Details

Call/SMS: 8700 9189

Email: SgPhysicsCoach@gmail.com

Outlets

Bukit Timah Shopping Centre

170 Upper Bukit Timah Road, Level B1, Unit 32

Singapore 588179

Waterloo Centre

261 Waterloo Street, Level 1, Unit 22, Singapore 180261

Level & Subjects

Secondary/IP/JC Physics

Unique Selling Points

Quality control: all classes are taught personally by renowned physics tutor Mr Tony Chee. You can be assured of the quality of the classes as he does not use relief teachers.

Class size: kept small, about 8 students maximum

Learning materials: comprehensive customized notes and questions are written by Mr Chee himself who has also authored several physics assessment books.

Online lessons: available for enrolment as physical classes are often overbooked with long wait lists.

Students' reviews

Mr Chee is a brilliant Physics teacher and he explains clearly and precisely what is needed to learn. He patiently answers any queries about anything Physics related and do encourage questions to be asked to help the learning process. I do highly recommend his tutoring as it has helped me ace my Physics in the span of a year!

Review by Jing Han Gan

Mr Chee is an excellent Physics teacher, that will go out of his way to help his students in Physics. He is really patient with his students and knows how to break down complicated concepts to make them easy to digest. He is a very dedicated teacher that even takes the time to clarify doubts outside of lesson time via Whatsapp. He makes learning Physics much more manageable and has helped me improve in my Physics grades tremendously. With that, I highly recommend him!

Review by Ryan Lim

Mr Chee's lessons are engaging and helpful in helping students understand complicated physics concepts. During lessons he covers questions in exam papers which have exposed me to a variety of questions and greatly helps me during exams. He also provides notes every lesson which are good to refer to before exams. I've only been with Mr Chee for 1.5 years but he has helped me maintain good physics results. Thank you Mr Chee!

Review by Nancy
13. Physics and Chemistry Studio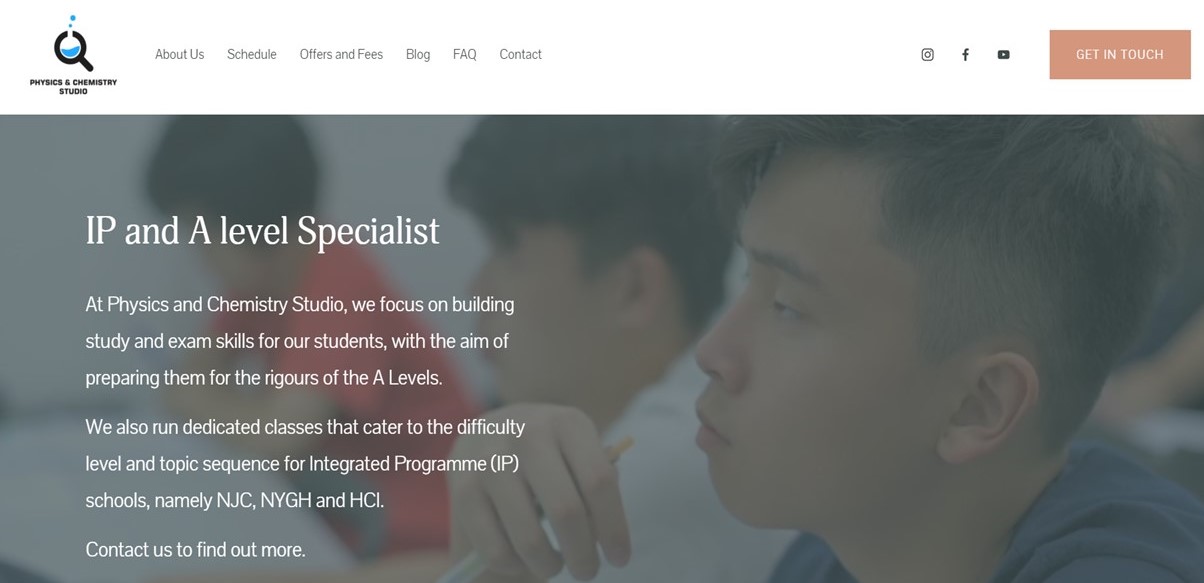 "Give a man a fish, and you feed him for a day. Teach a man to fish, and you feed him for a lifetime." - Lao Tzu.
With this philosophy in mind, tutors at Physics and Chemistry Studio believe that practising critical thinking, as well as the journey of exercising this skill, is more important than getting an answer right.
Students should not just memorise concepts and not understand them, as this will not be effective when they need to apply knowledge in different situations in the future. As such, the centre advocates a teaching method that strengthens the concepts and understanding instead of memorisation.
The centre only offers A-level physics and chemistry subjects and specialises in IP sciences subjects of varying levels.
Name

Physics and Chemistry Studio

Website

https://phychemstudio.com/

Contact Details

Email: daniel@phychemstudio.com

Outlets

587 Bukit Timah Road, Coronation Shopping Plaza #02-36 Singapore 269707

Level & Subjects

IP/JC Physics

Unique Selling Points

Specialists: tutors are focused on teaching only JC level sciences. Expert tutors of these subjects and know syllabus well

Practical sessions: offer practical lab sessions for exams

Learning materials: learning portal accessible via web or mobile, includes all lesson recordings and notes. Current students can also purchase past lessons notes and materials

Maximum class size: each class is capped at a maximum of 12 students for effective learning

Students' reviews

Mr and Mrs Tong are both dedicated tutors who really put in their best efforts to help us improve and they always respond to queries as soon as possible despite their busy schedules. They're also super approachable and friendly! In secondary 3, I had been struggling in both physics and chemistry. However, after joining their tuition centre, my grades for both subjects managed to improve and I was able to obtain an A in both subjects by the end of Secondary 3. Their patience in explaining all the concepts really help to set my foundation for Junior College as well. Despite the significant jump in difficulty, they explained everything clearly in a way that is easier to understand than in school. Their notes are also concise and very useful for studying. With their guidance, I eventually obtained an A for H2 Physics as well as H2 Chemistry. I'm really grateful for all their guidance, they are both very sincere and amazing teachers who genuinely care for their students

Review by Agatha Aryn Hasjim

Mr Tong is extremely patient and helpful while teaching and would reply to the many questions i send him through text very elaborately, step by step. He also encourages to look at the big picture then starting to solve the questions, allowing us to solve it with ease. He makes sure that we have good habits to solve the questions. This allowed me to gain more confidence in tackling physics questions

Review by Serena Koh

I attended tuition for both Physics and Chem here- the tutors are extremely patient and understanding and I understood many topics much better with their explanations and examples. They also provide in-depth chapter notes alongside a wide range of practice questions suited for the syllabus which ensure I'm well prepared for the examinations! The Teachers are also very welcoming to extra questions i have from school assignments and extra practices and provide detailed solutions to ensure my doubts are thoroughly clarified! I definitely recommend!

Review by Deeksha
All classes in the centre are taught by founder Mr Kenneth Loh who has 10 years of full-time tutoring experience as a pure physics specialist. By focusing on one subject exclusively, Mr Loh provides undivided attention and bring more expertise to teach the subject well.
According to the raving testimonials, Mr Loh has a reputation for being a good tutor who is patient, approachable, and goes to great lengths to ensure that each student in the class understands his lessons. This is achieved through intentionally keeping a small class size of between 4 to maximum 6 students to provide sufficient attention to each student.
Name

Learning for Keeps

Website

https://www.learningforkeeps.com.sg/

Contact Details

Call: 8201 5955

Outlets

Hougang

The Midtown, Lobby B, #02-30 1187 Upper Serangoon Road Singapore 533971

Tampines

Blk 801 Tampines Ave 4 #02-267 Singapore 520801

Level & Subjects

Secondary/JC Physics

Unique Selling Points

Tutor personality: passionate tutor who love physics and has genuine interest to help students excel. Approachable and willing to spend time attending to student's questions.

Class size: maximum of 6 students for secondary levels and 4 students for JC levels

Track record: 73% of O level students achieved A grade. A list of student's grade improvement is also published.

Promotions: no registration fee, promotional price available now for monthly tuition fee and trial lesson.

Students' reviews

Mr Loh is a very patient and caring teacher who is always ready to help me when I have any doubts during the lesson. I am able to gain a deeper understanding of physics as a subject as Mr Loh is able to explain complex concepts in a simple yet effective way, allowing me to grasp these concepts more easily. Lessons are always enjoyable and productive as Mr Loh ensures that we leave every lesson understanding what has been taught. Thank you Mr Loh!

Review by Manfred Koh

I'm very thankful to Mr Loh. At first I was extremely worried about Physics as I got E8 for Physics in my Sec 4 MYE. However, thanks to Mr Loh who patiently teaches me from basics, I was able to get A1 for both my Prelim and O Level. Mr Loh would answer my questions and explain to me in detail and if I don't understand it, he would try to explain it again in a way that is easier for me to understand. Without Mr Loh guidance, I will not be able to get A1 for my Physics. Thank you so much Mr Loh!

Review by Vanessa

I look forward to attend Mr Loh's Physics tuition every week. Each time I stepped out of the class, not only had I been familiarised with all the different question types, but more importantly I would have a wider view of the world of physics. Seeing how physics can be applied all around us, helps me to now tackle questions or even practicals in a more fun way.

Review by Reuel
Mr Calvin Kong is a renowned physics tutor who has honed his familiarity with the Cambridge International Examination syllabus through his past experience as a physics curriculum strategist and designer.
Accompanied by his many years of teaching experience as a senior teacher in MOE, he is able to accurately assess the weaknesses of students and address their issues through effective strategies.
Mr Kong prides himself on being a lifelong 'student' who continues to hone and refine his craft by evaluating his own teaching, as well as always striving to be a better tutor to his students.
Name

Calvin Kong Physics

Website

https://www.calvinkongphysics.com/

Contact Details

Call: 82465685

Email: Calvinkongphysics@yahoo.com

Outlets

Clementi Avenue 3 #01-261 Block 449, 120449

Level & Subjects

Secondary/IP/JC Physics

Unique Selling Points

Student profiles: tutored a wide spectrum of students including weaker ones to higher ability gifted students with success.

Learning strategies: employs a variety of learning strategies including demonstrations, experiential learning to explain concepts and using differentiated learning according to student's profile

Learning materials: customised handwritten notes that are digitalised for student's easy access via mobile, provides templates for student's note taking

Leverage on technology: utilises computer stimulations to explain complex physics concepts and digitalised notes for student's easy reference

Students' reviews

Coming in for my first lesson, I was originally nervous and skeptical about how effective the lesson was going to be. After one lesson, I was able to fully understand what was taught. Which was surprising. I originally heard about this tuition when a friend of mine had gone from a D7 to a B3. Although I've only spent five months at this center, I have really been able to understand all the concepts and also reinforce them with the countless practices. Thank you!

Review by Muhaimin Mustaffa

The concepts that is being shared with the class is easy to understand and straight forward. Felt more confident when applying the concepts learned during school exams. Highly recommend the practical lab workshop as it enables students to be more confident and assured during school lab practices and the actual 'O' level practical examination.

Review by Khoo Zhi Loo

I have really enjoyed the lessons. The teaching style and notes have really helped me to improve my understanding of the subject. The weekly exercises have really helped me deepen my understanding of the subject and knowledge with the constant tests and practices. I have especially found the summary notes to be the most helpful outside of class, whenever I am in doubt while doing a worksheet or in school, where I do not understand my teacher, I would use the summary notes to clarify doubts. Mr Kong always spares time for his students and will ensure that each one of us will be as prepared for any exams. Thank you for teaching me!

Review by Dylan Chan
Established for more than 19 years, Smartlab tuition centre offers a comprehensive and unique educational programme built around problem-based learning and activity-based lessons.
Developed by first-class honours graduates of Cambridge University, the curriculum utilises virtual reality and mixed reality labs to develop students' practical physics laboratory skills. The experiential lab is also open to home-schooled students or other learning groups.
The centre has a 'results guaranteed programme' that ensures students obtain their target grade, or they can even receive a refund.
Name

Smartlab Tuition Centre

Website

https://smartlab.com.sg/Tuition/

Contact Details

Outlets

Bishan

Bishan St. 23, #B1-71 Block 228, Singapore 570228

Hougang

Hougang St 21, #02-113 Blk 204, Singapore 530204

Marine Parade

1 Marine Parade Central, #13-03 Parkway Centre, Singapore 449408

Woodlands

818 Woodlands Street 82, #01-419, Singapore 730818

Level & Subjects

Secondary/JC Physics

Unique Selling Points

Forefront of technology: Elearning lab that utilises VR and immerse learning to optimise learning

Outlets: branches available island wide in different parts of Singapore

Results guaranteed: results guaranteed programme where goals are pre-set with a tutor before enrolment

Promotions: up to 25% discount off tuition fees if registration is completed before 15 Feb 2023

Students' reviews

Highly recommended. Mr Tony Tan is an extremely inspiring and highly dedicated teacher who not only explains the JC syllabus well but ensures that we understand what we learn and to enjoy the process as well. He goes out of his way to consolidate important ideas and key points to take note of and makes sure the student can discover their mistakes and learn why their method of approach is incorrect instead of only being fixated on the correct answer. Even virtual lessons are equally fruitful and he is happy to take time outside class to respond to further questions. Truly helped to increase my level of competency in physics and chem and allowed me to appreciate what I learn.

Review by Zac

A great tuition centre with easy to understand lesson and helpful notes and worksheets to better understand the subject. The teachers are really patient and lessons really helped me achieve a grade that was to my satisfaction in the o levels.

Review by Darius Nyo

It's a really good tuition centre for those who need to boost their grades. Even though I joined the centre in the middle of secondary 3 I was able to push my grades from Cs to As by the time I sat for my prelims in secondary 4. They provide good materials for their students and explain the syllabus in a way that is easier to understand. The teachers are also very encouraging and always to challenge their students to aim for better. I would like to thank my teachers for helping me in improving my grades! I am very satisfied with what I have achieved for my O levels

Review by Qis
17. Happy Tutors Learning Centre
Happy Tutors Learning Centre believe that education should be a journey of discovery and growth. That's why the centre adopted a constructivist educational philosophy.
With this approach, students are not simply passive recipients of information but are active co-creators of their own knowledge. By building on their prior experiences and understanding, students are empowered to make meaningful connections and truly understand the learning materials.
It appears that this approach is well-received by most students as the centre has been able to expand from one to five locations since its opening in 2013.
Name

Happy Tutors Learning Centre

Website

https://happytutors.edu.sg/

Contact Details

Call: 65206146

Outlets

Jurong West

519 Jurong West St 52 #01-169 S(640519)

Bukit Batok

132 Bukit Batok West Avenue 6 #01-318 S(650132)

Tampines

872c Tampines St 86 #01-03 S(523872)

Bukit Batok

523 Bukit Batok St 52 #01-723 S(650523)

Bedok Reservoir

609 Bedok Reservoir Road #01-646 S(470609)

Level & Subjects

Secondary/JC Physics

Unique Selling Points

Class size: cap of a maximum of 6 students to ensure the tutor has sufficient attention for every student

Branches: 5 outlets available in the western and eastern parts of Singapore

Online sessions: available for students who can't find a suitable timeslot or live in other parts of Singapore

Support beyond the classroom: Tutors provide support beyond the lesson time to assist with clarifications

Students' reviews

I am Kahveari and I started tuition with Kornelius to prepare for my O-levels this year. It was a good experience. He is friendly and understanding. When we are tired after school, he tends not to pressure us that much compared to other teachers. In his classes, I learnt communications and how to answer some of the questions in my work. The techniques he taught for Paper 1 are useful and he taught us how to do planning properly and to think and to expand our ideas more.

Review by Kahveari Suppaiah

HappyTutors had provided extensive help to me throughout my JC years in preparation for As! Other than their convenient neighbourhood location, I appreciated their flexibility in lesson arrangement. Most importantly, HappyTutors is set apart from typical tuition centres by its small classes for targeted teaching, and by the tutors who are knowledgeable about skills for A level and effective in tutoring. Also, you can expect to meet friendly and caring tutors and staff :))

Recommended for all, especially those in need of help for national exams!!

Review by Jaekn Horsey

Has a cool teacher which serves as a mentor aside from academical content alone. Willing to accommodate my rigid schedule, as well as satisfy whatever curiosities I may harbor outside of syllabus as well. Teaches tips and tricks which help for revision and pushes hard in preparation. Highly recommend!

Review by Thant Aung Htet Nyan
Tutor Brandon used to hate physics, just like every student he finds the subject tedious and boring. After having been inspired by his own physics teacher in JC, tutor Brandon Ang hope to instill the same interest in students who come to him.
Mr Ang graduated from NUS with a physics degree and completed an internship at the Centre for Quantum Technologies. He strives not just to help his students better understand the subject, but also to establish strong relationships with them so that they can be more engaged and motivated in their learning.
He employs "socratic questioning" technique to help students build critical thinking skills to excel in the subject instead of merely memorising concepts.
Name

Super Physics Tuition

Website

https://superphysics.sg/

Contact Details

Call: 9385 1384

Email: superphysicsbrand@gmail.com

Outlets

BLK 314A Waterway Cascadia S821314

Level & Subjects

Secondary/JC Physics

Unique Selling Points

Qualified tutor: physic graduate from reputable institution with 10 years of tutoring experience, qualified to coach H3 physics.

Online tuition: conducted via zoom and recordings of past lessons available for review

Class size: really small class size of 3 students for group tuition

Track record: 80% of students achieved distinction through his customised notes and teaching methodology

Students' reviews

Thanks to help and support of Mr Brandon, I achieved distinctions in both my O Levels Pure Physics (A2) as well as A Levels H2 Physics (A).

Regardless of physical or online lessons, Mr Brandon always ensured that our classes were productive and consistently checked on whether I had understood what was taught.

Mr Brandon was more than willing to help in last minute clarifications and always replied to my queries as soon as he could. There was this one time, he sent me a picture of his self-written worked solution for a question that I had asked, and I was surprised to see a tiny portion of MRT seats and flooring in the background. This incident genuinely impressed me and reflected his dedication towards his job and his students.

Moreover, Mr Brandon is a friendly teacher who makes learning Physics more interesting and bearable. Outside of class, I could also consult him on school matters aside from Physics and in his advice, he often gave invaluable insights from his own personal experiences.

Review by Keona

Mr Brandon is an extremely passionate and cheerful teacher, who makes learning fun and enjoyable with his optimism. Complex concepts which are often not well-explained during lectures and tutorials in school, are clearly and easily understood through the concept maps, practice questions and other resources provided by Mr Brandon. He's very easy-going and friendly and won't mind re-explaining a concept or answering your questions!

Review by Chen Jia Shin

I took physics in the junior college despite not having taken O-level physics. Despite this, I consistently topped my class in school exams because of the support I've received through tuition. Some of the lessons I had in school were kind of cringe, but the tutor's lessons were based. He speaks well, is able to draw the attention of a student and gives off positive vibes. I eventually received an A in the A-level exams.

Review by Heng Yi Ong
19. AO Studies
AO studies tuition centre specialises in teaching only Physics and Maths at A and O levels. The classes are designed to not only break down complex concepts but also provide students with a visual mapping of how different components are connected for improved learning outcomes. This offers students a more efficient way of learning.
Mr Joseph Ang, expert tutor at AO studies is an ex-school teacher and makes it a point to employ a variety of tools such as videos, real-world examples and experiments to make learning memorable and interesting. He also focuses on imparting answering techniques to help students translate knowledge into good results.
Name

AO Studies

Website

https://www.aostudies.com.sg/

Contact Details

Call: 9007 8588

Email: joseph.ang@aostudies.com.sg

Outlets

420 North Bridge Road, #06-10/11/12

North Bridge Centre, Singapore 188727

Level & Subjects

Secondary/JC Physics

Unique Selling Points

Qualified tutors: Ex-moe teachers with industrial work experiences in the subject field they are teaching

Fees: no deposits, no registration fees, no administration fees, no withdrawal period notice

Track record: more than 90% of students scored above B for national level examinations

Perks: free drinks and snacks for students, charging docks at every table and premium lounge for students

Students' reviews

Prior to joining AO Studies, I was always lagging behind classes and scraping through school. An 'E' grade was the highest I've ever gotten. That was until I joined AO Studies in J2.

Although I joined during Circuit Breaker, the quality of Chu Wei's lessons did not disappoint as I was able to finally catch up with lessons in schools, and I was even able to move faster than my peers because I could finally grasp the fundamentals of each topic under Chu Wei's guidance. What sets him apart from other teachers is that Chu Wei is very meticulous and genuinely cares a lot for his students - this can be seen as he would always stay back after classes to interact with us on a personal level, and sometimes he would check on our wellbeing if we are doing alright. Every interaction with him is authentic, and every lesson consisted of a perfect balance of work and enjoyment. My grades jumped from a 'U' to an 'A' during my prelims in a mere span of 3 months!!

Aside from academic gains, what I have really learnt from Chu Wei is that maintaining a good teacher-student relationship is actually very crucial in a student's development. Although the time I spent here was a short one, the impact that Chu Wei has left on me will last a lifetime. I will always be thankful for his patience, his guidance, and most importantly his dedication and passion to help his students. Chu Wei has become a big inspiration to me and is also one of the main reasons why I am now pursuing a degree in teaching. Thank you so much Chu Wei!!

Review by Lwynn Ng

About 2 to 3 months before my A levels i felt like the knowledge I had was insufficient for me to do well for my A levels and i was looking for a tuition center that would help me clarify my doubts as well as strengthen my skills to allow me to excel in my exams. Luckily i found this tuition center and i will forever be grateful to Mr. Lim for helping me do well for my exams. He takes his time with each student to go through all their problems as well as providing us with a conducive learning environment where we would be able to focus on our studies. His method of teaching allows us to absorb all the necessary information as well as extra bits and pieces that will help us in more ways than just in our studies.

Review by Aneesh Mallick

Choosing to attend tuition classes with Chu Wei is like unsuspectedly walking into a FairPrice Xtra megastore, when all you expected was an ordinary mama shop. He's a whole package deal of teacher, mentor and personal cheerleader hitting you all at once. Sure, he makes sure to teach you the relevant syllabus, and yes, he's patient and concise when he's teaching. In fact, he makes sure to explain each math question using various diagrams and methods, until everyone in the class understands it.

However, he's so much more than just your tuition teacher with a mission to reteach what you should have learnt in school. He's an entrepreneur at heart- he's always constantly changing his teaching methods and platforms to best fit our learning styles and every tutorial question is freshly tailored to perfection; so that while they still retain their ability to make us forlornly question our ability to do math, they remain relevant.

Furthermore, he's splendidly candid and frank. He's unafraid to tell us to buck up when we get complacent or lazy, and he's certainly not hesitant to push us when we lack motivation to study. It may sound exhausting and awful, but honestly, it benefited all of us in the end.

Chu Wei is also considerably knowledgeable about a great wealth of things, like university application, and is always willing to advise us. He's incredibly supportive of the decisions we make, and is like, as I mentioned, our personal cheerleader. He is one of the rare few tutors I have ever had to be as concerned as he is about his students' welfare, and their prospective careers.

The bottom line is- there may be an abundance of tuition teachers out there for your picking (after all, this is Singapore we're talking about), but there are only so many who will go beyond their duty as merely a tutor.

Frankly, I was never fond of lecture theatre- style tuition classes where you share a teacher with 30-50 other people because it always feels impersonal and distant. Hence, if you find that you want a tutor who values your opinion and takes time to adjust to your learning style and pace- he is the teacher for you.

Review by Eve Lee Shi
20. Orion Tuition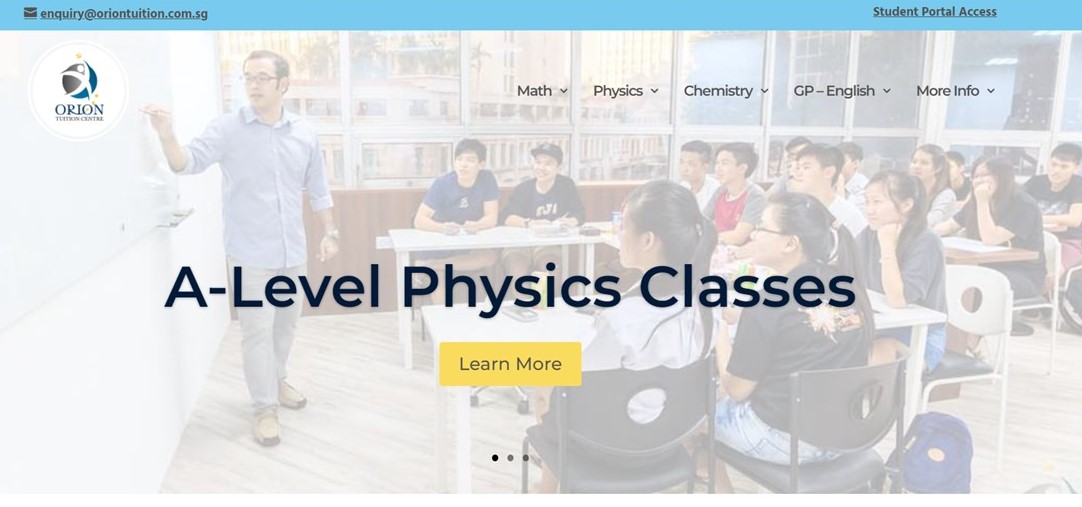 The expert tutors at Orion Tuition have more than 20 years of experience teaching students from all walks of life. The centre uses a 3-pronged approach: to help students develop fundamental skills, transfer knowledge and apply knowledge to excel in examinations.
The centre recognises that learning environment plays an important role in student motivation. To this end, it has designed a welcoming space that is comfortable for students and conducive to their learning.
Orion Tuition Centre believes that every student should be able to have access to a good tutor, regardless of their circumstances. It offers a subsidy programme to help students with financial difficulties obtain a reduced rate for their tuition fee.
Name

Orion Tuition

Website

https://www.oriontuition.com.sg/

Contact Details

Email: enquiry@oriontuition.com.sg

Outlets

Toa Payoh Branch: Blk 190 Lor 6 Toa Payoh Central, #04-508A, Singapore 310190

Yishun Branch: Blk 101 Yishun Ave 5 #02-95 Singapore 760101

Level & Subjects

Secondary/IP/JC Physics

Unique Selling Points

Learning resources: exclusive student learning portal consisting of bite-sized summary lessons

Class size: maximum class size to ensure a certain tutor student ratio

Support: additional support from tutors through Whatsapp and email available

Online lessons: available if there is a clash in schedule, online lessons have a small class size cap too

Students' reviews

We would like to express our gratitude to Mr. Anthony who has helped my child achieve good results in Physics and Maths A level and she was offered her desired course in local universities. She was consistently failing her subjects even up till prelims and It was pleasant surprised that she did quite well at A levels. We started Physics with Mr. Anthony quite late, and Maths only after prelims. It was very last minute but Mr. Anthony did not give up on her, and continued to encourage her and helping her, constantly adjusting his teaching style to suit my child's needs. We are thankful that our child got the help she needed and hope other students will get the same quality mentorship from Anthony as well.

Review by Clara Lim

Really grateful for this tuition centre that helped me to score As throughout my A level journey :") Teacher William was so dedicated and answered my questions throughout the day and even gave us free time trials closer to the A level period! Really enjoyed and appreciated the time and learning I had here.

Review by Charmaine Tan

Orion has been very passionate to help my son to prepare well for his A level exam. The tutors put in tremendous efforts and extra hours to coach him in H2 Maths and Science subjects. With their dedication and commitment, my son began to understand concepts that were unclear to him in the past. I am grateful to them as my son achieved good results in his A level to secure a place in the local university.

I would like to express my appreciation to the tutors, particularly Anthony and Agnes. And I would recommend A levels students who need help in Science and Maths subjects to give the Centre a try.

Review by Andrew Lim
Online Physics Tuition Providers
Besides physical lessons, some students might prefer online tuition sessions due to scheduling conflicts, a desire to save time commuting and possibly minimise exposure to contagious diseases such as covid-19 or the influenza virus, especially during the examination period.
We have curated a list of online physics tuition providers below.
1. Ace Physics Tutoring Service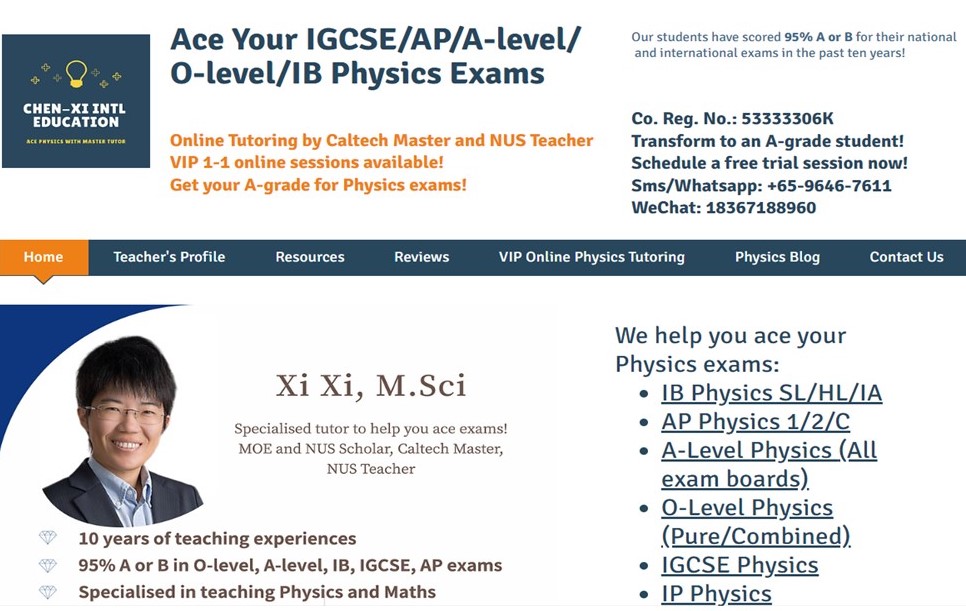 Founded by Ms Xi Xi, Ace Physics Tutoring Service specialises in O, A levels, IP and IB physics. What makes her service especially impressive is that she has an excellent track record of 95% of students achieving grade A or B for national and international exams.
Ms Xi Xi holds a Master's degree in science and is an alumnus of Raffles Junior College. She was awarded the MOE Scholarship, making her a qualified physics tutor.
Besides Singaporean students, she coaches international students from the United States, the United Kingdom, and Hong Kong.
Ms Xi Xi offers free trials to new students and one-on-one VIP tutoring for those who need help to catch up quickly.
2. Tutor City (Tuition Agency)
With over 12 years of tuition-matching service experience under its belt, Tutor City (ACRA registered) can help you screen and select an ideal physics tutor to fit your criteria and budget.
Drawing on our experiences and expertise servicing thousands of parents and students every year, consultants at Tutor City truly understands your needs. We can provide advice on the tutor profiles and respond quickly to any questions you may have. It is not surprising that a handful of new students are acquired through recommendations by our existing parents. Check out the many testimonials from past clients on our website.
Do you know that Tutor City's service is free for parents and students? It might be worth your while to request for a tutor, and you may be surprised by the profiles of qualified tutors in the database.
3. Tutopiya
Tutopiya is a relatively new online learning tuition platform set up in 2018 by a teacher who has taught in several leading international schools in Singapore and U.K. She decided to embark on this venture as she found the current online education landscape limited and ineffective.
The platform currently offers live 1 to 1 lessons and provides IB, A&O Levels physics tuition. Tapping technology to keep track of students' progress, the platform uses diagnostic assessments to provide personalised lesson plans and feedback is given to parents after each lesson.
Set up by a team of passionate and approachable tutors who were once Junior college students, JC tuition specializes in A levels physics and chemistry subjects. They promise to steer away from typical, boring, and dry physics lessons and inject fun into their online teaching.
You can sign up for either group or individual online physics sessions. During the sessions, students learn fundamental physics concepts through experiments that are demonstrated by the instructor. Students have access to unlimited digital consultations if they have any questions on the learning materials through the platform's on-demand service.
Sophia Education, which has a physical tuition centre in Singapore, has ventured into the online tuition space due to the disruption caused by covid-19.
Following the good reviews of its online lessons by students, this mode of learning is now a mainstay for the company. Currently, they offer physics tuition for secondary, JC and IP students.
Its online classes are conducted in small groups of between 2 to 6 students and they offer 24/7 Whatsapp support service to answer questions students might have about their work or clarification on any other administrative matter. The centre also offers a 14-day money back guarantee if you are unsatisfied with their service after the first lesson.
Knowledge Tap Academy offers weekly online interactive live physics lectures to students. Its aim is to leverage on technology to simplify concepts and ensure students have a deep understanding of physics topics to build strong foundation in the subject.
Through its integrated learning management system (LMS), the potential of online learning is tapped on to create maximum value for students' learning. The LMS include a rich archive of lessons and solutions as resources, as well as individual assessment performance and benchmark (against peers) report.
What's more, they offer unlimited on-site consultations to seek clarifications face to face with their chief physics tutor.
7. Classgap
Classgap is a global online education platform that offers services such as virtual classrooms, real-time tutoring and resources for students. The goal of the platform is to make learning more accessible and engaging for students around the world.
Currently, its database consists of physics tutors from over 90 countries.
Some of the physics lessons available are topics on basic physics, electromagnetism, thermodynamics, biophysics and physics (mechanics). You can search for the tutor within the platform by viewing their bio, content of their lessons, their qualifications and ratings by other students.
The biggest advantage is that there is no commitment of a monthly tutoring fee as fees are collected on a per lesson basis. A refund can also be request if you are not satisfied with the lesson.
8. Chegg Tutors
An online education platform that provides several services to students globally, Chegg Tutors help students with homework, exam preparation and practice, and tutorials to simplify complex concepts into digestible information through live online lessons with their database of tutors who are online 24/7 (in-demand tutors).
Its private virtual class rooms allow students and tutors to communicate using text chat, a white board, and video chat.
You will need to purchase a Dashpass subscription to obtain access to their services. One of the most interesting services include accessing solutions and explanation by a tutor by submitting a photograph of an assignment question which you can't solve.
Chegg Tutors is also available as a mobile app, making it convenient for students to seek help anytime.
A well-known test preparation and online tutoring company, Princeton Review offers live online academic tutoring packages to help students all over the world prepare for standardised exams.
According to their website, the company has put in place a rigorous hiring process to ensure that each tutor is sufficiently qualified and are knowledgeable to teach the subjects they offer.
Students can either choose to sign up for an academic tutoring package, which provides 1-on-1 personalised tuition sessions, or request homework help and will be connected with an "in-demand" tutor almost instantly (within 60 seconds) to answer specific questions they are having trouble with.
Based on our assessment, The Princeton Review would probably be the most useful to students in Singapore who are sitting for IB physics examination. You will get to learn from tutors with master's degrees, PhDs and Ivy League credentials.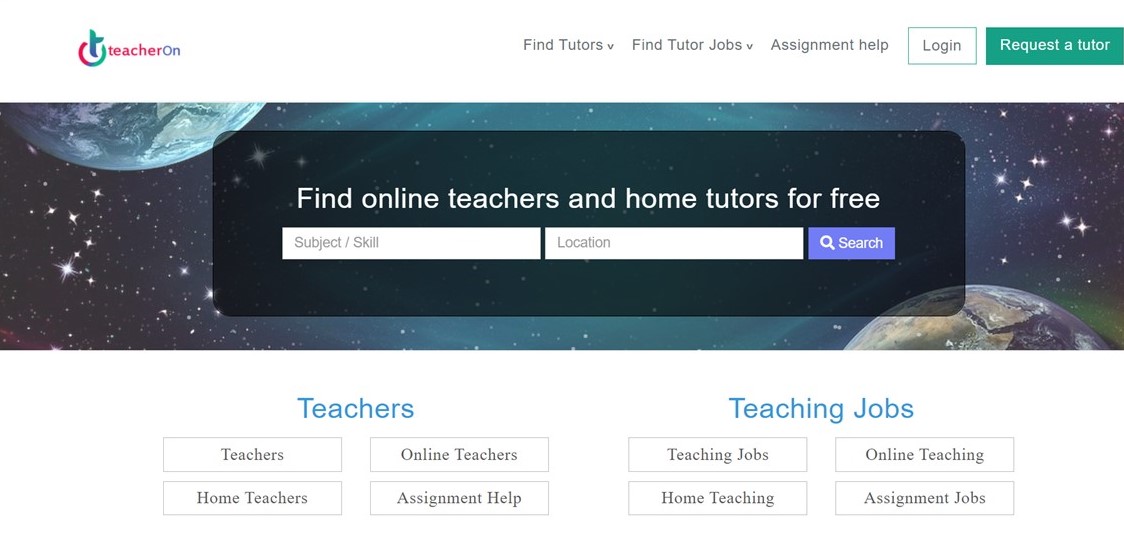 A global online tuition matching platform that connects students with tutors from all around the world, students can create an account on Teacheron then search and select a suitable tutor for a specific subject based on their bio, availability and rate.
This service is free for students, instead the platform collects a fee from the tutors to contact you. The website states that tutors will need to pass an application process before they can start working on the platform.
Private Physics Tuition (Home Tuition)
If you are a student sitting for your O or A levels at the end of the year and have a big gap between your actual and ideal examination marks or is struggling with physics, you have little time to waste. Consider seeking help from a private physics home tutor.
Unlike a class setting, where the tutor must divide his or her attention among all students, you will receive dedicated attention from a private tutor who can help you understand difficult physics concepts, cater to your unique learning style and address your weaknesses in the subject.
Private physics tuition can be a great option for students whose schedules are packed with co-curricular activities and training, as they may not be able to fit into specific timeslots at a tuition centre.
Think of the travelling time you'll save by having a private tutor come to your home or other location of choice at your preferred time. A headache is resolved.
In addition to choosing the location and time of your tutoring sessions, you can also choose the physics tutor that best fits your budget. Check out the private tuition rate of secondary school and junior college tutors.
If you have a budget constraint, committed part-time tutors who have recently sat for A or O levels examinations and achieved stellar grades are in a good place to coach you. If you decide to go for a qualified MOE-trained tutor but find it costly, gather a few classmates and split the cost among yourselves, and have the lessons at a co-working place or the public libraries.
If you need help sourcing a qualified private physics tutor, put in a request to Tutor City or call us if you need our advice on tutor selection. We do not charge parents or students for this service.
Conclusion
When looking for the best physics tuition provider, keep in mind that a branded centre or star tutor that can do wonders for other students might not necessarily be the most suitable one for you.
Learning is a personal experience, and you will benefit more from a tutor who can connect with you and help you be more engaged in learning.
Bonus tip: Schedule a visit to the centre to get a sense of the facilities, tutors and learning environment.
We hope this article answers questions surrounding the best physics tuition and help you narrow down your choices to a few reputable providers in Singapore.