Best IB Tuition in Singapore: 20 Tuition Centres With Reviews!
The International Baccalaureate (IB) programme has become more popular among students and parents in Singapore in recent years as it is one of the best educational programs in the world. Its unwavering commitment and rigorous curriculum are the reasons why It has gained a reputation. The students of the IB gain and develop important skills such as critical thinking, problem-solving, and cultural awareness during the program. The IB has become a top choice for more and more students and parents willing to have a quality education in Singapore.
In Singapore, there are many tuition centres and schools offering IB programs, so students and parents find it difficult to choose the right one. With this article, Tutor city will help you to understand what is the IB program, its main features, and how it is different from other programs and will guide you on how to choose the best IB tuition centre with top recommendations by Tutor City.
Definition of the International Baccalaureate (IB)
As you have read about the popularity of the IB, you may face a question: "So what is it, International Baccalaureate?"
According to the official website of the International Baccalaureate Organization, "The International Baccalaureate (IB) offers a continuum of international education. The programmes encourage both personal and academic achievement, challenging students to excel in their studies and in their personal development."
The Princeton Review, a leading test-prep and education services company, defines the IB program as "an international pre-university curriculum aimed at preparing students for success at university and beyond."
The International Baccalaureate (IB) is an educational program that is worldly recognized and aimed at developing knowledgeable, curious, and reflective individuals. The IB has a well-rounded curriculum that will help the students to develop critical thinking and problem-solving skills as well as self-expression and creativity. In addition, the program is designed to encourage students to be open to the world, and understand and respect different experiences and cultures by being committed to global service and studying in multiple languages.
What are the key features of the IB?
Now, we are going to explore the main features of the programs. In this article, we have defined five major differences between IB and A level. One of the key features of the International Baccalaureate (IB) is the aim to develop internationally-minded individuals who understand the common humanity and shared responsibility for the planet. International-mindedness is a way of thinking, being and acting characterized by openness to the world and an appreciation of our interconnectedness to others. IB programs provide opportunities for inquiry into local and global issues, promote reflection on personal and cultural identities, encourage multilingualism, and focus on global engagement and community service. These elements support the development of intercultural understanding, respect, and critical consideration of power and privilege. The goal is to move beyond awareness and understanding to active engagement, leading to meaningful change toward a more peaceful and sustainable world.
The IB learner profile is a set of 10 attributes that describe the ideal qualities of an IB education. These attributes, such as inquirers, knowledgeable, thinkers, communicators, principled, open-minded, caring, risk-takers, balanced, and reflective, reflect the holistic nature of an IB education and its focus on developing students' cognitive, social, emotional, and physical well-being. The goal of the IB learner profile is to empower students for a lifetime of learning and to help them become internationally-minded individuals who can make a positive impact in the world.
The International Baccalaureate (IB) has six approaches to teaching and five approaches to learning that guide and focus education in IB World Schools. The approaches to teaching are based on inquiry, focused on conceptual understanding, developed in local and global contexts, focused on teamwork and collaboration, designed to remove barriers to learning, and informed by assessment. The approaches to learning aim to empower students to become self-regulated learners and focus on developing thinking skills, research skills, communication skills, social skills, and self-management skills. The development of these skills plays a crucial role in supporting the IB's mission of creating active, compassionate, and lifelong learners.
The International Baccalaureate (IB) offers four educational programs that aim to provide students with a broad, balanced, and connected curriculum. These programs promote conceptual learning and encourage students to explore relationships between academic disciplines and the world around them. The programs are all based on a shared focus on international-mindedness and developing the attributes of the IB learner profile. Each program has its own identity and elements that are developmentally appropriate, with themes ranging from global significance to personal and professional skills. Assessment is ongoing, varied, and integral to the curriculum, and students are encouraged to assess their work and the work of others. The PYP, MYP, DP, and CP also offer IB-validated assessments that balance validity and reliability, requiring students to demonstrate higher-order thinking.
How is the IB different from other programs in Singapore?
The International Baccalaureate (IB) program is unique in its approach to education, and this is reflected in its differences from other programs offered in Singapore. The International Baccalaureate (IB) program is the only one of its kind in Singapore and has earned global recognition for its emphasis on student-centered learning. Its curriculum allows students to refine their critical thinking, problem-solving abilities and creative skills - all essential tools required for success in our ever-changing world.
Second, the IB program is designed to foster intercultural understanding and respect, which is becoming increasingly important in today's globalized world. Through their studies, students are exposed to diverse perspectives, cultures, and beliefs, helping to build their appreciation for diversity and their ability to work effectively with people from different backgrounds.
Furthermore, the IB program provides a balanced curriculum that includes academic and non-academic subjects such as sports, arts, and community service. This allows students to expand their intellectual abilities while building physical strength and emotional maturity. In other words, this broadened educational experience promotes holistic growth in all areas of development.
Fourth, the program has established its credibility and prestige through rigorous assessment measures and exceptionally high standards. This is to best equip students for their future university studies as well as careers ahead. The assessments are both internal and external in order to ensure that each student receives an exhaustive yet precise evaluation of their understanding and abilities.
What should you consider when choosing the IB tuition centre?
When selecting an IB tuition centre, the qualifications of the tutors should be among your top considerations. It is essential to find knowledgeable and experienced teachers who are passionate about teaching and have a talent for inspiring students. Furthermore, make sure that they possess proper training in the IB curriculum so that you can rest assured knowing your child will receive high-quality instruction.
Reputation should be another one of the top priorities, when making your decision in regard to an IB tuition centre. When searching for a reputable tuition centre, consider those that have been recognized for enabling high-achieving students as well as obtaining positive reviews from parents and scholars alike. As an added measure, you may review ratings and comments online to gain further insight into the quality of their services.
It is vital to examine the centre's curriculum when selecting a learning facility for your child. Make sure that the school offers a broad assortment of courses, so your offspring can explore their passions. You also want to make certain that they are equipped with all they need to succeed in their studies, including access to online instructional programs, study materials and tutors.
When choosing the best IB tuition centre for your child, you should also take into account both its location and availability. Not only must it be easily reachable from either your house or job, but make sure to factor in transportation options as well as class times; make certain that they fit with yours and your kid's schedule alike. Additionally, check how many slots are available at the centre—some may have waiting lists or fewer spots than others do. With this information in mind, selecting an IB tuition centre can become a much smoother process. A centre with flexible and convenient class timings and availability can make it easier for your child to attend classes regularly and complete the program successfully.
Moreover, it is essential to be aware of the costs associated with IB tuition, as well as understand what your payment covers. Researching various centre and comparing their prices can help you decide which one suits your needs best. You may qualify for discounts when enrolling multiple children or opting for group classes. Nevertheless, navigating through price tags shouldn't be done blindly - lower costs may mean a lack of resources or qualified tutors, while overly expensive services don't always guarantee better results either.
The Best IB Tuition Centres In Singapore
Overview
XCL World Academy is a leading provider of education and training in a variety of fields, including business, technology, and personal development. The academy offers a range of programs and courses designed to help individuals achieve their personal and professional goals. XCL World Academy is dedicated to providing students with the education and training they need to achieve their personal and professional goals.
Main Features

Flexible learning options: The academy provides flexible learning options to accommodate the needs of students, including online, distance, and blended learning.

Career-focused education: XCL World Academy focuses on delivering education and training that is directly relevant to the needs of students, with a view to enhancing their career prospects.

Experienced instructors: The instructors at XCL World Academy are experts in their fields, bringing years of experience and practical knowledge to the classroom.

Supportive community: XCL World Academy offers a supportive community of students and instructors, fostering a collaborative and inclusive learning environment.

Course offerings

Arts Programme, Sports Programme, EAL Language Programme, English – Chinese (Mandarin) Bilingual Programme

Reviews

"My daughter moved to XCL World Academy last year. She was apprehensive at first leaving her friends. That is why I am grateful for the warm welcome the school gave her! She is now settled with a wonderful group of friends. The school is mid-sized, so the community feel is great! Very convenient to commute from where we are staying, and it is easy to access the MRT and bus interchange in Yishun." - Emily Sebastian

"Our son goes here and he loves it. We love the school as well, very cozy and feels like a huge family. The facilities are great and the teachers take the time to understand the children, which I really appreciate." - Kay Lam

"I am a student in the school, and ever since I came, everyone is so nice and friendly. The teachers are very hardworking and they all have been very supportive and helpful. What I like about the school is that we have a lot of choices and opportunities. We participate in a lot of fun learning activities. We get to use technology for our education and understand the importance of safety on the internet. Personally, I have enjoyed sitting in the cafeteria with my friends, getting involved with art projects, creating and writing scripts for plays, and getting involved with sports teams, like the Soccer Team, the Netball Team, etc. I am able to go to school with a bright smile on my face and feel calm!" - Marilena Kolokotsa

Contact information

(65) 6808 7321

info@xwa.edu.sg

Location

2 Yishun Street 42, Singapore 768039

Cost

10750-20500 SGD/ per semester
Overview
Quintessential Education (QE) is a provider of tutorial and university admission programs for IB (International Baccalaureate) and IGCSE (International General Certificate of Secondary Education) students. QE believes in providing a holistic learning environment with personalized teaching and focuses on exam exposure, content mastery, and targeted practice. The curriculum is designed by top IB examiners and Oxbridge graduates and is taught by IB/IGCSE examiners and graduates. QE offers ad-hoc and weekly tuition, online tuition, holiday programs, and crash courses. The university admission program includes headstart mentoring and application strategy. QE aims to provide quality education and promote academic success and character development.
Main features

Ad-hoc tutoring services featuring top-notch instructional materials created by IB examiners and graduates from Oxbridge.

Efficient and effective learning techniques and teaching methodology to ready students for exams and assessments.

Curriculum of the highest standards, reviewed and updated continually by knowledgeable tutors.

Tutoring services available in various formats such as group lessons, one-on-one sessions, online classes, and holiday programs.

Course offerings

Biology, Business, Chemistry, Chinese, Economics, ESS, Geography, History, Langlit, Mathematics, Physics

Reviews

"Effective tuition centre that has hardworking teachers that clearly care very much for their students. The notes my tutor provided were essential in my learning and he paced our lessons well since the day I joined his class before I entered school. I was able to understand concepts far quicker in my school classes from the tuition here as well. Highly recommend coming here for any subjects." - Kai

"Took their tutoring for almost every subject when I was struggling in IB. Generally, really awesome tutors that break stuff down so I could finally understand some difficult concepts or even topical questions which seemed to be skimmed through in school. From my experience being tutored in the Sciences, Math and Econs, all my tutors were very thorough and encouraging in their teachings, making sure that you understand in depth about the basics of each topic (they'll go through the material as many times if you don't understand or forget), before giving you a few tips on some shortcuts you can use for the exams, as well as providing enough practices such that together with your school's past year papers, you don't have to print out any more for self-revision. If you are willing to accept constructive criticism and do the work that's given, I'd fully recommend this for students that feel left behind in school. However, just keep in mind to constantly keep in touch with the tutors and administrators for lesson plans, and notify them in advance if there are lessons that you're taking extra or missing out. The arrangements of lessons aren't the most flexible and smooth, but they can surely rearrange it if you're at least telling them a week in advance." - Ty Tan

"My tutors were very knowlegeable of the IB syllabus, able to tailor lessons according to my needs, and provide me with an extensive amount of useful resources. They prepared me very well for the IB examinations. I recommend teachers Sean and Dawn!" - Vivian Wong

Contact information

(+65) 6100 9338

enquiries@qeducation.sg

Location

545 Orchard Road #14-06/09 Singapore 238882

Cost

500-950 USD/ a month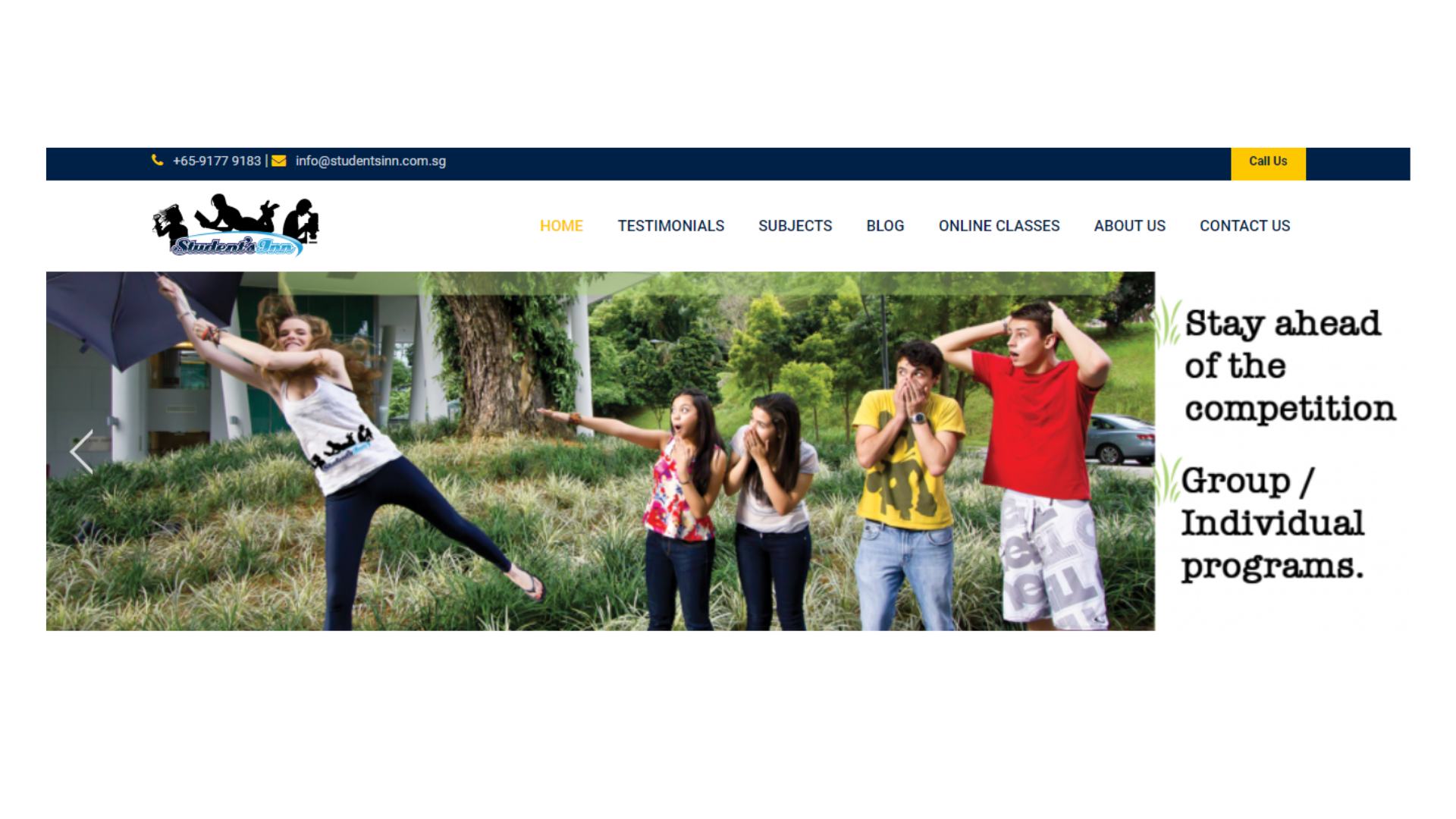 Overview
Student's Inn is a premier tuition centre in Singapore that provides education services to international school students. Their courses are tailored to cater to the unique needs of IB/IGCSE and other international school system students. The centre is equipped with a team of highly qualified and professional tutors, who specialize in their respective subjects and have won awards, scholarships, and competitions in their field of expertise.
Main features

Tailored Education: Student's Inn offers customized courses designed to meet the specific needs of international school students studying IB/IGCSE and other similar systems.

Expert Tutors: The centre boasts a team of highly qualified and professional tutors, who have a proven track record of awards, scholarships, and competition victories in their respective subjects.

Holistic Approach: The centre takes a comprehensive approach to education, ensuring that students not only gain subject knowledge but also develop essential life skills such as critical thinking and problem-solving.

Results-Driven Focus: The primary focus of Student's Inn is to deliver results, with a commitment to helping students achieve their academic goals and reach their full potential.

Course offerings

Arts, Biology, Business and Management, Chemistry, Economics, English, Extended Essay, Geography, History, Internal Assessments, Languages.

Reviews

"I managed to get into all the universities I applied to thanks to Student's Inn. A learning centre that did more than just offer help, but focused on developing students' abilities and driving their passion. Thank you!"- Aditya Chand

"I joined Student's inn as even though I would understand the topic, I wasn't able to score well in my school exams which were highly frustrating for me. After a few sessions, I was able to write answers with more accuracy, using proper keywords, improving my concepts along the way and therefore increasing my confidence. I learned and understood much more than I did before. My marks in my weak subjects such as business studies and chemistry boosted in school. Thanks to Student's Inn I was able to achieve an A* in both my subjects (Business and Chemistry) in my final IGCSE exams, which I didn't think was possible before I joined them. Thanks a lot, I really appreciate the effort that you guys put in." - Udit

"Chemistry was a very frustrating subject for me. I never progressed beyond Cs in it with D being the norm. I almost decided to give it up as a subject in school. As expected when I took my IGCSE exams I had a row of A's, one B and the ugly D staring at me. My mother convinced me to retake my IGCSE chemistry exam. I tried to explain I hated the subject and there was no way I could improve. I tried studying on my own, but after a short while, I realized this wasn't really working out. My mother, seeing my condition, contacted Student's Inn. I was highly skeptical, but I went anyways since studying on my own wasn't working out. Boy, was I in for a surprise. After the first class, my teacher clearly explained to me where I was going wrong. My fundamentals were very weak and my school was not covering the basic topics that were needed to grasp the more difficult concepts. My teacher took baby steps with me. It was the first time I actually understood what was going on. My teacher was patient and dedicated. At times, when I would get stuck, even with the most basic concepts she showed patience and concern. She would repeatedly try to explain things to me in a different manner till I got the hang of the concept. In a matter of few months, my whole expectation of Chemistry grades changed. It was now a manageable subject for me. I sat for my IGCSE chemistry again in November and got an A. From a 'D' to an 'A', in a matter of 3 months was amazing, I truly appreciate the help that I received at Student's Inn. I highly recommend Student's Inn to students who are sitting for IGCSE exams." - Hussain

Contact information

+65-9177 9183

info@studentsinn.com.sg

Location

545, Orchard Road, Far East Shopping Center, #04-08, Singapore 238882

Cost

Not mentioned
Overview
Mindlab® International is an educational centre based in Singapore specializing in providing tuition for IBDP and other programs like IGCSE CIE/Edexcel, IP, IB MYP, and IB PYP. It was founded in 2009 and has over 10 years of experience providing premium tuition for IB & IGCSE. They have a team of IBO-certified tutors who are experienced and handpicked, and the centre has a reputation for being results-driven and effective, with an average 2-band grade improvement for students. Mindlab offers a range of services, including regular weekly tuition, intensive revision classes, a holiday headstart program, and exam preparation for private candidates.
Main features

A team of IBO-certified tutors: The tutors are experienced and handpicked to ensure high-quality tuition.

Client rewards program: Clients are able to enjoy a rewards program through points accumulation with every service purchase and have personal online access to schedule and account details.

Regular weekly tuition, intensive revision classes, holiday headstart program, and exam preparation for private candidates: Mindlab provides various options to cater to the needs of different students.

A decade of success: Mindlab has a long-standing commitment to excellence and has achieved positive results and testimonials from clients over the past 10 years.

Course offerings

English Language & Literature, Mathematics, Chemistry, Physics, and Economics, as well as IGCSE subjects like English, Mathematics, Science, and Humanities.

Reviews

"The tutors at Mindlab take on a different approach that is much more effective and engaging than the rest. Rather than giving you the answers and writing your work for you, they genuinely care about your progress and know how to make you grow and learn as a student through your own mistakes. I would highly recommend their service for any student. Thank you for helping me reach a 7 in IB language and literature." - Bill Nixon

"Excellent and very helpful tuition centre which helped my child achieve the grades we wanted. Prompt service and communication from Mindlab staff helped me co-ordinate my child's lessons from overseas. Tutors were excellent and very helpful as well. Thank you very very much!" - Shankari Dhinakharan

"My son, IB student, had a great tutor in Physics, always helping out and being extremely supportive. He truly helped him figure out his weaknesses and helped him strengthen then." - Charlotte Lesle

Contact information

(+65) 9711 6839

Location

545 Orchard Road, Far East Shopping Centre #15-01, Singapore 238882

Cost

Not mentioned
Overview
Eipimath in Singapore with over 10 years of experience and 200+ former students provides personalized one-to-one or small class (2-3 or 4-8 students) tuition and has a track record of helping students improve their grades, including 100% improvement of at least 3 grades and 90% of O-Level students achieving A1-B3. The teaching style focuses on mastering the fundamentals without rote learning and he provides continued guidance through tertiary education. Testimonials from former students praise his adaptable teaching methods, excellent communication skills, and results in helping them improve their grades.
Main features

Systematic approach to achieve distinction in IB, A-Level, O-Level, and IP

WhatsApp and Telegram support outside of lessons

Focus on mastering the fundamentals without rote learning

Strong track record of 100% improvement in at least 3 grades

Continued guidance through tertiary education

Course offerings

Analysis and Approaches Higher Level (IB Math AA HL), Analysis and Approaches Standard Level (IB Math AA SL), Applications and Interpretation Higher Level (IB Math AI HL), Applications and Interpretation Standard Level (IB Math AI SL)

Reviews

" I was privileged to be under the tutelage of Mr. Luo back in 2017 for H2 Mathematics. His ability to dissect technical math concepts in an engaging, yet extremely clear and intuitive way allowed me to have a deeper appreciation when learning the subject. Most importantly, his policy of making sure that no questions asked are 'foolish' always ensures that I feel comfortable seeking clarification to topics I am not yet familiar with, which really helped ensure that I have a stronger mastery of the core subject matter, understanding concepts intuitively instead of rote learning. I believe that students who are under him will be in great hands, and certainly, be influenced by his infectious enthusiasm in imparting mathematical knowledge!" - Bryan Tan Jia Jun

" Mr. Luo was a great help in helping me improve my grades from S to A during the A Levels period! Definitely could not have done it without him. His teaching style is really effective and has helped many of my close friends attain their desired grades too!" - Estella Goh

"Really thankful for the guidance that Mr. Luo has provided me with during my A Levels. Under his guidance, he has helped to improve my grades tremendously from an S to an A. Highly recommend Mr. Luo's tuition for anyone who may be struggling with maths! He always manages to make complicated concepts much easier to understand. He is really patient and detailed in his explanations " - Cleo Tan

Contact information

+65 9649 2481

info@eipimath.com

Location

2 Toh Yi Drive, Singapore 590002

Cost

300-800 USD/ Per 4 lessons
Overview
Focus Chemistry is a renowned Chemistry tutoring service in Singapore, led by experienced tutor Dion Khoo. With over two decades of teaching experience, Dion has taught at several prestigious schools and has a deep understanding of the subject and effective teaching techniques. Dion's teaching style emphasizes simplifying complex concepts and offers a personalized approach to help students develop a fresh perspective on Chemistry. In a small-group setting, Dion provides interactive learning opportunities and individualized attention to each student. His lesson model, developed through years of experience, involves detailed analysis of examination scripts and prescription of remedies to overcome losing marks, with regular progress reports shared with parents. Focus Chemistry is dedicated to providing an enriching learning experience through its unique and proven techniques, promoting academic excellence and igniting a fresh appreciation for Chemistry.
Main features

Personalized and student-centered teaching methods to help students achieve the best academic results

Ability to simplify complex concepts through relatable analogies

Using mind maps and concept maps to make learning visual and encouraging interactive learning through small-group settings

provides prompt responses to questions and feedback and offers extra classes for test preparation, as needed.

Course offerings

IB Chemistry at Standard and Higher Level, SL and HL Chemistry

Reviews

"Mr. Khoo is a skilled and experienced teacher who makes learning chemistry simple but fun. Lessons are always filled with laughter and joy. In addition, his ability to break down complicated chemistry concepts and ideas into succinct and simpler steps that we can follow, allows us to grasp the subject of chemistry easily. Delivering results is not a problem for Mr. Khoo, and what makes him exceptional is the enjoyment we get during classes while learning at Focus Chemistry. " - Calvin Chia

"Mr. Khoo's lessons are not only engaging but effective. His unique methods of breaking down tougher concepts and questions helped me understand chemistry. After applying his systematic approach toward questions I was able to effectively answer questions better and faster in exams, which improved my chemistry grades. I would definitely recommend his lessons to others who want to improve as well as excel in chemistry." - Ram

"Mr. Khoo is an excellent teacher. He breaks down concepts into understandable bits of information, making chemistry a joy to learn. His patience and his vast knowledge allow students to learn more than just what is taught in school, making it a more reliable subject when learning real-world applications. Mr. Khoo is dedicated, checking in on every student after each major examination. He makes sure that the student understands their mistakes made, boosting their learning process. The three years that I spent with Mr. Khoo were undoubtedly worth it. Thanks, Mr. Khoo!" - Benjamin

Contact information

+65 9616 1651

dion.khoo@nexusconsultancy.org

Location

271 Bukit Timah Road, Balmoral Plaza, #02-11, Singapore 259708

Cost

Not mentioned
Overview
Chemyst is an IB Chemistry tuition centre providing students with high-quality exam preparation and revision resources. The centre offers small group classes (maximum 5 students from the same school) to help students get the grades they desire. Students receive access to all class recordings, comprehensive worksheets, bi-weekly tests, and a free extra class before every major exam. The centre provides tuition for Physical Chemistry, Higher Level, Standard Level, and Pre-IB. Other value-added services include the ability to clarify doubts on WhatsApp, practice questions, bi-weekly tests, and pre-EOY mock exams. Classes are grouped by the school to ensure that each student stays consistent with their school's pace for IB Chemistry. Read this article, if you want to improve your chemistry grades with our five tried and tested methods
Main features

Offers classes in a small group setting with a max of 5 students from the same school

Access to recorded classes and comprehensive worksheets

Bi-weekly tests to familiarize with IB Chemistry question formats

The free extra class before every major exam in school

Course offerings

Physical Chemistry, Higher Level, Standard Level, and Pre-IB

Reviews

"Normally don't award 5 stars, making an exception for Mr. Prakash, my daughter's IB Chem tutor. She only started Chem tuition after Yr 5 Promo exams. Mr. Prakash is patient, clear, and has sound knowledge of the subject. He was able to engage and challenge my daughter who usually finds it hard to stay focused, and had difficulties with HL Chem concepts. In fact, Chemistry became her favorite IB subject. In Yr 6 when she was facing difficulties managing her workload, Mr. Prakash would regularly check in with me if my daughter did not respond/prepare for the Chem sessions. He generously provided extra practice and coaching sessions when she really needed them, without additional charges. It is not often one sees such dedication in a private tutor. My daughter's efforts paid off in the end with a score of 7 in Chem. Grateful to Mr. Prakash for supporting and looking out for my daughter. Highly recommended!" - P R

" Will highly recommend Mr. Prakash as a Chemistry tutor. He is one of the best IB Chemistry tutors in Singapore and really has a well of resources. His personal attention to my daughter, knowing her strengths and weaknesses in the subject, helping her to love the subject, and boosting her confidence has definitely helped her to score a 7 in her Nov 22 IB Exams.Based on the experience of my eldest daughter and my trust in his expertise, I am now sending my younger daughter who is just starting IB to Prakash at Chemyst." - Shivaun Yong

Contact information

+65 91091306 , info@ibchemistry.sg

Location

5 Tank Road, #04-03, Singapore,238061

Cost

420-450 USD/ Per 4 lessons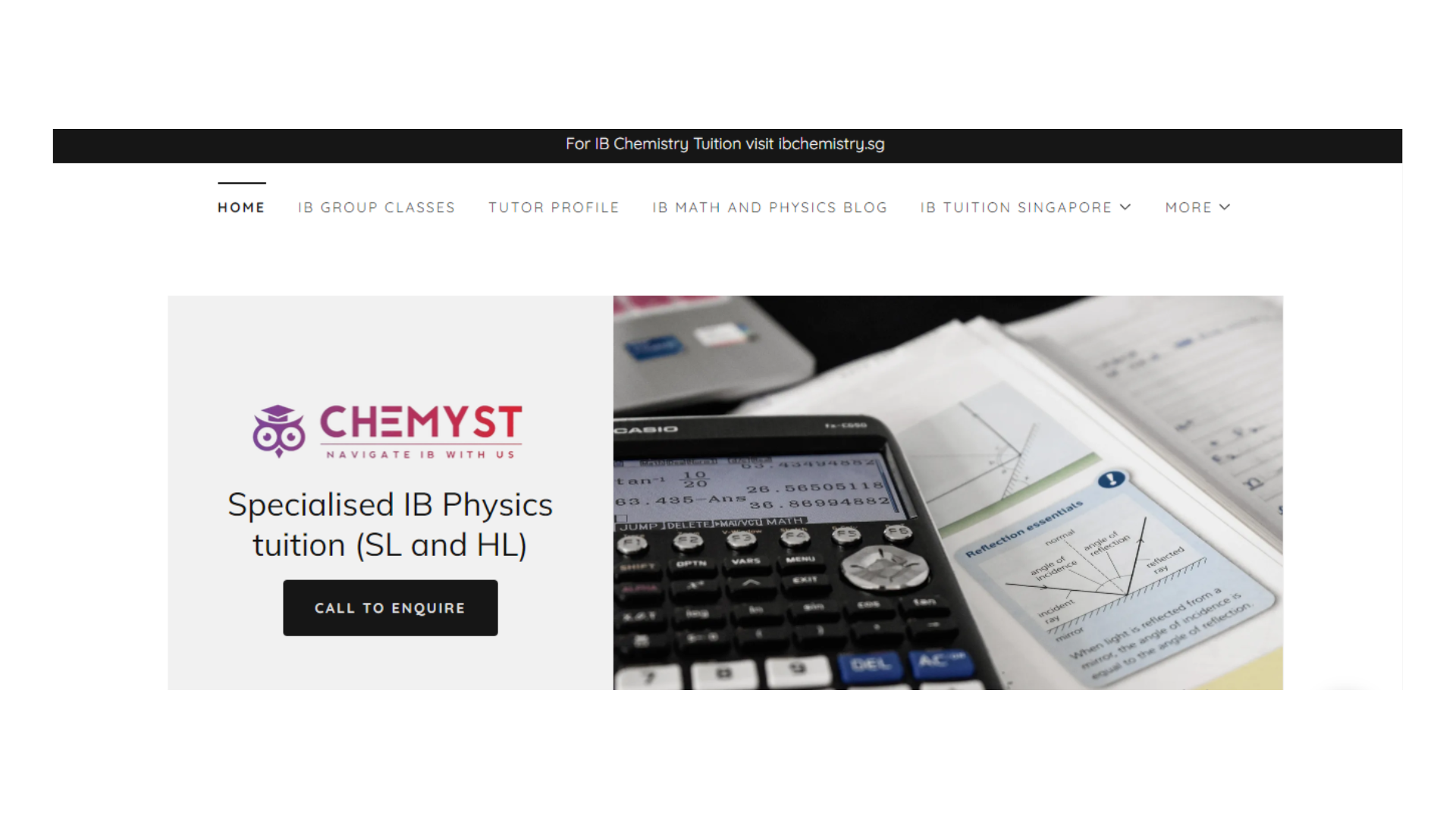 Overview
Chemyst Math and Physics is a company that offers IB Math and Physics Tuition in Singapore. Classes are conducted in small groups with a maximum of 3-4 students and are held at a central location. The tutor, Mr. Ejaz, is experienced and has helped over 60 students achieve high scores in the IB exams. Classes are recorded and can be accessed by students for review. The tutor also provides an online platform with worksheets and regular tests to help students practice. Mr. Ejaz provides full help for IB Internal Assessment (IA) and Extended Essay (EE). Check out our Best Physics Tuition Singapore Top 30 Review
Main features

Small personalized groups for individual attention

Recorded classes and online consultations available

Extensive question bank and tests to aid learning

Trial class offered to assess student needs

Assistance with IA and EE provided

Course offerings

IB Math and Physics

Reviews

"Mr. Ejaz prioritizes conceptual understanding in mathematics and is a patient tutor that will go beyond the student's needs & answer any questions at any time. Went from a 5 to 7 in literally 3 months. Highly recommend him if you are looking for a reliable IB math tutor that will journey with you all the way through." - Idris Wan

"Mr. Ejaz is a really patient tutor, going through the various topics covered in the MAA HL syllabus in depth, with a lot of resources such as worksheets, notes, and practice tests, and is always willing to clarify any doubts. He helped me to do well on school tests and the IB Exams after joining in year 6, despite struggling in year 5. Would strongly recommend to anyone that needs help in IB Math!" - Matthew Lim

"I did HL math classes with Mr. Ejaz for most of my 2 yrs in IB. Mr. Ejaz is a really helpful, kind, and understanding math teacher. He makes sure to give you lots of guidance (sharing an incredible amount of resources and practices to do, identifying weak topics, targeting areas to improve, and exam strategies too) and I managed to improve from a 4s to a 7 final score! Highly recommend :)" - Maya Hardy

Contact information

+65 97124269, ibphysicssg@gmail.com, ibmathsg@gmail.com

Location

5 Tank Road, Singapore 238061

Cost

420-450 USD/ per 4 lessons
Overview
LEARNINGSPARKS is an education centre that provides Chemistry tuition for the International Baccalaureate Diploma Programme (IBDP) and International General Certificate of Secondary Education (IGCSE). The centre offers specialized guidance in research/thinking-based projects and courses, including Internal Assessment and the Extended Essay. The goal of LEARNINGSPARKS is to provide the best supplementary education for IBDP students in Singapore and help students excel in Chemistry. Mr. Chiam conducts both online and in-person lessons and aims to provide students with a thorough understanding of the subject and problem-solving skills to excel in exams.
Main features

Experienced Chemistry tutors with years of teaching experience in IBDP at Anglo-Chinese School (Independent).

Specialist guidance in handling research/thinking-based projects such as Internal Assessment and Extended Essay.

Offering online and face-to-face lessons to help students excel in Chemistry.

Positive feedback from students and a commitment to help students maximize their potential in Chemistry.

Course offerings

IBDP Chemistry; IGCSE Chemistry; Internal Assessment (IA); Chemistry extended essay

Contact information

+65 9336 9897, learningsparks.education@protonmail.com

Location

Tanglin Shopping Centre #05-16, 19 Tanglin Rd, Singapore, Central 247909

Cost

520 USD/ per month
Overview
MindCraft Education is an education centre that provides private tuition in a small classroom-based setting. The centre focuses on an exam-oriented approach and offers experienced teachers in all subjects. With a proven track record of 90% of students improving by at least 10%, the centre uses advanced education techniques such as Mind Maps and video references. The centre also offers monthly updates on the student's progress and full access to international and local school exam papers. Additionally, the centre promises to continuously elevate itself through innovation, commitment to results, and superior customer service with a focus on close relationship and open communication with the students and their parents.
Main features

Committed to providing the best resources and environment for student success

Dedicated to continuously elevating themselves through innovation and commitment to results

Provides monthly updates on student progress

Offers private tuition approach in a small classroom-based environment

Maintains close relationship and open communication with students and their families

Uses advanced education techniques and methods such as Mind Maps, Video References, and Point Reward System.

Course offerings

English, math, science, physics, chemistry, biology, social studies, geography

Reviews

"When I first started in Math and English, I really dislike problem sums and reading. However, after learning through mind maps and the videos, Math became fun and I improved from 50+ to 70+. Also, my English got better even though I still dislike it. I enjoy learning at Mindcraft Education very much!" - Nick Junghyun

"Initially I had difficulties understanding certain mathematical concepts. However, after I joined Mindcraft Education, I developed a deep appreciation for Math which helped me improve my grade from a C5 to an A1. Now I teach my friends in school!" - Jeremy Tan

"Mindcraft Education has helped me to improve my results! I have learnt to read faster, draw mind maps and develop a passion for Math and Science. We do get a lot of homework, however, I have improved my Math result from 76% to 98% (topped the class) and my Science result from 74 to 85 last year! I will encourage everyone to enroll as it improves your results." - Bhairavi Bhaskar

Contact information

(+65) 8157 0063, Contact@MindcraftEducation.com

Location

132 Onan road Singapore(424540)

Cost

Not mentioned
Overview
Young Scholarz is an educational centre that aims to equip students with lifelong learning strategies to prepare them for school, university, and beyond. It has a mission to empower students and a vision to build an international educational community. The core values of Young Scholarz include excellence, integrity, continuous learning, and adaptability. The centre adopts a hybrid model of 1:1 and group classes and uses a systematic and analytical approach to teaching. The curriculum covers subjects like English Literature, World Literature, Economics, Business Studies, and more, with a focus on IGCSE and Pre-IGCSE levels. The centre also provides extensive exam practice and tailored feedback on assignments to help students achieve excellence.
Main features

Lifelong learning: Young Scholarz aims to equip students with lifelong learning strategies that prepare them for school, university, and beyond.

Experienced and passionate teachers: Young Scholarz has a team of experienced and passionate teachers who offer customized teaching programs to help students succeed.

Structured approach: The centre teaches with a systematic and structured approach, helping students see improvement in all aspects of their learning.

Focus on English Language and Literature: Young Scholarz places a strong emphasis on the importance of understanding English Language and Literature, and how it underpins many other academic subjects.

Course offerings

IB English Language & Literature IB English Literature IB Economics IB Business Management IB Psychology IB French IB German IB Spanish Theory of Knowledge (ToK) Extended Essay (EE)

Reviews

"Hi Sunita, wanted to express my sincere thanks and gratitude for the wonderful job that you have done by teaching Tanya and preparing her for the IGCSE exams this year. Your assignments were hard but she learned a lot from them. Your classroom sessions gave her the self-confidence to clarify all her doubts and follow her dreams. Without your support and guidance as an amazing teacher, Tanya would not have achieved success. As a parent, I also observed your efforts, dedication, and hard work as a teacher. The time you spent during and after the class giving Tanya individual attention to make sure she understood well and providing regular feedback to the parents goes above and beyond the call of duty. Thank you very much." - Seema Jain

"Great group of people, Increasing children's participation in science has a positive impact on the community. Wonderful place to learn and grow!" - Karthik Kumar

" I owe and thank her for my A*s in IGCSE English and my 7 in IB English. I learned English from Ms. Sunita for almost 4 years and she not only taught the content in a concise and understandable way, but she also helped build my confidence in the subject. I am so grateful for how she always went the extra mile to make sure I learn concepts thoroughly and get exemplary grades as a result of it, be it in my writing exams or projects." - Gaythri Iyer

Contact information

+65 82281164, youngscholarz.office@gmail.com

Location

Tanjong Rhu Road, Singapore 436896

Cost

Not mentioned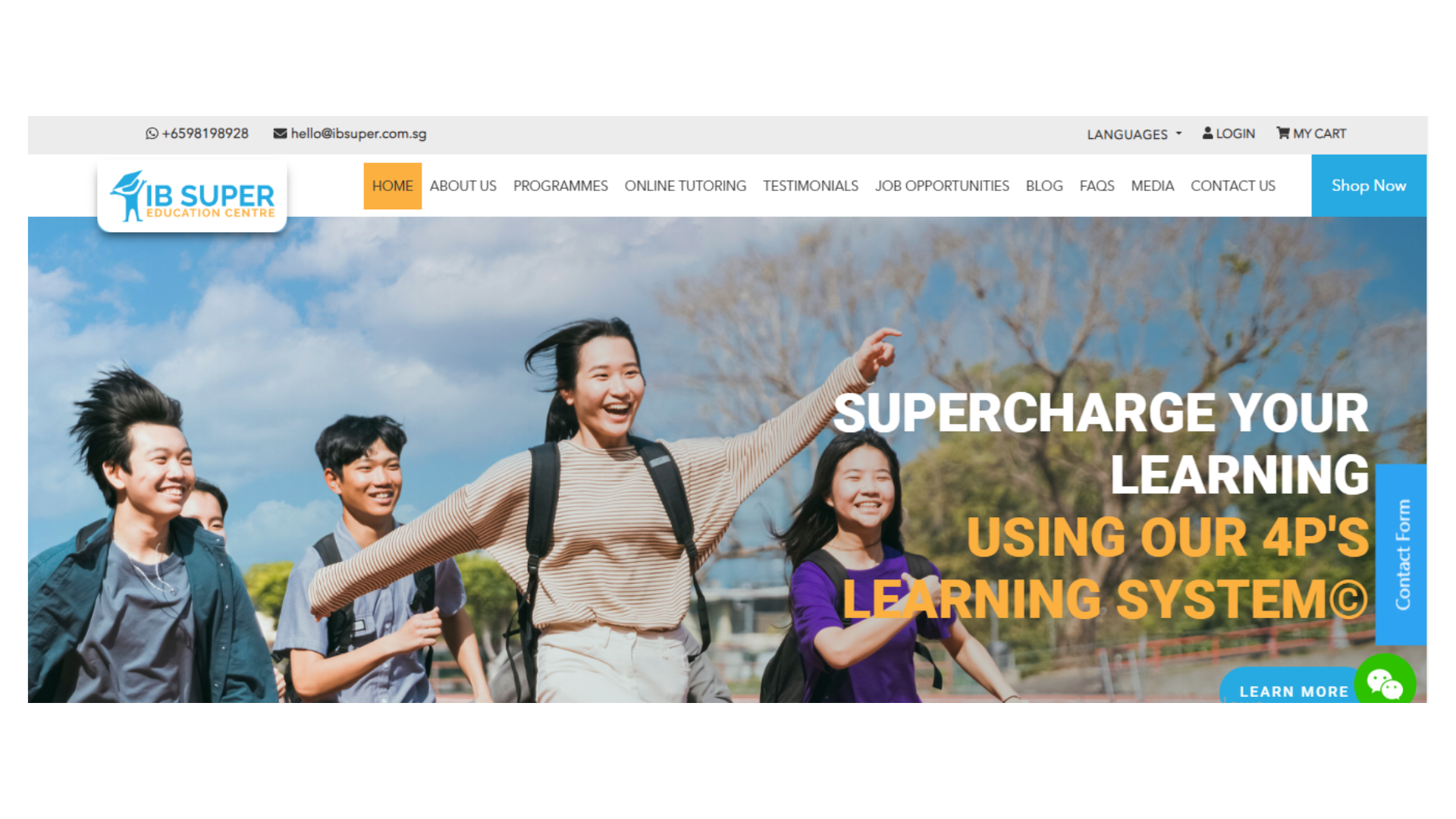 Overview
IB Super is a comprehensive and reliable tuition centre located in Dhoby Ghaut, Singapore. They offer a variety of programs ranging from IB math to IGCSE and JC tutoring, both in-person and online. The centre uses a 4P's Learning System that is based on Cognitive theory and 20 years of pedagogical experience, which focuses on prior knowledge, present knowledge, practice and personalization. The results-oriented approach of IB Super has led to 95% of their students achieving a 1 to 3-grade improvement within three months. The centre has been endorsed by reputable publications in Singapore and has a high recommendation rate, with 99% of students recommending it to their friends. IB Super is committed to helping students achieve their fullest potential and become the superstar they were meant to be.
Main features

Evidence-based solution supported by Cognitive theory and pedagogical experience

Experienced and well-trained educators who are passionate about helping students

Conveniently located in Dhoby Ghaut, Singapore

95% of students have seen a 1 to 3 grade improvement within three months of joining

Small group sizes for undivided attention during classes

Course offerings

IB Mathematics Analysis and Approaches (AA), IB Mathematics Applications and Interpretations (AI), Economics HL and SL, IB Biology, IB Chemistry, IB Physics

Reviews

Attended both IB MAA and chem lessons, very helpful in improving my grades and ms bel is open to flexible timings and extra sessions if needed." - Mu Xun Yang

"IB super gave me a lot more confidence in tackling math problems and I found their resources very useful. My grades improved a lot and Ms. Bel helped me rekindle my long-lost interest in maths. She was also able to pace each lesson according to my needs and allowed me to form a deeper understanding of each topic. Maths is now one of my highest scoring subjects I would highly recommend IB super to anyone who needs help in Mathematics :)" - Renee Yadav

"Before I attended IB Super, I was struggling a lot with math and was not enjoying it at all. However, the lessons that Ms. Bel conducted made it feel a lot more tolerable and I ended up actually having a lot more fun with it because of the environment that she sets up and how her teaching can feel curated to work on my weaknesses because of how personal the lessons can feel even when I attended in a group. These lessons then managed to push my grades up from failing scores to ones that I felt very satisfied and happy with. They also helped to prepare me for IB and I now feel like I'm at a position where I am able to sustain my own math learning because of the skills and momentum I got from her lessons." - Clayton Worrall

Contact information

98198928 , hello@ibsuper.com.sg

Location

190 Clemenceau Avenue, Singapore Shopping Centre, #05-33, Singapore 239924

Cost

Not mentioned
Overview
IB Lounge is a tutoring centre that provides students with teachers who genuinely care for their well-being and are passionate about inspiring students to enjoy learning. The tutors at IB Lounge are mostly young, energetic, and relatable, as they have recently completed the IBDP journey themselves and can empathize with the struggles faced by students. The tutors are selected through a personal vetting process to ensure they have a genuine desire to help their students succeed. The main focus of IB Lounge is not just to teach content or prepare students for exams, but to create an engaging and interesting learning experience where students feel comfortable sharing their challenges and building a connection with their tutors. The goal is to inspire students to appreciate and enjoy learning, not just see it as a chore. The tutors at IB Lounge believe in the exchange of ideas and view each lesson as an opportunity for everyone to learn something new.
Main features

Personalized tutoring: Each student is assigned a tutor who is best suited for their needs and learning style.

Vetting of tutors: IB Lounge carefully selects its tutors and only hires those who have genuine care for their students.

Young and relatable tutors: Most of the tutors at IB Lounge are young and have recently completed the IBDP journey themselves, which makes them more relatable to their students.

Focus on inspiration and engagement: The tutors at IB Lounge aim to inspire and engage their students in learning, rather than just teaching content.

Course offerings

TOK, English, Mathematics, Chinese, Economics, Geography, Biology, Chemistry, Physics, History, Business Management

Reviews

The teachers are very encouraging and great to interact with, which motivates the students a lot. The lessons are also very engaging and interesting and allowed me to learn at a faster pace. This helped me to improve my scores in geography and biology and made me more passionate about my studies in those subjects. Thank u ib lounge:)" - Giorno Giovana

"IB Lounge's collection of relatable and distinguished IB graduates is what separates them from other tuition centres whose teachers are rarely truly acquainted with the IB syllabus. My tutor is engaging, efficient, and well prepared, wasting no time to solidify the concepts I am weak in with each lesson. The results of their teaching have manifested in my 5-grade improvement in the main subject I had taken with them. I would definitely recommend the tuition centre for other IB kiddos." - Zaer Zaqy

Contact information

+65 80235339, contact@iblounge.org

Location

20 Kramat Lane, United House #02-07 Singapore 228773

Cost

90-155 USD/ Per class


Overview




It provides personalized tuition services in the subjects of Math, Physics, History, Economics, Chemistry, Theory of Knowledge, and Language/Literature. The centre is staffed by a team of experienced teachers, each with their area of expertise. With experienced and dedicated math teachers, the organization aims to help students overcome their difficulties and excel in mathematics by providing personalized and interactive lessons.
Main features

Experienced and qualified Maths teachers

Individualized attention to students

Structured curriculum and teaching methods

Emphasis on problem-solving skills

Focus on overall student development, not just academic performance.

Course offerings

Math, Physics, History, Economics, Chemistry, Theory of Knowledge, and Language/Literature

Reviews

"Excellent and dedicated group of tutors who are extremely committed to teaching their students! They ensure that the students understand the concepts completely with utmost patience in their teaching. My child who was tutored by 2 of their tutors improved substantially and greatly enjoyed their lessons!" - Jiaye Goh

"Before going for Mr. Goh's lessons, I consistently had gotten a Grade 2-3 for the various tests and exams. After his committed tutelage, I have managed to attain a Grade 7 in the IB Math AA syllabus examination in a relatively short time frame. Mr. Goh, paced me to learn the topics with sufficient depth while making the necessary connections with other topics. He starts off with a simple idea and builds on it to a complex idea so that you can truly appreciate the beauty behind every theory or formula. Mathematics became less mundane and more fun to learn. Internal Assessment (IA) for mathematics is particularly daunting for many, as teachers in school typically provide skimpy feedback, owing to time constraints and IB restrictions. Especially when I'm doing IA, he has provided very good ideas as well as consistent and detailed guidance, for after his years of experience as an IB teacher, he knows precisely what the examiners are looking for. Since IA is a very important component of the grade, as it constitutes 20% of the final grade, Mr. Goh has helped me secure a high grade in IA and I therefore would not have as much pressure to do extremely well for the final written examination. Lastly, Mr. Goh teaches you certain GDC savviness that are unknown to students and teachers to not only double check but more importantly, obtains the answers in the fastest manner. Time is of the essence in Math AA syllabus examinations and these skills will be essential in maximizing your grades." - Kaile

"Mr. Goh is an exceptional educator with the ability to pinpoint and address specific gaps in his students' understanding. He possesses a strong grasp of the subject given his many years of teaching, which allows him to clearly teach his students his own incredible exam strategies and best methods to tackle trickier questions. Additionally, he has initiative and often attends courses about math and bothers to find out changes in its testing over the years, hence placing him ahead of regular school teachers in terms of understanding. Though I only had less than 4 months of time with him, he was miraculously able to push my Mathematics grade from 3 in CTs to 7 in IB examinations. I strongly recommend him to any student interested in truly appreciating the subject and eager to actually internalize how to approach it correctly." - Win Khi

Contact information

+65 96980688, aceinmaths@gmail.com

Location

12 Tao Ching Rd, Lake 618726, Singapore

Cost

Not mentioned
Overview
IB Biology Tuition is a tuition centre that offers experienced and personalized coaching to students pursuing International Baccalaureate (IB) Biology and IGCSE Biology. The centre is led by Sutha Ramakrishnan, who has over 15 years of experience in teaching IB Biology and IGCSE Biology. She has an excellent record of producing grade 7s among her students and was also an official IB Biology examiner. The centre offers group and individual tuitions, topic-wise coaching and revision for IB Biology Higher and Standard level. The aim of the centre is to help students achieve academic success through inspiration, patience and personalized coaching.
Main features

Personalized coaching: The teacher believes in inspiring and guiding students to achieve academic success through personalized coaching and attention.

Excellent record: The teacher has an excellent record of producing high-performing students, with a grade 7 rate of approximately 40% per student batch.

Official IB Biology examiner: The teacher was an official IB Biology examiner, which gives her in-depth knowledge of the examination process and helps her prepare students effectively.

Expert in internal assessments and extended essays: The teacher is an expert in guiding students through the internal assessments and extended essays, which are a significant part of the IB Biology curriculum.

Course offerings

Biology

Contact information

+65 9423 2305

Location

6 Petir Road, Singapore 678267

Cost

Not mentioned
Overview
7Acad is a boutique International Baccalaureate (IB) Tuition centre in Singapore that provides personalized, interactive, and enjoyable education for students. The centre is staffed by full-time teachers who are IBDP graduates and are passionate and knowledgeable about the course. They aim to score the attainable 7, learning from IBDP graduates through relatable techniques. The centre is designed to be a luxurious and professional learning environment with a focus on interactive learning, communal learning, and comfortable surroundings. The goal of 7Acad is to provide students with a brand synonymous with luxurious, professional and inspiring quality of education.
Main features

Personalized teaching approach, with each teacher adapting to the student's personal style.

Interactive and engaging learning experience.

Study in a conducive and comfortable environment with a group of like-minded individuals.

Emphasis on critical thinking and broader context of the subject material.

Passionate and relatable tutors who are IBDP graduates.

Course offerings

Biology, Chemistry, Physics, Maths AA & AI, Business Management, Economics, Literature, Language & Literature, Geography, History

Contact information

(+65) 9079 4585, study@7Acad.com

Location

617 Bukit Timah Rd, Singapore 269718

Cost

477-663 USD/ per 4 lesson
Overview
Future Academy is a MOE registered tuition centre in Singapore with two convenient locations. Led by former Raffles Girls' School teacher Ms. Chen and former Hwa Chong Institution Head-of-Department of Maths Mr. Lau, the centre offers 1v6 small group tuition in various subjects from Primary 4 to JC 2, including Maths and Science. With experienced and top-level tutors from top IP/SAP schools, Future Academy aims to empower students' success with tailored learning programs and regular progress updates. The centre's small group approach and high-quality tuition have proven to be beneficial for both teachers and students.
Main features

Wide range of classes provided

Quality control with monitoring of student feedback and exam results

Small group classes with a 6:1 student-teacher ratio

Teaching approach that emphasizes student motivation

Two branches in central locations with easy accessibility.

Course offerings

Math, Chemistry, Biology, Science, English, Physics, Chinese, Economics

Reviews

"Being in a top school, I used to find math difficult and stressful. The curriculum was highly aggressive. However, after joining the centre I am finally able to understand the deep intricacies of mathematics. The tutors were able to clearly explain in depth the many solutions to the problems I faced. So I must say a very big thank you to all the teachers at the centre for helping me on this journey." - Jason Huang

"Excellent and all-rounded tuition centre. Provides tuition for a variety of subjects with highly dedicated and amazing teachers! They are extremely helpful and do their best to help you with whatever problem you have. The teachers' teaching style is unique and they can adjust the lessons to the topics that you are facing difficulty in." - Ethan P

"My teacher, Ms. Chen, from this tuition centre has helped me pull my grades up from b to straight a's in a matter of 2 terms. I am extremely thankful and highly recommend this tuition centre to anyone who is struggling in math. The environment is very conducive for learning and they try to make the lessons as engaging as possible by using hybrid learning." - Hannah Teo

Contact information

+65 68846566, info@fa.edu.sg

Location

175A Bencoolen Street #06-05, Burlington Square, Singapore 189650
381 Lor 1 Toa Payoh #01-12, OnePeople.sg, Singapore 319758

Cost

400-560 USD/per 4 lessons
Overview
Studious Minds is a Singapore-based educational centre founded by Alex and Jes in 2021. The centre provides affordable and high-quality Math and O-level Chemistry tuition services and other educational programs. With over 13 years of teaching experience, the husband-wife duo has helped more than 600 students excel in their IP, GCE O-Level, GCE A-Level, and IB exams. The centre adopts a personalized approach and focuses on making learning fun and simplifying concepts. Classes are kept small to ensure each student receives personalized attention and support. The centre also provides WhatsApp consultations, 1-to-1 consultations, and regular class options with experienced tutors. Regular classes are held once per week and students are exposed to tough application questions to develop their thought processes.
Main features

Personalized approach: Tutors are trained to cater to each student's unique learning style and pace.

Simplifying concepts: Complicated concepts are broken down into easy-to-understand information.

Making learning fun: Tutors make lessons engaging and enjoyable for students.

High-quality materials: Clear and concise materials are developed in-house by experienced tutors.

Small class size: Classes are kept small to ensure each student receives personal attention.

WhatsApp consultation: Students can text their tutor directly for subject-related questions.

Course offerings

Chemistry, Maths

Reviews

"Chemistry was always one of the toughest subjects for me and I was never able to score well for it. But after joining Mr. Toh's classes, I have so much more confidence in the subject and was eventually able to score a distinction in my final exams. Chemistry was a nightmare subject for me and I struggled tremendously with it. Not only did Mr. Toh help me understand the concepts easily, but his constant encouragement was also what kept me motivated to want to do well in the subject. I really enjoyed his classes which in turn made me enjoy the subject better. One thing that made him stand out from all other tutors is that he will never give up on any student even if we were on the verge of giving in. And that is something which we all appreciate and like about him." - Lim Xing Ying

"Before Ms. Jes was my tutor, I was severely struggling with IP maths, barely even passing every exam. However, after she started helping me with my Maths, my grades increased exponentially with both my Advanced Math and Core Math scoring distinctions within a few months. Ms. Jes definitely saved my grades and she even instill in me the joy of doing Mathematics. Her constant pushing and encouragement allow me to quickly adjust to being able to do many challenging questions, giving me the base required to excel in exams. I even received the most improved award in class for Maths! Her teaching methods have built so much confidence in me that I am now able to breeze through my IB Maths without any help from anyone." - Dominique Ku

"I enrolled in Mr. Alex's class in July of my Sec 3 year due to consistent E8s and F9s in my Chemistry test and exams. I used to dread the subject and have lost all motivation to do well in it. But after attending Mr. Alex's classes, I could understand the concepts so much better. His classes are structured in a way that made learning enjoyable and easy, which helped me get interested in the subject. With his guidance, I managed to clinch an A1 during my Sec 3 EOY exams within a few months! Mr. Alex is a very caring, supportive, and dedicated tutor who will go out of his way to help a student do well. His lessons are engaging and his passion for the subject is evident in his teaching methods, which in turn act as an inspiration for all of us." - V Narthananilaa

Contact information

+65 8847 1585, admin@studiousminds.sg

Location

20 Kramat Lane, United House, #05-02, Singapore 228773

Cost

300-400 USD/ per 4 lessons

Overview
It is staffed by three experienced NIE-trained math teachers, each with over 10,000 hours of teaching experience, who have a proven track record of helping students succeed. The centre offers personalized and flexible lessons, bespoke notes, and a relaxing study environment. Aces Aspire values the development of its students and aims to foster a self-driven mindset and stimulate intellectual curiosity. The teachers are dedicated, committed, and strive to make every lesson a personal experience. The center is located in a convenient location for easy accessibility for students.
Main features

Small class size (max 9 students per class) to ensure effective and dedicated teaching

Bespoke notes designed to help students grasp concepts easily

Flexible lesson timings to accommodate students' schedules

Friendly and approachable teachers who are passionate about helping students understand Math

Free Grab rides for students

Course offerings

Maths, Economics, TOK, Language and Literature

Reviews

"Mr. Mac is a very fun and outgoing tutor. He constantly checks that you understand what he went through before moving on as well as constantly reminds us of important or crucial pointers. He has clarified a lot of my misunderstandings and his explanations of mathematical concepts are very clear which helped me significantly. He is very approachable and would go out of his way to answer any questions or give consultations if needed. He makes his classes less stressful and more enjoyable by engaging in small talks and jokes at appropriate times." - Anson Gan

"Mr. Mac is a really patient and chill teacher that explains math concepts well. Instead of solely memorizing concepts, he ensures that students are able to grasp an understanding of what they are learning. I think this makes learning math more enjoyable. He also clarified a lot of my misconceptions that I had as well as provided many tips and tricks that I previously did not know about. Lastly, Mr. Mac is also encouraging and frequently encourages his students." - Jia Xin

"I was a student undertaking the IB program with HL Math as one of my subjects. There were topics, such as complex numbers, that I had some difficulty grasping the concepts. Thankfully I had AcesMath! to assist me in my learning journey. The tutor has very strong mathematical knowledge of each topic of the syllabus and even for Paper 3, where questions that are out of the syllabus are tested, enabling him to explain any questions I had clearly and effectively. The resources provided here are also well-curated, an integral part of being able to learn and apply mathematical knowledge. This tuition was an integral part in the improvements I saw in my mathematics examinations. Overall, I had an excellent tuition experience here." - Jay

Contact information

(+65) 9723 4217, admin@aces-aspire.com

Location

587 Bukit Timah Road, Coronation Plaza #03-14,Singapore 269 707

Cost

Not mentioned
Overview
AfterSkool is a MOE-accredited tutoring centre in Singapore, providing coaching for students to excel in 'O' Levels, 'A' Levels, IBDP, IGCSE and Integrated Program. Their specialties are in Economics, Mathematics and Sciences. They have a team of 18 full-time MOE-certified tutors and 19 classrooms equipped with teaching technologies like projectors and visualizers. They have served over 2500 students since 2012 and have a mission to nurture students to be successful individuals through effective pedagogy in a motivating environment. Their classes are small, usually capped at 10 students, with a student-to-teacher ratio of 5-8, enabling individual attention from tutors. Their curriculum is reviewed regularly to keep up with the MOE syllabus and they also produce their own reviewed subject materials for easy revision. Early preparation and comprehensive revision sessions are provided throughout the year. In addition, self-study areas and refreshments are available for students. The centre is conveniently located near the Holland Village and Commonwealth MRT stations.
Main features

Conveniently located in central-west Singapore, near Holland Village and Commonwealth MRT stations

Holistic curriculum and effective pedagogy for student success

Small class sizes with a student-to-teacher ratio of 5-8 students per teacher

Customized materials reviewed and aligned with MOE syllabus

Early and comprehensive preparation for subjects, including intensive remedial sessions

Course offerings

Economics, Maths, Sciences

Reviews

"Learning here was an amazing experience with the highly productive work environments with the amazingly effective teachers who always ensure that their points are carried across clearly and that homework is always done. Probably the best tuition centre I've been to and that says a lot considering that I've been between tuition centres often." - Giyuu Tomcat

"Afterskool is THE BEST tuition centre you can ever go to, if you are struggling in any subject, just join and you will be an immediate god of the subject such that you will be smiling while doing any papers because Afterskool will make learning fun. The environment is very chill and not stressful and the teachers are friendly and good, making learning effective. I 100% encourage anyone struggling in their studies to join afterskool." - Charleston Low

"Kelly is so good at teaching chemistry. Going for her lessons make me so happy and joyous inside and every shameful act that i have done in my past 18 years of life was cleansed away once i stepped foot into her Afterskool class. Her teaching style is impeccable and made me learn 10x more than any school teacher would ever accomplish. 10/10 teaching! i will get only 7 points for IB and all of it will be chemistry." - Dylan Loh

Contact information

+65 6339 6787 , admissions@afterskool.edu.sg

Location

31 Holland Close 01-215/217, Singapore, 270031

Cost

360-480 SGD

Some final words
In conclusion, when choosing an IB tuition centre in Singapore, it is important to take into consideration several key factors such as the qualifications of the tutors, the reputation of the centre, the course offerings, location and availability, and cost. These factors will help ensure that you choose a centre that provides the best possible educational experience for your child.
To make the process of finding the best centre easier, consider reaching out to a registered tuition agency like Tutor City. With our vast network of qualified and experienced tutors, we can help you find the right center to meet your child's needs and help them succeed in the IB program.