Best IP Tuition in Singapore - Top 25 Review
For many parents and students alike, being able to enter an Integrated Programme (IP) school after PSLE is the ultimate goal. Under this route, students get to bypass the 'O' Levels, skipping straight to 'A' Levels or a Diploma after six years.
Although there are many advantages of this route, there can be a huge drawback if students do not end up doing well at the final hurdle. All they will end up with is a PSLE certificate, falling short of their counterparts who at least have an 'O' Levels certificate to show for it.
On the other hand, students will have more opportunities to develop their skills and interests in various areas, academic and non-academic.
Without the pressure of taking and preparing for a national exam at the Secondary 4 level, students can afford to focus more on activities that contribute towards the making of a holistic education. At the same time, it's important to keep in mind that building a solid foundation is crucial for the moment they finally step into the exam hall two years later.
The Importance of Tuition for IP Students
Because IP students do not have to prepare for a national exam at the 4-year mark, it can seem like there's no urgency to build up a strong foundation and start working on areas and subjects of weakness. However, this is where it's vital to start preparing early. Internal school exams can be a good gauge of how IP students are faring compared to their peers, and here is also where students can get a better understanding of which subjects they would like to take at 'A' Levels as well as the ones they need help with.
It is especially crucial for IP students to maintain a high level of self-discipline and keep an eye on their progress throughout their academic journey. Without the pressure of a national exam at the midpoint, students run a high risk of losing focus and as a result, losing their competitive edge at the finish line.
Why You Should Consider IP Tuition Classes
Although IP students may not need to prepare for 'O' Levels, there are many good reasons to keep your grades up throughout the first four years. You can do that by selecting a tuition centre that follows the MOE IP syllabus.
Below are some of the benefits you can reap from IP tuition classes:
Identify your strengths and weaknesses earlier: The sooner you know what you need help with, the more time you will have to work on improving your grades before the final hurdle rolls around.

Teaching pace catered to individual students: In school, topics are often covered in chronological order and students who fail to keep up with the teaching pace can get left behind. Despite teachers' best intentions, it's often not possible to provide individual consultations for each student. Here is where tuition can step in to fill the gap, allowing students to benefit from more individualised attention.

Obtain a competitive edge: It's never too early to start preparing for battle. Parents in particular may be concerned about how their child is doing academically when compared to their peers. IP tuitions offer students a valuable chance to get ahead by providing them with additional revision notes, practices and quizzes that have been specially prepared by qualified tutors.

Boost confidence: With the immense pressure on IP students to do well in 'A' Levels and the comparison that can take place amongst classmates, it's easy for students to suffer a knock to their confidence. This can result in them being afraid to ask questions for fear of judgment or being deemed stupid. IP tuition can help to bring students' confidence levels back up, with tutors who are willing and able to answer any questions they may have.
With so many potential benefits that can be reaped from IP tuition, it's now a matter of selecting the best tutor or tuition centre that will tick all your boxes. Regardless of the specific subject(s) you are seeking tuition for, whether that is English or Science, read on to find out our top recommendations!

Top 25 IP Tuition Centres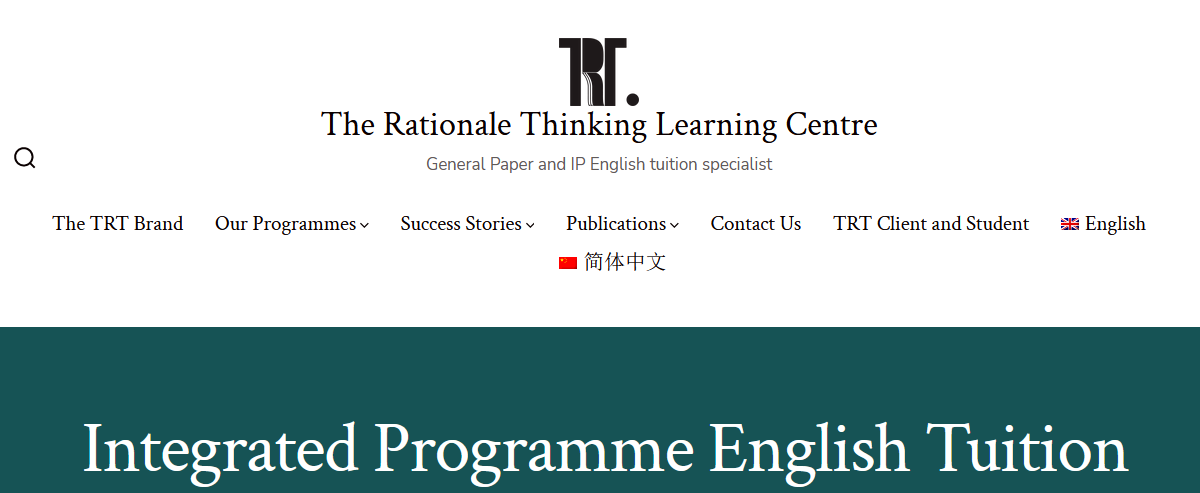 Offering both IP English and 'A' Levels GP classes, this tuition centre focuses on assisting IP students to take on the final hurdle successfully. Teaching is carried out on a progressive model, and students get to discuss current affairs and socio-economic issues that they will be focusing more heavily on when they move on to tackle GP. At the same time, students will be also be able to strengthen their Language Arts skills, which will serve them well when it comes to scoring in school examinations.
Name

The Rationale Thinking Learning Centre

Website

https://therationalethinking.com/

Contact Details

Call/SMS: 6980 3149

Outlets

121 Bishan Street 12, #01-89, Singapore 570121

Levels & Subjects

IP English

Unique Selling Points

Model essays available online: Students can benefit from a range of online publications, both for IP English and GP. These essays are curated by an in-house research team to ensure that students have access to the best resources possible.

Holistic curriculum: The curriculum has an equal focus on linguistic skills and critical thinking. Through mastering the English language at an earlier stage, students will be well prepared to score an 'A' in GP down the road.

Students' Reviews

Mr Wong's dedication towards his students is amazing. My English has improved exponentially under his guidance from O levels til A levels and outside of the classroom, he also provided advice for me regarding my future and further education. Really grateful to be taught under him! :)

Review by Josephine Agatha Hemingway

Prior to joining Mr Wong's tuition class at the beginning of June, I had barely scraped a meagre 2.5 GPA. I had difficulty with inference, paraphrasing and had no idea whatsoever of linguistic skills. It was not just comprehension skills which I had trouble with, but I was also at a loss about the structure of expository writing. Mr Wong, who shows a burning passion for teaching, constantly gives feedback and guidance for me to improve, even going the extra mile to make his own set of notes and practices. Furthermore, he strongly emphasises on using articles from a variety of credible sources which provide his students with ample content, and produces his own model essays. Despite Mr Wong's lessons being a group tuition, he still ensures that he attends to the needs of each student, and always offers a helping hand to assist any individual in grasping each topic. During the short time of just 2 months with Mr Wong, I was able to pull up my GPA to a 4.0. I am thankful for Mr Wong's guidance and tutelage in helping me to achieve this substantial achievement.

Review by Daniel
2. SG Physics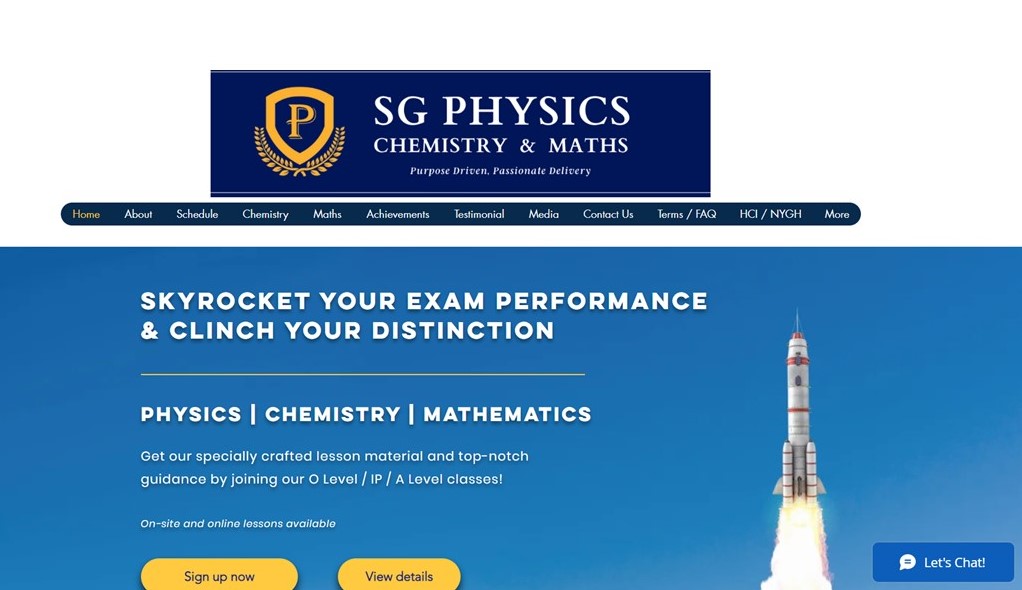 SG Physics, Chemistry, Math is a highly esteemed tuition centre with a rich history spanning nearly a decade. Renowned for its exceptional standards, the centre boasts a team of seven accomplished tutors who bring a wealth of expertise to the table. Their impressive credentials include being PSC scholars, former heads of department in the Ministry of Education, published authors of esteemed O and A levels assessment books, and recipients of prestigious teaching awards.
At SG Physics, Chemistry, Math, the core teaching philosophies revolve around igniting students' interest, fostering self-motivation, and ensuring a comprehensive grasp of the subjects.
The centre's first priority is to ignite students' interest in Physics, Chemistry, and Math. Through captivating teaching methods, real-life applications, and interactive experiments, students are inspired to explore the depths of these subjects and uncover their practical relevance and intrinsic allure.
Creating a positive learning environment is paramount at SG Physics, Chemistry, Math. Here, students are empowered to become self-motivated learners. The nurturing atmosphere encourages questioning, celebrates innovative ideas, and recognizes individual strengths. By fostering confidence and self-belief, students are motivated to embrace challenges and reach their full potential.
Comprehensive understanding is the hallmark of SG Physics, Chemistry, Math. The tutors employ a clear and thorough teaching approach, breaking down complex concepts into easily digestible components. Emphasising conceptual understanding, practical application, and problem-solving skills, they equip students with the necessary tools to excel in their examinations. Through personalised attention and guidance, the centre ensures that each student's unique learning needs are met.
Name

SG Physics, Chemistry, Math

Website

https://www.sgphysics.com/

Contact Details

Call/Whatsapp: 81356556

Email: admin@wynnedu.com

Outlets

1. Bishan
513 Bishan Street 13, #01-500, Singapore 570513 (Besides Bishan Bus Interchange)

2. Bukit Timah
170 Upper Bukit Timah Rd, B2-13B, Bukit Timah Shopping Centre, Singapore 588179 (Besides Beauty World MRT)

3. Jurong East
135 Jurong Gateway Road, #04-315, Singapore 600135 (Besides Jcube Shopping Centre)

4. Tampines
Block 201E, Tampines Street 23, #02-106, Singapore 527201 (Besides Tampines East CC)

Level & Subjects

Secondary/JC Physics, Chemistry, Math

Unique Selling Points

- Qualified tutors: award-winning, top-rated former MOE teachers, quality of teaching is ensured.
- Learning materials: pictorial notes that effectively simplifies complex concepts, especially useful for visual learners
- Specialists: highly specialised tuition in only maths and sciences, expert in physics syllabus and topics.

Track records: Excellent reviews by past and current students emphasising their improvement in grades. For Secondary subjects, generally about 80%-85% of students scored between Grade A1 - B3 after attending lessons. For JC subjects, generally about 80%-85% of students scored between Grade A - B after attending lessons

Students' reviews

1. Mr Lee made me enjoy Physics because he makes the lessons interesting and easy to understand. He would always check with the class to ensure that we understand the concepts and is quick and patient in clarifying my doubts whenever I need help in doing any physics question. He also teaches the class useful methods in solving questions which allows me to solve them easily and quickly.
Review by Sharleez

2. Mr Khoo is a very dedicated physics teacher who never fails to explain concepts clearly and concisely when we are learning new syllabus content. We are also provided with decent volumes of practice questions which thoroughly covers all corners of the syllabus scope which aids in increasing our exposure to various question types. Mr Khoo can also relate very well to the problems and misconceptions which we as students face when studying the subject. Thanks to his guidance, I was able to go from barely scraping through physics class to achieving 84/100 for my physics final examination (our equivalent of the O-levels)!
Review by Miguel Lim

3. I think Mr Quek is a really dedicated and emphatic teacher that goes out of his way to care for our welfare and general well being! He is also really generous in terms of giving us consultations during the holiday breaks, as well as recorded videos for us to catch up on Physics concepts.
Review by Charlotte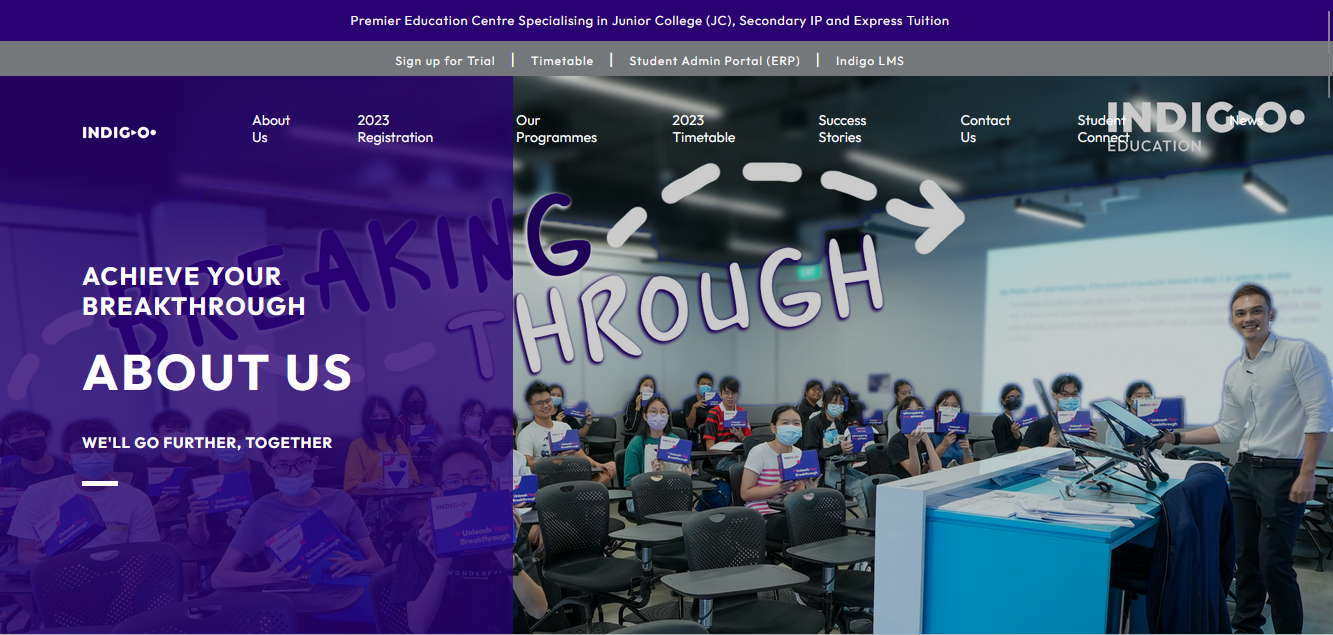 At Indigo, the focus is on the complete learning experience. Through utilising high-quality study materials and after-hours support, students are empowered to achieve the academic breakthrough that will see their grades improve and their confidence soar. Study materials are constantly being updated as the syllabus changes and new information becomes available. In addition, students who miss a class have the flexibility to request for a replacement session at their convenience.
Name

The Indigo Experience

Website

https://indigo.com.sg/

Contact Details

Call/SMS: 6634 2208

Email: contact@indigogroup.com.sg

Outlets

Balmoral Plaza

271 Bukit Timah Road, #B1-09 Singapore 259708

Bukit Timah Shopping Centre

170 Upper Bukit Timah Road, #01-01 Singapore 588179

Royal Square

103 Irrawaddy Road, #02-01/04 S(329566)

Bugis ICB Enterprise House

116 Middle Road, #07-02/03/04 Singapore 188972

Beauty World Centre

144 Upper Bukit Timah Road, Beauty World Centre, #03-40/41 S(588177)

Tampines Plaza 1

3 Tampines Central 1, #03-02, Singapore 529540

Levels & Subjects

IP Science, IP Chemistry, IP Maths, IP Geography, IP Language Arts

Unique Selling Points

'Make the switch' discount: If your current or previous tuition centre is no longer serving your needs and you wish to make the switch to Inigo, you can benefit from a $200 term discount!

Take part in seminars/webinars: Parents and students can take part in a range of seminars and webinars catered towards the IP syllabus. Here, speakers will share about the different syllabus used by each school, the best subject combination to pursue and more!

Students' Reviews

the teachers here are friendly and are more than happy to answer any of our questions. The lessons here are engaging. With a conducive learning environment here, students are equipped with the relevant skillset to score their desired grades.

Review by Zander

Nice teachers who are able to provide helpful answers when asked questions. Also provides a wide variety of timings for different classes so its easy to choose one that is convenient for you. Notes are also comprehensible and easy to understand.

Review by Caitlyn Yeo

The teachers are very in-depth with their explanations, the materials provided are of quality too. There is even a platform for me to submit out of syllabus essays which I appreciate.

Review by Zi
Eureka Edvantage Learning Hub offers English Language tuitions for secondary, IP and JC students based on their unique in-house pedagogy. Combining critical thinking with creative writing techniques, the aim is to produce well-rounded students who can present a well backed up and convincing argument.
A range of workshops and programmes are also available for students to take their pick from in enhancing their overall learning.
Name

Eureka Edvantage Learning Hub

Website

https://www.eurekaedvantage.com/

Contact Details

Call/SMS: 9119 2159

Email: contact@eurekaedvantage.com

Outlets

10 Winstedt Rd, Block A, #03-01, Singapore 227977

Levels & Subjects

IP English

Unique Selling Points

Publication of model essays: Students can choose to purchase a series of books that feature model essays written by English Language specialist, Diana Tham. With writing techniques and structures modelled in these essays, these books will aid students in bringing their ideas together and crystallising them.

Workshops and programmes available: Besides regularly scheduled classes, Eureka also runs a schedule of workshops and programmes students can take part in. This includes a Global Studies and Current Affairs programme that runs towards the end of the year.

Students' Reviews

Mrs Tham is a really professional teacher who is always keen to offer help and guidance. I really appreciate how she helped me grasped the nuances of some literature texts better, and taught me effective strategies for writing. Thank you Mrs Tham!

Review by Lauren Tse

Love this place. My English results improved significantly from A fail to A star, under the coaching of the wonderful and skilled teacher, Mrs Diana Tham. I would recommend this place for primary school students and secondary school students who are really serious and excited about English as well as literature. Keep up the good work, Eureka Edvantage.

Review by JG
At Brain Matter, the focus is very much on creating a fun and positive environment where students can engage in meaningful learning. Not only are the tutors specialists in their respective fields, they believe that teaching is a privilege and to this end, they are committed to conducting creative, thought-provoking lessons for their students. As class sizes are limited to no more than five, tutors are able to provide each student with a high level of individualised attention.
Name

Brain Matter

Website

https://brainmatter.com.sg/

Contact Details

Call/SMS: 9791 1234

Outlets

Block 501 Bishan Street 11 #01-364 S570501

Block 503 Bishan Street 11 #01-448 S570503

Levels & Subjects

IP English, IP Mathematics

Unique Selling Points

Curriculum specialists in each subject: Regardless of the subject you are seeking tuition for, you will find a range of curriculum specialists who are qualified to assist you. Each tutor specialises in an area within their subject as well as an educational level, whether that is Primary, Secondary, IP or JC.

Online resources available: A range of resources are available to download on Brain Matter's website, allowing students to study from anywhere. Besides subject-specific material, this also includes study tips that will help students prepare for exams and boost their confidence!

Students' Reviews

Teachers at Brain Matter tuition center are unbelievably generous. Based on my personal experiences, my teacher went out of her way to extend ample time for me to understand what I am learning. I am grateful towards the extra effort being offered me and without it I would not have scored well for my subjects. Would definitely recommend to attend this tuition

Review by Mong

Teacher Phoebe and Natasha are really patient, encouraging and nurturing! The learning environment is conducive, and class size is just nice. Ms Phoebe ensures each class size is just nice, so that the teachers could provide personal attention to each student in every session and help them tackle their weakness. Excellent results is definitely achieved after one term of coaching! Thank you, Phoebe and Natasha!

Review by Norman

Tutor is very patient and is always eager to answer any queries students have. Tutor is also very enthusiastic and will never fail to provide resources and help to ensure students improve and score.

Review by Alyssa Tan
The tutors at Quintessential Education understand that the syllabus in IP schools differ from those of secondary schools, where the students take 'O' levels at Secondary 4. With this in mind, their IP tutors have been selected for their background and experience in working with students who will eventually obtain an 'A' Levels or IB qualification. Their teaching model makes use of a combination of exposure to exam questions, content mastery and a focus on problem solving skills.
Name

Quintessential Education

Website

https://qeducation.sg/

Contact Details

Call/SMS: 6100 9338 / 9655 0590

Email: enquiries@qeducation.sg

Outlets

545 Orchard Road #14-06/09 Singapore 238882

Levels & Subjects

IP English, IP Chinese, IP Maths, IP Science, IP Physics, IP Chemistry

Unique Selling Points

Regular assessments: Students will be able to keep up to date on their progress with regular assessments. Timed practices will be carried out to evaluate students' test-taking abilities during an examination, and feedback will be provided to help each student improve.

Personalised consultations: Students will get the chance to have all their questions answered, ensuring a thorough understanding of any topic covered. This may not always be possible in school due to larger class sizes.

Featured in national media: Many of the tuition centre's flagship courses have been featured in news and media outlets such as Channel 8, Raffles Place, Straits Times and more!

Students' Reviews

Been to countless tuition centres but I have never found one like this. This centre is like no other. When one steps out of the elevator and onto the 14th floor, happiness, joy and knowledge lies ahead. I have always looked forward to Mike's lessons, they are not only effective but also extremely engaging! If you're an IB student, you definitely should check them out! Mr Mike saved my IA, my life and my sleep cycle. I swear on my unborn child that I am so incredibly grateful for this centre. Come experience it for yourselves, free foolscap papers on the first lesson!

Review by Glenn Paul

QE provides a conducive learning environment, and productive lessons for my math and economics support . The support I received during my IB journey was very effective and confidence inspiring, helping me to score 7s.

Review by Harris Chow

I had a very great experience with Quintessential Education and their staff are very friendly. To me, they seem to be very experienced with all academic related matters. Knowing that I have an experienced team guiding me throughout my studies made me feel at ease.

Review by Clarissa Junia
Specialising in IP tuition, Learners' Lodge has two centrally situated outlets, allowing students to attend classes conveniently. With curated study resources and a proven pedagogy, the tutors have a strong track record of producing successful results and engaging students. Students will find that the content of the classes have been designed to suit their needs on top of what they are learning in school, ensuring that they will be well prepared to take on any internal examinations and eventually, the 'A' Levels.
Name

Learners' Lodge

Website

https://www.learnerslodge.com.sg/

Contact Details

Call/SMS: 9119 9655

Outlets

Learners' Lodge @ Kembangan

14D Jalan Masjid Kingston Terrace, #01-04 Singapore 418935

Learners' Lodge @ Marymount

Block 255 Bishan Street 22 #B1-462 Singapore 570255

Levels & Subjects

IP English, IP Maths, IP Physics, IP Chemistry, IP Biology

Unique Selling Points

Trial class available: Students are able to sign up for and attend a trial class before deciding whether Learners' Lodge is the right tuition centre for them. This allows both students and parents to make a well-informed decision for their needs.

Experienced tutors: Tutors who are engaged to teach IP tuition classes have experience in two key areas: teaching at a JC level as well as preparing students for 'A' Levels. As the majority of IP students eventually go on to take on 'A' Levels, this experience is a crucial factor when it comes to selecting a tutor.

Students' Reviews

Mr Gilbert Lee is a very passionate, knowledgeable and an amazing teacher. He understands the content really well and always highlights the important points for us to take note of. Under his teaching, econs starts to make more sense and I was able to grasp the key points and learn how to tackle different questions.
Thank you Mr Lee!!

Review by Fiona Lee

Hi Mr Teng! You are an amazing teacher who never fails to answer whatever queries I have, be it in class or over Whatsapp. Thanks for supporting me and making math an enjoyable subject. Thanks to your great teaching, I have achieved my desired grades at A Levels!

Review by Gayathri Babu

My thanks goes out to Mr Teng Kah Seng for helping me achieve A for H2 Math, from S/E in my school exams. He accomplished this incredible feat after I joined his lessons just right before my prelims. An extremely dedicated tutor who certainly goes the extra mile, he never shies away from teaching me tips on using the GC and how to tackle certain question types and topics that I have always had difficulty with. I am forever grateful for his support and meticulous guidance during each lesson. Thanks to his invaluable lessons at Learners Lodge @ Marymount, I was able to breeze through my A Level Math exam with newfound confidence, for once in the last 2 years.

Review by Truman Tay
At AfterSkool Learning Centre, all tutors are MOE-certified, with the majority having graduated from local universities (NTU, NUS, SMU). The focus is on familiarising students with topics before they are taught in school, giving them a head-start next to their peers. Students who join classes later on in the year can attend remedial sessions to ensure that they can keep pace with their classmates. Out of hours, students can tap on GoogleChat to reach out to their tutors and get any questions answered.
Name

AfterSkool Learning Centre

Website

https://afterskool.edu.sg/

Contact Details

Call/SMS: 6339 6787

Email: admissions@afterskool.com.sg

Outlets

31 Holland Close 1-215/217
Singapore 270031

Levels & Subjects

IP Mathematics, IP Science, IP Physics, IP Chemistry, IP Biology

Unique Selling Points

Small class sizes: Class sizes are capped at 10, and for sessions with more than 8 students, a co-tutor is always present. This ensures a low student-to-teacher ratio of 5 to 8 students per tutor.

Customised in-house materials: All in-house materials are prepared in close accordance with the MOE syllabus. Material is constantly refreshed and summary booklets are produced for revision purposes each year.

Teaching technology utilised in classrooms: Each of the 18 classrooms comes equipped with teaching technology such as visualisers and projectors to aid a smooth learning journey.

Students' Reviews

Afterskool is a very positive place to study, the environment is good for studying. The chemistry and math classes have helped in my understanding of the subject.

Review by Victoria Chew

Kelly is so good at teaching chemistry. Going for her lessons make me so happy and joyous inside and every shameful act that i have done in my past 18 years of life was cleansed away once i stepped foot into her Afterskool class. Her teaching style is impeccable and made me learn 10x more than any school teacher would ever accomplish. 10/10 teaching! i will get only 7 points for IB and all of it will be chemistry.

Review by Dylan Loh

Teachers are extremely kind and fun.The lessons here are very fun and engaging and they will really help students improve in their work.The teachers here are also very hardworking and diligent and they are able to help us spot mistakes in our work and help us correct them. After attending this tuition my results have improved a lot.

Review by Ryan Ng
SmartLab Education Centre runs on the belief that every student is capable of achieving better results. As such, lessons are conducted in a fun and engaging manner, with teachers always ready to go above and beyond. Even outside the classroom, they are prepared to prepare ongoing support when students require it. Well-structured notes and exam-oriented worksheets are provided to give students an edge over their peers and ensure they are well prepared for termly exams.
Name

SmartLab Education Centre

Website

https://smartlab.com.sg/Tuition/

Contact Details

Call/SMS: 6459 2351 / 8318 7865

Email: adminbishan@smartlab.com.sg / hougang@smartlab.com.sg / marineparade@smartlab.com.sg / woodlands@smartlab.com.sg

Outlets

Bishan

Blk 228 Bishan Street 23, #B1-71, Singapore 570228
Blk 243 Bishan Street 22, #B1-274, Singapore 570243

Hougang

Blk 204 Hougang Street 21, #02-113, Singapore 530204

Marine Parade

1 Marine Parade Central, #13-03 Parkway Centre, Singapore 449408

Woodlands

Blk 818 Woodlands Street 82, #01-419, Singapore 730818

Levels & Subjects

IP Mathematics, IP Science, IP Physics, IP Chemistry, IP Biology

Unique Selling Points

Education fund for students in need: Students who require tuition but are in need of financial aid can benefit from the education fund by SmartLab. There are two types of grants available: the first one offering $500 to go towards the cost of study materials and the second providing free tuition from January to October.

ELearn app: With the introduction of SmartLab's ELearn app that is meant to promote the learning of science, students can learn from the go and enhance their curiosity in various topics.

Students' Reviews

The teachers here are very patient and encouraging when it comes to tutoring me.
The teachers here are not concerned about grades but are more concerned about our learning and understanding of the subject.
My knowledge and understanding of the subjects that i signed up for has improved since i joined Smartlab in Secondary 1.
Therefore, I highly recommend SmartLab to anyone who is currently struggling at school.

Review by Joe Chim Ang

Teachers are willing to answer any questions and will actively ensure that you don't have doubts by repeatedly asking you if you understand. Definitely recommended if you would like to improve your grades while not having the self confidence to voice out in class and ask questions.

Review by Lucas Tiu

Teachers were extremely patient and approachable, gave detailed explanations, as well as being super efficient even though zoom which helped me understand the topic well. Worksheets given were sufficient in helping to familiarise and identifying common answering techniques!

Review by Regene Ng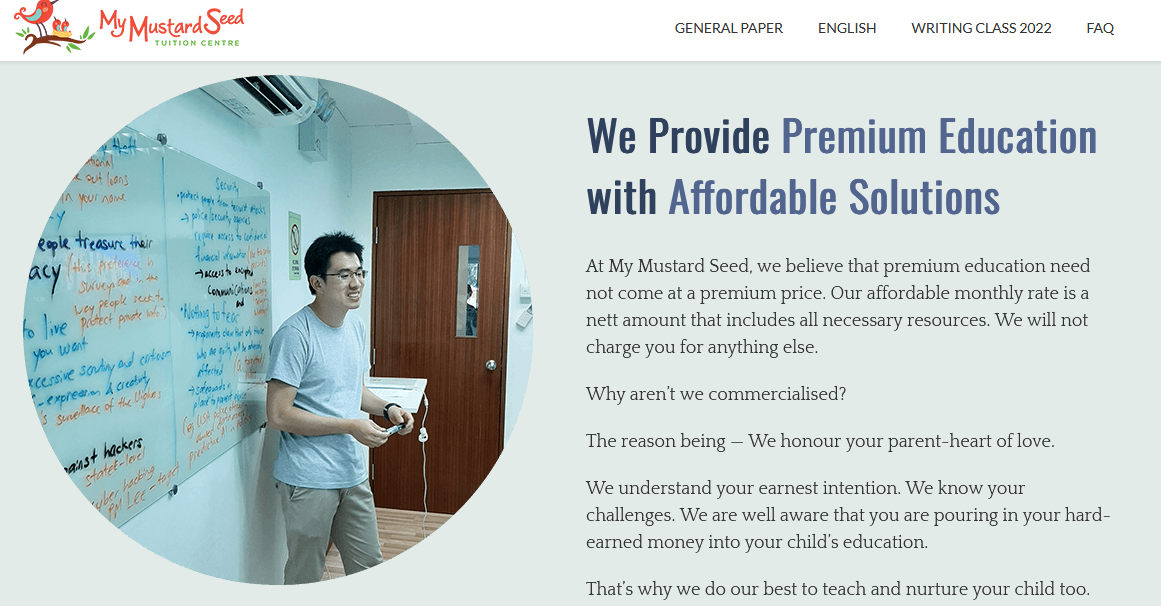 Focusing on English and GP, this tuition centre offers affordable nett fees for its classes that include all necessary resources. A systematic approach is taken to the teaching of IP English, with many hands-on practices and engaging discussions taking place in class.
The principal tutor, Mr Liau, has 11 years of teaching experience on top of having served as the debate coach for HCI's team for four years, under which the team won ten championships.
Name

My Mustard Seed Tuition Centre

Website

https://mymustardseed.com.sg

Contact Details

Call/SMS: 9100 8878

Email:

Outlets

Block 201B Tampines Street 21, #02-1069,
Singapore 522201

Levels & Subjects

IP English

Unique Selling Points

Early bird discount: Students who sign up before 31st March 2023 can enjoy a permanent 40% discount on top of a year's unlimited access to all in-house resources.

Proven track record: 97% of students obtain an A/B in 'A' Levels GP.

Focus on engagement: Instead of lecture-style classes, the focus is on intellectually stimulating discussions, where students are highly encouraged to participate. Individualised feedback is provided on a regular basis to aid student progress.

Students' Reviews

At Mustard Seed, I was able to master GP & English in a warm & homely environment. With Ms Wong's & Mr Liau's dedicated teaching, every lesson was enriching & fulfilling to help me improve holistically.

Review by Yi Shan Lim

The classes were of superb quality with every lesson being extremely interesting and engaging. Mr Liau's approach to tackle various essay questions and his brainstorming work helped me to gain a deeper understanding into GP and current affairs.

Review by Ernest Lam

It made my thinking clearer and thus I was able to articulate my points better. Also I had more examples to play with which was extremely helpful in forming cohesive arguments.

Review by Max Leong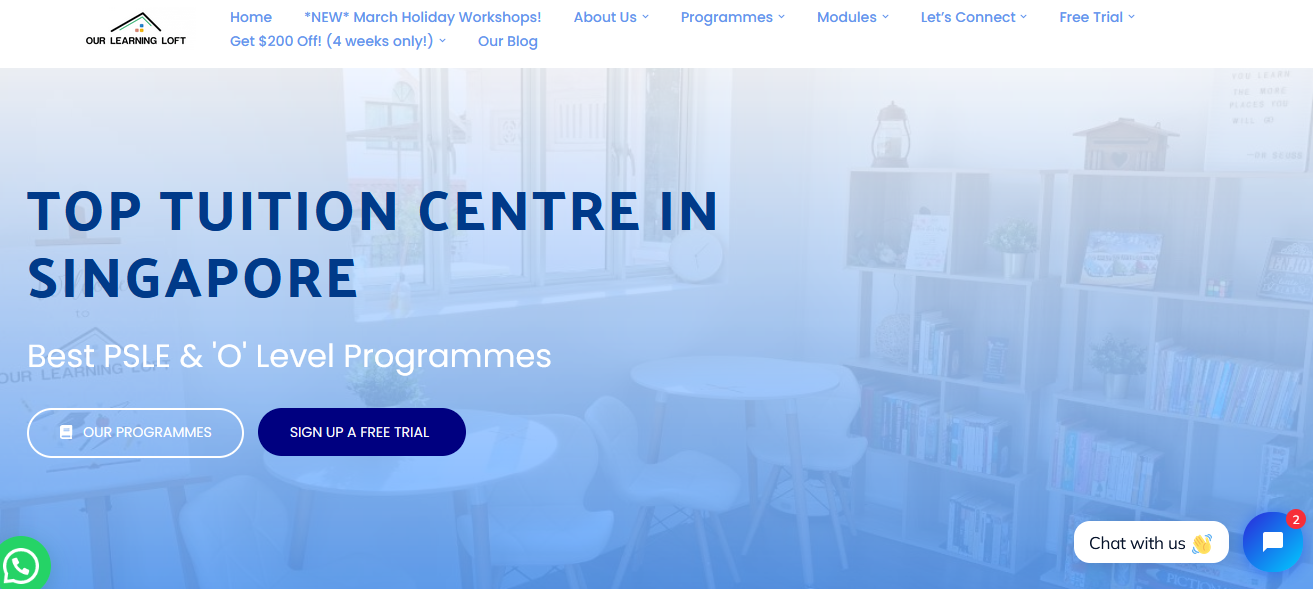 The tutors at Our Learning Loft understands the needs of IP students, especially the major complain that the syllabus progresses too fast. To this end, classes are conducted in a way that exposes students to a variety of learning experiences instead of focusing solely on content acquisition. Through this approach, students are encouraged to develop critical thinking and analysis skills.
Name

Our Learning Loft

Website

https://ourlearningloft.com/

Contact Details

Call/SMS: 6908 8884 / 8657 7897

Email: hello@ourlearningloft.com

Outlets

613A Bukit Timah Rd, Singapore 269715

Levels & Subjects

IP Maths, IP Science

Unique Selling Points

Free trial class: With the option to sit in on a free trial class and receive a personal consultation after that, students can truly try before they buy. This ensures that should they end up signing up for classes, they know that it's a great fit for them!

Focus on practical applications: To make learning come to life, students are encouraged to think of concepts in terms of practical applications. This includes learning how to calculate carbon footprint in Maths classes and carrying out experiments in Science classes.

Students' Reviews

The explanation of the subject-Amath taught by Mr lee is very detailed. Some of the details that he teaches, arent rlly covered much in school,so by attending his lessons allows me to btr understand the topic well. Highly recommend this place for tuition! :)

Review by Shubin Lin

Conducive and spacious learning environment with air-conditioned tutorial rooms fitted with classroom-sized tables and chairs. Ideal environment for learning!

Review by J Chen

The teachers there have helped me improved in my math and science grades. They helped me understand the topics easier and the worksheets provided is a good way of training for exams

Review by Tyler Goh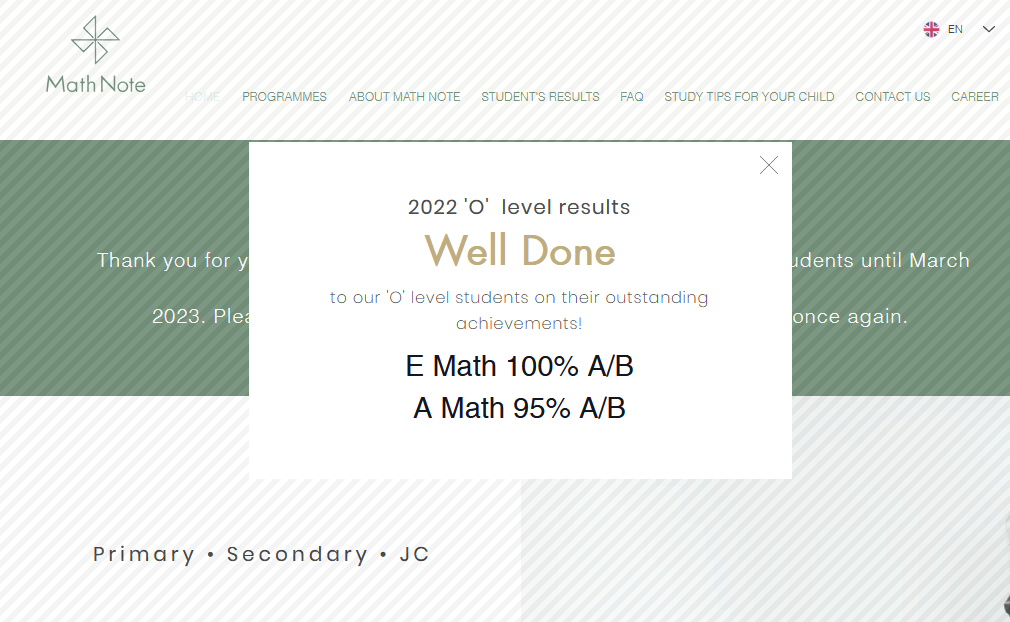 Offering Math tuition at all levels, the curriculum at Math Note is structured by a former MOE teacher who has more than 15 years of teaching experience. Immediate feedback is provided to students during lessons, allowing them to correct and learn from their mistakes within a short turnaround time. Areas of weakness are identified from the get-go and steps taken to rectify them timely, with 90% of students showing improvement after receiving feedback!
Name

Math Note

Website

https://www.mathnote.sg/

Contact Details

Email: themathnote@gmail.com

Outlets

728 Ang Mo Kim Ave 6 Singapore 560728

Levels & Subjects

IP Maths

Unique Selling Points

Small student-to-teacher ratio: Classes are conducted at an average size of 4 students to each tutor, allowing students to ask questions easily and receive more personalised attention than they would at school.

Strong track record: Whether it's improving grades for school exams or scoring well at 'A' Levels, students at Math Note have a strong track record. 81% of students achieve an A/B at national exams.

Feedback system: Students are able to keep on top of their progress at all times through a feedback system, where their weaknesses are identified timely and steps taken to help them improve and excel.

Students' Reviews

Before attending the lessons in math note
I was not hitting the score i was expected
after signing up to math notes for 6 months
I did scored what i was expecting myself
managed to claim full mark for A math and 98 for E math for WA2/

All thanks to the intense drills of math practices and the aid from Ms Chua , an extremely experienced , friendly and passionate teacher. Understands students' point of views and tackle problems, making students to have the full hundred percent understanding of the concepts

Notes given was precised
One of the best I have even seen
Greatest materials to utilise before for revision an examination

Students will excel and thrive in maths
Definitely Highly Recommended!

Review by Yu Chen

I got back my SA2 results! I am so happy. This is my first time getting an A1. Math is not my strongest subject and I am always struggling. No matter how hard I tried, the result is always not good. However, Miss Chua's explanation and method helped me to understand the concepts better and I could understand the questions and do them. Thank you, Miss Chua!

Review by Elise Lim
True Learning Centre is run by co-founder Mr Max Tan, with the focus on providing one-for-one tuition for secondary, IP and 'A' Level Math that closely follows the MOE syllabus. A former HoD of Mathematics at HCI and assessment officer at SEAB, Mr Tan believes in being fully transparent when communicating with parents and students as well as helping each student realise their full potential.
Name

True Learning Centre

Website

https://www.truelearning.com.sg/

Contact Details

Email: enquiry@truelearning.com.sg

Outlets

Kovan

2 Kovan Road, Simon Plaza, #01-07, Singapore 548008

Novena

Blk 503, Bishan Street 11, #01-456, Singapore 570503

Jurong

2 Jurong East Central 1, JCUBE, #04-02/03, Singapore 609731

Levels & Subjects

IP Maths

Unique Selling Points

Every topic covered in detail: Students can expect to receive notes, examples, practice questions ranging from easy to difficult as well as mock tests for each topic covered.

Round-the-clock support available: Mr Tan offers a 24/7 consultation service to ensure that students can get their queries answered from anywhere, anytime. This individualised attention allows students to learn at their own pace and focus on their areas of weakness without judgment.

Students' Reviews

With Mr Max's patience and guidance, along with his friendly attitude, I was able to enjoy learning. I give my thanks to Mr Max as he is able to teach in a simple and concise manner with tips. With these tips, I found myself doing questions more accurately and efficiently.

Review by Justin Wong

True Learning Institution is an excellent centre that has both caring and capable tutors. Mr Tan is able to break down any mathematical concept and explain it in a more simple and concise manner. Thank you Mr Tan for my A in H2 Math.

Review by Bernice Chiew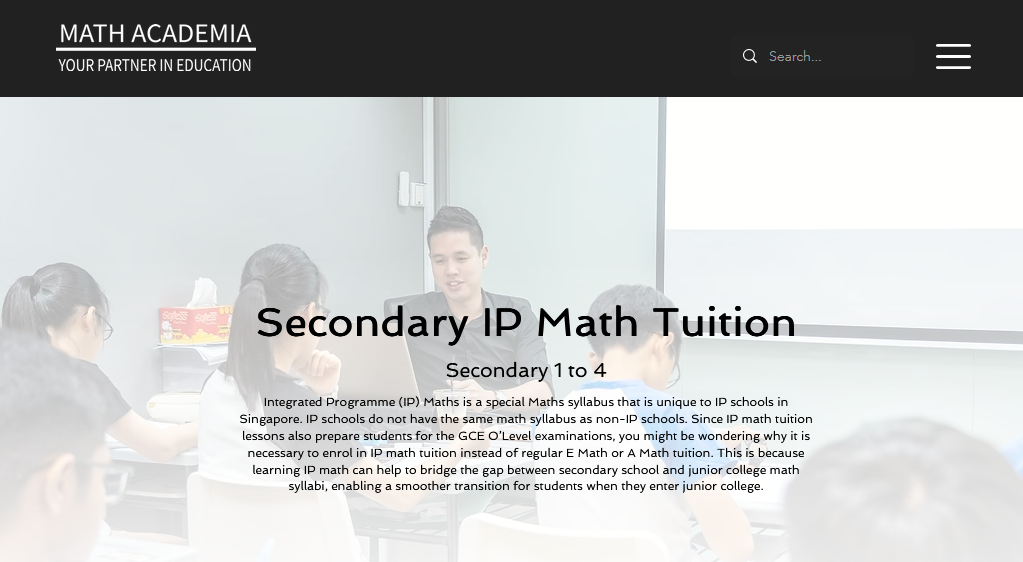 At Math Academia, the IP math tutors work on the basis that mastering the syllabus is all about bridging the gap between secondary and JC math. When students are adequately prepared from the start, this will ensure a smoother transition in the last two years of their IP journey, where they prepare to take 'A' Levels or IB.
The curriculum at Math Academia is specially curated by qualified tutors, and students get to practice with a range of challenging questions gathered from the top IP schools.
Name

Math Academia

Website

https://www.mathacademia.sg/

Contact Details

Call/SMS: 9715 4935

Email: enquiry@mathacademia.sg

Outlets

144 Upper Bukit Timah Road, #03-02, #03-40/41, Beauty World Centre, Singapore 588177

Levels & Subjects

IP Maths

Unique Selling Points

Free consultations: Each student can take advantage of the free consultations offered to them once or twice a week. This ensures that they will have the opportunity to clear up any misunderstandings and ask any questions on a one-to-one basis.

Classes grouped by school: The tutors at Math Academia understand that each IP school has its own syllabus and pace of teaching. With this in mind, classes are grouped by school to ensure that all students are on the same page and that any content taught will be relevant to what is being learned in school.

Students' Reviews

Mr Peng is a very patient and skilled teacher. His lessons are very interesting and he has shown many ways and tips to solve difficult questions. For myself, even though I started his tuition with a single digit score, he was always more than happy to guide me through questions and ensure that i understood my mistakes. He is also like a buddy to me, therefore his lessons were always very comfortable and enjoyable! I am super thankful to have him as a tuition teacher and helping me regain my confidence in math!

Review by Sarah Khoo

Mr Peng is a very thoughtful and caring teacher. He always puts in his best into conducting math lessons and ensures that everyone is able to fully grasp the concept. I appreciate the care and concern that he shows towards his students and is always looking out for them. I am extremely grateful to have known Mr Peng and am thankful to have him as my teacher!

Review by Le Suan Ong

Mr Peng is a passionate and confident teacher. With his strong background, he is able to get his point across very easily. The way he teaches is in depth but yet easy to understand, making learning that much efficient and faster. Outside of class, Mr Peng cares for our well being and ensures we are coping well with our life, even more so than our school teachers. He has been a fantastic role model and an even better teacher. Without his guidance and teachings, it would have been difficult to score in my exams.

Review by Jasper Ng
Number Skill Learning Centre focuses solely on Maths and Chemistry, and the tuition centre has been featured in several media outlets including CNA, Channel 8 and The New Paper. Students can be sure of being one step ahead of their peers as topics are taught in advance than the pace adopted in schools, giving students the confidence to tackle their homework with no issue.
In addition, learning takes place on a progressive model, and students do not need to worry about falling behind as tutors will make sure everyone is up to pace before moving on. Complex problems are broken down into smaller steps to make them easier to understand and through this approach, students can expect to make great strides in their studies.
Name

Number Skill Learning Centre

Website

https://www.numberskill.com/

Contact Details

Call/SMS: 9763 2567

Email: admin@numberskill.com

Outlets

170 Upper Bukit Timah Road, Bukit Timah Shopping Centre, #B1-15, Singapore 588179

Levels & Subjects

IP Maths, IP Chemistry

Unique Selling Points

Choose between online and onsite classes: IP students have a busy schedule, with the number of after-school activities they have to juggle and time allocated for homework and self-study. To make it easy for students to attend classes, Number Skill Learning Centre offers both online and onsite classes to suit a variety of needs.

One-time trial classes available: Students who are unsure whether the tuition centre will meet their needs can sign up for a one-time trial class. On-demand and one-on-one classes are also available, with recordings of live lessons and out-of-hour supports being the standard.

Students' Reviews

Mrs Ang's lessons are very interesting, engaging and effective. I personally could easily absorb what the lesson is about and apply the knowledge in the worksheets that she gives and the worksheets in school. She also provides notes to all her students and the content is concise and easy to understand. A wonderful tuition center indeed, helpful and effective.

Review by Qinyuan Zhou

I am very grateful to Mr Ang for his coaching in Maths, as he makes JC Maths easier to understand. The notes he gives are comprehensive yet covers the primary skills for each topic, that I do not feel overwhelmed by the sheer amount of things I need to learn per topic. But of course, merely reading the notes will not go far without the fiery passion provided by the tutor. In this department, Mr Ang does not disappoint! His enthusiasm in Maths coupled with his understanding of the problems students today face with the JC Maths syllabus makes him, in my opinion, one of the most dedicated and patient tutors I have learned from. I am especially delighted that given my hectic schedule juggling between A levels and National Service, thank god, Mr Ang has live online lessons and video lectures I can review to fit into my schedule.

Being able to relate to students' problems in Maths, breaking down seemingly complex problems into simple concepts and a burning passion towards Maths combined with utilising the power of technology into classroom teaching has made Mr Ang's Maths lessons a joyful experience. I do not promise that Maths would be a breeze under his tutelage. But I can assure you the road ahead towards that A would be less bumpier with his guidance.

To Mr Ang, thank you for your patient guidance! I hope to make you proud in my A levels, no matter how much I struggle with my time management. To prospective students, I do not hesitate to recommend NumberSkill as the right tuition for you! May Mr Ang inspire you to love Maths, as he has done for me.

Review by Yusuf Isa
Specialising in IP and JC Chemistry, classes at this tuition centre are conducted by Mr Maverick Phuah, who has more than 10,000 subscribers on his YouTube channel for learning Chemistry. Live webinar lessons are available as an alternative to regular in-person classes, and students who miss any sessions can receive a recorded video for revision and make-up purposes. In addition, practice questions and summary notes will also be distributed, ensuring that students can follow along and carry out self-study in their own time.
Name

Chemistry Guru

Website

https://chemistryguru.com.sg/

Contact Details

Call/SMS: 9858 8060

Outlets

Blk 112 Bishan Street 12 #01-20 S570112

Levels & Subjects

IP Chemistry

Unique Selling Points

Weekly live webinar classes: Students with busy schedules or those who do not wish to waste time on travelling can opt for weekly live webinar classes. As a bonus, the first session is free for students who wish to experience a trial lesson before signing up for classes!

WhatsApp consultations: Consultations are always available via WhatsApp, ensuring that students can get their queries answered no matter where they are.

On-demand video lessons: Students who wish to learn at their own time and pace can purchase on-demand video lessons to follow during their own time. Sample videos can be given before purchase, and discounts can be enjoyed if purchasing in a bundle.

Students' Reviews

Mr Puah's detailed explanations to my queries were what I believed to be the key to attaining a B at A levels despite struggling with chem early on in the year. His notes were also condensed and helped to bring up content knowledge quickly and effectively with the time constraints faced during preparation for A levels.

Review by Chan Wei Chong

Thank you so much for your lessons. The flexibility between online and in class sessions really helped me manage my time more effectively. Plus the recordings of the lessons ensured that if I wasn't able to give my 100% during lesson I would still be able to make full use of the session! With the help of your resources I managed to get myself an A for A levels, a feat I never would have imagined possible after getting a U for Mid year exams!

Review by Aryan Shukla

Mr puah had played a big role in my understanding of organic chemistry. When i first came to his class, I was extremely lost with the already overwhelming content for chemistry. Thanks to the chemistry guru summary sheets and practices, I was able to not only just grow an understanding for chemistry but also a deeper appreciation of the chemical reactions which I have previously not notice or thought of. Mr puah has opened up the world of chemistry to me!

Review by Ben Too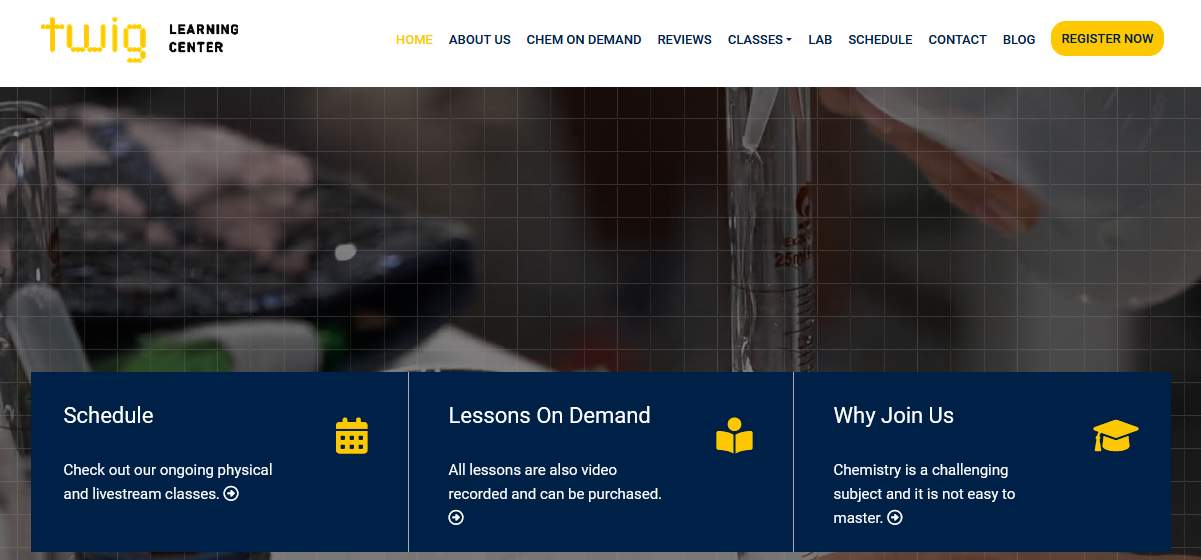 TWIG Learning Centre specialises in Chemistry and with an onsite laboratory, students have many opportunities to prepare for their upcoming practical exams. Not only can tutors carry out demonstrations effectively, students also get the chance to engage hands-on with experiments.
IP students who require additional help outside of school hours can turn to TWIG Learning Centre with confidence, knowing that their lessons are engaging and have been designed to help them excel.
Name

Twig Learning Centre

Website

https://twig.sg/

Contact Details

Call/SMS: 8338 7476

Email: hello@twig.sg

Outlets

Main Branch

271 Bukit Timah Road, Balmoral Plaza #B1-01 Singapore 259708

Bishan

Blk 503, Bishan Street 11, #01-456, Singapore 570503

Braddell

381 Lor 1 Toa Payoh, Singapore 319758

Levels & Subjects

IP Chemistry

Unique Selling Points

In-house laboratory: Students can make full use of the in-house laboratory to clock in some prep hours for their practical exams. This is a big plus when school labs are closed during the rundown to exams and as a bonus, qualified tutors are always on hand to provide feedback and even carry out mock practical exams for students!

Videos provided before and after class: To ensure that every student has mastered the content of each lesson, videos are provided before and after class to aid understanding. This is accompanied by a MCQ test to check progress. If students still require additional help, after-class consultations can be arranged with tutors.

Students' Reviews

I joined Twig Learning Center in the later half of J2 and I saw my grades jump from an E at prelims to an A at the A levels. Mr Donnell Koh has been of tremendous help as my Chemistry Tutor. Being extremely familiar with the syllabus, he can confidently teach new content topics and compile sample questions for practice to ensure that we remember what we learn.

The three guidebooks that you will get at a student at Twig is also the best gift you can ask for as a Chemistry student - 2 years worth of rigorous content condensed into 3 small booklets. Whenever you have doubts or content gaps, you can refer back to the booklet and find the answer most of the time. Super useful for memorising Org Chem reactions too!

Lastly, what sets Mr Koh apart is his commitment to always be there for his students. Whenever you have any questions or clarifications, you can just text him and he would respond ASAP. Closer to the A levels, although lessons has ended, he would still answer my queries that arise from doing TYS, even going the extra mile to provide short video explanations that clear things up easily.

I'm very grateful to have Mr Koh support me during my A levels journey. Thank you sir!

Review by Li Zheng

I attended Twig LC in JC and it helped my chemistry grades enormously - from a U in J1 to an A at the A levels. Mr Koh is an incredibly dedicated and comprehensive teacher who not only teaches content but also common misconceptions so that students are not confused in his lessons. He has a great grasp on the syllabus and what the examiners are looking for in responses. In addition, he holds revision sessions before many exams, which were a great help, and he also answers any questions students have promptly. I am really grateful for Mr Koh's help!

Review by Jolyne Goh

Mr Koh is an extremely dedicated, caring and passionate Chemistry tutor. He is very experienced, and uses the best learning resources and a large variety of questions to teach us, which I found to be really helpful when tackling exam questions. I am really grateful for his dedication, which was shown in how he often extended lessons and organised quizzes outside of lesson time just to ensure that we understood concepts and had sufficient practice with questions. He was very willing to stay behind during lessons to answer my questions, and to answer my questions in his own time over WhatsApp. I really appreciate all the help he has given me in helping me to attain an A for H2 Chemistry in the A Levels. Thank you so much Mr Koh! :)

Review by Christabel Yuen
Physics is one of the most challenging subjects IP students struggle with. Physics Academy aims to correct that through its unique approach to guiding IP students, who may struggle to find a tuition centre offering a curriculum that matches what they are learning in school. Here, the focus is shifted away from textbook learning and memorisation. Instead, students are encouraged to engage in real-world applications and translate that knowledge into answering exam questions.
Name

Physics Academy

Website

https://www.physicsacademy.sg/

Contact Details

Call/SMS: 8758 4968

Email: enquiry@physicsacademy.sg

Outlets

Eunos

111 Jalan Kembangan, Singapore 419149

Jurong East

Blk 151 Bukit Batok Street 11, #03-252, Singapore 650151

Levels & Subjects

IP Physics

Unique Selling Points

7-day free trial: Parents and students who are unsure whether Physics Academy is the right tuition centre for them can benefit from a 7-day free trial. During this time, students will receive access to digital lessons, online practices and a range of other resources through their Physics app.

Physics Academy Learning App: Learning is a 24/7 experience with the Physics Academy Learning App, which allows students to access resources from anytime, anywhere. Following this step-by-step approach, many students have seen rapid grade jumps, eventually attaining an A/B in 'A' Levels!

Students' Reviews

Lessons at Physics Academy are really fun! Mr Lai tries his best to explain everything in a clear but engaging way. At Physics Academy, we're provided with a lot of lesson materials, and they have helped me gain a better understanding of physics
Living up to its name, The Physics Café provides students with free after-class desserts to indulge in during self-study sessions! With an extensive video library and online classes available, multiple learning modes are supported to suit a variety of needs. Boasting a strong track record of students who attain an 'A' in national exams every year, double the national average, The Physics Café has been voted Parents' Top Choice since 2010.
Name

The Physics Cafe

Website

https://www.thephysicscafe.com/

Contact Details

WhatsApp: 9100 1235

Email: admin@pmc.sg

Outlets

Headquarters

Central

101 Thomson Road, #01-29/30/31/32 S307591

East

10 Eunos Road 8, Singapore Post Centre #01-207 S408600

North

Levels & Subjects

IP Physics

Unique Selling Points

Free after-class snacks: Students can indulge in free ice cream or iced Milo as an after-class dessert, serving as the perfect motivation!

Option to sign up for single lesson: There is no pressure for parents or students to commit to regular lessons before they are sure it's the right tuition centre for them. With the option to sign up for a single online or onsite lesson, students can get a feel of how classes are run before deciding if it's the best fit for them.

Extensive video library: These short and concise videos aim to be the solution for students with packed schedules. Here, they can find solutions to any questions they have and enjoy learning on the go!

Students' Reviews

The Physics Cafe is really helpful for me because it helped me to consolidate everything and made me much clearer and aware of the physics concepts, something that I couldn't have done on my own. Lessons are interactive and forces you to think critically and quickly. Questions prepared are also very helpful!! It's much more efficient at TPC than in school because we learn much more things here than we would have in the same period of time in school. Would recommend people to join Physics Cafe and thank you Mr Sim!

Review by Sze Leng Lim

Mr Sim's notes and teachings are really easy to understand and learn. They build the perfect foundation for your Physics syllabus. All you need is a little effort on your part and the A should be yours. I came to this tuition with a U grade and only 5 months to the A levels. Mr Sim has helped me get an A for physics which is nothing short of a miracle! :p You'd want to have Mr Dave Sim as your Physics tutor, because really, he is an awesome teacher. Not only because of how capable he is, but because he truly has a heart for his students. I wouldn't have conquered survived Physics without his help. Thank you so much Sir!

Review by Jia Jun

The Physics Cafe has helped me grasp difficult physics concepts that I could not comprehend in school, using mindmaps and numerous practices for each topic. As much as extra practice outside tuition and school is required, the Physics Cafe has definitely shorten the time spent on revision and offers an edge through challenging questions asked and addressed by the tutor. Lessons at The Physics Cafe forces students to think all the time; the tutor bothers to ask each student a question during lessons to test their understanding, and constantly provide challenging questions to push our limits. The Physics Cafe has certainly boost my confidence in Physics and I can attempt questions with more confidence and ease. I would definitely recommend this to anyone who seeks to improve their Physics!

Review by Victoria Tan
Focusing on Physics at the secondary, IP and JC levels, Calvin Kong Physics is a top-rated tuition centre for a few reasons. Besides having an onsite Physics lab where students can gain valuable hands-on experience, a wide range of learning resources is also available for self-study purposes. This includes revision notes and consolidation worksheets that are easily accessible online. Out-of-hours support is provided as standard, with students able to reach tutors via WhatsApp to ask any questions they need answering.
Name

Calvin Kong Physics

Website

https://www.calvinkongphysics.com/

Contact Details

Call/SMS: 8246 5685

Email: calvinkongphysics@yahoo.com

Outlets

Blk 449 Clementi Avenue 3 #01-261 Singapore 120449

Levels & Subjects

IP Physics

Unique Selling Points

Onsite Physics lab: Students will always have access to a fully equipped lab where they can carry out practice for practical exams. Not only does this ensure that they are well prepared for practical exams, carrying out experiments also allows theoretical concepts to come to life and enhances understanding.

Blended learning: With a combination of lab, classroom and online learning, students can have the best of all worlds. This blended programme is highly effective for helping students achieve better grades.

Students' Reviews

Mr Kong is a very friendly and approachable teacher, and he makes effort to know more about his students in order to tailor his teaching to their needs. He relates concepts to real life examples to make them easier to grasp. Also, with many props and prizes, he makes lessons more engaging and motivates us to do well.

Review by Allegra Tan

The tutors are able to explain challenging Physics concepts in a simple and engaging manner by using analogies, experiments and drawings. They also challenge us to apply the concepts we have learnt to explain everyday observations, which presents Physics in a new light and makes the learning process far more enjoyable. Additionally, Mr Kong is friendly and dedicated — he ensures that every student can keep up with the lesson pace, whether it is through 1-1 consultations, his WhatsApp helpline or just walking around the class to check in on students.

Review by Koay Tze Erhn

Mr Kong has helped me understand the concepts, enjoy and appreciate Physics much more than before. From a student who hardly understand barely any Physics concepts to one who is able to now achieve distinction, I truly think Mr Kong has helped me a lot.

Review by Alvin Tan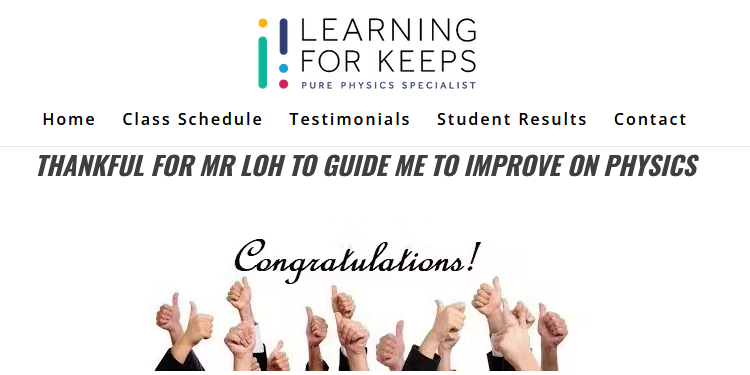 Learning For Keeps is helmed by Mr Kenneth Loh, an experienced Physics tutor who crafts his own notes and learning resources for students. Specialising in pure Physics, Mr Loh is able to dedicate his full attention to the subject, which in turn benefits his students.
IP students who have been taught by Mr Loh have an impressive track record: 100% attained an A or B in their Year 4 end of year exams!
Name

Learning For Keeps Physics Tuition

Website

https://www.learningforkeeps.com.sg/

Contact Details

Call/SMS: 8201 5955

Outlets

Hougang

The Midtown, Lobby B, #02-30
1187 Upper Serangoon Rd
Singapore 533971

Tampines

Levels & Subjects

IP Physics

Unique Selling Points

Discounted trial lesson: Students who are still making up their minds about the best IP tuition centre for their needs can take part in a discounted trial lesson, with no commitment required until you are absolutely sure.

Personalised attention: Some time is set aside during each class for Mr Loh to check on students and answer their questions. This helps in facilitating a non-judgmental environment where students can get their questions answered, receive feedback on their work and be assured of their progress.

Students' Reviews

Mr Loh is someone dedicated to imparting his knowledge to each and every student. He uses simple concepts to teach and makes Physics much easier to understand as compared to lessons in school. Mr Loh also provides curated notes that are concised and great for studying. On top of that, he constantly encourages & motivate us to work towards our goals. I very much appreciate his help rendered to me and other students. I definitely encourage everyone to sign up for learning for keeps!!

Review by Low Narella

I got an A+ for physics at the end of Year 4. Mr Loh is very patient and professional. I managed to understand the basic concepts of the topics well through his thorough explanation. Thank you :) highly recommended.

Review by Lee Jie En

I was concerned about my Physics grade as I was on the verge of failing and I had trouble understanding the concepts well. However, Mr Loh was able to patiently explain them to me and also recap concepts that were taught in school. This way, I would not forget about the previous topics and would have constant practices. The extra worksheets also aided me in improving and identifying my areas of weakness. It was also great how he would teach according to what the school was teaching me so I would not get confused. I am very thankful for his dedication and patience in guiding me to improve on physics!

Review by Nicole
Math and Science are two of the most common subjects IP students struggle with, and here is where Miracle Learning Centre can step in to help. The tuition centre is helmed by power couple Dr and Mrs Lew. Between them, the pair has decades of teaching experience under their belts. On top of that, all other tutors at Miracle Learning Centre has been selected for their relevant experience, expertise and ability to engage with students.
Name

Miracle Learning Centre

Website

https://miraclelearningcentre.com/

Contact Details

Call/SMS: 6463 8756 / 8128 6089

Email: miraclelearning@gmail.com

Outlets

144 Upper Bukit Timah Road #03-01
Beauty World Centre Singapore 588177

Levels & Subjects

IP Maths, IP Science, IP Physics, IP Chemistry

Unique Selling Points

Crash courses available: Students can attain crash courses at the end of the year, giving them an edge over their peers when school reopens. Notes and worksheets provided, and students can expect to yield maximum results from a short course!

Exclusive books and learning resources: A range of resource books are available to purchase at Miracle Learning Centre to enhance students' understanding. This is on top of making learning fun and easy!

Students' Reviews

This is the best science tuition centre ever! My grades improve tremendously. Thank you Ms Ong for those very fruitful and engaging lessons, they really helped me a lot!

Review by Adam Ansley

I was a student at Miracle Learning Centre under Mr Yang throughout J1 and J2. Mr Yang not only explained concepts thoroughly so that we would be able to understand the content better, but would also make learning Chemistry fun with his humour and genuine care for his students. I remember occasionally looking forward to his classes. Thanks to him I was able to enjoy learning Chemistry, and managed to get an A for my A Levels! Thank you Mr Yang for being such a great tutor!!

Review by Aryan Parab

Ms Ong is a great teacher as she not only teaches us well, but she also cares about our mental health. She often ask us about how much homework we have in school, or ask why we look so tired etc. Ms Ong also makes sure that we understand whatever she teaches us, and would explain again if needed to. Under her guidance, i managed to score A1 for science in sec 1

Review by Yu Xuan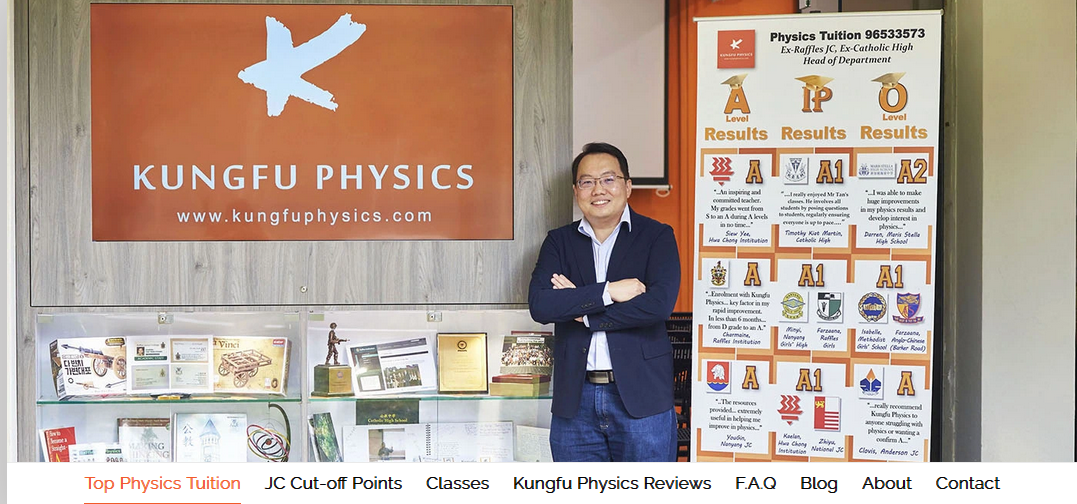 KungFu Physics is one of the top tuition centres for IP Physics in Singapore. Taught personally by Mr Gabriel Tan, a top Physics tutor who is also a former RJC lecturer, students can expect to learn through real-life applications and approaches. The aim is to go beyond classroom teaching and show students how these concepts are applicable to everyday scenarios and with that, passion for the subject will follow naturally.
Name

KungFu Physics

Website

https://kungfuphysics.com/

Contact Details

Call/SMS: 9653 3573

Email: mrgabrieltan@kungfuphysics.com

Outlets

503 Bishan St 11 #01-456
Singapore 570503

Levels & Subjects

IP Physics

Unique Selling Points

Five-step approach: Mr Tan takes a five-step approach to aid students in mastering Physics, starting with building a strong foundation to applying concepts to various aspects in life. With a high percentage of students scoring As in their exams each year, this approach has been tried and proven to work.

Mock exams conducted regularly: Students can keep up to date on their progress with mock exams conducted regularly. Timed quizzes are also carried out to test students' abilities to think on their feet during an exam.

Students' Reviews

Mr Tan is great at handling students and interacting with his students in order to get them to absorb the best. He is also very engaging and uses visual demonstrations in order to engage the class and allow us to understand the topic better. I am very thankful for Mr Tan as he allowed me to take an interest in physics and boosted my grades.

Review by Glexon

S/U grade student throughout 2 years of JC, scored A for H2 physics in A Levels. I joined Mr Tan's class halfway through second year of JC, 7 months of weekly classes had definitely made a huge difference in my understanding of physics concepts. It's never too late to join tuition I'd say. Kungfu Physics' materials allowed me to practise MORE questions, constantly re-visit core concepts and eventually have a good grasp of the key question types -> prepared me well for the A Levels. Goated place

Review by Qianqian Zhang

Mr tan goes through each question meticulously pointing out common mistakes made by students ensuring that we do not repeat those mistakes. He takes time to clarify our doubts if any. His notes are concised and useful.

Review by Kumar
When it comes to Chemistry, all too often it's easy for students to overlook the practical examination. Achievers Dream aims to correct this oversight by providing students with a fully equipped lab where they can gain hands-on experience and practice for their upcoming exams. This can be especially useful for students who find that teachers focus too much on theory in school that the practical aspect is neglected.
In addition, a range of free learning resources are available to access on their website. IP students can enjoy peace of mind that the in-house curriculum is customised to what they are learning in school.
Name

Achievers Dream The Chemistry Specialist

Website

https://www.achieversdream.com.sg/

Contact Details

Call/SMS: 9653 8814 / 8028 2514

Email: admin@achieversdream.com.sg

Outlets

Bukit Timah Headquarters

9 Jalan Bingka, Singapore 588905

Lorong Chuan

Levels & Subjects

IP Chemistry

Unique Selling Points

Onsite lab for student use: Students can benefit from being able to access lab facilities when it comes to preparing for their practical exams. Having been issued a Hazardous Substance permit by NEA, students can test out a wide range of experimental skills to ensure they have all bases covered.

Proprietary learning app: This app is powered by artificial intelligence and is able to deliver a customised learning experience for each student. It is able to pinpoint the exact area(s) a student needs help with and customise an improvement plan that will work.

Students' Reviews

At the start of the year in JC2, I scored an S grade for chemistry in my block test. After going for the lessons in AD, I understood the concepts much better. I also found the better and right way to study chemistry using the method taught in AD. Thanks to Mr John explaining the concepts and study method well, I improved a lot in chemistry and finally attained a B grade in A levels.

Review by Amitosh Chakraborty

the teachers here are very engaging and they will ensure you leave the classroom understanding the concepts taught. the books given are also very helpful and useful. i started AD not understanding a single concept in chemistry but now, i understand most of the concepts!

Review by Chelsey Wong

Thank you AD for all the help for Chemistry! In school I would dread going for Chemisty lessons but in AD I look forward to them! The pace of lessons are much better as they give me time to process and understand new information and my teacher has also helped me a lot in terms of explaining new concepts and going through questions in ways I can easily understand and apply them in school and exams. The INEPP classes I attended were also really useful as they helped me to recall key ideas and concepts from JC1 topics for my A levels. I'm very glad that I joined AD this year.

Review by Rhea Sivakumar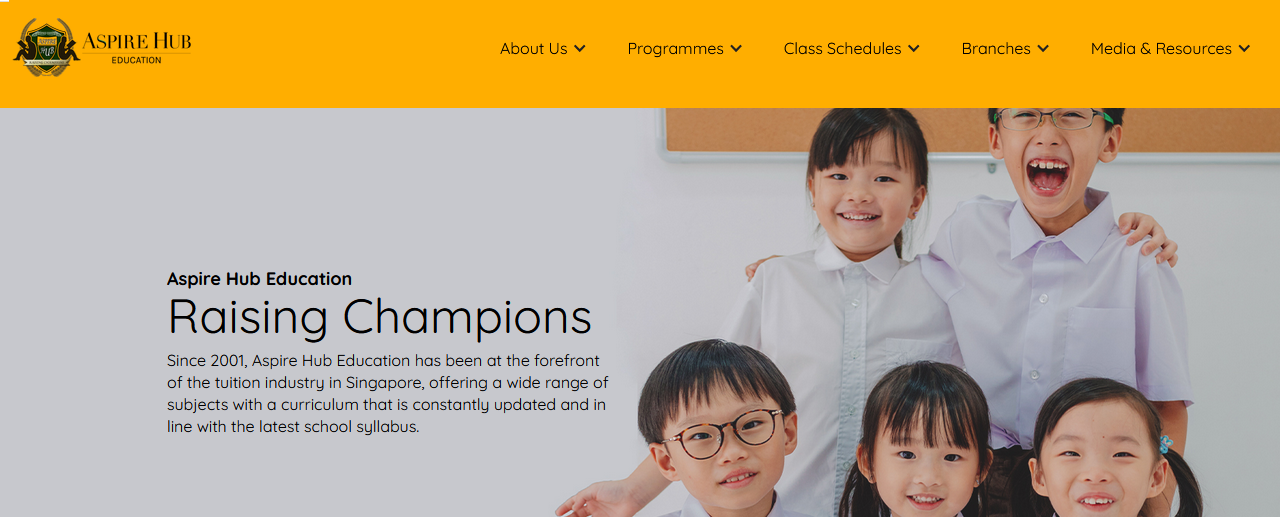 At Aspire Hub, personalised coaching and constant feedback is a recurring theme throughout their IP tuition classes. The individual learning style of each student is also taken into consideration, and they can enjoy full confidence that classes will proceed at their pace. In addition, with numerous branches across the island, students no longer have to worry about fitting in extensive travelling times into their busy schedules.
Name

Aspire Hub

Website

https://www.aspirehub.com/

Contact Details

Call/SMS: 6235 2018 / 9821 6612

Email: info-av@aspirehub.com (Great World City Headquarters)

Outlets

Great World City Headquarters

1 Kim Seng Promenade, #03-122, Singapore 237994
‍AMK Hub

53 Ang Mo Kio Ave 3, #03-04, #03-24, Singapore 569933

Hillion Mall

17 Petir Road, Hillion Mall, #B1-64, Singapore 678278

Paya Lebar Quarter

10 Paya Lebar Rd, Paya Lebar Quarter #03-21 (Near Popular), Singapore 409057

Alexandra Village

Blk 122 Bukit Merah Lane 1, #01-54/56/58, Singapore 150122

Bedok Mall

311 New Upper Changi Road, #B1-06, Singapore 467360

Bedok Central

Blk 203, Bedok North Street 1, #01-459 (2nd storey), Singapore 460203

Bukit Timah

144 Upper Bukit Timah Road, #03-06A Singapore 588177

Jurong Point

1 Jurong West Central 2, Jurong Point, #01-40/41/42, Singapore 648886

Parkway Parade

80 Marine Parade Road, Parkway Parade #01-58, #03-31 Singapore 44926

Rochester Mall

35 Rochester Drive, Rochester Mall, #02-08, Singapore 138639

Seletar Mall

33 Sengkang West Avenue, #03-14/15, The Seletar Mall, Singapore 797653

NEX

23 Serangoon Central, Nex, #04R-79 (near Library), Singapore 556083

United Square

101 Thomson Road, United Square #01-33/34/35, Singapore 307591

Thomson

193A Upper Thomson Road, Singapore 574338

West Mall

1 Bukit Batok Central Link, West Mall #02-21/22, Singapore 658713

Levels & Subjects

IP Maths, IP Physics, IP Chemistry, IP Biology

Unique Selling Points

Multiple branches islandwide: Students can choose to attend classes at any of the 15 branches islandwide, ensuring that they will not have to endure a long travel time just to get to classes.

Trial lessons available: For parents who are unsure about signing their child up for a regular course, trial lessons are available to help students determine if the tuition centre will be a good fit for them.

Students' Reviews

I joined Mr Rick's IP Math class in Sec 2 after doing badly for my mid-year exams. He really helped me work on my foundations in Math and I practised a lot to prepare for the EOY. And we succeeded. I was really happy to get my first A for Math back then.
‍
Thereafter, I continued to do well throughout Sec 3 and Sec 4. Mr Rick always made sure I was well prepared for each test and each exam.
‍
During my 2 years at VJC, I also did well for most tests and I aced the Promo as well. And I achieved one of the highest scores in the school for my JC 2 mid-year exams. It was quite a personal achievement for myself.
‍
Glad I chose the right centre!

Review by Heather Ng

Being a student councillor takes up a lot of my time. Going to tuition with Mr Rick helps me catch up with whatever I missed during school.
I am able to prepare well for my tutorials and tests. The lesson is fun and it helps that I have many of my friends here with me for tuition.

Review by Evelyn Tan
Edu Edge English Language Specialists offers a range of programmes for students, from mastery workshops to booster programmes. IP students in Years 1, 2 and 3 are recommended to sign up for the Mastery Programme, where they will be taught the essential skills they need to excel in all four papers of the English Language examinations.
IP students will learn how to express their opinions in a succinct manner while supporting their arguments with real-life examples. Not only will this increase their confidence to take on school examinations, it will also help to provide them with a solid foundation to take on 'A' Levels GP when the time comes.
Name

Edu Edge English Language Specialists

Website

https://eduedge.com.sg/

Contact Details

Call/SMS: 9797 6581

Outlets

301 Serangoon Avenue 2, Singapore 550 301

Levels & Subjects

IP English

Unique Selling Points

Parent support channel: Today, an increasing number of parents wish to be involved in their children's learning in order to provide them with the best support possible. Parents can join the parent support channel created by Edu Edge English Language Specialists, where they can download e-video lessons and worksheets for their child.

Free downloadable resources: Students and parents can access a range of free resources on the website that will enable them to learn from anywhere, including a guide to situational writing.

Students' Reviews

Lessons in eduedge are definitely enjoyable. The teachers are engaging and we have class discussions on most days where we get to share and brainstorm ideas with our friends. The content provided also goes way more in depth than my school. For oral, essays and situational writings, teachers elaborate each point very well which helps us generate more ideas as we write. As for grammar, we touch on it once a while but enough such that we are able to remember key grammar rules. The teachers are also very friendly and approachable so we are always encouraged to ask questions. Overall, I love it here in EduEdge!

Review by Sanuthi Sara

I love the interactive lessons here at EduEdge. The teachers are very helpful and will go the extra mile to help us understand the concept better. The EduEdge strategies have helped me greatly in my studies and boosts my English grades. I am glad to have joined EduEdge as it is a win-win situation where I get to improve my grades and enjoy the interesting lessons

Review by Cherelle Lee

EduEdge has helped me understand the components of the English paper and has given me amazing notes for preparation of the examinations. The way of teaching though the use of formulas like 4(S) answering strategy for comprehension made the learning for English more fun and interesting. The method of asking thinking questions (why/what/how) is very useful for me to generate ideas. I used to be afraid of writing compositions in school but with the help of EduEdge, writing compositions are not as terrifying as before. I used to be scared of summary writing but with the help of EduEdge ASAP strategy, summary is not as difficult as it seems. I have improved from 8/15 for summary to 11/15. EduEdge has certainly helped me understand the requirements of the English paper better.

Review by Clara Tan Hui Shi
Which IP Tuition Centre is Best for Your Needs?
IP students can face a tremendous amount of pressure to excel in their various subjects while balancing CCAs and other commitments. It's not unusual for students to require additional help with one or more subjects due to the larger class sizes in schools. However, choosing the best IP tuition centre comes down to being able to identify your specific needs, as well as what it is you are looking for.
With that in mind, here are some factors you may need to consider before committing yourself to a regular course:
Subjects offered: Do you require help with one specific subject, or are you looking for tuition in more than one subject? With this list of subjects covered during Years 1 to 3 of IP in mind, you may find that an IP tuition centre that focuses solely on Chemistry is the best fit for you, or it may be more convenient signing up with a centre that offers all the subjects you need in one place.
Results: Successful tuition centres are never afraid to share their results online and upon request. Understandably, parents will want to make sure that they are getting their money's worth, and students will not wish to waste their time at a centre that doesn't deliver promising results.
Learning modes: An increasing number of students are opting for online classes to fit in with their busy schedules. A combination of learning modes can even be utilised if you prefer the personal touch of face-to-face lessons but aren't always to make it due to other commitments.

Search for A Qualified IP Home Tutor
IP students who would rather find a tutor who can work around their schedule have plenty of options today. At Tutor City, we can help you speed up the search for IP tuition through our wide database of qualified tutors. Whether you need help with Maths, English, Chemistry or any other subject, we have got you covered!