Best Biology Tuition Singapore - Top 18 Review
Biology, the fascinating realm that unveils the secrets of life and the wonders of nature, can be quite a challenge to conquer. In this ever-evolving world of scientific advancements and technological breakthroughs, the subject has taken on a new level of complexity and demands an unwavering commitment from students.
As more and more students contemplate venturing into STEM (science, technology, engineering, and mathematics) fields, the significance of mastering biology becomes even more pronounced. The interconnections between biology and various scientific disciplines have become increasingly apparent, highlighting the need for a solid foundation in this captivating subject.
As a result, many students in Singapore have been turning to tuition centres in Singapore specialising in biology to help them grasp this fascinating subject. In this article, we present the top 18 biology tuition centres in Singapore, covering their unique offerings and approaches to teaching.
These centres are staffed with experienced teachers who can provide the guidance and support you need to ace biology. Moreover, the small class sizes at these centres allow for more individualized attention. As a result, you'll be able to quickly identify and address any areas of weakness. With the help of a biology tuition centre in Singapore, you'll be on your way to getting top marks in no time.
The Challenges of Learning Biology in Singapore
Biology, the study of life, holds endless wonders and intricacies waiting to be discovered. However, for many students in Singapore, mastering this subject can be a daunting task. The biology syllabus at both the Secondary and Junior College (JC) levels poses unique challenges that students must navigate.
Firstly, the Singaporean biology syllabus emphasizes an informational approach, requiring students to absorb and retain a vast amount of knowledge. This can feel overwhelming, as the subject delves into the complexities of cells, organisms, and ecosystems. Understanding and memorizing the intricacies of biological processes and concepts can be a significant hurdle for students to overcome, especially as they juggle other subjects with similar approaches.
Furthermore, biology is often taught in a theoretical manner, detached from real-life applications. This disconnection between theory and practice can hinder students' comprehension and hinder their ability to see the relevance of the subject in their everyday lives. Without a tangible understanding of how biology impacts the world around them, students may struggle to grasp the practical implications of the concepts they are learning.
Lastly, some students may lack a natural interest or curiosity in biology, which can dampen their motivation to learn. The subject's intricate details and complex terminology can seem daunting, leading to disengagement and a lack of enthusiasm. Overcoming this lack of interest requires a teaching approach that sparks curiosity, encourages exploration, and highlights the practical applications of biology in various fields.
Despite these challenges, there is hope. With the right guidance, support, and educational resources, students can conquer the hurdles and unlock the secrets of life. Engaging with a dedicated biology tuition centre or a knowledgeable tutor can provide the necessary tools and strategies to excel in the subject. Through interactive and engaging lessons, practical demonstrations, and relatable examples, students can develop a deep understanding of biology's significance and ignite their passion for the subject.
What are the Different Types of Biology Tuition in Singapore?
When it comes to learning biology, each student has varying needs and requirements. From the collaborative dynamics of group tuition to the personalised attention of private tuition, the options are abundant.
Group Tuition
In group tuition, you'll learn alongside a small cohort of peers, forming connections and fostering a collaborative spirit. With the guidance of an experienced tutor, you'll dive into the syllabus together, exploring concepts as a team. This dynamic environment promotes active discussions, sparks new ideas, and cultivates a supportive network.
Diverse perspectives

Group activities

Peer insights



Private Tuition
Now picture a one-on-one setting, where the spotlight is solely on you and your academic needs. In private tuition, a dedicated tutor tailors the lessons to suit your individual needs, strengths, and challenges. This personalized attention allows for a deep focus on your specific areas of improvement, accelerating your progress and understanding. With the flexibility to ask questions freely and receive immediate feedback, you'll build a strong foundation in biology.
Customised learning experience

Pacing to match your needs

More freedom and focus



Online Tuition
In the age of technology, online biology tuition has emerged as a convenient and effective option. Through video conferencing platforms like Zoom or Skype, you can embark on a virtual learning journey from the comfort of your own home. Online tuition offers flexibility in scheduling, eliminates the need for travel, and expands access to top-notch tutors beyond geographical limitations.
Convenient and accessible

Plenty of digital resources

May be lacking in interactivity and engagement
Crash Courses
Imagine an exhilarating race against time, where you consolidate your biology knowledge in an intensive, focused manner. Crash courses are designed to cover the entire biology syllabus within a condensed period, often held during school holidays or just before exams. These accelerated programs provide a laser-focused review, targeting key topics, exam strategies, and practice exercises.
Mainly for revision

Reinforcing understanding

Maximising exam performance

How to Choose the Best Biology Tuition Centre for You
According to data from MOE's website, there are 800 registered tuition centres in Singapore. So, what makes a biology tuition centre stand out from the rest? When determining the top biology tuition centres in Singapore, several key criteria come into play. These criteria help ensure that the chosen centres provide high-quality education and create an optimal learning environment for students. Let's take a look at the essential factors used to evaluate and select the top biology tuition centres:

1. Qualifications and Experience of the Tutor:
Highly qualified tutors bring a wealth of knowledge and expertise to the classroom, ensuring that students receive accurate and up-to-date information. Look for tutors with solid educational backgrounds, relevant degrees, certifications and teaching experience. These degrees serve as a strong foundation of subject knowledge and indicate the tutors' depth of understanding. They are also a great indicator of commitment to professional development and their ability to employ effective instructional strategies.
Teaching experience is another important factor to consider. Experienced tutors bring practical insights, real-world examples, and the ability to connect with students. Their familiarity with different learning styles and adaptability to teaching methods make the learning experience more engaging and effective.

2. Teaching Approach and Methodology
Each centre has its unique learning approach and instructional methods. Some may prioritise innovative teaching techniques, interactive activities and practical applications to actively engage students and foster a deeper understanding. Such techniques emphasise student-centred learning, critical thinking development, and hands-on experiments, creating a dynamic and immersive learning experience that may be important for those struggling with biology.
On the other hand, some centres may adopt a more traditional and structured approach, relying on textbooks and lectures to convey knowledge. It is essential to consider a student's learning style and preferences when evaluating the teaching approach of a tuition centre.
Some centres offer free or low-cost trial classes. Such opportunities can prove to be incredibly valuable for you to observe and assess the teaching methods used, giving better insight into how well they align with different learning styles and needs. A good tuition centre will have a thoughtfully designed curriculum that aligns with the relevant syllabus and incorporates effective teaching methods that resonate.

3. Track Record of Success:

Evaluating a centre's history of producing successful students who have excelled in biology examinations provides valuable insight into their effectiveness. Look for centres that have a track record of helping students improve their grades, achieve higher scores, and gain admission into prestigious educational institutions.
A centre's track record of success is an indicator of its teaching quality, curriculum effectiveness, and ability to nurture students' academic growth. Consider factors such as the percentage of students who have shown significant improvement in their biology grades under the centre's guidance. This demonstrates the centre's ability to impart knowledge and help students grasp challenging concepts effectively.
Additionally, examine the number of students who have achieved outstanding scores in biology examinations. This highlights the centre's proficiency in preparing students for exams and equipping them with the necessary skills and knowledge to excel. It is also worth considering whether the centre has a track record of students gaining admission into renowned educational institutions, as this speaks to the centre's reputation and the quality of education provided. Prioritizing centres with a consistent track record of producing high-performing students ensures that you receive quality education and increases the likelihood of your academic success
4. Class Size and Student-Teacher Ratio:
Class size and student-teacher ratio play a vital role in creating a conducive learning environment. At the heart of effective learning is personalized attention, and that's why we emphasize the importance of smaller class sizes. Each student has their own personal learning style. Smaller class sizes ensure that each student receives the individual guidance and support they deserve. With fewer students vying for the teacher's attention, there's more room for meaningful interaction, engaging discussions, and personalized feedback.
Smaller class sizes allow for the opportunity to actively participate in discussions, ask questions, and seek clarification without hesitation. Tutors can dedicate more time to address specific challenges, reinforcing concepts, and providing tailored guidance. This level of personalized attention fosters a deeper understanding of biology and allows for progress at the student's pace.

5. Student Feedback and Testimonials:

At the end of the day, it is only the students and parents who can vouch for the success and effectiveness of any biology tuition centre. That's why feedback and testimonials from past and current students are invaluable in assessing the quality of these centres. Their opinions provide valuable insights into the teaching, support and overall learning experience offered.
In reviewing feedback, look into details such as satisfaction with teaching methods employed, level of support received, and of course, the impact on the student's academic progress. Positive feedback and testimonials from students who have excelled in biology indicate the effectiveness of the tuition centre in delivering quality education and fostering a supportive learning environment.

Our Comprehensive List of Top Biology Tuition Centres in Singapore
1. Biologytuition.sg by Dr Fong
Located at Bukit Timah Shopping Centre, Biology Tuition SG provides a limited number of students with an enriching learning experience that empowers them to excel in biology and chemistry. Led by Dr Fong, a dedicated tutor with a passion for biology and chemistry, this centre stands out for its clear explanations, personalized attention, and commitment to student success.
Backed with an M.B.B.S in Medicine and Surgery from NUS, Dr Fong brings comprehensive subject knowledge while instilling discipline and commitment in his students. His expertise, caring nature and dedication has been the driving force in inspiring numerous students and helping them turn their grades around. Alongside his teaching, he incorporates special techniques from brain training courses, to provide added value in cognitive skills development. Dr Fong also extends his support beyond academics, offering interview skills coaching, career recommendations, and mentorship programs to aspiring O and A-level students.
Key Features:
Group tuition and 1-to-1 classes
Small class sizes for focus
Clear and concise explanations
Caring and dedicated tutor, qualified in Medicine

Name

Biologytuition.sg

Website

Contact Number

9277 6201

Email

None, contact via whatsapp

Location & Accessibility

Bukit Timah
Bukit Timah Shopping Centre #B1-24 Singapore 588179
Nearest MRT: Beauty World


Bedok

Bedok South Ave 1 Blk 17 #02-565 Singapore 460017

Nearest MRT: Bedok

Level

O'Level and A'Level Biology

Testimonials

Dr Fong is an extremely caring Biology teacher who is always willing to go the extra mile to help his students! His teaching is very concise which is helpful in helping us remember the multitude of keywords in Biology. Thank you so much!

- Review from Student Cheryl Chin

I can see that you've made Bernice like bio and enjoy your class.

- Review from Parent
Established in 2023, this centre may be new in the market, but their passion for science and commitment to student success has already surpassed levels! From engaging experiments to hybrid learning options, Dream Science creates an extraordinary learning experience that combines academic excellence with the joy of discovery.
Led by experienced tutors, Ezra and his team, Dream Science specializes in Secondary, JC, and IGCSE Chemistry, Physics, and Biology tuition. With their expertise, they have helped numerous students achieve their dream scores, including science distinctions. Beyond academic success, Ezra and his team provide clear guidance and direction to nurture students' overall growth and development.
Key Features:
Expert tutors
Hybrid learning options
Passionate teaching
Free 30 min trial for parents and students available
Name

Dream Science

Website

Contact Number

9771 8170

Email

admin@dreamsciencetuition.com

Location & Accessibility

Blk 503 Bishan Street 11 #01-450 Singapore 570503
Nearest MRT: Bishan

Level

O'Level Biology

Testimonials

Dedicated crew of science teachers who do their best to ensure students achieve their maximum potential! Dream big, achieve greatness!

- Review from Parent Nicholas Ong

I was failing my science subject for my weighted assessment in school and had no idea what was going on in class. My mother was worried for me and immediately took action to find a tutor. Through a website we found him and immediately started have tuition.

Slowly he explained to me and focus on my weaker topics and was very patient to help me. With his help i manage to catch up a lot and was more confident and actually understood science.

In the end, with much effort I managed to get an A1 distinction for my end of year examination. I really have to give credit to him for helping me to achieve this. thank you

- Review from Student Aqil

After I had started lessons, my grades skyrocketed from an F9 to an A1 within the span of only one semester.

My teacher(Ezra) was very meticulous in his teaching, ensuring that I always fully understood one topic before moving on to the next, and would also frequently revisit topics to ensure that I was still able to understand.

He also taught in a manner that was extremely easy for anybody to understand. As a result, I was able to breeze through my 'O' Level examination with much ease.

10/10 would recommend

- Review from Student Desmond
3. Smart Lab
With a strong focus on understanding key concepts and formulas rather than mere memorization, SmartLab is not your ordinary tuition centre. They believe in empowering students to apply their knowledge effectively, even when faced with unfamiliar questions.
With a focus on personalised attention and engagement, class sizes are kept small as experienced teachers provide every student with the support they need to thrive academically. For additional resources and practice beyond the classroom, students get access to their e-learning app, packed with comprehensive resources and learning materials for independent learning.
Key Features:
Small class sizes
Interactive lesson style
Emphasis on understanding key concepts and formulas
Additional learning resources for independent learning support
Name

Smart Lab

Website

Contact Number

81585744

Email

adminbishan@smartlab.com.sg

Location & Accessibility

4 outlets islandwide, view branches here

Level

O'Level Biology

Testimonials

SmartLab helped me to pull up my biology grades from C6 to A2 in the span of a year. The teacher I had was very friendly and approachable which made me feel more comfortable to ask for help when I needed to. The notes given were also very helpful for revision.

- Review from Student Tara

The teachers in Smartlab are very friendly and they really took the effort to understand the needs of the student dispite the differences in their learning abilities. I can see the dedication and care that the teachers put into teaching my child. Thank you Mr Tan Wei Ee (Bio/Chem) and Mr Tan (Maths)!

- Review from Student HC Ong

My science tutor at this centre was very clear in her explanation of the many different concepts in different chapters of biology which allowed me to easily understand and master the different topics. She was also more than willing to stay behind after lesson to help me with any further queries and misunderstandings in my work.Overall,smartlab provides me with a friendly and patient environment to study and i would reconmend it to anyone with difficulties in their studies.

- Review from Student Aloysius
4. Ms Yap's A-Level Biology Tuition

Known in the market as a specialised A-level biology tuition centre, Ms Yap's A-Level Biology Tuition is synonymous with excellence and expertise. With a strong track record of achieving remarkable results, Ms Yap's dedication to her student's success is unparalleled.
Her deep understanding of the A-Level biology syllabus also enables her to design a comprehensive curriculum, covering all key topics and ensuring students have a solid foundation. Through innovative teaching methods, interactive discussions, and practical applications, students develop a deeper understanding of complex biological concepts.
Key Features:
Specialised in Biology for A-level students
Experienced tutor
Structured materials and teaching style
Name

Ms Yap's A-Level Biology Tuition

Website

Contact Number

None

Email

Contact them here

Location & Accessibility

Katong/Marine Parade

Level

A'Level Biology

Testimonials

My Daughter was consistently doing poorly for her class tests, term tests and even up till prelim exam for her Biology subject. We found Ms Yap's Biology Tuition just months before A Level Exam; and I wasn't even sure then if it would be helpful for her. To my surprise, my Daughter looked forward to her weekly lessons and found Ms Yap's notes, while very heavy in content, they were concise and made sense to her for cross-referencing during revision. The digital lessons were also useful resource as my Daughter could learn outside lesson time , anytime, anywhere.

Ms Yap also took time to address my queries as a parent in a sharp and prompt manner. On hindsight, I wish we had found Ms Yap's Biology Tuition early but am nonetheless thankful for her guidance in enabling my Daughter turned from a 'U' grader to scoring Distinction for her A Level Exam!

- Review from Parent Karen Ham


When I ended up sleeping in school lectures because the teachers were going too fast (because I had no idea what they were rambling on about), I started scoring a string of S and Us no matter how hard I studied. I knew I needed help fast and I approached Ms Yap and her program. She made biology fun and helped me link up all the concepts and taught me how to apply them.

Her notes are impeccably written with all the concepts and common questions you ever need to know all compiled. She's done all the thinking for me and I only need to internalise them, which she has drilled into me countless times during her tuition class.

Insofar as to that what she emphasized on in class (which my school teachers sadly did not teach), CAME out in my A levels !! Thank you so much for always being ready to help me!

- Review from Student Beverly Chan

Since I did not take Biology at Sec 3/ Sec 4, so I have no background in Biology- compared to my peers who are taking H2 Biology A levels.

Before coming to Ms Yap, I had no biology tuition at all. I tried to study on my own but I could not make out which concepts were important, because my school notes were very thick; and I had difficulty applying concepts to questions.

After attending Ms Yap's tuition, her practice questions helped pull up my grades significantly, by 4 grades and I scored the highest I ever scored.

Ms Yap provides many application questions- her lectures and tutorials are integrated, and she tells you what to look at for. Thank you Ms Yap!

- Review from Student Wee Yan Shen
5. Overmugged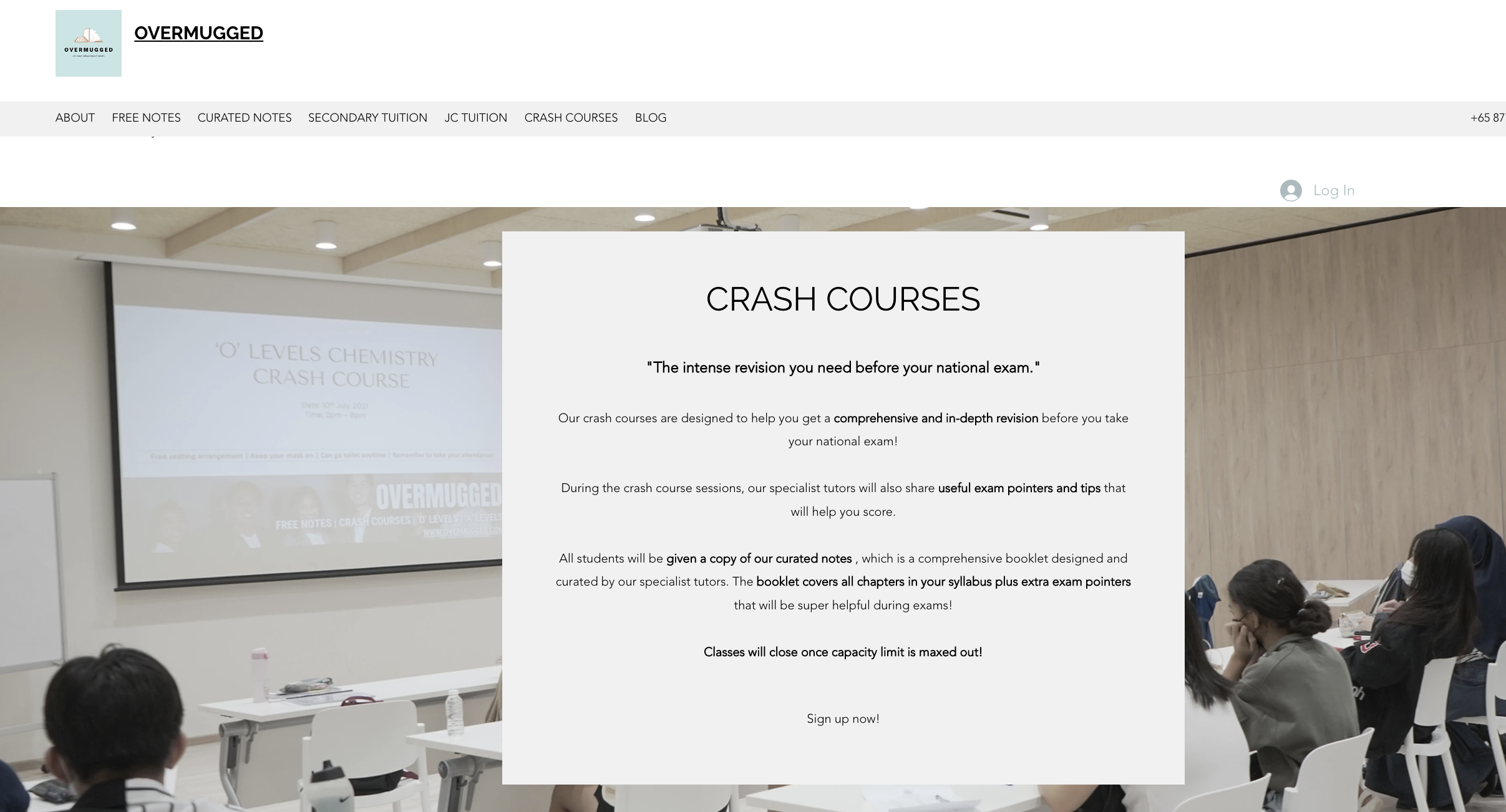 Once a platform offering free learning resources for students, Overmugged has evolved into an empowering team of experienced tutors, committed to guiding students on their educational journey.
Spearheaded by Darrel, an NTU graduated and a private tutor, Overmugged believes in breaking down barriers to learning. With flexible options available, students can choose from a range of group tuition classes tailored to their preferred timings and locations.
At the core of Overmugged's teaching philosophy is the desire to make education accessible to all. Recognizing the importance of a well-structured curriculum, they have condensed essential knowledge and concepts into a comprehensive booklet aligned with MOE's learning syllabus. Even if students opt not to sign up for tuition, they can still access this invaluable resource and more.
Key Features:
Original and comprehensive learning materials
Flexible group tuition
Supportive learning community
Name

Overmugged

Website

Contact Number

8770 2540

Email

overmugged@gmail.com

Location & Accessibility

4 outlets islandwide, view branches here

Level

O'Level and A'Level Biology

Testimonials

i love overmugged! previously hearing of overmugged when i started secondary school, joining the lower sec channel and moving up to sec 3?!!? thereafter making the decision to officially join group tuition might js be the best academic choice, or really the best tuition class ive ever chosen to taken up by far throughout my secondary school journey. either way, though i havent taken my o levels yet i know darrell, my tutor, will always be there to help me and my other classmates w open arms during my o level journey!! really happy to have stumbled upon overmugged even when i wasnt a student of theirs back in lower sec, their free notes and webinars on their channel and website is really v OP AND THEY R SUPER UNDERRATED.

- Review from Student Amelie

Overmugged provided me a wide range of resources and materials, including online resources and practice questions during their crash courses. These were extremely helpful in reinforcing the material learned in class and in helping me prepare for exams.

- Review from Student Shrinithi Ramanathan

Teacher Darrell is really encouraging, and he had many fun and interesting ways to teach us new concepts. The overmugged notes helped me a lot and my physics improved significantly after attending his lessons. I will definitely recommend my friends to go for overmugged tuition

- Review from Student Victoria Kang
Image via Google
Inspire Education Centre is a tuition centre in Singapore that offers comprehensive and engaging lessons to help students develop a strong foundation in their academic subjects. With experienced and dedicated tutors, the centre provides personalised attention and support to each student, resulting in a proven track record of success. Students who attend Inspire Education Centre consistently achieve excellent grades and achieve their academic goals. The centre's commitment to providing quality education and fostering a positive learning environment makes it a popular choice for students looking to improve their biology grades and excel in their studies.
Key Features:
Experienced and dedicated tutors
Comprehensive and engaging lessons
Positive Learning Environment
Name

Inspire Education Centre

Website

Contact Number

63453147/86995629

Email

info@inspire-edu.sg

Location & Accessibility

East Coast
50 East Coast Road, #02-46, Roxy Square 1, Singapore 428769
Nearest MRT: Eunos, Dakota

Level

O'Level and A'Level Biology

Testimonials

Teachers were knowledgeable and dedicated about the stuff they teach and were more than glad for any consultations outside teaching hours which were very helpful. Mr lim (science & math teacher) is probably one of the best teacher i have come across.

- Review from Student KT

There are many good teachers, a few great teachers, and one or two life-changing teachers. I am fortunate and thankful that I have encountered a life-changing teacher in the form of Mr. Yong.

- Review from Student Gallen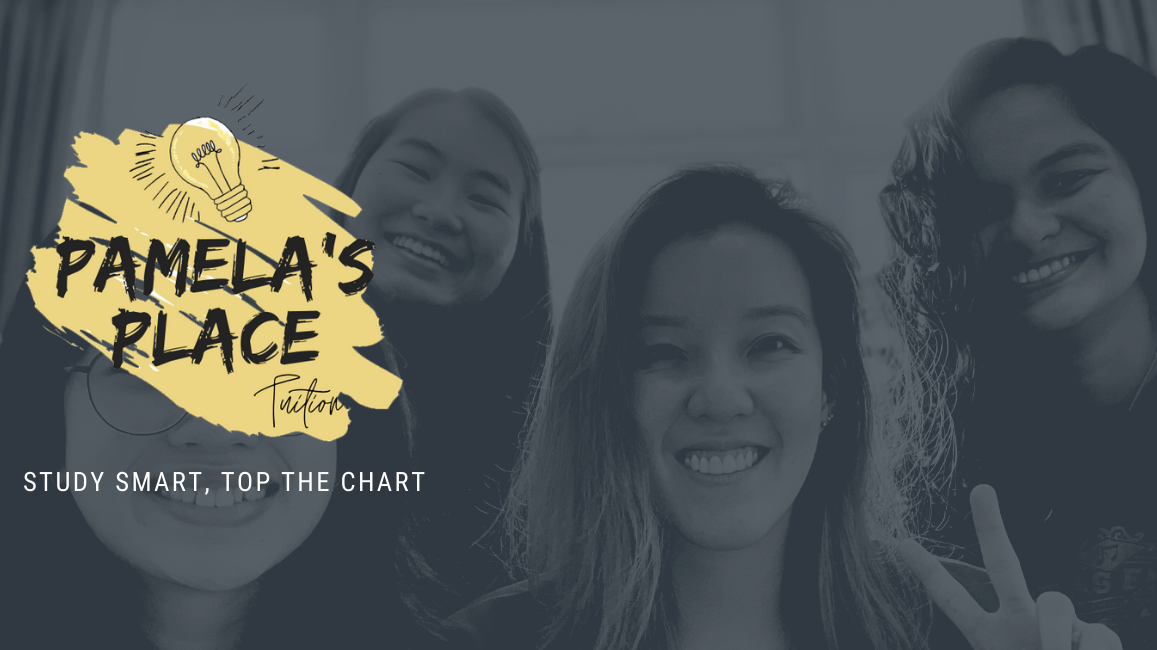 At Pamela's place, the teaching methodology is designed to demystify Science and Maths, making them accessible to all. Tutor Pamela's perfected answering techniques and personalized distinction scoring notes for 'A' Levels and 'O' Levels provide students with clear and concise study materials that foster understanding and confidence.
Equipped with specialist knowledge, she tailors teaching to the individual, ensuring that every student grasps concepts with clarity and builds unwavering confidence in their abilities. Her dedication to students and proven track record of success makes this centre a worthy choice for biology tuition in Singapore.
Key Features:
Tailored teaching
Comprehensive and engaging lessons
Positive Learning Environment
Name

Pamela's Place

Website

Contact Number

91510956

Email

pamela.adlereducation@gmail.com

Location & Accessibility

Bukit Timah
939 Bukit Timah Road

The Cascadia
Nearest MRT: King Albert Park

Level

O'Level and A'Level Biology

Testimonials

I joined Pamela's intensive classes for biology and learnt so much from her lessons. Her concise notes help greatly with revision and she is clear in her explanation, making topics easier to understand and commit to memory. She also goes through answering techniques, which I found very beneficial!

- Review from Student Myra

Ms Pam is an amazing tutor who has helped me a lot in Biology. I have always found Biology as a subject very difficult due to the amount of content that needed to be learnt and I struggled with memorising certain concepts as well as the appropriate answering techniques. Ms Pam's teaching style ensured that we were actively recalling and recapping the information taught such that we were able to quickly and easily draw connections between the various topics. After teaching us a certain topic, she would also assign some time for us to attempt certain questions that she picked out, thus giving us the time and space to think more deeply about what we were taught. Most importantly, I was very comfortable with making mistakes in the class as Ms Pam was always very patient and understanding and would ensure I understood my mistakes, and this in turn made me more open to voice out my concerns whenever I needed any help. Ms Pam is also very easy to contact and very responsive via WhatsApp, and would reply with very detailed explanations when I sent her any queries so that I could clarify any misconceptions as quickly as possible. Overall, I find that I have benefitted immensely from the 8 or so months that I have been under her and I would recommend anyone who needs help in Biology to try out the classes :D


- Review from Student Elena tay

was initially very intimidated by h2 biology because of the large amount of content & seemingly complicated concepts, but i'm so glad that i turned to ms pam for help eventually! ms pam was able to explain the concepts and details in a very simplified manner which allowed me to understand and get used to the concepts easily! she also makes sure to ask us questions frequently to test our understanding for the topic, which makes me actively recall what I have learnt and ensures that I am able to capture the important and necessary content. ms pam will answer any questions that we have promptly and is extremely genuine & dedicated in helping us with the guidance she provides! would 100% recommend her lessons & i'm so thankful to have been tutored by her!

- Review from Student Ying Xuan
With an unwavering commitment to helping students excel, Mr Chua goes above and beyond to deliver engaging and comprehensive lessons. His teaching style is tailored to each student's unique needs, ensuring personalized attention and support that truly makes a difference. In turn, his ability to connect with students on a personal level fosters a positive learning environment where students feel motivated, empowered, and ready to reach new heights of academic success.
The results speak for themselves - students consistently achieve excellent grades and surpass their own expectations. Parents and peers alike hold him in high regard for his exceptional teaching abilities and unwavering dedication to student success. At Mr Karmen Chua's Biology Tuition Centre, you can expect nothing less than an exceptional learning journey that will unlock your full potential and set you on the path to excellence.
Key Features:
Experienced and dedicated biology tutor
Engaging and comprehensive lessons
Personalized attention and support
Strong reputation and track record of success
Name

Mr Karman Chua

Website

Contact Number

8488 9832

Email

karmanchua@gmail.com

Location & Accessibility

Bishan
116 Bishan Street 12, Singapore 570116
Nearest MRT: Bishan

Level

A'Level Biology

Testimonials

Mr Chua has always been a patient and understanding teacher! Under his guidance for the past two years, he has always been very encouraging and enthusiastic in his teaching. He is clear in his explanations and makes grasping of Biology concepts much easier! It has been a joy to be under his care for the subject and he always made lessons more enjoyable by linking concepts with his life experiences. Thank you so much for everything Mr Chua and for making H2 Biology fun!

- Review from Student Ashley Tay

I have no doubts that Mr. Chua is the BEST A Level Biology tuition teacher who helps my son to improve tremendously in this subject. His online lesson is effective, and he is an incredibly patient, caring and kind teacher. My son's has passed with flying colors in his school year end examination, I highly recommend to join his tuition class!!! Many Thanks Mr. Chua !!!


- Review from Parent Li Sa

My child has been attending Mr Chua's Biology classes for 2 years. He's a very encouraging and dedicated tutor who is thorough in his explanations in class. He is very detailed in the coverage of topics, and patient in addressing questions from every student both during and after class. Thank you for your guidance Mr Chua!

- Review from Parent Geraldine
Led by experienced teachers, Zenith offers a comprehensive curriculum and a proven track record of success. With a focus on active and discussion-based learning, students benefit from engaging lessons, personalized attention, and a supportive learning environment.
At Zenith, students receive more than just academic support. The centre goes the extra mile by providing a range of services, including career counselling, university application guidance, and scholarship/interview consultations. With a team of passionate and experienced tutors, Zenith ensures students thrive by offering personalized mentorship and employing effective teaching techniques. Limited class sizes ensure individualized attention, and crash courses are available during school holidays to strengthen students' understanding of key concepts.
Key Features:
Comprehensive curriculum
Small class sizes
Holistic Support and Guidance
Name

Zenith Education Studio

Website

Contact Number

8768 7651

Email

hello@LearnAtZenith.com

Location & Accessibility

7 outlets islandwide, view branches here

Level

A'Level Biology

Testimonials

I attended J2 H2 Bio with phoebe on saturdays. The notes she gave and the way she explained different concepts and answering skills made bio easier to understand. She also went through many questions and emphasised on answering skills to help students score in exams and spend their time more wisely.

- Review from Student Janice Lau

I joined zenith in j1 for math and biology. The tutors, Mandy and Phoebe are engaging and extremely helpful, and always willing to give additional whatsapp help or consults which were super effective!
- Review from Student Fazila Olaniyan

I joined Zenith about a month prior to prelims and the teachers helped me to jump 3 grades within this short period. The notes and lessons were effectively structured, and there was consistent writing practice to drill in techniques and methods, all of which helped me to gain more confidence and score better when taking my exams.

The teachers here are all very dedicated and often go the extra mile, offering many consultations both in-person and online, sometimes until late at night. Their lessons are also fun and interactive. Welfare at the centre is also great with free snacks and drinks. I highly recommend Zenith to any student

- Review from Student Caren Lim
10. Miss Chen's Science Tuition
Carrying decades of combined experience and unwavering dedication, tutors Ms Chen and Ms Leong are on a mission to ignite a passion for the sciences and academic excellence. Their track record boasts over 70% of their students achieving distinctions across tests and national examinations, with some even topping their cohort.
Amazingly, the duo also produce their own resources and teaching materials, designed based on actual questions from past school examinations to ensure that students are exposed to a wide range of exam-style questions. Some of these resources are available for download on their website, accessible for all students as additional practice opportunities to enhance their understanding and mastery of the topics.
Key Features:
Expertise and specialisation
Customised Learning Materials
Strong reputation

Name

Miss Chen's Science Tuition

Website

Contact Number

9788 6170

Email

enquiry@misschen.com.sg

Location & Accessibility

Blk 347 Ang Mo Kio Ave 3 #01-2124 Singapore 560347
Nearest MRT: Ang Mo Kio

Level

O'Level and A'Level Biology

Testimonials

I have been a student with Ms Chen for 5 years for secondary school and jc, Ms Chen's chemistry and biology notes are organised and summarised, classes are usually small so it is easy to ask and clarify any doubts quickly. My grades improved ever since joining ms chen's tuition. She makes sure to test us before every exam to ensure that we are well prepared, and points out gaps in our understanding of each topic making revisions easier. It is very useful to do practice questions given in tuition as they are often challenging which helps to reinforce information and allows us to understand each topic better.

- Review from Student Clara

Ms Chen taught me both Biology and Chemistry in Secondary school. An extremely dedicated and experienced tutor, Ms Chen is able to break down difficult concepts, ensuring that rather than just plain memorising, her students are able to fully understand the fundamentals behind each topic and apply them properly to tackle various questions. Being her student for 3 years, I can easily say that Ms Chen will definitely do her best to help her students excel in their respective science subjects, given that the student too has to be willing to cooperate and work alongside her guidance. I'd highly recommend Ms Chen if you're looking for an excellent science tutor and a fulfilling learning experience!


- Review from Student Chloe Low

Ms Chen tutored both my daughters for Biology and Chemistry under the IP programme for Year 3 and 4. Under her excellent tutelage, both my daughters consistently achieved outstanding performance for both sciences.

A highly dedicated and committed tutor, Ms Chen came to each lesson well prepared with her notes and revision questions. Her lesson plans were well formulated and her teaching was well delivered. To ensure that my daughters grasped the lesson content well, Ms Chen prepared adequate questions from various sources for students to practice.

Ms Chen is also a highly effective and efficient teacher where she is able to cover both sciences - Biology and Chemistry within a 2-hour lesson for my daughters.

Committed students who are prepared to work hard would certainly benefit from Ms Chen's tutelage.

- Review from Parent Sany Hakim
Image via Google
As a renowned tuition centre, Elevate Enrichment is known for its elite tutors with over 10 years of experience in guiding students towards academic excellence. With a strong focus on personalised learning, they offer a unique framework of 'Learn, Practice and Mastery', designed to build solid foundations, encourage persistent practice, and foster subject mastery.
Beyond textbooks, Elevate Enrichment believes in connecting learning to real-life applications. By incorporating real-world examples and scenarios, they inspire students to explore the practical implications of their knowledge, fostering a deeper understanding and expanding their interests in the subject. With a holistic approach to education, Elevate Enrichment equips students with the skills they need to excel in examinations while nurturing a genuine passion for learning.

Key Features:
Experienced tutors
Personalised learning model
Connecting text-book with practical applications
Name

Elevate Enrichment

Website

Contact Number

8411 4660

Email

admin@elevateenrichment.sg

Location & Accessibility

217 East Coast Road, TIDES Building #02-08 Singapore 428915
Nearest MRT: Eunos

Level

O'Level Biology

Testimonials

Had a great experience with Elevate Enrichment Centre. The tutors there always goes an extra mile to ensure that their students fully understand what they're learning. Highly recommended!!

- Review from Student Nicole Chong

I joined Elevate a few months before O level, and at that time I was failing Science (bio/chem). I knew I had to find help immediately. Coincidentally, a friend then recommended Elevate to me. When I first started, I wasn't sure if it would work out, especially since I never had confidence in Science. However, I soon gained faith as teacher Catherine taught me. Her weekly quizzes enabled me to realise my weakness, which allowed me to work on them efficiently. Her notes are also clear and concise, which helped me to understand concepts effortlessly. I managed to obtain a B3 for O level. I am grateful to have a teacher like Teacher Catherine, who kept believing in me. Thank you Teacher Catherine for the times you've helped me, guiding me to realise that I am capable of many things.


- Review from Student Ong Xin Le

I first joined Elevate under Teacher Catherine at the end of Secondary 3 through a recommendation by a friend. I wanted to join because I felt that I needed someone to guide me on how to study for my sciences (Chem, Bio). During lessons, Teacher Catherine prints a lot of worksheets and practice papers for me to do. The worksheets help me to understand the topic better, making the learning more in-depth. Lessons with Teacher Catherine are also fun because she also shares many fun facts about science-related things, making it more interesting. And because of her, I achieved my desired results for my O'levels and for that, I am really grateful for her!

- Review from Student Julienne Yeo
12. Ecube Science and Maths Lab
Founded by Andrew Kang, an award-winning ex-MOE senior teacher, Ecube is committed to providing top-quality tuition, ensuring that they bring excellence and affordability to their students.
What sets ECUBE apart is its exceptional team of teachers, all of whom are former MOE teachers. With their extensive experience and deep understanding of the curriculum, these teachers bring a wealth of knowledge and expertise to the classroom. Their focus is not just on academic excellence but holistic development. With small class sizes, students receive personalized attention and guidance, allowing them to fully grasp complex concepts and excel in their subjects.
Key Features:
Premium yet affordable group tuition
Ex-MOE teachers with extensive experience
Strong Reputation
Name

Ecube Education Lab

Website

Contact Number

96803400 / 97922670

Email

hello@ecube.com.sg

Location & Accessibility

Parkway Centre

1 Marine Parade Central #04-07 Singapore 449408
Nearest MRT: Eunos

Level

O'Level and A'Level Biology

Testimonials

Coming to Ecube has been an experience I will never forget. The teachers here are very friendly and approachable. They make lessons very interesting and fun such that we dont feel stressed out. They care about our well-being and are also concerned with how we are coping instead of just results. I am also grateful as my results have improved due to the help of the passionate teachers. I will definitely miss coming to the lessons here. Thank you Ms Hannah and Mr Kang for your undying efforts to help us.

- Review from Student Linus Ho

Having tuition classes at Ecube has definitely helped in more ways than just academically. Ms Hannah Yeo has not only helped my chemistry improve drastically in a short period of time, she has developed my interest and love for the subject. The teachers are extremely dedicated and passionate in helping the students, and also give extra classes whenever we need them. Thank you Ms Yeo and Ms Lam for having the patient to deal with us every week, and i will miss your lessons, and also the sweets provided to make our lessons extra enjoyable!!


- Review from Student Lim Su Ann

Towards Sec 3 mid-year exam, Su Ann told me she needed tuition help for Chem & Bio. She felt lousy for getting the lowest marks in class. Ever since we put her at Ecube, and within a short span of 3 months, her grades improved from C6 to A2!

The comprehensive notes given, the commitment & passion demonstrated by the teachers, had helped her gain a lot of confidence in these two subjects. She had consistently scored A1 for Chem and A2 for Bio. With the good performance, she topped both subjects in class.

Special thanks to Ms Hannah Yeo and Ms Lam for helping Su Ann scored A1 for both subjects in the GCE 'O' levels. This had also helped in Su Ann being conferred the only "Principal Award" in the whole Cohort in Cedar Girls' School!

- Review from Parent Lucy Tay
13. Higher Nucleus
Specializing in A'level programs, Higher Nucleus is an exceptional tuition centre that goes above and beyond to empower students on their journey to success. With a team of experienced and dedicated tutors, they provide comprehensive and in-depth coverage of subjects, ensuring students are well-prepared for their A'level examinations.
Classes here are kept small to create a conducive learning environment where students receive personalized attention and guidance. The tutors, who possess extensive expertise in the A'level curriculum, employ engaging teaching methods and interactive techniques to foster deep understanding and critical thinking skills.
Key Features:
Specialised expertise and focus on A'level programmes
Range of tuition programmes including exam revision and crash courses
Experienced and qualified tutors with expertise in A'level curriculum
Name

Higher Nucleus

Website

Contact Number

9788 6170

Email

None

Location & Accessibility


170 Upper Bukit Timah Road #04-44/45 Bukit Timah Shopping Centre Singapore 588179
Nearest MRT: Beauty World

Level

A'Level Biology

Testimonials

My child has attended lessons at the Thomson V2 outlet for about 2 months, under the guidance of Teacher Terence Chia. Very thankful to the patient teacher who went the extra miles to stay behind after lessons to coach my child who has a lot to catch up. Highly recommended!

- Review from Parent Ed Lee
As a renowned tuition and enrichment centre, Stalford Learning Centre stands as a beacon of educational excellence. With a strong reputation built on years of experience, they have consistently provided top-quality academic support and enrichment programs for students of all ages.
Their team of experienced educators employs effective teaching techniques to help students achieve proven results. The centre creates a conducive and mentally stimulating environment, complemented by the use of top-quality teaching materials. With a focus on quality education and excellent service, Stalford Learning Centre is dedicated to helping students realize their dreams. Whether it's academic success or personal growth, they are committed to providing the best educational opportunities for every child.
Key Features:
Strong team and reputation over the years
Excellent service and commitment to student success
Locations islandwide for better accessibility
Name

Stalford Learning Centre

Website

Contact Number

6446 3233

Email

contact@stalford.edu.sg

Location & Accessibility

21 locations islandwide, view branches here

Level

O'Level and A'Level Biology

Testimonials

Mr Liew used visual diagrams and acronyms to help us remember the important points for Chemistry. Ms Ong is a very approachable teacher who readily addressed all my Biology questions.


- Review from Student Tan Le Shen

"The calm and comfortable environment at Stalford made learning more enjoyable. Mr Lou gave well-summarised notes that helped me to retain content knowledge better."


- Review from Student Natalie Ong

Mr Wu's lessons ignited within me an intense passion for the life sciences. He was always patient in answering all of our questions.

- Review from Student Sundara Ganapathy
15. AfterSkool Learning Centre
As a boutique tuition centre committed to providing an exceptional education for students across the O'level, A'Level, IGCSE, IBDP and Integrated Programmes, Afterskool Learning Centre stands out as a premier choice for academic excellence. Their team of dedicated teachers are passionate about nurturing student potential and helping them achieve outstanding results.
AfterSkool believes in the power of personalized learning, and their small class sizes allow our tutors to give individual attention to each student, understanding their unique learning needs. Knowledge goes beyond the classroom by offering consultations to target any gaps in understanding outside of class time.
Key Features:
Small group classes
Early and comprehensive preparation
Self-study facilities
Name

AfterSkool Learning Centre

Website

Contact Number

6339 6787

Email

admissions@afterskool.edu.sg

Location & Accessibility

31 Holland Close 1-215/217

Singapore 270031

Nearest MRT: Buona Vista

Level

O'Level and A'Level Biology

Testimonials

Learning here was an amazing experience with the highly productive work environments with the amazingly effective teachers who always ensure that their points are carried across clearly and that homework is always done. Probably the best tuition centre I've been to and that says lots considering that I've been between tuition centres often.

- Review from Student Giyuu

I am a student at AfterSkool Learning center and I feel that these classes have been very helpful for me as they have raised my scores greatly and have allowed me to reach my full potential by providing me with detailed notes with tips on certain topics. The teachers are also very responsive and willing to help, and always answer my queries quickly and with thorough responses
- Review from Student Daved Lim

Teachers are extremely kind and fun. The lessons here are very fun and engaging and they will really help students improve in their work. The teachers here are also very hardworking and diligent and they are able to help us spot mistakes in our work and help us correct them. After attending this tuition my results have improved a lot.

- Review from Student Ryan Ng
16. Learners' Lodge
Branding itself as a comprehensive solution for academic enrichment across all levels, Learners' Lodge is a leading tuition centre catering to diverse learning needs. With a wide range of programmes and experienced educators, they provide both group and 1-to-1 classes that are tailored to each student's unique requirements.
The centre is known for its dedication to helping students excel in their studies through personalized guidance and support from experienced tutors. With a focus on fostering critical thinking skills and effective study techniques, Learners' Lodge empowers students to become independent learners who can navigate challenges and achieve success. By creating a conducive learning environment and delivering engaging lessons, they strive to make learning enjoyable and rewarding for every student.
Key Features:
Group tuition and 1-to-1 classes
Experienced and dedicated teachers
Comprehensive study materials
Name

Learners' Lodge

Website

Contact Number

91199655

Email

Contact number above

Location & Accessibility

6 outlets islandwide, view branches here

Level

O'Level and A'Level Biology

Testimonials

Learners Lodge is really amazing, I improved on my conceptual understanding so much after joining and the lessons and notes helped me improve my grades consistently as well! The tutors are super helpful and answered all the questions I had and really helped me score that A i wanted :)

- Review from Student Janani

All the bio content is broken down in an easy to understand manner. The teacher, Mr Phrab, actually managed to revamp my liking for bio and I'm really grateful for that cos its very comforting to have a subject that I somewhat like in JC where stress levels are so high. Analogies made are weird but that makes it even easier to remember all the crucial facts. Especially the drawing method used for revision which is pretty superb. Enjoying my time here at Learners' Lodge!


- Review from Student Stuffy

thank you Mr David Wong, you will always go the extra mile to ensure the students comprehend what is being taught in class, you will always extend the lesson beyond scheduled timing and is willing to open extra lessons just for us to learn better. You are also very caring at the same time, asking us to forget the bad results we have gotten and focus on what is ahead of us. I am grateful to have u as a teacher!!

- Review from Student Luo Zi Bin
17. Irene Biology Learning Centre
Image via Google
Founded by Irene Liu, a renowned educator with a strong academic background in biology, Irene Biology Learning Centre is dedicated especially for secondary students to excel in their life sciences.
With her exceptional educational journey and years of teaching experience, and even co-authoring a few MOE-recommended assessment books, Irene has gained recognition for her ability to simplify complex concepts and make learning fun. Her patient and friendly nature have made her popular among students, and she is known for her innovative teaching methods that bring biology to life. But of course, her centre's track record speaks for itself, with countless students showing remarkable improvements in their skill levels and achieving outstanding results in their O-level and end-of-year exams.
Key Features:

Specialist in O'level biology
Small group teaching
Free trial available
Name

Irene Biology Learning Centre

Website

Contact Number

Email

None

Location & Accessibility

Singapore Shopping Centre, 190 Clemenceau Ave, 03-29, Singapore 239924

Nearest MRT: Dhoby Ghaut

Level

O'Level Biology

Testimonials

The nature of Biology makes the subject a hard one to master. Especially when it comes to understanding the content and being able to meet the demands so as to score the marks. Ms Irene is able to simply these difficult concepts into easy ones and her mnemonics she creates makes the content memory much easier. Her friendly and approachable character makes lesson fun too. I truly enjoy every lesson with Ms Irene!

- Review from Student Gareth Sum

Before Ms Irene, my biology grades was an F9, but after her tutoring, it jumped to a B3! Ms Irene is a kind and caring teacher that is able to bring out the best in every student, and her teaching methods are second to none! Tough biology questions and concepts were easily understood after she explained them with the aid of diagrams and even a 3D model!


- Review from Student James Tan

Ms Lius lessons are well structured and well tailored towards her students, she has an engaging teaching style and she's flexible with lessons. Thanks to her I managed to score an A in both IP biology and chemistry for sec 4, highly recommend!

- Review from Student Dulcie Rosario
The Science Workshop is a tuition centre that believes in unleashing the potential of every learner. With a strong emphasis on collaboration with parents, they strive to bring out the best in each child. Going beyond traditional tuition, this tuition centre offers a dynamic and interactive learning environment tailored to meet the unique needs of students. Their experienced tutors are dedicated to providing top-quality education, ensuring personalized attention and support. By fostering open communication and partnership with parents, they aim to empower students to achieve their academic goals and develop a lifelong passion for science.
Key Features:
Specialist in O'level biology
Small group teaching
Collaborative approach
Tailored programmes

Name

The Science Workshop

Website

Contact Number

88305300

Email

None

Location & Accessibility

The Midtown, 1187 Upper Serangoon Road, #02-24, Singapore 533971

Nearest MRT: Hougang

Level

O'Level Biology

Testimonials

Teacher Joanne is a very good and patient teacher that teaches without any complaints and even provide extra classes for my daughter when she need before her exam to ensure that her doubt is cleared. Both the bio and chem grades of my daughter improved tremendously since she joined her. Highly recommend to join her class!

- Review from Parent Huang Shufen

Now I can understand why parents send their children to The Science Workshop. Tr Joanne not only a great teacher but she is also a responsible, patient, experienced and inspiring Science Teacher. She will go the extra mile to help her students to score high. I am glad that I have chosen the right Tuituon Centre for my sons. They have improved and more confident in tackling many kind of Science questions. I will definitely recommend her to any parents who want their children to excell in Science subject. Tr Joanne is definetly a true mentor.


- Review from Parent Gweenda Giovani

When my kids' grades didn't met the expectations, Ms Yeo will go the extra mile to provide extra lessons to go through work 1-on-1 for free.

Both my kids grades had improved tremendously since they started their tution

- Review from Parent Danny Lim
Unlocking Academic Success: Choosing the Right Biology Tuition
In the vast realm of scientific knowledge, biology stands as a content-heavy subject that demands attention and comprehension. Amidst the competitive educational landscape of Singapore, students can greatly benefit from additional resources and support to strengthen their grasp of vital concepts. While not a necessity, tuition can be a transformative investment, particularly for those seeking to bridge gaps or gain a competitive edge.
Choosing the right biology tuition approach can pave the way for remarkable academic growth, offering invaluable support, expert guidance, and enriching resources. Home tuition is an excellent solution that provides personalised and tailored learning experiences that cater to individual requirements.
As a reputable home tuition agency, our mission is to connect parents with experienced and qualified tutors who deliver effective and engaging lessons within the comfort of your own home. Discover how we collaborate with you to provide the ideal learning environment and empower students to excel in biology and beyond. Take the first step towards unlocking academic potential by reaching out to us today.