Best Chemistry Tuition Singapore Top 30 Review
Chemistry Tuition in Singapore
This article is a comprehensive guide to the best chemistry tuition providers in Singapore. We have compiled a list of reputable chemistry tutors, along with a description of their service, specialities and students' reviews.
Chemistry is the study of matter and its changes. By studying the nature of matter, including energy and particles such as atoms and molecules in both physical and chemical systems, we can learn more about the processes in biological systems.
Studying chemistry requires students to develop a strong understanding of the concepts, make connections between various topics and be able to apply and transfer the learning to different contexts surrounding matter and its chemical reactions.
Through their learning, students acquire knowledge of the application of chemistry in the world and develop skills such as critical thinking to analyse, and solve problems.
However, not all students find chemistry to be an enjoyable or interesting subject. Some students do not see the direct relevance of chemistry in their daily lives and may not understand how its importance in medicine, engineering or the environment. Others might find the lecturers and materials dull, which leads to a general lack of interest. Weaker students struggle to grasp the concepts and have poor mathematical skills to understand the calculations. It is not surprising that many students turn to home tuition for a head start.
In Singapore's MOE schools, chemistry is a mandatory subject taught to Secondary Three students and is a crucial component in the O-levels examination.
Depending on their combined science results in Secondary Two, students can choose to study pure chemistry, which is a higher-level chemistry comprising 11 topics according to MOE's syllabus, or combined chemistry which comprises 10 topics as stated in the latest MOE's syllabus.
At the Junior College level, students have the option to study and sit for A levels chemistry examinations at three different levels - H1, H2, or H3. H1 chemistry covers the subject with less depth and breadth, while H3 chemistry is the most advanced.
Choosing the Best Chemistry Tuition Centre: Points to Consider
1. Accessibility
Time is a precious resource that should be used wisely, especially by parents and students. If your school is in the eastern part of Singapore, would you want to spend time commuting to and fro a chemistry tuition centre located in the western part of Singapore?
Remember that travelling time is an opportunity cost, which can be put to better use such as more revision time or simply rest. If a centre is highly recommended, ask if they offer online classes too.
2. Reputation of the Chemistry Tuition Centre
Credible chemistry tuition centres will help students achieve better results within a lesser time frame than less reputable ones.
Look out for these indicators of a credible centre:
A quality curriculum framework

Testimonials of real students and the results they achieved after enrolling in the centre

Customer satisfaction reviews and ratings found on Google or Facebook

Centre's history such as year of establishment and number of students taught, do note that newer centres have fewer track records for assessment

Credentials of the tutors such as experience, professional qualifications and reviews
3. Teaching Method of Tutors
Students who want to excel in chemistry will most likely achieve their goal with the help of a tutor who has an excellent and structured teaching methodology. This is especially true when it comes to chemistry; lessons should be designed to help students understand difficult concepts beyond the surface.
A tutor can use different teaching methods to teach students, such as inquiry-based learning where students direct their own learning or collaborative learning such as group discussions, presentations and hands-on experiments.
Speak to your tutor to know more about his or her teaching methods and whether they align with your learning style.
Consider the personality of the tutor; some tutors are naturally more consultative and may be open to answering individual student questions over WhatsApp or email. Other tutors will motivate students using techniques such as positive reinforcement and cultivating a growth mindset.
4. Learning Materials
Request to look at the class slides and materials if possible. Better-quality chemistry tuition centres prepare their own custom teaching materials through a curriculum team, rather than simply using assessment books.
Some centres might include examination strategies and techniques and useful revision notes in their lesson plans to help their students achieve stellar results.
5. Fees and Class Size
Consider the class size when determining whether the tuition fee fits your budget.
Smaller classes, with only 2 to 8 students, tend to have higher fees because the tutor can provide more personalised attention and explain complex chemistry concepts and facilitate deeper learning.
In smaller chemistry group tuition, the tutor can adjust the pace of the lesson to suit each student's learning abilities. There are fewer distractions and better opportunities for quality interaction between students and teachers.
On the other hand, larger chemistry group tuition classes may be less expensive and may better fit your budget but may not provide as much individual attention or be as conducive to learning.
Best Chemistry Tuition Centres
After understanding the points to consider when looking for a chemistry tuition centre, refer below to a curated list of some of the most highly rated chemistry tuition centres in Singapore to help you make a decision.
1. SG Physics, Chemistry, Math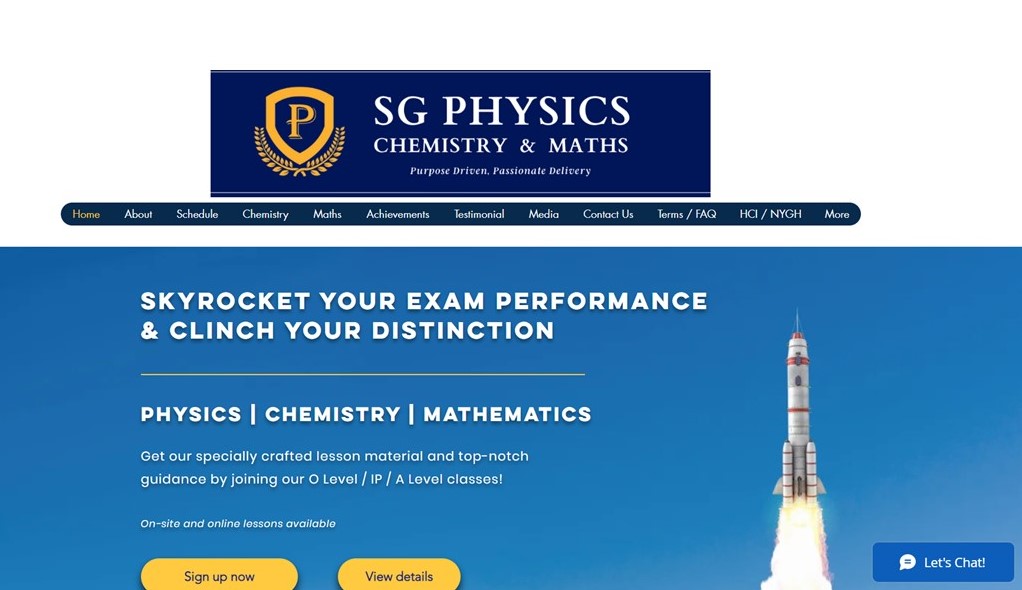 SG Physics, Chemistry, Math is a highly esteemed tuition centre with a rich history spanning nearly a decade. Renowned for its exceptional standards, the centre boasts a team of seven accomplished tutors who bring a wealth of expertise to the table. Their impressive credentials include being PSC scholars, former heads of department in the Ministry of Education, published authors of esteemed O and A levels assessment books, and recipients of prestigious teaching awards.
At SG Physics, Chemistry, Math, the core teaching philosophies revolve around igniting students' interest, fostering self-motivation, and ensuring a comprehensive grasp of the subjects.
The centre's first priority is to ignite students' interest in Physics, Chemistry, and Math. Through captivating teaching methods, real-life applications, and interactive experiments, students are inspired to explore the depths of these subjects and uncover their practical relevance and intrinsic allure.
Creating a positive learning environment is paramount at SG Physics, Chemistry, Math. Here, students are empowered to become self-motivated learners. The nurturing atmosphere encourages questioning, celebrates innovative ideas, and recognizes individual strengths. By fostering confidence and self-belief, students are motivated to embrace challenges and reach their full potential.
Comprehensive understanding is the hallmark of SG Physics, Chemistry, Math. The tutors employ a clear and thorough teaching approach, breaking down complex concepts into easily digestible components. Emphasising conceptual understanding, practical application, and problem-solving skills, they equip students with the necessary tools to excel in their examinations. Through personalised attention and guidance, the centre ensures that each student's unique learning needs are met.
Name

SG Physics, Chemistry, Math

Website

https://www.sgphysics.com/

Contact Details

Call/Whatsapp: 81356556

Email: admin@wynnedu.com

Outlets

1. Bishan
513 Bishan Street 13, #01-500, Singapore 570513 (Besides Bishan Bus Interchange)

2. Bukit Timah
170 Upper Bukit Timah Rd, B2-13B, Bukit Timah Shopping Centre, Singapore 588179 (Besides Beauty World MRT)

3. Jurong East
135 Jurong Gateway Road, #04-315, Singapore 600135 (Besides Jcube Shopping Centre)

4. Tampines
Block 201E, Tampines Street 23, #02-106, Singapore 527201 (Besides Tampines East CC)

Level & Subjects

Secondary/JC Physics, Chemistry, Math

Unique Selling Points

- Qualified tutors: award-winning, top-rated former MOE teachers, quality of teaching is ensured.
- Learning materials: pictorial notes that effectively simplifies complex concepts, especially useful for visual learners
- Specialists: highly specialised tuition in only maths and sciences, expert in physics syllabus and topics.

Track records: Excellent reviews by past and current students emphasising their improvement in grades. For Secondary subjects, generally about 80%-85% of students scored between Grade A1 - B3 after attending lessons. For JC subjects, generally about 80%-85% of students scored between Grade A - B after attending lessons

Students' reviews

The teachers are really helpful and explain the chapters very well. My Chemistry grades improved from C5 to B3 in half a year and it's still improving. My Physics went from failing in Sec 3 to being able to get A2 half a year later as well, I believe it is because of the excellent teachers in this tuition centre.
Review by Shu Hao

Mr Khoo and Ms Lynn are really sweet and lovely teachers. They will provide us with many worked examples for both Physics and Chemistry and they will also ensure that we are on the right track. Even though I did online lessons, they will ask me questions frequently to ensure that I understand. I really recommend this tuition centre. if you attend the lessons, you'll learn a lot from them!
Review by Khee Sym

I am really happy that I decided to sign up for Chemistry tuition because Ms Lynn had really helped me grasp my concepts. With her hard work and expertise, I managed to do well for Chemistry Mid-Years. Whenever I have any questions, Ms Lynn explains them to me in a way that I can understand and I am very thankful for her.
Review by Si Hong
2. Mr Khemistry
Helmed by the powerhouse duo, Mr Eric Kua and Mr Marcus Phua have earned their spots on the list of the most highly sought-after chemistry tutors in Singapore.
With a wealth of impressive credentials under their belts, including Chief Olympiad Trainer, A*Star medicinal chemist and multiple A levels textbook author, their exceptional teaching skills and expert knowledge have made them the go-to choice for A-levelstudents looking to excel in the subject.
All students enrolled in their classes will have access to the student portal which has resources worth more than $2000 and new resources updated on a weekly basis. The tutors are also approachable and open to helping weaker students with recordings of lessons and Whatsapp support.
Name

Mr Khemistry

Website

https://mrkhemistry.com/

Contact Details

Call/Whatsapp: 83322534

Email:

enquiry@mrkhemistry.com

Outlets

Bukit Timah Shopping Centre

170 Upper Bukit Timah Road

#02-63, Singapore 588179

Level & Subjects

Secondary/JC /IB Chemistry

Unique Selling Points

Learning materials: access to student portal which consist of customized notes, recorded lessons, worksheets

Qualified tutors: all tutors are NIE-trained, have taught in MOE schools for more than 16 years, obtained qualifications to teach chemistry and have research experience in recognized institutions

Online lessons: online lessons available for students unable to attend physical lessons due to clash in schedule

Whatsapp support: Whatsapp enquiries to tutors anytime to receive help in your work

Students' reviews

In my one year of learning chemistry under Mr Kua's patient guidance, I have gradually been able to pick up and apply chemistry concepts more easily and have honed my answering techniques through the weekly practice that he provides. While in J1 I used to struggle with understanding chemistry concepts and applying them to questions (especially novel questions), his teaching, topical notes and revision questions have allowed me to achieve As in my A levels :) Mr Kua also provides extensive notes and practices questions covering numerous question types, sourced from different schools, and even includes practice for practical. Thank you Mr Kua!

Review by Ng Jia En Nadia

Mr Kua's lessons have been a great help for me ever since I joined his class in the middle of J1!!! His lessons were engaging and he always asked us questions during his lessons to check if we were able understand the topic properly. Since Mr Kua was ahead of the school in terms of syllabus, I had ample time to complete my school's tutorial questions beforehand. Furthermore, he started the revision lessons for prelims and A levels early which allowed me to be exposed to a wide variety of questions. This really helped me during A levels especially with the novel questions! Thanks to Mr Kua's guidance, I was able to secure an A for H2 Chemistry! If you're struggling with chemistry, I highly recommend signing up for his lessons!!!

Review by Rafsan Chowdhury

For many students, Chemistry is a challenging subject due to its abstract nature. However, Mr Kua simplifies the concepts in a way that makes them easier to understand. The notes, worksheets and quizzes provided are also helpful for revision. Moreover, Mr Kua was patient in clarifying any doubts I had, and even reviewed my examination papers so that I could concentrate on topics I was weaker at. His guidance allowed me to drastically improve my grades in a year. Personally, Mr Kua has made Chemistry a much more enjoyable subject and is one of Singapore's best Chemistry tutors. Thank you, Mr Kua!

Review by Megan Tay
3. My Chem Cafe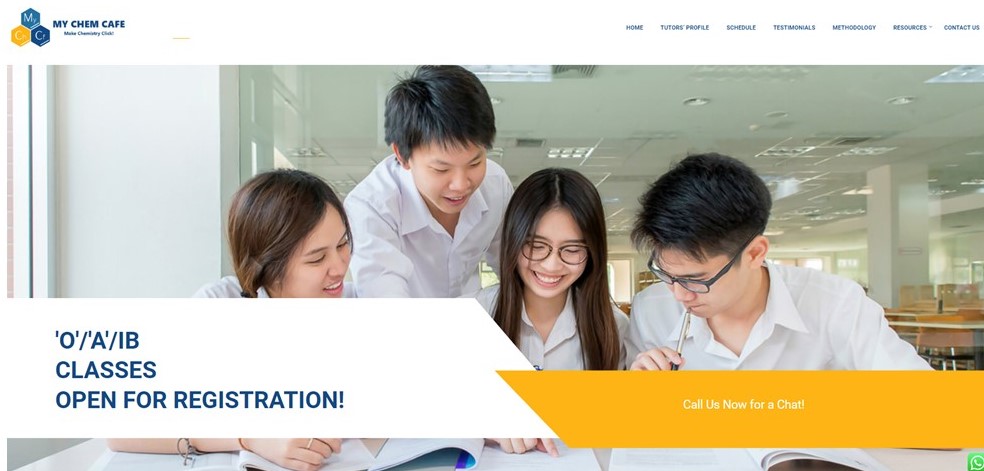 Drawing from their vast experiences in teaching, designing curriculums and crafting effective pedagogies, tutors at My Chem Café are able to pinpoint exactly the common obstacles and challenges that most students face when it comes to learning chemistry.
The centre aims to equip students with the necessary knowledge and skills to apply chemistry concepts with confidence, connect theory with real-life applications, and further extend their understanding of chemistry.
Recognising that learning is both a cognitive and emotive experience; the centre adopts a supportive, participative learning environment in order to help students of all abilities. Differentiated learning is also practiced by the centre to build up each student's confidence in the topic based on their current levels of understanding.
Name

Mr Chem Cafe

Website

https://mychemcafe.com.sg/

Contact Details

SMS/Whatsapp: 9791 0388

Email: enquiry@mychemcafe.com.sg

Outlets

103 Irrawaddy Road, #02-14,

Royal Square at Novena,

Singapore 329566

Level & Subjects

Secondary/JC/IB Chemistry

Unique Selling Points

Learning materials: curated learning materials that include concise notes, carefully selected practice and revision questions according to topics covered for each exam.

Qualified tutors: all tutors are NIE-trained, have wealth of experience as HODs, chemistry research projects in reputable institutions and assessment book authors

Online lessons: online lessons available for students unable to attend physical lessons due to clash in schedule

Differentiated learning: tutors understand the different struggles weaker students face and scaffold them in their learning so as not to overwhelm or confuse them.

Students' reviews

Mr Wong is the absolute one of the best tutor! He is truly gifted at what he does. I highly recommend him to anyone struggling in chemistry, he will make sure you know exactly what you are doing.

Review by Ben Chew

Mr Wong has been extremely patient as my chemistry tutor. Regardless of how many extra worksheets I asked, Mr Wong was always willing to go to the extra mile to provide me with the best revision materials. For example, during the final laps of A level revision, Mr wong would stay and tutor me 10-15mins after the allocated tuition time to ensure that I really understood the subject. Such dedicated tutors are hard to come by, Mr Wong is truly a gem. I would definitely recommend him to tutor my juniors in the future. Thank you Mr Wong.

Review by Jocelyn

Mr Wong's H2 chemistry tuition lessons were of tremendous help to me when I started out in early JC1. Prior to that, much to my disappointment, I had consistently been one of the lower scorers in class for my tests and examinations. However, his lessons allowed me to understand chemistry concepts in a clearer light and appreciate the beauty of the subject. Mr. Wong is a chemistry tutor who is deeply passionate about what he does, particularly the way he guides his students. With his help, I attained an A in the Singapore-Cambridge GCE 'A' Level Chemistry examination and I am grateful to him for his help and his faith in me.

Review by Lucas Thia
The centre's slogan "making bonds connecting dots" perfectly captures the teaching philosophy at Julian Chemistry.
Just as chemical bonds connect elements to form compounds, the tuition centre believes that effective teaching and learning are all about connecting the dots – students need to understand how different aspects of chemistry are actually interrelated.
The centre firmly believes that every student is like an unpolished apple with the potential to shine. It strives to inspire students to not only excel in the subject but also to appreciate the beauty of chemistry as a subject.
Instead of relying on rote memorisation and repetition, the centre uses analogies, systems, and real-world applications to help students truly grasp abstract chemistry concepts.
Name

Julian Chemistry

Website

https://julianchemistry.com/

Contact Details

SMS/Whatsapp: 9022 9581

Email: raenelim.julianchemistry@gmail.com

Outlets

Bishan Street 11, #01-456 Block 503, Singapore 570503

Level & Subjects

Secondary/JC Chemistry

Unique Selling Points

Learning materials: materials crafted by founder and constantly refreshed every year, including question packs and summarized notes

Unlimited consultations: unlimited aad-hoc1 to 1 cconsultationsin person or through Whatsapp to answer all student's questions

Flexible schedules: numerous slots along the week based on common schedules of most students

Quality of lessons: all lessons are taught by principal chemistry tutor Julian Tan who has taught for 18 years, ensuring consistent standardsacross all different classes and levels

Students' reviews

Ms Lim's passion for teaching chemistry engages any student and encourages them to work hard in chemistry as well.I've only been with Ms Lim for a month before A levels had begun. At that time, I was not doing as well as I liked to. I was getting Cs and ads when I should be getting As and Bs. I figured going to a chemistry tuition would help me. After joining Julian Chemistry, I am certain that whatever Ms Lim had taught me in that short time was extremely beneficial. She closed up many of the gaps in my learning, gave many tips to be exam smart, and constantly check in with my learning. In the end, I have gotten A for Chemistry. It was a huge improvement and I could not have done it without Ms Lim.

Review by Rachel Woon

I first attended Ms Lim's class with various weak topics and misconceptions, but under Ms Lim's guidance, I managed to improve by leaps and bounds, receiving an 'A' grade in the A'Level examinations despite having failed in school examinations. Ms Lim provides many resources such as handwritten notes and practice worksheets which I have found extremely useful. During lessons, Ms Lim is detailed, patient and thorough with her teaching. She breaks down complex concepts and challenging questions into simple digest-able information to help me learn better.

Review by Ma Xiaoyu

Ms Lim is a tremendously dedicated teacher who is extremely patient towards slower students such as myself. Within a short span of one year, she has managed to lift my grades from a grisly 'S' grade in my Common Test to an 'A' grade in A-levels; I simply cannot thank her enough. I was never a good Chemistry student; my O-level grade for Chemistry was B3, and I never got higher than a 'D' grade for Chemistry throughout my first year in JC. I was going to Ms Lim's classes with a wobbly foundation, yet she was able to quickly solidify my fundamental Chemistry knowledge, allowing me to better understand lectures and tutorials.

Review by Chua Tze Hean
5. Making Sense
Founded in 2011 by Mr William Lin, a former MOE teacher who has a wealth of teaching experience spanning over 18 years and has coached more than 8,000 students. This chemistry tuition centre goes beyond just helping students "make sense" of difficult concepts; but also promises to ignite students' passion and joy in mastering the subject to achieve the best academic results.
With its stellar track record in helping students improve their grades, the centre's reputation has grown rapidly, and it now enrols 1,000 students per year.
The centre credited its team of charismatic, engaging and exceptional male tutors as its winning formula for success. The tutors are able to explain concepts in a clear, precise manner for students to pick up key points quickly and tackle challenging exam questions.
Name

Making Sense

Website

https://www.makingsense-sg.com/

Contact Details

Call: 6634 2208

Email: info@makingsense-sg.com

Outlets

Bishan

191 Sin Ming Avenue Marymount Community Club #01-02, 575738

Bugis

116 Middle Rd, #07-02/03/04 Icb Enterprise House, Singapore 188972

Bukit Timah

170 Upper Bukit Timah Rd, #01-01 Shopping Centre, Singapore 588179

Novena

103 Irrawaddy Rd Royal Square #02-01/04, 329566

Tampines

3 Tampines Central 1, One, #03-02 Tampines Plaza, 529540

Level & Subjects

Secondary/JC Chemistry

Unique Selling Points

Location: 6 branches island wide

Track records: 90% of A levels students achieve A or B, 93% O levels students achieve at least B3

Learning materials: comprehensive yet concise notes on commonly tested topics and exam questions to help students cut down revision time and optimize their learning

Differentiated learning: besides their usual structured classroom-style learning classes, they do have personalized learning classes which are of smaller class size and students of varying abilities

Students' reviews

Making Sense is the best Alevel chemistry tuition I have even went to! The chemistry tutors are really hardworking and always do their best to help us understand various concepts. They make lessons so fun and enlightening which have really built up my interest in chemistry! Despite not really liking chemistry at the start, I really look forward to going to tuition and expanding my knowledge about this subject! You will not regret joining!

Review by Xi Yuan Saw

Making Sense is arguably the best (and most value for money) chemistry tuition in Singapore! The notes given to us were extremely concise and help us prepare well for exams. Not only that, Mr William and Mr Kelvin (A level Chemistry Tutors) are extremely competent and passionate about what they teach, making lessons a lot more enjoyable and engaging. My chemistry grades have improved significantly after joining Making Sense and I am really thankful. :)

Review by Sammi Lim

Excellent and engaging tutors here at Making Sense Chemistry! For those students who are weak in Chemistry or are struggling to understand and link different concepts, this is the place where you can seek effective help. Every lesson conducted here is carefully crafted with clear objectives in mind, so you will never get lost in each lesson. Crash courses are readily available during school holidays for those who wish to catch up on missed lessons. The tutors here are very kind and friendly and are willing to go the extra mile to clarify any kinds of doubts, not just in Chemistry, but also in life!

Kudos to Making Sense Chemistry!

Review by Lim Dong Wan
Unlike most tuition centre founders, MLC's founder Mr Lau was not an exceptionally bright student during his JC years. This helped him discover unique ways and secret shortcuts to master the subject in a short amount of time, which he now utilises in his teachings to help his students achieve stellar academic results.
He researched and created a "Targeted Efficacy Approach" which includes methodology such as visible thinking, secret techniques of thinking based on short-cuts for students to score exam points efficiently. Students will use a thought process navigation framework to answer higher-ordering thinking questions accurately. This approach has consistently helped his students score well for their O and A levels.
To provide greater learning support to its students, guidance can be provided multiple times a week at no additional fees.
Name

MLC Education Studio

Website

https://mlceducationstudio.com/

Contact Details

SMS/Whatsapp: 8188 3063

Email: mrlauchemistry@gmail.com

Outlets

604 Senja S670604

Level & Subjects

Secondary/JC Chemistry

Unique Selling Points

Flexible schedule: multiple classes daily for easier rescheduling or make up lessons

Track records: 85% of A levels students achieve A or B, 91.7% of students improve by at least 3 grades

Learning materials: carefully curated notes including revision questions, guidebooks, summaries, 700+ pages exam questions, all lessons and topics are recorded and uploaded

Small class size: maximum 10+ students to ensure personalized attention.

Students' reviews

Mr Lau was my H2 Chem tutor. He has a unique way of teaching, making it much easier for us to solve certain types of questions. His lessons are also interesting, making it easier for us to learn. He also provide us with a lot of his own personalised teaching materials. The other students there are also friendly! Nice learning experience at MLC.

Review by Yiming Chen

Mr Lau was my tutor from J1 to J2 and he is very knowledgeable and taught me tricks to solve chemistry questions efficiently. Together with the countless practice questions, I was able to grasp the topic well under his guidance. Mastering difficult questions was possible with his tips, especially his summary books that provided concise yet essential information when revising. Also, he would always make sure that everyone in on track during the lesson by going around to see how each and everyone of us is coping and helping us personally. With his help, I saw tremendous improvement in my chemistry grades!

Review by Natalie Kok

Mr Lau was my Chemistry tutor when i was preparing for my Alevels. Initially, chemistry wasnt a subject i look forward to during lessons as its always so confusing and there's too many things to remember. However, under Mr Lau's guidance, ive soon learnt how to tackle chemistry. He helped me to understand each concept thoroughly instead of purely memorising them. This enabled me to better understand and manage tougher topics later on. Mr Lau also supplemented us with his own notes during lessons that helped me so much when answering questions as each question/pointers he go throughs or say in class was essential in helping us answer questions and maximising marks from each question that we do. Even though his lessons may be fast, he never compromise each student's understanding. Mr Lau is definitely one of the most inspiring teachers ive met throughout my JC life. He is someone who is willing to go the extra mile to help you as long as we put in the hardwork. Under his guidance, my grades improved tremendously. Hence, i will strongly recommend Mr Lau as a chemistry tutor if yall are looking to join a good chemistry tuition!

Review by Shermin Yeo
Founder and managing director of Uptas Learning Hub, Mr. Aw Junxin is not your average chemistry tutor. He's a "super tutor" featured in the media such as Straits Times for his outstanding academic achievements and superior chemistry teaching methodology.
This is no surprise given his impressive credentials which include PHD in Chemistry and Biological Chemistry, top 1% tutor in NTU, A*Star scholar and awardee of prestigious NTU scholarship.
At Uptas Learning Hub, all of its tutors have either PhDs or MOE-trained certification, and utilises the centre's unique IM-POSSIBLE chemistry learning strategies to help students make leaps of improvements of between 2-5 exam grades.
The centre even has an in-house chemistry lab for students' practical training.
Name

Uptas Learning Hub

Website

https://uptas.sg/

Contact Details

SMS/Whatsapp/Call: 91705114

Email: info@uptas.sg

Outlets

Block 209, New Upper Changi Road #03-647 Singapore 460209

1 Sin Ming Rd, B2-09 Thomson V Two, B2, Unit 4, Singapore 575629

Level & Subjects

Secondary/JC Chemistry

Unique Selling Points

Qualified tutors: PhDs and Ex-MOE teachers with more than 15 years of teaching experience

Track records: More than 94.1% of its students achieve distinction grades

Lab work: equip with full lab for practical training. Students are coached by tutors with research and lab experiences

Dedicated learning road map: each student will have a personalized learning road map tracked by a system to update on their learning progress

Students' reviews

My grade has started to improve significantly since joining UPTAS chemistry tuition. I improved from an original grade of a U grade in my H2 chemistry to an A in A' level within a shortspan of 9 months. One of my secrets that dramatically improve my chemistry grades is their ultimate organic blackbook, which compiled all the exam frequently asked questions. This really saved a lot of my time to do self-compilation.

Review by Wilson

Miss Tham is a very kind, understanding and encouraging tutor. I am one of the slowest in class and always seem to be the one that is unable to complete the work during the lesson. But Miss Tham is always willing to go for the extra mile and help me to clarify my doubts and ensuring that I always understood the class. My grades improved drastically from an F9 to an A1 during my O level exam. This would not be possible without Miss Tham guidance.

Review by Jody Banet

I was a c5-c6 student for chem in sec 3 and desperately needed to pull my grades up. Hence, I decided to join UPTAS chemistry tuition and through the guidance from Miss Tham, my grade gradually improved from an initial F9 to an A 1 during my prelim and an distinction in O'Level. Miss Tham has really helped me with practices and tips to improve my chemistry grades. I found her lessons useful and educational and I really recommend them to any students out there seeking chemistry tuition, you wouldn't regret this decision.

Review by Joey Matt
If you are struggling with chemistry, Mr Maverick aka the Chemistry Guru might be the perfect tutor for you.
Not only known for his engaging in-person teaching methodology, Mr Maverick also has an impressive following of 14.6k subscribers on his Youtube channel "Chemistry Guru" - whereby he uploads videos explaining A levels H2 chemistry topics as a free resource.
A Public Service Commission Scholar, Mr Maverick is the sole tutor in his centre to ensure high teaching quality. The class size is also kept small for more individualized attention.
Through his Youtube videos, one will realise that Mr Maverick adopts a clear and concise explanation in his teaching. Complemented by resources such as his customized notes and 1-1 personal consultations, he might be the solution for students to ace their next chemistry exam.
Name

Chemistry Guru Academy

Website

https://chemistryguru.com.sg/

Contact Details

SMS/Whatsapp: 9858 8060

Outlets

Blk 112 Bishan Street 12 #01-20 Singapore 570112

Level & Subjects

JC Chemistry

Unique Selling Points

Qualified tutor: Ex-MOE teacher and PSC scholar, 2nd upper honours in Chemistry from NUS, subject matter expert

Track records: most students showed improvements by at least 3 grades

Class size: weekday class of 4-6 students and weekend class of 10-12 students

Online classes: more than 20% off for online live lessons, up to 25% discount off for on-demand recorded video lessons

Students' reviews

Mr Puah is one of the most committed and experienced teacher in the field of H2 Chemistry. Attending his lessons were something I looked forward to each week. Despite the limitations brought about by the pandemic, he was able to use online platforms to his advantage to tutor his students. His lessons are detailed yet concise, making it easy to follow along and learn at my own pace, as I could even review past lessons on the online platform, or ask for assistance via WhatsApp. All in all, I had a great experience with Chemistry Guru and would strongly recommend it to anyone who needs that extra push in Chemistry.

Review by Reuel Toh

Mr Puah is one of the most committed and experienced teacher in the field of H2 Chemistry. Attending his lessons were something I looked forward to each week. Despite the limitations brought about by the pandemic, he was able to use online platforms to his advantage to tutor his students. His lessons are detailed yet concise, making it easy to follow along and learn at my own pace, as I could even review past lessons on the online platform, or ask for assistance via WhatsApp. All in all, I had a great experience with Chemistry Guru and would strongly recommend it to anyone who needs that extra push in Chemistry.

Review by Josiah Rachmat

Mr Puah's lessons are fun and engaging. Through the weekly webinars, I managed to learn and apply chemistry knowledge in both exams and real world situations. I have also gained greater confidence when working on chemistry papers and tests in school and managed to improve from an average E grade to B in prelims and eventually an A in the A level exam. For those who are weaker in chemistry, fret not, stop hesitating and sign up for lessons on chemistry guru!

Review by Hao Yang
Over at Achievers Dream, a highly systematic approach is used to help students master chemistry and see better results in their grades.
Under its signature "360" total chemistry learning system, students will first learn of their areas for improvement after a strategy session. They will then receive a customized action plan tailored especially for them. Not only that, students will also benefit from their proprietary studying materials which consist of exact answering techniques which will help them score points with Cambridge script markers.
Students can take full advantage of the centre's NEA approved in-house practical lab, which is equipped with the latest equipment to help hone their hands-on chemistry practical lab skills.
Name

Achievers Dream

Website

https://www.achieversdream.com.sg/

Contact Details

SMS/Whatsapp/Call: 9653 8814

Outlets

9 Jalan Bingka, Singapore 588905

151 Lor Chuan, New Tech Park, Singapore 556741

Level & Subjects

Sec/JC Chemistry

Unique Selling Points

In-house lab: NEA-approved with state-of-the art equipment, more holistic chemistry learning experience

Track records: 90.3% scored A and Bs after attending the lessons

Learning materials: centre has put in 20000+ hours of curriculum development time, a learning portal with recorded lessons and videos of commonly mistakes students made to aid their learning

Structured methodology: step by step curated curriculum based on evidenced based teaching practices from UK and Switzerland with well-organized lessons and carefully curated worksheets

Students' reviews

AD helps students in leveling up their knowledge in Chemistry by preparing intensive practical exams, lessons, and lab activities that would surely help them master Chemistry. In addition, they provide quality resources that would aid in making learning fun for students. Of course, this wouldn't be possible without the consistent and excellent expertise of our teachers on different topics. They make sure that the students understood well the topic before moving on the the next one. They play a big role in honing every students' skills and habits when it comes to learning Chemistry. This tuition center will definitely bring the best out of you that you think wouldn't be possible.

Review by Genynne Yda Ragasa

Before I joined AD, I wasn't good at Chemistry at all, barely being able to understand lesson content and concepts and could only get E for my J1 Promo exams. However, after joining AD lessons, Chemistry started becoming more fun and enjoyable! The tutors here made sure we understood everything well, and I saw an upward trend in my grades, finally achieving an A in my A-Levels! AD is truly a blessing for me and I definitely don't regret attending their lessons!

Review by Ding Bowen

Personally, I feel that the teachers at Achiever's Dream are very patient and helpful. I attended AD at the start of Sec 4 not knowing a lot of the basics of Chemistry at all. After attending AD for almost a year, I'm confident to say I know what's happening in Chemistry and AD really helped to boost my understanding and depth of knowledge when it comes to Chemistry. The learning environment is top-notch and the lab sessions were immensely useful in helping me to apply concepts effectively. Cheers to the teaching staff and helpful admins for helping with my Chemistry results!

Review by Melanie Chong
10. Bright Culture
If you need help with chemistry and are looking for a tuition centre with warm, energetic and friendly tutors who will motivate you to do your best, come to Bright Culture.
The centre's tutors view themselves as mentors, and they are committed to supporting their students and cheering them on as they emerge victorious from the exam hall and in life.
The centre makes learning more efficient by providing students with summarised full colour notes, an online portal with recorded lessons and practice questions and even employing an in-house designer to create memory aids and charts that makes tough chemistry concepts easier to comprehend.
The centre also houses a chemistry practical lab, approved by the NEA, to help students prepare and nail their 20% practical exams.
Name

Bright Culture

Website

https://bright-culture.com/

Contact Details

SMS/Whatsapp/Call: 91870820

Outlets

183B Thomson Road Goldhill Centre Singapore 307628

Level & Subjects

Sec/JC Chemistry

Unique Selling Points

In-house lab: NEA-approved with state-of-the art equipment, more holistic chemistry learning experience

Reasonable fees: a specialized chemistry centre, with cost slightly lower as compared to other tuition centres

Learning materials: centre has customized summarized notes and even employed an in-house designer to produce notes that are visually appealing to better help students recall concepts

Online Portal: consist of recorded lessons, worksheets, exam practice questions for students to revise anytime, anywhere.

Students' reviews

Concise and helpful overall. Well prepared and easy to understand notes. Went from an E8 to A2 in O levels. Slower paced teaching style compared to school so easier to digest content.

I used to struggle with concepts and understanding content like organic chemistry, metals, etc. The tuition centre helped me understand the basics of each chapter after continuous and repetitive lessons to ingrain in my head. Ms Bernice's lessons were very helpful and although my progress was slow, it mattered in the end. Notes are also very neat and tidy with very compressed summaries and good user interface. I still kind of regret not going for practical crash course

Still had to put in a lot of hard work of studying, practicing countless prelim papers and memorizing but the tuition centre provided the foundation for me to act on. Overall great teachers and great experience despite being an introvert who dreaded going every week.

Review by Isaac Kwok

Within a year, Bright Culture had managed to help push my Chemistry grade from an F9 to an A1. The centre provides concise yet detailed notes, free of superfluous information, which makes studying for the subject efficient. A surplus of resources -- practice papers and consultations -- are available to all students, which means those who are motivated to push themselves have everything in their disposal to ace their exams. To those who have a sincere desire to do well for Chemistry, Bright Culture's supportive environment will definitely enable you to improve in spades.

Review by Gene Ping

i was mostly struggling with organic chemistry before. although it was very last minute, bright culture still managed to find lessons for me. they were all online lessons with very in-depth explanation, as well as tips when answering questions. notes and worksheets were very helpful as they are up to date with the syllabus. with the help of bright culture, i've managed to score an a1 for o levels.

Review by Charlize Sia
11. Future Academy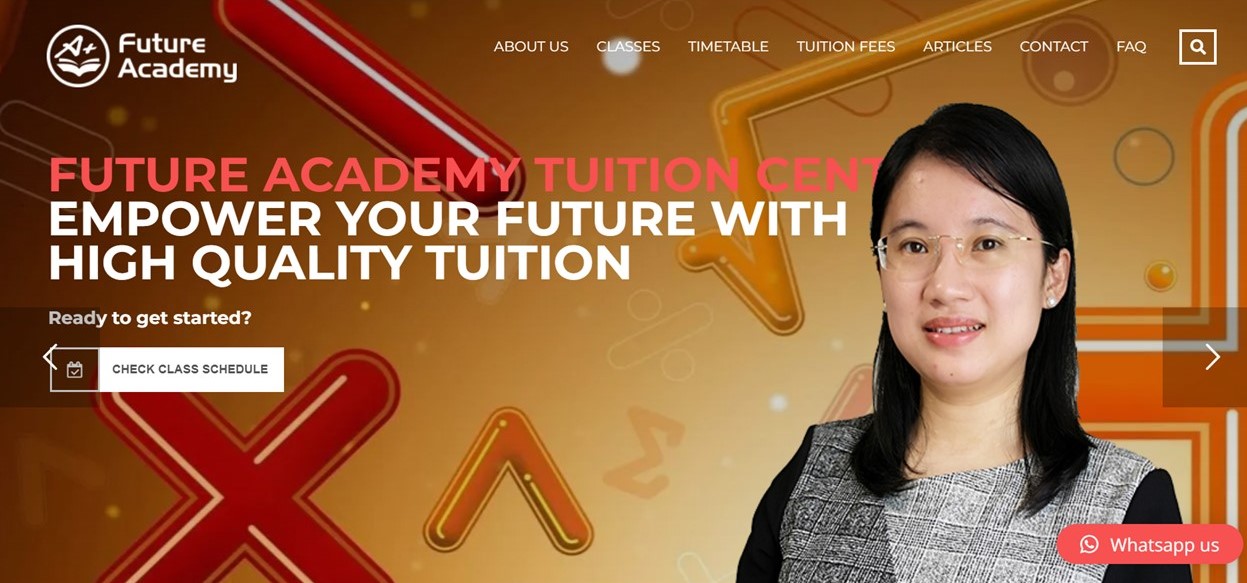 Future Academy is a top choice for students who wish to excel in mathematics and science. The centre offers tailored learning programmes to help students excel in chemistry.
Led by top JC and IP tutors Mr. Jason Lau (Hwa Chong Institution HOD of Maths) and Ms. Yvonne Chen (former Raffles Girls' School teacher), students can expect to receive expert tuition that is not only proven to be effective, but also easy to grasp content.
To ensure that each student is on the right track, regular assessments and progress updates are conducted to monitor individual student's learning.
Name

Future Academy

Website

https://www.fa.edu.sg/

Contact Details

Call: 6884 6566

Email: 6884 6566

Outlets

Bugis / Rochor

175A Bencoolen Street #06-05, Burlington Square, Singapore 189650

Bukit Timah / Beauty World

170 Upper Bukit Timah Road #15-04, Bukit Timah Shopping Centre, Singapore 588179

Toa Payoh / Braddell

381 Lor 1 Toa Payoh #01-12, OnePeople.sg, Singapore 319758

Level & Subjects

Secondary/IP/JC Chemistry

Unique Selling Points

Class size: kept small, about 6 students maximum

Profile of tutors: each tutor is selected carefully by the founders to ensure that they are of quality, reliable and trustable, their profiles are available on its website.

Update on progress: frequent communication with parents to update on student's progress

Online lessons: virtual classes available through its generic video conferencing platform

Students' reviews

Future academy is a very good and helpful place for your grades to improve. Teachers there are very helpful and will help you in any time you need. They are very good in picking out on your weaknesses and helping you to strengthen them. Really recommend as it helped me to improve.

Review by Ji-tesh

I would strongly recommend to come to future academy. The science teacher teaches your child the best techniques to solve open ended questions. First I didn't know how to analyse and read the questions but after attending a term of this academy I was able to solve the questions and I also found some of them easy. During the exam I used the tactics my science teacher thought me and I did very well in my test. I also attend math lesson and I was also able to solve complicated world problems. He also thought us many other ways on analysing the questions. Thank you.

Review by Hema

First before I joined this tuition I did not know how to answer open ended questions. But after i joined this tuition I learnt the tactic to answer the question. The science teacher thought me how to solve the open ended question. I memorised the tactic on how to solve the open ended question. Thus when I go for exam I will use the tactic to solve the question, and I will be able to solve it. The science teacher teaches me very well and I think whoever is in his class he or she will do very well in their exam. I will like to recommend you to his class and this centre is awesome.

Review by Arun Kumar
12. Learners' Lodge
As a specialist in A-level tuition, Learners' Lodge is a top choice for IP/Junior college students seeking help in Math, Science and General Paper (GP).
With more than 15 years of teaching experience under their belt, the team at Learners' Lodge has continuously refined their teaching methods to better serve their students.
Learners' Lodge has a unique teaching style that makes lessons interesting, engaging and fun while breaking down complicated chemistry concepts so students can easily understand even the most abstract and complex concepts.
Name

Learners' Lodge

Website

https://www.learnerslodge.com.sg/

Contact Details

Call: 9119 9655

Email: sales@learnerslodge.com.sg

Outlets

Learners' Lodge @ Marymount

Block 255 Bishan Street 22

#B1-462

Singapore 570255

Learners' Lodge @ Bishan

Blk 236 Bishan Street 22 #B1-154

Singapore 570236

Learners' Lodge @ Kovan

Blk 221 Hougang Street 21

#B1-100

Singapore 530221

Learners' Lodge @ Jurong

Blk 134 Jurong Gateway Road

#02-309B

Singapore 600134

Learners' Lodge @ Kembangan

14D Jalan Masjid

Kingston Terrace, #01-04

Singapore 418935

Level & Subjects

IP/JC Chemistry

Unique Selling Points

Learning materials: customised learning notes useful for revision and exam preparation

Student-centered learning: positive and supportive environment where no questions are deemed "stupid"

Qualified tutors: highly specialised tutors that teach only A level subjects exclusively and knows the syllabus inside out.

Location: 6 branches island wide

Students' reviews

Hi Mr Low Kwee Peng!

Thanks for being such a great teacher and injecting so much enthusiasm into you lessons! You're always so patient in explaining to us the important concepts that we need to know and always ensure that we understand them to put us on the path to succeeding in our academic lives. A teacher is like a lighthouse guiding ships through dark times. You were the lighthouse for me guiding me through my storms for chemistry as under your guidance I really improved a lot. Thanks for being such a kind and warm teacher! Happy Teachers Day!

Review by Alvin Chan

Mr Mike Wang has really helped me alot for my chemistry, guiding me with extra tips and tricks for exams, offering us extra help even outside of class.

He was our guiding light throughout the stressful period of Alevels and always manages to encourage us through jokes.

Dear Mr Mike, you have been a key factor in my improvement, helping me achieve A from an initial E and your tips have allowed me to better manage my time in exams. Thank you so much!!

Review by Estee

I was a student of Learners' Lodge @ Bishan and I cannot fully put into words how grateful I am for the help of my tutors Mr Alex Xu and Mr Koh Chee Wee, as well as my centre manager Ms Shirley.

Walking into the Learners' Lodge, you will be greeted by your friendly centre manager and her comrade, who takes the effort to know you by name, which is very comforting. Ms Shirley sent me reminders of lessons the day before and also helped to organise/reschedule classes when needed, which I am extremely thankful for with the hectic student life I experienced.

Mr Alex and Mr Koh were really quite the amazing people. They went beyond their roles as teachers and provided such genuine care and concern for their students. I especially loved that they were both sooo humble and patient, as they would hear out my (wildly flawed and nonsensical) arguments, before gracefully tackling any misconceptions, while being extremely kind in their words. Not only did this allowed me to grasp a deeper understanding of the subjects, it made me feel comfortable in raising doubts in a classroom setting because they never judge and are always so cool. On top of being there 24/7 on Whatsapp, they also provided a lot of additional practices which they had put in immense thought and effort in marking and leaving comments for. With Mr Alex and Mr Koh around, you will never feel like you're fighting alone. They even asked for photocopies of my test papers so they could go through my mistakes and clear up any queries I had that I did not dare raise in school. Both of them carried out their lessons in an engaging and clear way that never failed to make me feel mindblown :). On top of that, Mr Alex and Mr Koh shared notes that are godsent,,,, for reference, Mr Alex summerised over a hundred pages of my school notes in less than 20 pages, but 95% of the time his notes included all the content I needed to ace my tests. This was the same for Mr Koh's notes.

My experience at Learners' Lodge is a very memorable and comforting one, and without Learners' Lodge I could not have achieved the results I did for As. Thank you so much Learners' Lodge! :D

Review by Yi Xian
At The Learner's Council, student's critical thinking skills are highly valued and nurtured. The centre believes in a tailored approach to learning and offers customisable classes to accommodate students with different levels of understanding.
The centre prides itself on having a team of unwavering dedicated tutors, who have genuine passion and care for their students. They will go the extra mile to make sure students fully grasp and can apply the concepts, to achieve great performance.
The centre has a stellar record of having close to 100% of their students achieve A grades at O-level examinations, and 80% achieve A grades at A-level.
Name

The Learner's Council

Website

https://thelearnerscouncil.com/

Contact Details

Call: 82924288

Email: hello@learnerscouncil.com

Outlets

1 Fifth Avenue, Guthrie House, #03-06

Singapore 268802

Level & Subjects

Secondary/IP/JC Chemistry

Unique Selling Points

Qualified tutors: tutors are Raffles-affiliated, MOE-trained and experts in their subjects

Support beyond classroom: students have access to tutors on mobile and e-learning videos to enhance learning

Track records: high number of A grade students

Teaching method: engaging content to make classes fun and enriching

Students' reviews

The teachers, Ms Hong and Mdm Chia at TLC are very dedicated. They will go the extra mile to help the students. Very passionate teachers! My daughter enjoys the lessons and learns a lot from the lessons! A highly recommended tuition centre!

Review by Vanessa

Jasline is one of the most dedicated & responsible teachers I have ever met, who takes great pride in teaching her students well.

She doesn't only impart knowledge but important life skills such as perseverance & resilience - which is crucial for the growth & in the life of every student.

Ms Hong is probably the best tutor!

Review by Meng Yaw Tan

The lessons are very informative and the teachers would always check on us during lessons as well as beyond lesson times to make sure we are able to understand the concepts and be able to catch up.

Other than paying attention to our academics, the teachers also take note of our well-being and show us lots of care and concern.

At times, the students in class would also ask in depth questions, which help to clarify some of my doubts as well as give me a chance to think about certain questions that I would not have thought about.

Lessons can be serious but fun, such that I am still able to gain and learn at every lesson while having fun.

Review by Pearl Phua
14. Zenith Studio
Set up by successful undergraduate entreprenuer Evan Heng, Zenith Studio aims to provide students with one-stop service to help them navigate the educational landscape until they land their dream job.
Going beyond the textbooks, the centre focuses on empowering students with a well-rounded education that includes mentorship in crucial areas such as career counselling, university application and scholarship/interview preparation.
Its teaching methodology includes active, discussed-based learning to help students foster critical thinking skills and a specially designed method for memory retention.
Name

Zenith Studo

Website

https://zenitheducationstudio.com/

Contact Details

Whatsapp: 8768 7651

Email: hello@LearnAtZenith.com

Outlets

Suntec City Head Office

6 Temasek Boulevard (Suntec City Tower 4)

#09-02 S038986

Buona Vista

35 Rochester Dr, #03-22 Rochester Mall, Singapore 138639

Potong Pasir

25 Tai Thong Cres, Singapore 347856

Bukit Timah

611A Bukit Timah Rd, Singapore 269713

Paya Lebar

11 Tanjong Katong Road, KINEX, #02-09, 437157

Level & Subjects

Secondary /IP/JC Chemistry

Unique Selling Points

Proven track record: focus on value-adding to student, 95% A level students achieved A or B grade with 65% achieved distinctions and 85% distinction for upper secondary students.

Learning methodology: promise to deliver lessons that are fun and exciting and students are able to practise practical application of content.

Additional support: tutors provide 24/7 support through Whatsapp, telegram zoom and even advise such as career counselling, university application and scholarship/interview consult

Exam techniques: tutors will impart tips and strategies to score in exams

Students' reviews

Without the help from my teachers at Zenith, I would have never been able to achieve the results that I got at my A-Level results day. The amount of extra effort teachers gave me beyond tuition hours, such as replying my questions past-midnight or insisting on me coming in early for free 1-1 consults before lesson made the difference.

Review by Kimberly Wong

Lessons at Zenith equipped me with the critical skills that helped me escape the dreaded U Grade and surpass all expectations I had for myself! They streamlined and simplified complicated concepts and taught me how to organize my essays on a macro and micro level. Most importantly, my teacher would share with us study techniques and always motivated us with his kind messages. His unwavering support allowed me to succeed and get into my dream university course.

Review by Grace Goh

The tutors are really good teachers who make learning a lot more enjoyable. Anyone struggling academically will find learning concepts and content easier. Not to mention, they also ensure plenty of opportunities to hone your answering techniques which are really important in the A-Level syllabus! Apart from that, there were really great welfare/perks for us which made the whole experience at Zenith, unlike a dreary tuition center where we're just forced to learn and learn. All in all, Zenith was a great tuition center & I enjoyed my experience there! Highly recommended for other JC students struggling in economics/physics/math/chemistry.

Review by Stella Tan
Founded by power couple Dr Lew, a RI and RJC alumni and medical doctor together with his wife Mrs Lew, an ex-school teacher with 20 years of teaching experience, Miracle Learning Centre strives to help students learn better and faster.
The centre helps academically weak students gain confidence through thorough explanation of complex concepts and application techniques, so that they can move on to excel academically.
Quality of the lessons is guaranteed as tutors are trained by NIE, with years of teaching experience. The founder's children have excelled in Singapore's education system, with one of them in the GEP programme and another a Maths Olympiad champion.
Name

Miracle Learning Centre

Website

https://miraclelearningcentre.com/

Contact Details

Call: 6463 8756

Email: miraclelearning@gmail.com

Outlets

144 Upper Bukit Timah Road

#03-01 Beauty World Centre

Singapore 588177

Level & Subjects

Secondary /JC Chemistry

Unique Selling Points

Quality of tutors: NIE-trained, ex-teachers with years of experience

Learning materials: exclusive notes and books published by centre to help students with learning

Subjects focused: specialised centre with experts focusing only on maths and science

Differentiated learning: accepts students of all abilities no matter you are weak or strong in science, they believe that every student has potential to excel

Students' reviews

As one of the students of Mr Yang, i am extremely grateful for all the help that was offered by Mr yang in my H2 Chemistry throughout my JC journey. When i first joined the tuition, my J1 first class test was a D grade but with the help of Mr Yang, i was able to obtain an A in J1 Block test and whats even more impressive was that he helped me maintained my A for J1 Promos, J2 Blocks as well as the J2 preliminary examinations.

Mr Yang is a awesome and fun Chemistry tutor who is very capable of making the lessons enjoyable at the same time extremely meaningful and helpful to us. Outside of the tuition centre, he is always willing to answer questions from our school work and never fails to provide a clear and thorough explanation every single time. Whats more is that he came up with many interesting mnemonics to help us memorise the tedious and memory-intense content. Without the help of Mr Yang, my H2 chemistry would not have such a smooth sailing learning experience and for that i am extremely grateful for Mr Yang, as well the tuition centre for all the resources and learning opportunities provided.

Review by Meng Xuan

5/5 stars well deserved. My chemistry teacher, Mr Yang, is phenomenal at teaching chemistry and helped me pull my grade up to a solid high A in H2 chemistry in a just few weeks and it's only going up. His teaching is easy to understand and remember and he's very knowledgeable about the "meta" of examinations.

Review by Shardul

Mr Tan is a very friendly teacher and goes out of his way to do his best for his students. He is very humorous and always makes lesson fun and exciting. Personally, I require more materials as my school is covering extra syllabus. Mr Tan always helps me with the extra topics for both math and science. With his help, I have gotten A1 for every single exam paper this year for math and science. He is a kind and generous teacher, always encouraging and motivating his students to do better. Overall, Mr Tan is really helpful and kind, a great person in general.

Review by Ernest Lam
16. Physics and Chemistry Studio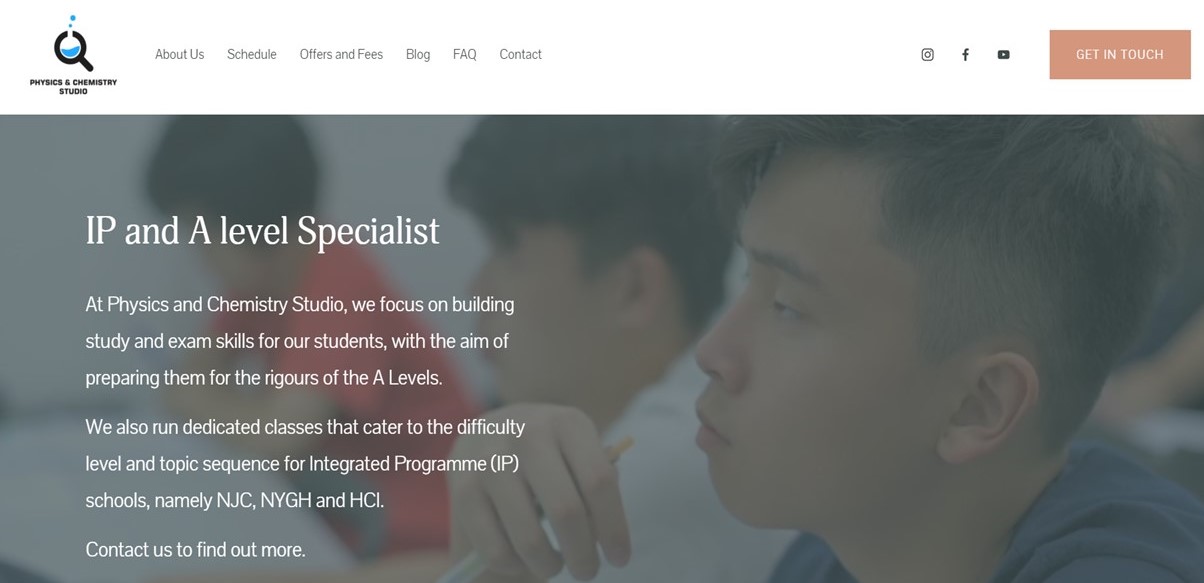 "Give a man a fish, and you feed him for a day. Teach a man to fish, and you feed him for a lifetime." - Lao Tzu.
With this philosophy in mind, tutors at Physics and Chemistry Studio believe that practising critical thinking, as well as the journey of exercising this skill, is more important than getting an answer right.
Students should not just memorise concepts and not understand them, as this will not be effective when they need to apply knowledge in different situations in the future. As such, the centre advocates a teaching method that strengthen the concepts and understanding instead of memorisation.
The centre only offer A level physics and chemistry subjects and specialises in IP sciences subjects of varying levels.
Name

Physics and Chemistry Studio

Website

https://phychemstudio.com/

Contact Details

Email: daniel@phychemstudio.com

Outlets

587 Bukit Timah Road, Coronation Shopping Plaza #02-36 Singapore 269707

Level & Subjects

IP/JC Chemistry

Unique Selling Points

Specialists: tutors are focused on teaching only JC level sciences. Expert tutors of these subjects and know syllabus well

Practical sessions: offer practical lab sessions for exams

Learning materials: learning portal accessible via web or mobile, includes all lesson recordings and notes. Current students can also purchase past lessons notes and materials

Maximum class size: each class is capped at a maximum of 12 students for effective learning

Students' reviews

Mr and Mrs Tong are both dedicated tutors who really put in their best efforts to help us improve and they always respond to queries as soon as possible despite their busy schedules. They're also super approachable and friendly! In secondary 3, I had been struggling in both physics and chemistry. However, after joining their tuition centre, my grades for both subjects managed to improve and I was able to obtain an A in both subjects by the end of Secondary 3. Their patience in explaining all the concepts really help to set my foundation for Junior College as well. Despite the significant jump in difficulty, they explained everything clearly in a way that is easier to understand than in school. Their notes are also concise and very useful for studying. With their guidance, I eventually obtained an A for H2 Physics as well as H2 Chemistry. I'm really grateful for all their guidance, they are both very sincere and amazing teachers who genuinely care for their students

Review by Agatha Aryn Hasjim

Mr Tong is extremely patient and helpful while teaching and would reply to the many questions i send him through text very elaborately, step by step. He also encourages to look at the big picture then starting to solve the questions, allowing us to solve it with ease. He makes sure that we have good habits to solve the questions. This allowed me to gain more confidence in tackling physics questions

Review by Serena Koh

I attended tuition for both Physics and Chem here- the tutors are extremely patient and understanding and I understood many topics much better with their explanations and examples. They also provide in-depth chapter notes alongside a wide range of practice questions suited for the syllabus which ensure I'm well prepared for the examinations! The Teachers are also very welcoming to extra questions i have from school assignments and extra practices and provide detailed solutions to ensure my doubts are thoroughly clarified! I definitely recommend!

Review by Deeksha
Established for more than 19 years, Smartlab tuition centre offers a comprehensive and unique educational programme built around problem-based learning and activity-based lessons.
Developed by first class honours graduates of Cambridge University, the curriculum uses virtual reality and mixed reality labs to develop student's practical chemistry laboratory skills. The experiential lab is also open to home-schooled students or other learning groups.
The centre has a 'results guaranteed programme' that ensures students obtain their target grade, or they can even receive a refund.
Name

Smartlab Tuition Centre

Website

https://smartlab.com.sg/Tuition/

Contact Details

Outlets

Bishan

Bishan St. 23, #B1-71 Block 228, Singapore 570228

Hougang

Hougang St 21, #02-113 Blk 204, Singapore 530204

Marine Parade

1 Marine Parade Central, #13-03 Parkway Centre, Singapore 449408

Woodlands

818 Woodlands Street 82, #01-419, Singapore 730818

Level & Subjects

Secondary/JC Chemistry

Unique Selling Points

Forefront of technology: Elearning lab that utilises VR and immerse learning to optimise learning

Outlets: branches available island wide in different parts of Singapore

Results guaranteed: results guaranteed programme where goals are pre-set with a tutor before enrolment

Promotions: up to 25% discount off tuition fees if registration is completed before 15 Feb 2023

Students' reviews

Highly recommended. Mr Tony Tan is an extremely inspiring and highly dedicated teacher who not only explains the JC syllabus well but ensures that we understand what we learn and to enjoy the process as well. He goes out of his way to consolidate important ideas and key points to take note of and makes sure the student can discover their mistakes and learn why their method of approach is incorrect instead of only being fixated on the correct answer. Even virtual lessons are equally fruitful and he is happy to take time outside class to respond to further questions. Truly helped to increase my level of competency in physics and chem and allowed me to appreciate what I learn.

Review by Zac

A great tuition centre with easy to understand lesson and helpful notes and worksheets to better understand the subject. The teachers are really patient and lessons really helped me achieve a grade that was to my satisfaction in the o levels.

Review by Darius Nyo

It's a really good tuition centre for those who need to boost their grades. Even though I joined the centre in the middle of secondary 3 I was able to push my grades from Cs to As by the time I sat for my prelims in secondary 4. They provide good materials for their students and explain the syllabus in a way that is easier to understand. The teachers are also very encouraging and always to challenge their students to aim for better. I would like to thank my teachers for helping me in improving my grades! I am very satisfied with what I have achieved for my O levels

Review by Qis
18. Happy Tutors Learning Centre
Happy Tutors Learning Centre believe that education should be a journey of discovery and growth. That's why the centre adopted a constructivist educational philosophy.
With this approach, students are not simply passive recipients of information but are active co-creators of their own knowledge. By building on their prior experiences and understanding, students are empowered to make meaningful connections and truly understand the learning materials.
It appears that this approach is well-received by most students as the centre has been able to expand from one to five locations since its opening in 2013.
Name

Happy Tutors Learning Centre

Website

https://happytutors.edu.sg/

Contact Details

Call: 65206146

Outlets

Jurong West

519 Jurong West St 52 #01-169 S(640519)

Bukit Batok

132 Bukit Batok West Avenue 6 #01-318 S(650132)

Tampines

872c Tampines St 86 #01-03 S(523872)

Bukit Batok

523 Bukit Batok St 52 #01-723 S(650523)

Bedok Reservoir

609 Bedok Reservoir Road #01-646 S(470609)

Level & Subjects

Secondary/JC Chemistry

Unique Selling Points

Class size: cap of a maximum of 6 students to ensure the tutor has sufficient attention for every student

Branches: 5 outlets available in the western and eastern parts of Singapore

Online sessions: available for students who can't find a suitable timeslot or live in other parts of Singapore

Support beyond the classroom: tutors provide support beyond the lesson time to assist with clarifications

Students' reviews

I am Kahveari and I started tuition with Kornelius to prepare for my O-levels this year. It was a good experience. He is friendly and understanding. When we are tired after school, he tends not to pressure us that much compared to other teachers. In his classes, I learnt communications and how to answer some of the questions in my work. The techniques he taught for Paper 1 are useful and he taught us how to do planning properly and to think and to expand our ideas more.

Review by Kahveari Suppaiah

HappyTutors had provided extensive help to me throughout my JC years in preparation for As! Other than their convenient neighbourhood location, I appreciated their flexibility in lesson arrangement. Most importantly, HappyTutors is set apart from typical tuition centres by its small classes for targeted teaching, and by the tutors who are knowledgeable about skills for A level and effective in tutoring. Also, you can expect to meet friendly and caring tutors and staff :))

Recommended for all, especially those in need of help for national exams!!

Review by Jaekn Horsey

Has a cool teacher which serves as a mentor aside from academical content alone. Willing to accommodate my rigid schedule, as well as satisfy whatever curiosities I may harbor outside of syllabus as well. Teaches tips and tricks which help for revision and pushes hard in preparation. Highly recommend!

Review by Thant Aung Htet Nyan
19. Aspire Thinking
As the centre's only specialist tutor, Mr Terence is extremely familiar with the syllabus of the subject at NA, O Levels, IP, A and IB levels. This enables him to help students easily ace their examinations by focusing on teaching concepts that are likely to tested in exams.
Mr Terence obtained a first-class engineering degree from NUS, and he uses real-life industrial applications to complement his teaching. Through this, complicated chemistry concepts are easier to understand and relatable for students. To help every student reach his or her full potential, his learning materials are tailored to each student's ability level.
Name

Aspire Thinking

Website

https://www.aspirethinking.com/

Contact Details

Call: 87498157

Email: info@aspirethinking.com

Outlets

120 Bishan Street 12, #01-69, Singapore 570120

Level & Subjects

Secondary/IP/JC Chemistry

Unique Selling Points

Specialised tutor: subject matter expert with qualification from a reputable institution

Trial class: available to test and review whether the tutor's teaching style is suitable for you

Class size: maximum 6 students where every student has opportunities to clarify doubts

Additional support: tutor is also a certified life-coach and is able to employ cognitive techniques to help students with exams stress and anxiety

Students' reviews

Came for physics and chem tuition, Mr Huz was my teacher. He is really good at explaining and can relate to the younger generations. His teaching style is better imo as i get to engage and ask qns whereas in my sch is jst mainly jst worksheets and no qns if i had to clarify. I only came for awhile but im doing well in physics. Chem too!

Review by Skrol Cs

Terence had taught me chemistry and physics from sec 3-4, and science has been my forte and highest grade carrier since. Thanks to his clear, precise explanations and teaching styles that individually fit each student, many has seen their grades rise exponentially and be consistent ever since.

Terence is the light to his students' dark tunnels.

Terence also has been coaching me for 4 years, and results have been very beneficial that allowed me to get through many stages and problems in life, thus helping me learn and grow stronger mentally as a person.

Never regretted stepping into the center, and always left with a smile on my face.

Review by Brandon Chia

I come here for Chemistry and E Math tuition and the teachers are extremely friendly, laid back and welcoming. I enjoy coming to lessons very week
20. AO Studies
AO studies tuition centre specialises in teaching only chemistry, physics and maths at A and O levels. The classes are designed to not only break down complex concepts but also provide students with a visual mapping of how different components are connected for improved learning outcomes. This offers students a more efficient way of learning.
Mr Joseph Ang, expert tutor at AO studies is an ex-school teacher and makes it a point to employ a variety of tools such as videos, real-world examples and experiments to make learning memorable and interesting. He also focuses on imparting answering techniques to help students translate knowledge into good results.
Name

AO Studies

Website

https://www.aostudies.com.sg/

Contact Details

Call: 9007 8588

Email: joseph.ang@aostudies.com.sg

Outlets

420 North Bridge Road

#06-10/11/12

North Bridge Centre

Singapore 188727

Level & Subjects

Secondary/JC Chemistry

Unique Selling Points

Qualified tutors: Ex-moe teachers with industrial work experiences in the subject field they are teaching

Fees: no deposits, no registration fees, no administration fees, no withdrawal period notice

Track record: more than 90% of students scored above B for national level examinations

Perks: free drinks and snacks for students, charging docks at every table and premium lounge for students

Students' reviews

Prior to joining AO Studies, I was always lagging behind classes and scraping through school. An 'E' grade was the highest I've ever gotten. That was until I joined AO Studies in J2.

Although I joined during Circuit Breaker, the quality of Chu Wei's lessons did not disappoint as I was able to finally catch up with lessons in schools, and I was even able to move faster than my peers because I could finally grasp the fundamentals of each topic under Chu Wei's guidance. What sets him apart from other teachers is that Chu Wei is very meticulous and genuinely cares a lot for his students - this can be seen as he would always stay back after classes to interact with us on a personal level, and sometimes he would check on our wellbeing if we are doing alright. Every interaction with him is authentic, and every lesson consisted of a perfect balance of work and enjoyment. My grades jumped from a 'U' to an 'A' during my prelims in a mere span of 3 months!!

Aside from academic gains, what I have really learnt from Chu Wei is that maintaining a good teacher-student relationship is actually very crucial in a student's development. Although the time I spent here was a short one, the impact that Chu Wei has left on me will last a lifetime. I will always be thankful for his patience, his guidance, and most importantly his dedication and passion to help his students. Chu Wei has become a big inspiration to me and is also one of the main reasons why I am now pursuing a degree in teaching. Thank you so much Chu Wei!!

Review by Lwynn Ng

About 2 to 3 months before my A levels i felt like the knowledge I had was insufficient for me to do well for my A levels and i was looking for a tuition center that would help me clarify my doubts as well as strengthen my skills to allow me to excel in my exams. Luckily i found this tuition center and i will forever be grateful to Mr. Lim for helping me do well for my exams. He takes his time with each student to go through all their problems as well as providing us with a conducive learning environment where we would be able to focus on our studies. His method of teaching allows us to absorb all the necessary information as well as extra bits and pieces that will help us in more ways than just in our studies.

Review by Aneesh Mallick

Choosing to attend tuition classes with Chu Wei is like unsuspectedly walking into a FairPrice Xtra megastore, when all you expected was an ordinary mama shop. He's a whole package deal of teacher, mentor and personal cheerleader hitting you all at once. Sure, he makes sure to teach you the relevant syllabus, and yes, he's patient and concise when he's teaching. In fact, he makes sure to explain each math question using various diagrams and methods, until everyone in the class understands it.

However, he's so much more than just your tuition teacher with a mission to reteach what you should have learnt in school. He's an entrepreneur at heart- he's always constantly changing his teaching methods and platforms to best fit our learning styles and every tutorial question is freshly tailored to perfection; so that while they still retain their ability to make us forlornly question our ability to do math, they remain relevant.

Furthermore, he's splendidly candid and frank. He's unafraid to tell us to buck up when we get complacent or lazy, and he's certainly not hesitant to push us when we lack motivation to study. It may sound exhausting and awful, but honestly, it benefited all of us in the end.

Chu Wei is also considerably knowledgeable about a great wealth of things, like university application, and is always willing to advise us. He's incredibly supportive of the decisions we make, and is like, as I mentioned, our personal cheerleader. He is one of the rare few tutors I have ever had to be as concerned as he is about his students' welfare, and their prospective careers.

The bottom line is- there may be an abundance of tuition teachers out there for your picking (after all, this is Singapore we're talking about), but there are only so many who will go beyond their duty as merely a tutor.

Frankly, I was never fond of lecture theatre- style tuition classes where you share a teacher with 30-50 other people because it always feels impersonal and distant. Hence, if you find that you want a tutor who values your opinion and takes time to adjust to your learning style and pace- he is the teacher for you.

Review by Eve Lee Shi
21 (bonus). Focus Chemistry
Mr Dion Khoo, a veteran educator with 20 years of chemistry teaching experience and the principal tutor at Focus Chemistry, sees himself as more than just another tuition tutor. He views himself as a mentor and coach to his students.
He strives to ignite students' passion to learn the subject by breaking down complicated chemistry concepts into easy-to-grasp knowledge using relatable analogies. This inspires students' interest to delve deeper into the topics and raise their academic results.
Besides tuition services, Mr Dion offers mentoring service to coach IB students on their chemistry research projects, from scoping the topic to experimentation and analysis. He also conducts chemistry Olympiad training and applied sciences workshops.
Name

Focus Chemistry

Website

https://www.focuschemistry.com/

Contact Details

Call/Whatsapp: 9616 1651

Email: dion.khoo@nexusconsultancy.org

Outlets

271 Bukit Timah Road, Balmoral Plaza,

#02-11, Singapore 259708

Level & Subjects

Secondary/JC/IB/AP/Edexcel/HSC Chemistry

Unique Selling Points

Quality control: all classes are taught personally by renowned chemistry tutor Mr Dion. You can be assured of the quality of the classes as he holds several professional qualifications in teaching

Intensive Revision: intensive revision classes available for students sitting for O and A levels, revision based on recent past-year prelim exams papers

Online lessons: online lessons available for students unable to attend physical lessons due to clash in schedule

Specialised programmes: Mr Dion offers specialized chemistry programmes such as university bridging programmes, IB chemistry and course counselling services for graduating students

Students' reviews

Mr Khoo is a skilled and experienced teacher who makes learning chemistry simple but fun. Lessons are always filled with laughters and joy. In addition, his ability to break down complicated chemistry concepts and ideas into succinct and simpler steps that we can follow, allows us to grasp the subject of chemistry easily. Delivering results is not a problem for Mr Khoo, and what makes him exceptional is the enjoyment we get during classes while learning at Focus Chemistry.

Review by Calvin Chia

Mr Khoo is an excellent teacher. He breaks down concepts into understandable bits of information, making chemistry a joy to learn. His patience and his vast knowledge allows students to learn more than just what is taught in school, making it a more relatble subject when learning real world applications. Mr Khoo is dedicated, checking in on every student after each major examination. He makes sure that the student understands their mistakes made, boosting their learning process. The three years that i spent with Mr Khoo was undoubtedly worth it. Thanks Mr Khoo

Review by Benjamin

Mr Khoo has a very effective way of simplifying difficult concepts. He emphasizes on understanding instead of memorizing because once you understand, you can apply it in different context. He also bring in many real life examples of chemistry in our daily life so as to make us appreciate chemistry. His lessons are never boring because he will constantly engage us in the discussion. Highly recommend anyone who needs extra help in chemistry to look for him.

Review by TJ H
Online Chemistry Tuition Providers
Besides physical lessons, some students might prefer online tuition sessions due to scheduling conflicts, a desire to save time commuting and possibly minimise exposure to contagious diseases such as covid-19 or the influenza virus, especially during the examination period.
We have curated a list of online chemistry tuition providers below.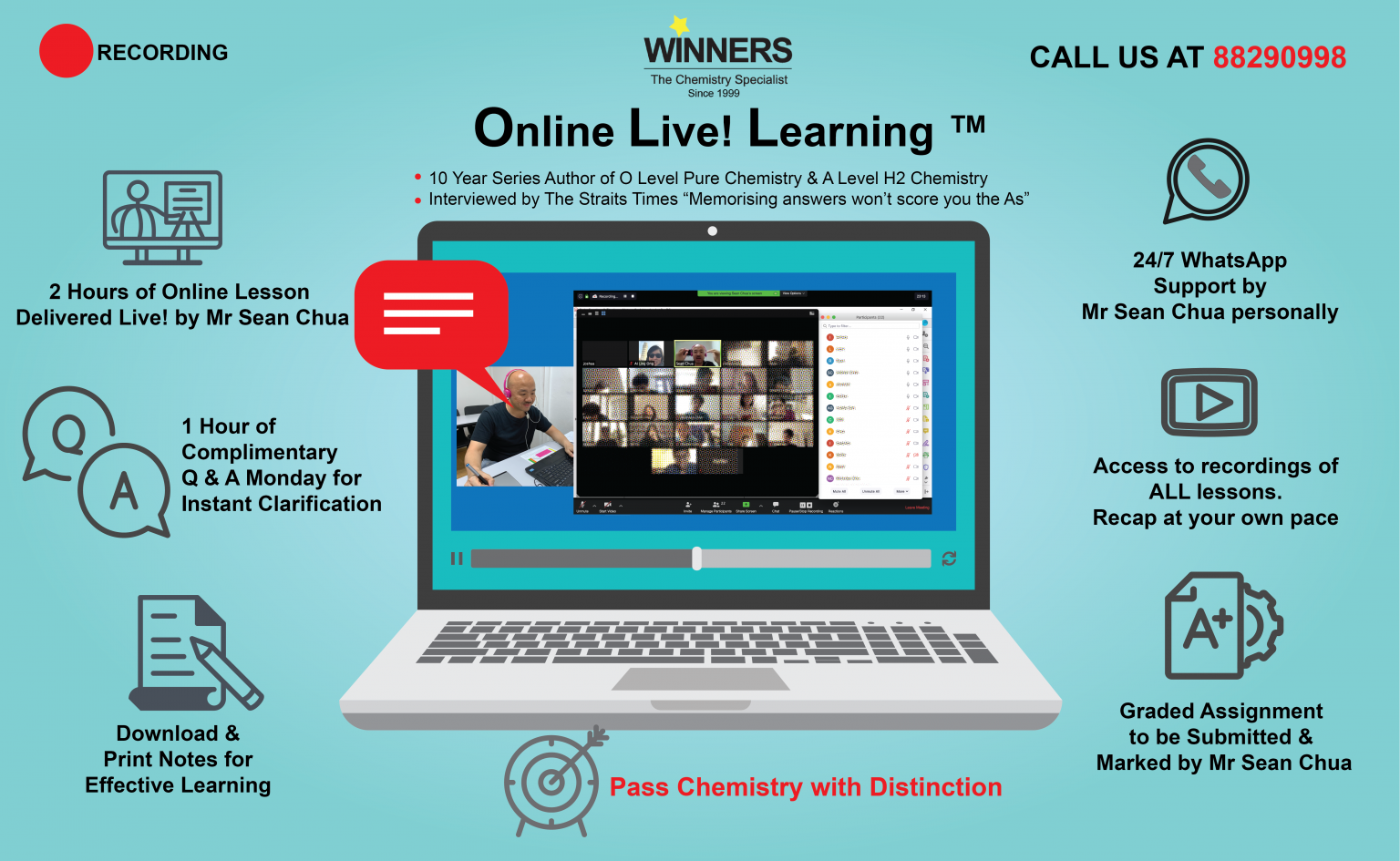 Get ready to learn chemistry with Mr. Sean Chua, the renowned "botak-headed" educator with a booming voice that captivates and engages students. As an author of O and A level chemistry ten years series, Mr. Chua brings his wealth of knowledge and experience to every online chemistry lesson.
Besides his witty and humours demeanor, Mr Chua employs whiteboard teaching of key concepts, exam-based question discussions and provision of whatsapp support for clarification of doubts in his online lessons. To help students learn effectively, he has catered additional Q&A sessions every Monday that is complimentary for all his online enrollments. All recorded lessons will also be emailed to students by the end of the day for revision at their convenience.
With over 12 years of tuition-matching service experience under its belt, Tutor City (ACRA registered) can help you screen and select an ideal chemistry tutor to fit your criteria and budget.
Drawing on our experiences and expertise servicing thousands of parents and students every year, consultants at Tutor City truly understands your needs. We can provide advice on the tutor profiles and respond quickly to any questions you may have. It is not surprising that a handful of new students are acquired through recommendations by our existing parents. Check out the many testimonials from past clients on our website.
Do you know that Tutor City's service is free for parents and students? It might be worth your while to request for a tutor, and you may be surprised by the profiles of qualified tutors in the database.
3. Tutopiya
Tutopiya is a relatively new online learning tuition platform set up in 2018 by a teacher who has taught in several leading international schools in Singapore and U.K. She decided to embark on this venture as she found the current online education landscape limited and ineffective.
The platform currently offers live 1 to 1 lessons and provides IB, A&O Levels chemistry tuition. Tapping technology to keep track of students' progress, the platform uses diagnostic assessments to provide personalised lesson plans and feedback is given to parents after each lesson.
Set up by a team of passionate and approachable tutors who were once Junior college students, JC tuition specializes in A levels physics and chemistry subjects. They promise to steer away from typical, boring, and dry chemistry lessons and inject fun into their online teaching.
You can sign up for either group or individual online chemistry sessions. All students will receive a full set of notes, practice sets of topical chemistry questions and worksheets including the answer sheets. Students have access to unlimited digital consultations if they have any questions on the learning materials through the platform's on-demand service.
Sophia Education, which has a physical tuition centre in Singapore, has ventured into the online tuition space due to the disruption caused by covid-19.
Following the good reviews of its online lessons by students, this mode of learning is now a mainstay for the company. Currently, they offer chemistry tuition for secondary, JC and IP students.
Its online classes are conducted in small groups of between 2 to 6 students and they offer 24/7 Whatsapp support service to answer questions students might have about their work or clarification on any other administrative matter. The centre also offers a 14-day money back guarantee if you are unsatisfied with their service after the first lesson.
6. Preply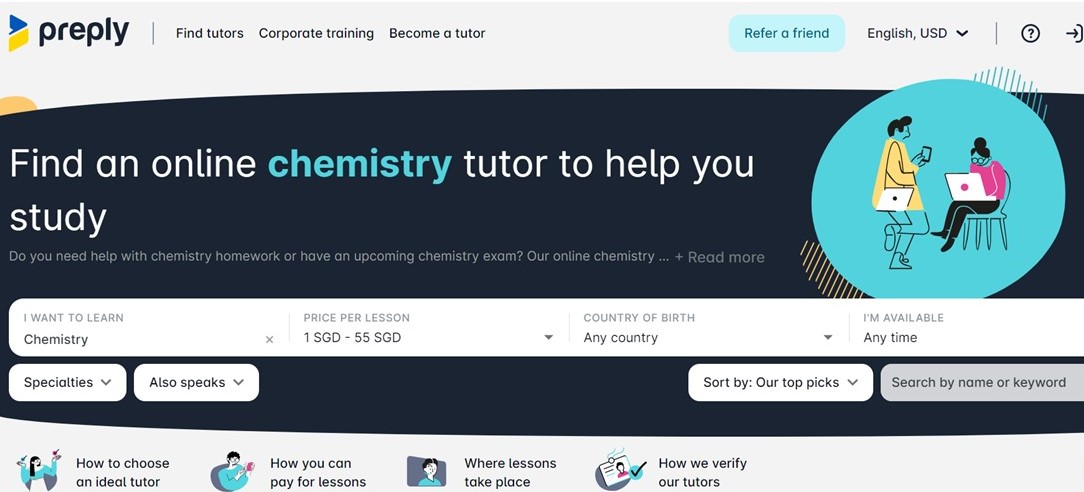 With a database of over 32,000 experienced tutors globally, Preply is an online marketplace for online private tuition lessons.
Users can use the search filter to find the best class option according to their budget (from as low as USD$3 per class), country and schedule. Tutor's profiles will then be displayed for user's selection including their ratings and reviews.
All of their tutors need to pass the platform's verification procedure before they can offer a class therefore ensuring tutor's identity and validity. Users can also book a paid trial lesson if they are unsure whether the class will be useful, the platform offers a free replacement with another tutor or a full refund if you are not satisfied with your trial lesson.
7. Classgap
Classgap is a global online education platform that offers services such as virtual classrooms, real-time tutoring and resources for students. The goal of the platform is to make learning more accessible and engaging for students around the world.
Currently, its database consists of chemistry tutors from over 90 countries.
Some of the chemistry lessons available are topics on basic chemistry, organic chemistry, inorganic chemistry, stoichiometry and biochemistry. You can search for the tutor within the platform by viewing their bio, content of their lessons, their qualifications and ratings by other students.
The biggest advantage is that there is no commitment of a monthly tutoring fee as fees are collected on a per lesson basis. A refund can also be request if you are not satisfied with the lesson.
8. Chegg Tutors
An online education platform that provides several services to students globally, Chegg Tutors help students with homework, exam preparation and practice, and tutorials to simplify complex concepts into digestible information through live online lessons with their database of tutors who are online 24/7 (in-demand tutors).
Its private virtual class rooms allow students and tutors to communicate using text chat, a white board, and video chat.
You will need to purchase a Dashpass subscription to obtain access to their services. One of the most interesting services include accessing solutions and explanation by a tutor by submitting a photograph of an assignment question which you can't solve.
Chegg Tutors is also available as a mobile app, making it convenient for students to seek help anytime.
A well-known test preparation and online tutoring company, Princeton Review offers live online academic tutoring packages to help students all over the world prepare for standardised exams.
According to their website, the company has put in place a rigorous hiring process to ensure that each tutor is sufficiently qualified and are knowledgeable to teach the subjects they offer.
Students can either choose to sign up for an academic tutoring package, which provides 1-on-1 personalised tuition sessions, or request homework help and will be connected with an "in-demand" tutor almost instantly (within 60 seconds) to answer specific questions they are having trouble with.
Based on our assessment, The Princeton Review would probably be the most useful to students in Singapore who are sitting for IB chemistry examination. You will get to learn from tutors with master's degrees, PhDs and Ivy League credentials.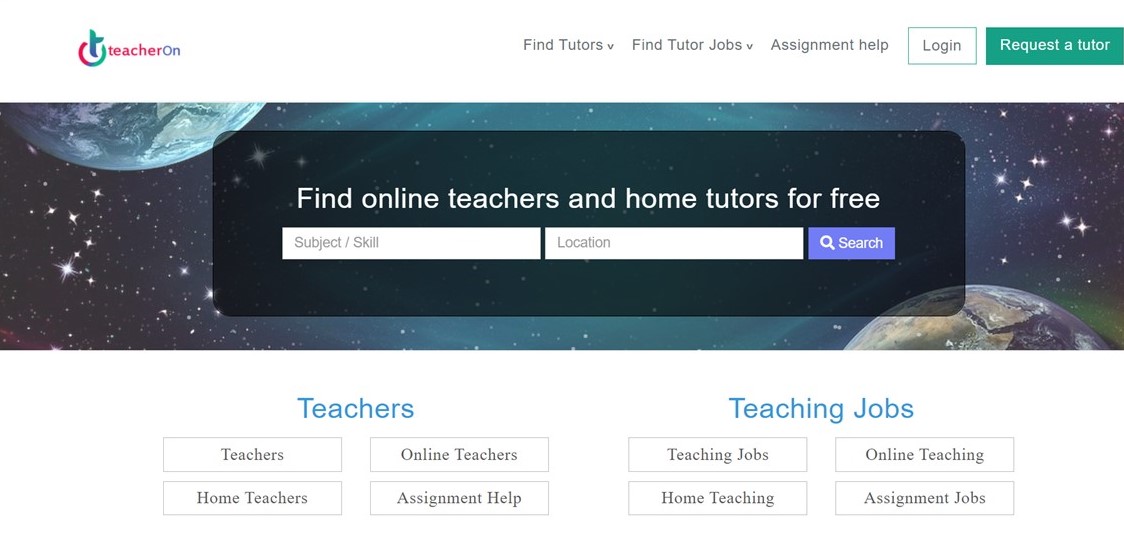 A global online tuition matching platform that connects students with tutors from all around the world, students can create an account on Teacheron then search and select a suitable tutor for a specific subject based on their bio, availability and rate.
This service is free for students, instead the platform collects a fee from the tutors to contact you. The website states that tutors will need to pass an application process before they can start working on the platform.
Private Chemistry Tuition (Home Tuition)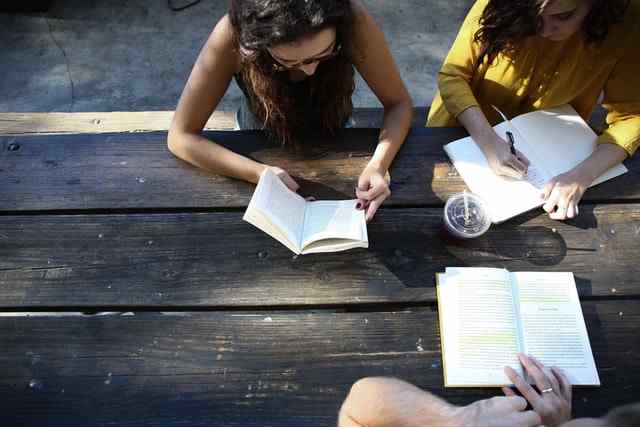 If you are a student sitting for your O or A levels at the end of the year and have a big gap between your actual and ideal examination marks or is struggling with chemistry, you have little time to waste. Consider seeking help from a private chemistry home tutor.
Unlike a class setting, where the tutor must divide his or her attention among all students, you will receive dedicated attention from a private tutor who can help you understand difficult chemistry concepts, cater to your unique learning style and address your weaknesses in the subject.
Private chemistry tuition can be a great option for students whose schedules are packed with co-curricular activities and training, as they may not be able to fit into specific timeslots at a tuition centre.
Think of the travelling time you'll save by having a private tutor come to your home or other location of choice at your preferred time. A headache is resolved.
In addition to choosing the location and time of your tutoring sessions, you can also choose the chemistry tutor that best fits your budget. Check out the private tuition rate of secondary school and junior college tutors.
If you have a budget constraint, committed part-time tutors who have recently sat for A or O levels examinations and achieved stellar grades are in a good place to coach you. If you decide to go for a qualified MOE-trained tutor but find it costly, gather a few classmates and split the cost among yourselves, and have the lessons at a co-working place or the public libraries.
If you need help sourcing a qualified private chemistry tutor, put in a request to Tutor City or call us if you need our advice on tutor selection. We do not charge parents or students for this service.
Conclusion
When looking for a chemistry tuition provider, it's important to remember that just because a branded center or star tutor has worked wonders for other students, it doesn't necessarily mean they'll be the best fit for you.
Learning is a unique and highly personal experience; you'll benefit more from a tutor who can successfully connect and keep you engaged throughout the learning process.
Here's a helpful tip: consider scheduling a visit to the tuition center to check out the facilities, meet the tutors, and get a feel of the learning environment.
With these in mind, we hope this article has helped answer your questions and narrowed down your options to a few reputable chemistry tuition providers in Singapore.