Best University Tuition In Singapore
Having difficulties with your modules?

Most university students encounter difficulties when they first begin their courses due to the new challenges and environment posed to them. You are expected to have greater sense of independence and initiative in doing research work, writing dissertations, presenting to large groups of classmates etc. There is no more spoonfeeding given anymore by teachers in primary or secondary schools.

At the tertiary level, students have to learn quickly and adapt the the fast pace and ever-changing pressures on them by their lecturers and peers. To overcome this, many students falter at the first hurdle and fail their foundation modules, and will find it hard to recover at a later stage.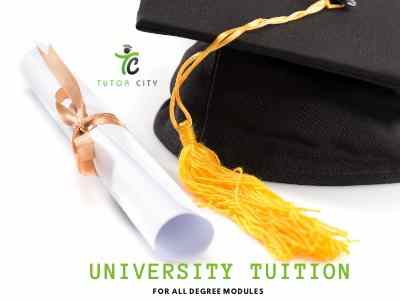 How much do University tutors charge?
The average hourly fees for University tuition ranges from $60 per hour to $150 per hour, depending on the tutor's credentials, experience and the level to teach. Lecturers include associate or full professors in local universities and teachers in private institutions.
Tuition Rates
Per Hour

Part-Time
tutors 1

Full-Time
tutors

Ex/Current
Teachers 2

Degree Modules

$60 - $80

$90 - $120

$120 - $150
1. Includes students in universities and graduates tutoring part-time.
2. For degree and diploma, teachers refer to lecturers in private and government universities.
Read also:
How much is a university education in Singapore?
Can I use my CPF to pay for my Child's University Fees?

Benefits Of Getting University Tutors To Help In Your Modules
1. Guidance from Graduates: University graduates and lecturers know your syllabus well, especially those who took the same degree or taught in the same university before.

2. Orientation: Experienced graduate tutors can help new students to settle in quickly and navigate new environment.

3. Course notes and lecture notes: Graduate tutors and university lecturers can provide notes and course materials from the modules that they taught in.

4. Flexible timings: Undergraduates have busy schedules and private tutors can accommodate with their flexible timings.

5. Personalised teaching methods: A good graduate tutor can identify weak topics in each module and structure the lessons to tackle problem topics, something that cannot be done in a classroom or tuition centre.
Want to know more? Call 90672547 or see our topnotch tutor profiles
Why do you need a University Tutor?
Some students might be skeptical in receiving private tuition at the tertiary level. However, we are being exposed to more competition nowadays. Subjects are getting more complex and students are given lesser supervision at the university levels as compared to primary or secondary stages. As everyone learns at a different pace, it is important to tackle the problems earlier by engaging an experienced university tutor to assist you.

How Tutor City Can Find The Best University Tuition Services
Tutor City offers university tuition for a wide range of degree courses in Singapore. Our experienced and qualified tutors coach students in analyzing different types of questions. They offer tips and techniques to tackle and answer tutorial questions so as to prepare them to score better or ace their examinations.
As everyone has a different pace of learning, strengths and weaknesses, our tutors provide one-to-one lessons perfectly tailored to your learning pace and objectives.
Big Database Of University Tutors
At Tutor City, we do our best in catering your needs. We have a strong database of private tutors who are familiar with the Singapore education system and are highly experienced to provide tuition for university students.
We usually provide graduates who have the same certification with good results so that their guidance can be the most relevant to the course that you are taking. We match university graduates to university students as they possess the same experience and familiarity with the degree program and syllabus.
Convenience and Flexibility
At your convenience, our tutors are able to provide one-to-one tuition lessons at your house, at your preferred timings and duration and within your budget. During examination periods, our tutors can devote more time to intensively coach you on your weaker topics, including offering daily tuition upon request.
We are result-orientated and we focus on the success of our students. We strongly believe that today's efforts will be paid off in the near future. If you wish to get a good university tutor, complete our online request form or contact us to get started.
If you are a parentor an undergraduate searching for good home tuition in Singapore, then Tutor City is able to help you! Tutor City, a Singapore registered tuition agency provides a range of highly experienced and dedicated home tutors to tertiary students pursing university degree certification.
We are aware that each course of study come with different set of subjects, so you might not require tuition for all your subjects. Our website allows individuals to filter and choose the subjects you need help in. This is to make sure that we are able to provide the best fit to your requirements.
Our rates is based on 1-to-1 tuition at the student's home or a mutually-agreed venue such as the university that the student is attending.
Tutor City assures you that every tutor would put in their best efforts so that you will receive the most benefit from each lesson that you spend tuition fees on.
Useful articles for further reading:
Guide to University Terms in Singapore (honours, major, minor)
How to calculate rank points: JC - A level University RP
Want to drop out of university? Here are your options
University Rankings 2020: Singapore Remains Competitive