Best ITE Tuition in Singapore
ITE tuition is crucial for those students who want to have a clear understanding of the content before they sit for their exams. However, it can be quite hard to find a good ITE tutor since they are not that common.

Luckily, you have come to the right place. So keep reading if you want to find out how you can benefit from the ITE tuition and what you should expect from your ITE tutor.
How much do ITE tutors charge?
The average hourly fees for ITE tuition ranges from $50 per hour to $100 per hour, depending on the tutor's credentials, experience and the level to teach. Lecturers include associate or full professors in local universities and teachers in private institutions.
Tuition Rates
Per Hour

Part-Time
tutors 1

Full-Time
tutors

Ex/Current
Teachers 2

ITE Modules

$50 - $60

$70 - $80

$90 - $100
1. Includes students in universities and graduates tutoring part-time.
2. Teachers refer to lecturers in private and government universities.
Common Challenges ITE students Face In Their Courses
Getting an education in this day and age is stressful enough but ITE students face additional challenges that some other students may not experience. For instance, ITE education has unfairly been marred by negative stigma in Singapore so students who choose to pursue this path may feel demoralized or stressed.

1. ITE students tend to be timid and lack the confidence to do well in school so ITE tutors not only have to teach their respective modules but they also have to boost their students' self-confidence so that they apply themselves fully.

2. In addition, some ITE students might have a limited understanding of how important having a degree is for their future success, which is yet another challenge for the tutor.

3. And then there are cognitive challenges that more or less all students have to overcome. ITE curriculum is not as easy as you might think and some ITE students struggle to understand the topics covered in the modules. They might have a great number of questions and doubts pertaining to the modules.

4. ITE exams also tend to be tough, so if a student has poor time management and other exam-related strategies they might find exams particularly challenging.

The bottom line is if you are an ITE student you are definitely better off with a tutor than without.

Benefits of ITE tuition
Students who have had an ITE tutor are better prepared for the industries they want to enter since this type of tuition focuses on practical training. ITE tutors tend to be part of the working force so they can provide you with valuable insight into the industry of your choice.

If any questions pop up while you are doing your assignments or you have any doubts your experienced tutor will clarify them for you. Tutors are there to ease the transition into your future career (or further education, if that is what you decide to do). Needless to say, those students who have had an ITE tutor tend to get higher scores in their assignments as well as their exams.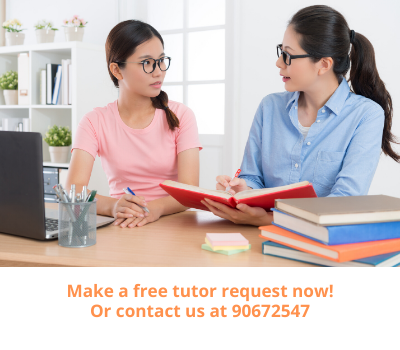 Decided on the fees? Make a free request now!

How To Find The Best ITE Tutor - Important Qualities To Look For
ITE tutors are not as common as other types of tutors so it is important to know what is expected of them so that you make the best choice.

Firstly, of course, your tutor needs to have relevant education and experience in his/her respective field. They may even be a teacher trained by the MOE. So first and foremost pay attention to their qualifications.

Your ITE tutor should also be familiar with the ITE syllabus. One way to make sure that they are is to ask them politely but directly if they feel confident in their ability to tackle the official syllabus. If you are interested in one module specifically ask your prospective tutor about that module. You should also show your tutor the outline of your syllabus and discuss it with them.

Also, pay attention to your prospective tutor's experience in teaching ITE students. ITE curriculum is quite different in that it mainly focuses on hands-on practical knowledge and not theoretical one. So having an ITE tutor who has had such hands-on teaching experience is vital.

And do not forget to discuss schedules. Make sure that your potential tutor has enough free time to commit to the arranged time slot. If they do not see the tuition process to the end your scores might suffer as a result.

All of this needs to be discussed before the tuition sessions commence, to make sure that you are hiring a qualified and experienced tutor who can truly help you achieve your goals.

In addition, to ensure that you are getting the best deal possible have a look at their past testimonials. No one knows your tutor's capabilities better than their past students and their student's parents and an experienced tutor should have a lot of testimonials to share with you. Through these testimonials, you can gain a better understanding of your tutor's strengths and confirm that they are the right person for you.

Types Of ITE Tutors
You can hire someone who is either a part-time tutor, a full-time tutor, or a former/current MOE teacher. On average part-time tutors tend to be less expensive; by contrast, retaining the services of the MOE teacher will cost you the most (sometimes even double).

On average hiring, a tutor for a pre-school student costs less than hiring one for a JC or university student (MOE teachers can charge upwards of 100 dollars for teaching students at that level).

But there can be a drastic difference in price at the primary level as well, in some cases the MOE teachers can charge double of what part-time tutors do. But that does not mean that part-time tutors are inferior to the MOE ones. The quality of tuition largely depends on their dedication to the profession so a good part-time tutor is just as capable of doing a great job.
ITE tutor categories

Now, you might be interested in what kind of experience you will be getting for the money you pay. Well, on average part-time tutors have 1 to 3 years of experience and hold an undergraduate degree. Part-time tutors also tend to be younger and more energetic.

1. Full-time tutors have at least 5 years of experience on average and they also typically have a graduate's degree. Full-time tutors also tend to be more experienced and can provide tuition in a wide range of subjects to a wide range of students. These tutors are committed to their craft since their livelihood depends on it so they will be putting 100 % into their lessons.
2. Former or current MOE teachers have experience marking national exams so they know precisely what is expected of you and can provide expert guidance.

These tutors have been trained in MOE & NIE schools so you can be sure that they are masters of their craft. They are familiar with the MOE teaching techniques and have many years of teaching experience under their belt. When it comes to ITE tuition you cannot get a better one than MOE teachers, but they will cost you a pretty penny.

Courses Offered In ITE That Students Need Help In
In Singapore you can get a qualified tutor to provide tuition services in the following subjects.
1. ITE engineering tuition
2. ITE applied sciences tuition
3. ITE information-communications technology tuition
4. ITE business and services tuition
5. ITE cyber and network security tuition
6. ITE chemical technology tuition
7. ITE games art and design tuition
8. ITE accounting tuition
9. ITE IT systems and networks tuition
10. ITE financial services tuition
11. ITE event management tuition
12. ITE Nitec tuition
13. ITE higher Nitec tuition
For a detailed list of courses, visit the ITE website here.

Now that you know what types of ITE tuition are available in Singapore let's have a closer look at some of the subjects and see what topics your tutor might cover.

For instance, if you want to be tutored in applied sciences you will be required to do introductory level chemistry as well as analytical chemistry. You will also cover data analysis and laboratory mathematics, as well as basic instrumental analysis. In addition, there are general microbiology, molecular bioscience, and analytical biochemistry. You will also cover human bioscience, paramedic studies and skills, and many other topics that are relevant to the field of applied sciences.

Now let's have a look at what topics you will encounter in ITE engineering.

Your ITE tutor will guide you through engineering mathematics and statistics as well as engineering graphics. You will also learn about building information modeling, electrical power & distribution, and electrical design and installation. You must also learn about mathematics and engineering systems, engineering materials and mechanics as well as CAD and engineering design. Of course, this is not an exhaustive list of topics you will cover with your ITE engineering tutor.

The third module we will discuss is ITE information-communications technology.

Students of this field must learn about game design principles and 3D modeling and texturing for games. Students must also be aware of drawing fundamentals and computer maintenance and operating systems. Some of the other subjects are security operations, IT security, video streaming essentials, digital media ingestion, digital media services, and many other topics.

And last, but not least, let's have a look at another popular module which is ITE business & services.

In this module, your ITE tutor will teach you about business writing and presentation as well as accounting fundamentals, accounting in business, and customer relationship management. You will also learn about elementary business analytics and cyber-security. In addition, this module includes such essential topics as principles and practices in preschool education, early child development, human resource practices in business, digital commerce and marketing, and many more.

As you can see ITE modules are not as easy as you might have initially thought, so if you decide to go down this route you will have to roll up your sleeves and follow your tutor's instructions.

5 Benefits Of Getting ITE Home Tuition
Home tuition has always been the most convenient option for students and it has never been more convenient than in these unconventional times we are living.

Here are just some of the benefits of having a private ITE home tutor.

1. First and foremost, it is extremely convenient for students. Your tutor comes to you; you do not need to waste time and money commuting to coaching centres.

2. Secondly, you and your tutor are fully in charge of your schedules. You decide when the lessons will be conducted and for how long.

3. Also, if you are struggling with one particular topic your ITE tutor will notice that and they will spend more time on that topic to make sure that you comprehend it fully before moving on to another. When you are studying in a group such adjustments are not possible since you have to go with the flow of the group whether you want to or not.

4. Another advantage of a private home tutor is that you get an opportunity to cover the topics in advance (that is before they are discussed in school). This will increase your efficiency, so you will be able to be more attentive in class and subsequently get higher marks.

5. And perhaps the biggest advantage of hiring a professional ITE home tutor is that the student gets constructive feedback about what they did wrong and what they should have done better. In class, teachers have to deal with multiple students at once so they do not have the time to devote so much attention to the errors of one student.

Your home tutor on the other hand can draw your attention to your weak points, discuss them with you one at a time and tell you what exactly you need to do to improve.

To conclude ITE modules mostly focus on practical skills but that does not mean that they are less challenging than theoretical subjects. You need to take your ITE studies as seriously as you would any other subject. And if you find yourself struggling, have no fear. There is a great number of qualified, knowledgeable, and highly experienced ITE tutors in Singapore for every budget. So what are you waiting for? Book yours as soon as possible and start your journey towards success!

Related links:
ITE course fees
Edusave Award for ITE students