Hire our IELTS Tuition Teachers and Graduates now!
What is IELTS

IELTS stands for International English Language Testing System. It is one of the major English language tests in the world. This test measures non-native English speaker's proficiency of English across all four language skills - Listening, Reading, Writing and Speaking.

The intend of applying for IELTS is for those who wish to study or work in places where English language is needed as a form of communication. It is required by higher education institutions and various programs in UK, Australia, Canada and New Zealand. The scores of IELTS is highly recognized around the world as a standard to gauge one's ability to communicate in English.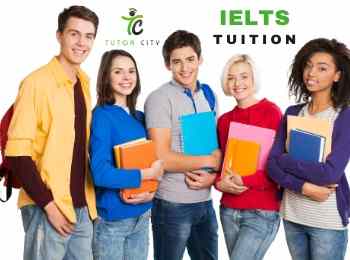 Need a tutor urgently? Call 90672547 or use our online form
How much do IELTS tutors charge?
The average hourly fees for IELTS tuition ranges from $50 per hour to $90 per hour, depending on the tutor's credentials, experience and the level to teach. Lecturers include associate or full professors in local universities and teachers in private institutions.
Tuition Rates
Per Hour

Part-Time
tutors 1

Full-Time
tutors

Ex/Current
Teachers

Pre-School

$20 - $25

$30 - $40

$40 - $50

Primary / PYP

$25 - $30

$35 - $50

$55 - $70

Secondary / MYP

$30 - $40

$45 - $60

$70 - $90

JC / IB DP

$40 - $60

$60 - $80

$90 - $130

Degree & Diploma

$50 - $60

$60 - $80

$90 - $120

Music / Piano 2

$30 - $40

$50 - $60

$60 - $70

Adult Language 3

$40 - $50

$50 - $60

$70 - $80
1. Includes students in polytechnics, universities and graduates tutoring part-time.
2. Either 45 min or 1 hour lessons. See our music page for details.
3. Language proficiency range from basic to advanced so rates will be quoted upon knowing each learner's needs.
4. For Special Needs education, rates are higher due to specific training and certifications which tutors need to have.
Let our tutors help! See our list of tutors!
IELTS private tuition can help you immensely

1. Familiarity with IELTS test format: Professional IELTS teachers are extremely familiar with the syllabus and exam formats, saving you time by zooming in what is important.

2. Feeling of safety: In a safe home environment, your child will be less shy about asking English related questions as compared to in a tuition centre where they fear being laughed at by their friends.

3. Provide up-to-date materials: Good IELTS tuition teachers share tips on how to score well in the test and get the latest resources like online information to help you.

4. Learn at your own time: Choose the day as per your own work or study schedule. Private tutors cater to your needs.

5. Personalised attention: A good IELTS tutor Singapore can identify weak areas and provide a customised lesson plan, something that cannot be done in a classroom or tuition centre.

6. Save on commuting: A private IELTS tutor travels to your home and brings the materials to you, therefer reducing time wasted in commuting and you need not carry your books around.
Is IELTS difficult to score?

This exam is crafted by an international panel of English specialists who have done extensive research to make sure that it is immpartial and balanced for all students of any nationalities, gender, location.

It is prerequisite where English is the main language and to appraise the skill of students who wish to study or work in countries where English is used as the main form of communication.

Every exam has its difficulties and students who are not familiar with the test format will struggle at the first hurdle. Learning how to tackle the IELTS don't just depend on one's English abilities, but also knowing what to expect and answering skills is just as important. Strategies for excelling in IELTS is what private tutors are adept in and they can help you or your child ace the exam.
Useful article: Improve your IELTS reading skills with our 8 power tips
Are you ready to get a private tutor for your child? Fill in the online form now!
IELTS Test Versions

IELTS is available in two test versions - IELTS Academic and IELTS General Training.

Academic is for people who want to apply for higher education, whereas General Training is for those who will be migrating to English speaking countries for study, work or training purposes. Both of these test versions encompass the assessment of four language skills: Listening, Reading, Writing and Speaking.

IELTS Test Formats

The IELTS test measures the test takers' abilities in Listening, Reading, Writing and Speaking within a total test time of 2 hours 45 mins. All test takers will take the same IELTS tests for Listening and Speaking components. However, the Reading and Writing tests is dependent on which version (Academic or General Training) the test taker will be taking.

The Listening, Reading and Writing tests must be completed within the same day, while the Speaking test can be finished up to a week prior to or after the other tests. This will be advised by your test centre.

How to Book a IELTS Test Date

For registration of IELTS test, please go to IELTS website at www.ielts.org.

Please refer to the link below for IELTS test locations in Singapore:

https://www.ielts.org/book-a-test/find-a-test-location/location-list/singapore/tv

Tips to prepare for IELTS Test
1. Familiarize with the test format
Test taker should comprehend the test format by studying the test content, questions and task type for each section.

2. Register early
There is a limit of intake of the IELTS test takers every day. Therefore, it is advisable to register as soon as possible when you are ready for the test.

3. Engage a private tutor from Tutor City
Tutor City offers 1-to-1- private IELTS tuition within your budgets. We provide experienced and qualified IELTS tutors who are able to give personal attention to each student - which cannot be done if it is in a classroom teaching setting. Our committed and competent IELTS tutors are specialized in teaching IELTS and have a set of unique teaching methods which can help you to prepare for the IELTS test. They will accommodate to your preference of location, dates and timings. With this flexible arrangement, you can save on the cost and time to travel to and fro, at the comfort of your preferred location.
Tutor City is determined to assist you to obtain high scores and quality results that match your budget and requirements.