Where To Rent Tuition Classroom Space in Singapore?
More and more Singaporean tutors nowadays prefer to rent a tuition space rather than conduct their lessons at home or go to the student's house. There are several reasons why they might choose to do so.
For instance, the location of the rental tuition place might be more convenient for both the student and the tutor, the rental classroom might be equipped with all the necessary tools (large whiteboard, a projector, etc.), all of which will help the tutor conduct the lessons more efficiently and make the tuition sessions appear more professional which will undoubtedly have a positive effect on their professional reputation.
However, one of the main things to consider when renting space in Singapore is the price. Yes, you want to look professional and have a space that is equipped with everything you need but at the same time, it needs to be affordable enough for the tutor to make a profit.
If you considering whether to embark on a private tutoring career, you might want to read this article on how much you can earn as a private tutor, you will be surprised!
So in order to help you choose the best space for your tutoring needs, we have made a compilation of the best sites you can visit to find your ideal tuition space with a brief description of what each one of them has to offer.
Here you can rent a classroom for as long as you need whether it is one hour or several years. Classrooms on offer range in sizes with the smallest one being 250 square feet and the largest one over 500 square feet.
All of the rooms on offer are furnished and equipped with whiteboards, flip chart stands, projectors, air conditioning, and free Wi-Fi.
All of the aforementioned objects and amenities are free however if you are ready to pay more you can also rent a microphone, buy as much writing paper, pencils and pens as your heart desires, use photocopying services, rent an extra flip chart stand, and more.
The centre is situated near Singapore Shopping Centre and it is merely a 3-minute walk away from an underground station. On the premises, you can also find a food court in case you or your students are feeling a bit peckish.
As for the rental fee, you will have to pay the hourly rate of $35 from Monday to Friday from 8 to 5:30 p.m., whereas from 6 to 10 you will be charged $30 per hour. If you want to conduct your lessons on weekends or on public holidays you can do that for $30 per hour (from 8 a.m. To 10 p.m.).
If the prices mentioned above seem a bit steep for your budget then fear not; there are more affordable options on the market.
Classroom For Rent offers fully furnished rooms which start at $15 per hour. These spaces are located in Tanjong Pagar, Bugis Bras Basah, and Lavender. You can access the location effortlessly by all major underground lines (Purple, Red, and Green).
Considering that you will only be paying $15 per hour for the room what the company is offering is rather adequate. You will have access to high-speed internet, a large screen TV, a projector, power extensions for your laptop, and of course, what is a classroom without a large whiteboard.
In addition, there is a conveniently located parking space in the vicinity and the food can also be bought nearby.
These spaces are open daily from 9 in the morning until 10 in the evening, however, you can stay until later than 10 p.m. if you can lock up the room yourself.
One classroom can comfortably seat about 10 to 15 students at one time, and if you are planning to teach a larger class they have conference rooms available as well.
You will also be happy to hear that they do not charge GST and there are no additional costs hidden in the small print.
However, do keep in mind that for weekdays you need to book at least 2 weeks ahead and for weekends at least 30 days ahead of time. And you're not allowed to make a deposit you need to pay in full if you wish to reserve the room.
Situated at Arab Street, this space is perfect for low-intensity fitness or dance, workshops, photography, yoga, corporate events, art etc.
Suitable for about upto 8 pax
Nearby 4 MRT stations (4 mins Bugis / 9 mins Lavender / 7 mins Nicoll Highway / 7 mins Jalan Besar)
Nearby 1 min Sultan Mosque / 4 mins Bugis Junction -Lots of F&B restaurants /cafes and retail shops nearby
Rates can be negotiated for long term bookings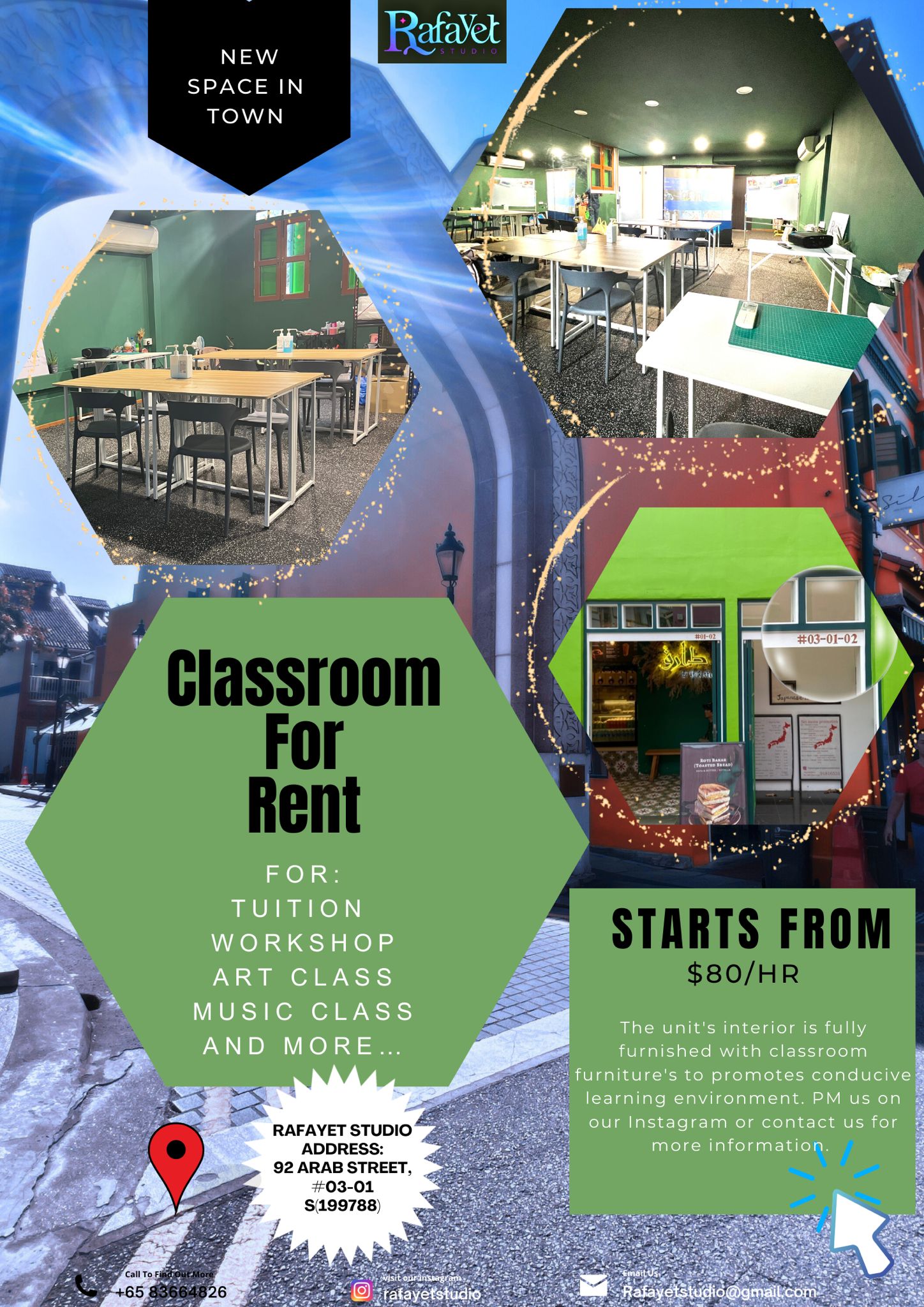 This is another portal that offers affordable classrooms to Singaporean tutors. They have three branches in Singapore (Woodlands, Tampines, and Jurong West).
Hours from 9 a.m. To 5 p.m. are considered off-peak so you will be able to get a room for $20 per hour on weekdays. If you wish to rent a classroom in the evening hours you will have to add an extra $5. However during the peak hours, that is weekends from 9 a.m. to 10 p.m., the rate is $30 per hour.
However, keep in mind that the minimum commitment period is 6 months.
If you wish to rent a classroom for an entire month (unlimited usage) then you will have to pay somewhere between $1200 and $1,400 however the price is negotiable. The minimum commitment, in this case, is 12 months. Also, keep in mind that you will have to rent a room for a minimum of 2 hours per session if you decide to go for the "hourly usage'' package. Also, you will have to pay the deposit of $500 or an entire month's rent depending on the package you choose, however, this deposit will be refunded to you if you follow the tenancy agreement.
All classrooms have air conditioning, a whiteboard, and of course decent tables and chairs. You also have access to the internet, photocopy machines, projectors, clipboards, and computers if you need them. In addition, you will not have to pay any utility fees.
Another thing to keep in mind is that only Singaporeans are able to sign the tenancy agreement so if you are a permanent resident or a foreigner you will need to look for a tuition space elsewhere I'm afraid.
But if you are a Singaporean and you're interested in this offer then you will have to make an appointment at least 3 days beforehand.
If you have multiple classes lined up and you need to rent a space for an entire day then you can search for classrooms at various property rental websites (such as Carousell). This is beneficial because tutors might be able to find classrooms in the district which is most convenient for them. For example, if you wish to conduct your classes in the Yishun district then a fully equipped apartment that can seat approximately 10 students will cost you about 100 Singaporean dollars for half-day on weekdays and $180 for a full day. On weekends the prices are approximately 20% higher.
Alternatively, you can rent a classroom for an entire month for approximately $1,200. The number of months you will be renting it for is negotiable, and the room is fully equipped with everything you need to conduct your tuition sessions.
One of those $1,200-a-month fully-equipped tuition spaces can also be found in Tampines district.
Also, keep in mind that property owners who wish to sublet the space for an entire month or day are also willing to charge an hourly rate (it does not hurt to ask). The aforementioned space for example will cost you $20 per hour.
If you decide to use property rental websites to find your tuition space you might also come across some spaces that have no equipment or furniture in them. These will cost less of course, but it is not advisable to go for those unless you are an experienced tutor who already has a large list of confirmed clients and all the necessary equipment lying around at home.
Those tutors who are still in the initial stages of their career might prefer to rent fully-equipped classrooms for several hours and see how it goes.
If you want an additional income, you can also join our agency to receive home tuition assignments. There are ad-hoc requests for group tuition which you can also arrange if you have existing classes.
In the end, no matter whether you are an experienced tutor in Singapore, a beginner who wishes to turn this into their full-time career, or a school teacher who wants to make some extra money there are plenty of tuition spaces available for rent in Singapore to satisfy any taste and criteria.
Which one you will go for will depend first and foremost on your budget, on the location at which you wish to conduct your classes, on the type of equipment you will require, etc.
Overall, renting a tuition space is an excellent idea for a tutor of any subject. Going to the students' home for conducting your tuition session might be better-paying but it takes up a significant chunk of your time to travel to and fro.

And conducting lessons at your own house might be difficult (and in some cases downright impossible). Tutors have their own families and finding a quiet spot to teach in a residential apartment is a problem.

This is why tuition spaces are becoming more and more popular amongst Singaporean tutors.
You can conduct your lessons without any distractions and with the help of the necessary equipment which might not be accessible to you at home. Needless to say, such a professional approach to your lessons will impress your students and their parents and keep them coming back for more.
Read our informative posts:
Which job pays better? MOE teachers or fulltime tutors?
What are the rates I should be charging?