Self-Guided Learning: Best 3 E-learning Resources
In this time of uncertainty, with schools implementing a range of responses to COVID-19 and no clear picture of what the future of learning looks like, students engaging in self-guided learning is more important than ever for academic growth.

Self-Guided Learning can be simply defined as students being in charge and responsible for their learning themselves - which, depending on your child, can be a scary thought.
My child, in charge of their own learning?? Isn't that what we have Tutor City for?!?!
It's important to think of self-guided learning as something supplemental to the learning they are already engaged in; it does not replace classwork or tutoring sessions, but builds on, and ultimately leads to more academic success.

Parents have long tried to foster a love of learning in their children by taking them to museums, urging nightly reading time, and modeling learning habits themselves. Today, with Circuit Breaker Periods forcing educators and learners to adapt or be left behind, Tutor City is innovating and delivering the same quality tuition programming via zoom, and believes that embracing online learning is a must.

Encouraging students to become self-guided learners is essential for parents everywhere moving forward, and luckily there are many online resources that can aid them in doing so.

Self-guided learning is more accessible, enticing, and exciting than ever before with the help of online resources known as eLearning platforms. These can be websites, streaming channels, apps, and more - all with their unique strengths and potential benefits.

Here are the best 3 eLearning Resources for Self-Guided learning that you can get your student utilizing today!
…
[ Khan Academy ]
Khan Academy is a website that is used in many schools to supplement classroom instruction. Teachers will often utilize Khan Academy to assign additional fluency practice for basic skills in Math or Science courses, but the platform features content for Humanities, Engineering, and Test Prep as well.

What's great about Khan Academy is that students do not need to be part of a classroom to engage in learning and can make accounts for their own utilization, either with or without parent oversight.

During Circuit Breaker Periods, where students are away from the systems and routines of their everyday classrooms, sites like Khan Academy can simulate the structure of schooling - an added bonus.

Here's how it works:

When you or your student create an account, you simply select the desired grade and identify up to 5 'courses' that you would be interested in. Each course features hours of content - assignments, instructional videos, guided questions and opportunities to reflect and revise work after completion to ensure comprehension.

If you don't want to complete an entire course and just need help with a specific topic, you can complete a set of assignments for that specific topic, which is a really great feature (say, for example, you want to review ratios without completing an entire Algebra course).

Khan Academy grades work completed by students automatically, so students can both receive immediate feedback and keep track of their own progress.

It's incredibly easy to navigate, and the usability of the platform is a big part of its massive adoption among educators and families. Khan Academy is a go-to resource for students looking to become self-guided learners!
…
[ Scholastic Learn At Home ]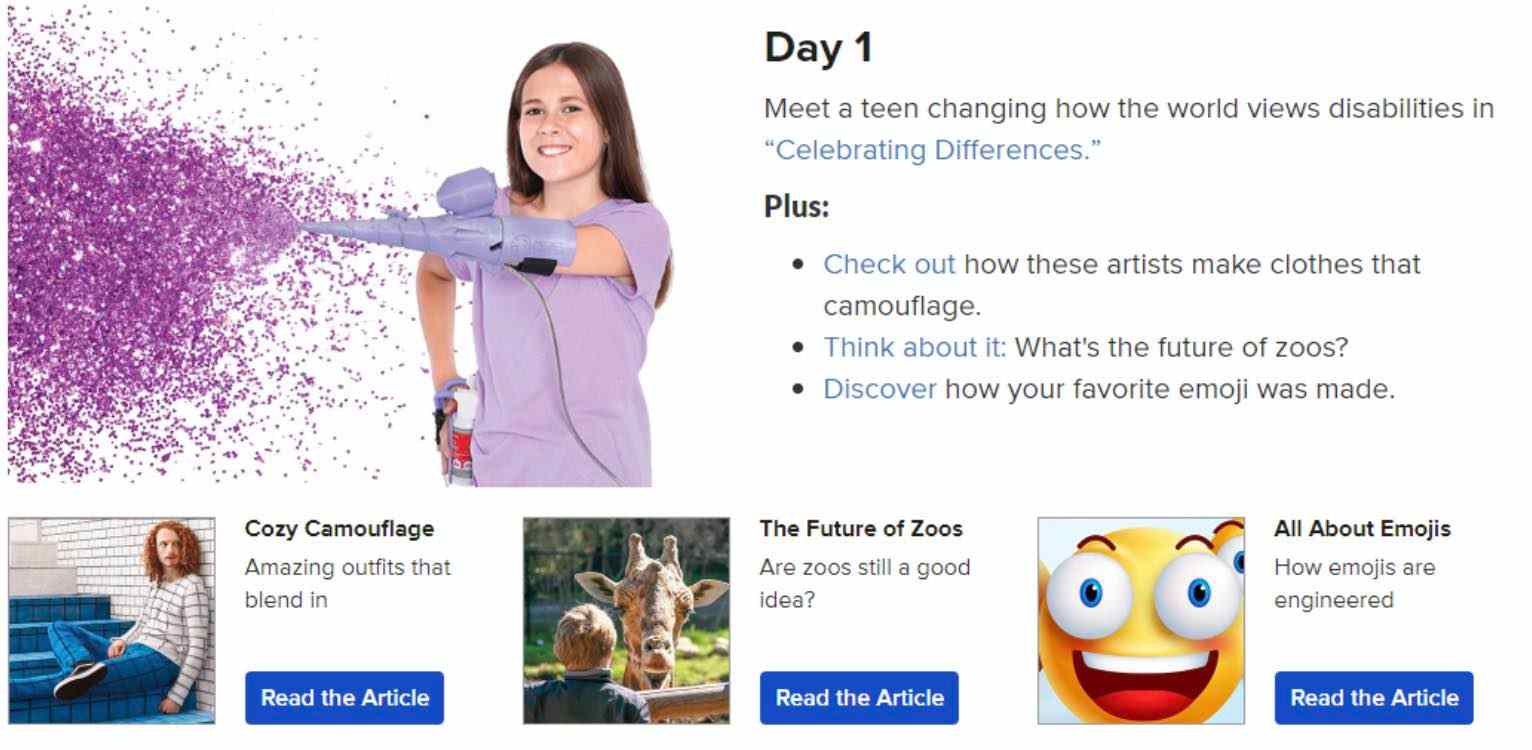 Scholastic is one of the world's biggest education companies, and while they don't have a platform, their Scholastic: Learn at Home program is exceptional and easy to use.

The simplest and most effective way for students to make growth in their reading is by….reading. And although it sounds really straightforward, children around the globe are reading less than ever before, and many no longer find it can compete with the magic and excitement of screentime.

Scholastic's Learn at Home program seeks to develop readers by addressing the three biggest barriers to making reading a habit: consistent routines, interesting material, and sustained interest. The Learn at Home program offers 4 week outlines of reading material, free access to the articles it posts in each daily set, and probing questions that students can think about or answer on their own.

With an easy to navigate format and clear directions, all students or parents must do is select the appropriate grade level, go to the day they are on in the program, and read the suggested articles.

That's it!

What we love about this program is that it makes reading fun. Interesting content is key to compelling kids to read, and this program offers a ton of variety in subjects, styles, and lengths.

After four weeks of following this program, students will have learned a ton of interesting and trending information, and importantly will have begun the practice of making self-guided reading a part of their daily habits.
…
[ Crash Course - Youtube ]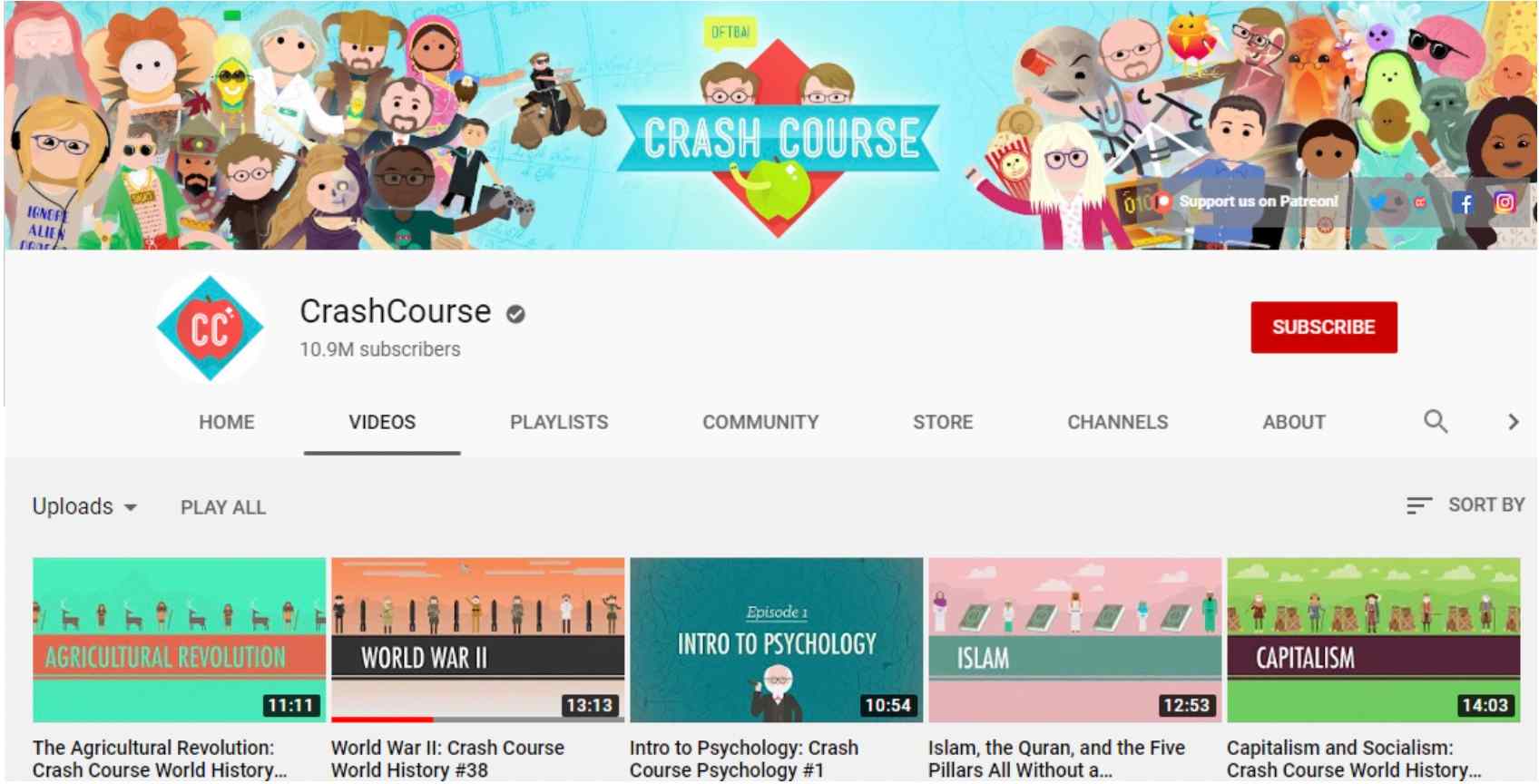 Screen addiction is a problem our children are seemingly stuck with. While cutting down screen time is an important priority, educators such as the team at Crash Course are trying to meet kids where they're at and provide educational content in innovative ways.

At first thought, a YouTube channel doesn't seem like the most obvious online resource parents should be looking to rely on to develop self-guided learners - and rightfully so; there are billions of hours of mind-numbing content on the platform. But Crash Course offers something unique that many students of all ages have come to love.

With colorful, exciting animation, informative hosts, and thought provoking insights, Crash Course is an excellent content-producer that has a particular strength for breaking down big ideas in fun, easy to understand videos.

World History, Microeconomics, Artificial Intelligence - whatever it is that your student is interested in learning about, there's a good chance Crash Course covers it. There are standalone videos, but most content is part of a larger series covering a bigger subject (for example, 'World History' on Crash Course has 42 videos, all around 10-minutes long, all very informative and entertaining).
…
Self-Guided Learning will continue to become an increasingly important part of student academic growth, and eLearning online resources such as these are free, easy to use, and well worth the time.

Which will your student try first?