Economics Tuition in Singapore- Top 25 Centres Comprehensive Review
This article is a comprehensive guide to Singapore's top economic tuition providers. We have compiled a list of reputable economic tuition tutors and a description of their service, specialities and students' reviews.
Economics Tuition in Singapore
Economics plays a huge role in our daily life and transactions; you might be familiar with
well-known economic concepts such as "supply and demand" and "cost and benefits".
So, what exactly is economics?
Economics is a social science that studies how institutions and individuals allocate limited resources to meet our society's unlimited wants and needs. Economics is a unique subject that combines humanities, such as the study of how society works and human behaviour, together with mathematical concepts, such as statistics, prediction and calculus, to formulate economic data.
In schools, students will learn how society produces, distribute, and consume goods and services at the domestic, regional and global levels and how different agents are motivated by or respond to financial incentives.
Most students in Singapore will be exposed to economics either as an A-level subject in Junior College or in international schools through the IB Diploma Programme (IBDP).
In Junior Colleges, economics is classified as a humanities subject and offered to students at three levels of difficulty, namely: H1, H2 or H3 economics, with H3 being the most advanced level to cater to students with exceptional interest in the subject to explore their intellectual curiosity and adequately prepare them for the fast-paced finance or business-related university courses.
Economics is offered under 'Individuals and Societies', which is one of the six broad subject groups under the IBDP programme. Students can take either the standard or higher level economics, depending on their current competency.
Given that a majority of the students only encounter economics after secondary or middle school, some students might struggle to understand the subject given the interdisciplinary nature, which requires them to derive insights from sociology, psychology and political science perspectives; this requires them to exercise critical thinking and analysis.
Whereas for other students, their weakness in mathematics or essay writing skills might impede their economics exams performance.
Top 25 Economics Tuition Centres Review
Tutor city understands that due to the abundance of centres offering economics tuition in Singapore, with some charging sky-high prices, it might be confusing for parents and students to make a decision on the best economics tuition option to enrol your child.
We have done the work for you and came up with this comprehensive listing of the top economic tuition centres. It is best to enrol your child in a top specialised economic tuition centre that focuses only on the subject as compared to a centre that offers multi-subjects to reap the most benefits.
1. JC Economics
Mr Anthony Fok, a zealous economics tutor at JC Economics, hopes to ignite the passion for the subject in every junior college tutee that comes to him. He believes that education is not merely about imparting knowledge to students.
Perhaps it is this strong conviction that has garnered him several features in reputable local news media as a 'super tutor' for economics. In fact, he holds several credentials, including a masters in economics and a doctorate in education (NIE), which demonstrated his commitment to helping students achieve top economic grades.
He has authored more than 15 A-level economics guidebooks and ten-year series. Mr Fok conducts three types of programmes: group economics tuition, intensive economics revision program and case study workshops to cater to the different needs of students.
Name

JC Economics

Website

https://jceconomics.com/

Contact Details

Whatsapp/SMS: 82513684

Outlets

Bukit Timah Branch: 170 Upper Bukit Timah Road #05-54 Singapore 588179

Tampines Branch: Block 201E Tampines Street 23 #02-106 Singapore 527201

Bishan Branch: Block 513, Bishan Street 13, #01-500, Singapore 570513

Level & Subjects

JC Economics

Unique Selling Points

Qualified tutor: Sole tutor Mr Anthony Fok has several solid qualifications in economics and ex-MOE school teacher; he taught all classes himself to ensure quality lessons

Track record: 85% of students scored A and B in economics

Learning materials: utilises the practical and real-world application of economics concepts with a special focus on Singapore's economy. Provides a database of resources, including case studies, past papers, model essays for students to access

Trial lesson: Money-back guarantee if a student finds the class not suitable after the first lesson. Free assessment of ability by sending in economic essay for critic.

Students' reviews

Dr Fok is able to explain economics concepts and frameworks clearly and it is easy to understand. He also gives out plentiful amount of notes and model essays to give us good references to improve our essays. He also offers to mark essays that we can write and submit to him. Before A levels, he also offers last-minute consultations where one can text him to clarify any doubts they have. He has helped me improve my economics understanding greatly and would definitely recommend him to others.

Review by Cheng Fong Mao

Mr Fok is a very caring tutor for his students and wishes the best for them at all times. Not only does he provide good lesson materials, he also goes the extra mile outside of regular lesson time to ensure his students have grasped difficult concepts. He also uses real life examples to explain certain concepts and make lessons more engaging, and these stories teach us certain values that make us become better people as well.

Review by Goh Nathaniel

Dr Fok has always been an extremely patient, funny and insightful economics teacher. Not only is he super enthusiastic to share with his economics knowledge, but also quite useful life advices that we can use in the future. I have definitely gain a lot from his teaching and as well as model essays that had better helped me grasped the relevant economic contents, ensuring the quality of essays written.

Review by Tan Wei Hui
With a track record of tutoring over 3,000 students, it is no wonder that principal economics tutor Mr Edmund Quek has the experience to whelm one of the top economic tuition centre to help A-level students achieve top grades.
The Economics Café has published popular economics books which are on the list of recommended readings for A-level economics, which demonstrated the subject expertise of the centre. The centre focuses on helping students to achieve a higher level of understanding of various economic theories, issues and events and applying them effectively during the examinations.
Besides teaching economics as an academic subject, what's interesting is that Mr Quek also incorporates financial investment knowledge into his students through economic concepts to help them increase their future wealth.
Name

Economics Café

Website

https://www.economicscafe.com.sg/

Contact Details

Whatsapp/SMS/Calls: 82688918

Email: edmundquek@economicscafe.com.sg

Outlets

Block 505B Bishan Street 11 #01-422 Singapore 572505

Level & Subjects

JC Economics

Unique Selling Points

Qualified tutor: Sole tutor for economic tuition classes, graduated with masters in economics and author of popular recommended economics readings

Track record: Over 75% of students in his economics tuition class obtain distinction, many students saw improvement from U to A grade

Learning materials: model essays to show students how to apply economic concepts when answering questions, imparts essay writing skills and case study writing skills through materials

Online lesson: Provides both online and on-site lessons for students to save commuting time.

Students' reviews

Mr Quek has really helped me a lot in my understanding of economics. His lessons are always very interesting and have made me come to like the subject. He also teaches us a lot of general knowledge about economics, making the subject very relevant to our daily lives and I always walk away learning something new from each lesson. His notes and essay books are all really useful as they're very applicable to the A level context. He's helped me improve from a U in prelims to an A at A levels. Thanks a lot Mr Quek!

Review by Christabelle

Mr Quek's lessons are engaging, and he also makes economics relevant to us by going through real-life examples. His books are also good notes for A-level preparation, as they provide good sample essays and explain the concepts concisely. With Mr Quek's tutelage and guidance, I managed to improve my economics grades from an S before I joined Mr Quek's classes to an A in the actual A levels. Overall, a highly recommended economics tutor.

Review by Zhor Sim

Mr Quek has been really helpful throughout my time in the Economics Cafe. His lessons helped me remember content easily without having to constantly re-read notes. Furthermore, his essay books have been very useful in teaching me how much to write for essays under time constraints. I wouldn't have gotten an A for Economics without his help!

Review by Ashita Sule
Founder Mr Jeffrey is not your typical educator. He was a commercial banker for over 10 years in internationally-known banks before he took the leap to set up his own economics tuition centre.
Equipped with his finance industry experience, where he gained first-hand knowledge of how fiscal and economic policies were applied in the commercial setting, he conceptualised an effective economics tuition programme through an ACE framework which seeks to improve students' confidence in order to increase their competency.
Mr Jeffrey understands that some A-level economics students taking the subject for a second time, such as private candidates and national servicemen, may need additional support in order to achieve their goals. He has been actively campaigning for them and is committed to helping them excel in their next A levels economics exams.
Name

Ace Your Econs

Website

https://aceyourecons.sg/

Contact Details

Whatsapp/SMS/Calls: 88910336

Email: admin@aceyourecons.sg

Outlets

212 Hougang Street 21, #04-333, Singapore 530212

Level & Subjects

JC Economics

Unique Selling Points

Teaching style: Having struggled with economics in JC but went on to excel in the subject in University, the tutor understands what the student's weakness in economics is and has strategies to better help them.

Testimonials: Several video testimonials not from students but parents who complimented on Mr Jeffrey's teaching method, which helped their child to improve over several grades for A levels

Class size: Limited to 8 students per class for individualised attention

Online lesson: Provides both online and on-site lessons for students with a busy schedule or lives outside of Hougang.

Students' reviews

Signed up with AYE for my son Timothy after a wake up call upon receiving a bad grade for Econs in the mid year results in JC2.

Even though it was a short few months leading to A Levels, Jeffrey has done an excellent job to explain complex economic concepts in a clear and understandable manner to Timothy. There was clearly a positive improvement in Timothy's understanding and confidence in the Econs subject.

Timothy has since obtained a satisfactory grade for his A Levels. Thank you Jeffrey!

Review by Catherine L

My daughter knew she needed help, and she actively searched online and found Mr Teo. Other than (of course) the mastery of the subject and his capability to coach, Mr Teo also ensures the student submits their assignments on time. Each session's progress is made available to the parent, and Mr Teo alerts us whenever need be, this is something I really appreciate. My daughter has improved from before she joined till the EOY exam. She started getting more confident attending Econs classes a few months after joining Mr Teo and in fact, Econs is one of her best subjects now. There was no need to think of whether to continue with Mr Teo for Year 2 or not, it's a clear yes! I would hereby like to thank Mr Teo for his guidance and patience with my daughter during her Year 1. And I know my daughter is in good hands under Mr Teo:)

Review by Hazel Wan

Hi, i am a J1 student from SAJC. I was struggling a lot with econs at the start of the year --- especially since it was a completely new subject for me. I decided to seek external help to brush up my econs and chanced upon Mr Teo's centre (AYE) when i was researching for tuition centres online. I decided to give it a shot after reading many good reviews about AYE, and thankfully i did! My grades have definitely improved after joining AYE. Something that sets Mr Teo apart from other tuition teachers would be his effort to get to know each of his students (how their week has been etc.) He also sends encouragement letters or small gifts to celebrate your birthday or when a major exam is upcoming and i think that all these small little things make his students feel more cheerful or encouraged especially before crucial examinations. He also frequently updates my parents about my progress so that they can provide the necessary support as well. Of course, his commitment to his students is an unassailable fact. To all students or parents reading this: put your trust in mr teo!

Review by Lezanne Chua
4. Econs Lab
Econs Lab is a specialized economics tuition centre founded by "turnaround specialist" Ms Foo, who has a reputation for transforming students' poor economic performance quickly to achieve better results.
Drawing on the vast experience from her 18 years of teaching, Ms Foo has derived a unique economics tuition methodology which include explanation of concepts in a clear manner so that students fully comprehend what was being taught. She adopts a more consultative approach to teaching where students are encouraged to ask questions and share their insights during her economics tuition classes.
Ms Foo noticed that some students made the mistake of choosing the wrong questions or having an inaccurate interpretation of what the question was asking, so she supplemented classroom lessons with materials such as essays and case studies for students' practice.
Name

Econs Lab

Website

https://econslab.com/

Contact Details

Whatsapp/SMS/Calls: 9723 5149

Email: econslab@gmail.com

Outlets

Bugis Branch: 420 North Bridge Road, #04-30 North Bridge Centre, Singapore 188727

Bishan Branch: Blk 279, Bishan Street 24, #01-26, Singapore 570279

Level & Subjects

JC/IB Economics

Unique Selling Points

Quality of lesson: Single tutor who personally coach all tutees ensure consistency in the lesson delivery and materials use for each class

Additional support: Free consultation thorugh Whatsapp and SMS for students to ask questions, complimentary marking and review of students' essay and case studies.

Small class size: Limited to 10 students per class for optimal discussion and learning

Different class format: One-to-one, pair, small group and big group tuition and also online lessons depending on students' preference

Students' reviews

It has been a pleasure being Ms Foo's student and learning Economics from her. She displays immense enthusiasm and passion towards Economics, treating it not just as a school subject, but as a real life application based topic. Ms Foo is an observant person who can immediately spot changes in the behaviour of her students and always checks up on them to make sure that they are alright. She has always looked out for us and cared for our well-being at all times. During lessons, she supplements her explanations with various real-life examples and does not hesitate to pause and clarify any doubts we may have. She is very patient and tolerant, ready to answer any query and explain till we understand. She gives us a variety of unique and challenging questions to practise and discuss so as to broaden our exposure to the topics at hand. Her happiness during the lesson is infectious, making us excited and eager to learn and pay attention in class. Economics lessons have been a memorable experience and I am glad to have been taught by Ms Foo, securing an A grade in the A Level exam!

Review by Swarna

Ms Foo is an ambitious yet approachable teacher. She is highly invested in nurturing students' Economics skills. Prior to attending her classes, I struggled to grasp the structure of writing essays and answering short structured questions. However, with Ms Foo's guidance, I was able to learn effective techniques to answer questions. This ultimately resulted me achieving a perfect 7 for HL Economics.

On top of that, I would like to thank Ms Foo for being ever so accommodating to my schedule and learning style. Being a student athlete, my schedule at times was tight, but Ms Foo always ensures that I am able to attend lessons whether it be in person or online. Also being an introvert, Ms Foo constantly finds ways to engage me in class, encouraging me to be more vocal so as to not impede my learning.

I would be forever appreciative towards Ms Foo for her tutoring not only in Economics but also as a learner.

Review by Evangeline Foo

There is no doubt that H2 Economics is a very challenging subject, not only does it require students to learn by heart large amounts of content, they will also have to know how to apply the content correctly to different contexts and questions.

I struggled with Economics the entire JC1, getting a consistent E despite putting extra effort to study for the subject. Worried and stressed about my grades, I went to Ms Foo for help at the start of JC2, and it worked like magic. My E grade jumped to a B by mid-year exam and eventually to a guaranteed A grade by A level.

Ms Foo's method and way of teaching allowed us to approach Economics more systematically and confidently. Without Ms Foo, I wouldn't have gotten an A for Economics.

Review by Jerry You Zeyuan
Helmed by principal economics tutor Mr Cliver Foo, this top economics tuition centre specialises in A-level and IB economics, and it strives to make economics a fun and interesting subject for students.
Through its structured economics tuition learning programme, which consists of short, easy-to-understand notes and practice case study and essay questions, students will be able to gain content mastery within a shorter time with the know-how to apply their knowledge in real-life world economic events.
As a new-generation economics tutor, Mr Foo is able to connect with the younger profile students and inspire them not just in their academic pursuits but also in their future careers. This is due to his industrial experience in a government statutory board where he saw how economic concepts were adopted in policy making, and he also co-founded an internet venture which won him a Young Entrepreneurship Award.
Name

Econs Actually

Website

https://www.econsactually.com/

Contact Details

Whatsapp/SMS/Calls: 9337 3874

Email: econsactually@gmail.com

Outlets

Toa Payoh Branch: 72 Lor. 5 Toa Payoh, #01-578 Block 72, Singapore 310072

Tampines Branch: 1061 Tampines St. 21, #01, Singapore 521201

Woodlands Branch: Blk 111, 01-86 Woodlands Street 13, Singapore 730111

Level & Subjects

JC Economics

Unique Selling Points

Qualified tutor: Economics tuition lessons conducted by first-class economics graduate Mr Clive, who also authored economic guidebooks

Additional support: Constant engagement with students to answer their questions through email, WhatsApp

Multiple branches: 3 branches island-wide to cater to students living in different locations

Exam strategies: Tutor is committed to bringing economic concepts to life and utilises a skills-based approach to help students score in their case study questions.

Students' reviews

I found all of my lessons useful because Mr Foo does an excellent job at helping us to understand what we learn and apply it properly. His notes are always well-prepared and provide good examples for us to follow. It really boosted my confidence in tackling challenging questions and especially in the A level exams. Mr Foo is a dedicated teacher and definitely helped a lot, allowing me to improve my Economics grade from C in Prelims to A for the A levels just in a matter of weeks.

Review by Shane

Mr Foo is a tutor who is very passionate about Economics, bringing in relevant recent events occasionally to make his classes more light-hearted and interesting. He also never fails to pause at intervals to check if everyone understood what he went through, showing his determination not to leave anyone behind. All these have not only allowed me to achieve A for H2 Economics in the A levels, but also gain a greater understanding and interest in the subject. I'm really grateful to have him as a tutor.

Review by Naomi Oh

Economics was a subject I initially lost interest in because regardless of the amount of effort I put into revising for it, my results were never true to my hard work. I was scoring E and S grades consistently throughout most of my J1 year before I decided I needed external help. When I found Mr Foo's tuition, I thought it was going to be like school tutorials but I was immediately proven otherwise. Mr Foo has ardent passion and a deep rooted understanding of the subject. This means every lesson is not just compressed with textbook content but real life examples that help with the understanding and application of the theories being taught. Mr Foo's lessons explores beyond the 'what' aspect of economics and into the 'why' aspect, where he consistently seeks to strengthen and develop our understanding of the theories which will allow you to tackle any question that comes your way. Aside from teaching content, Mr Foo also shares his exam skills which has proven effective as my grades started to improve quite instantly. He shares the most efficient and safe ways to go about answering questions to secure the highest grades even when your content may be lacking. Above all, Mr Foo is extremely attuned to each and every one of his students, being acutely aware of their individual strengths and weakness and therefore being able to tailor a method that works best for that individual. He also dedicates a slot in every one of his lessons to check up on his students individually to ensure their doubts are cleared. All in all, I would like to thank Mr Foo for guiding me to achieving an A for my A levels!

Review by Xintong Chai
Helmed by Mr Eugene Toh, who holds a double master's in economics and business, Economics @ Tuition Genuis is one of the top economics tuition centres. One of the tuition centre's claims that it could predict the economics exam questions at A-level as its unique advantage over other centres.
Through their economics tuition classes, students will be taught a structured methodology to dissect the question, structure and write questions in a manner that will score them the most points. Students will benefit from the free extra lessons and workshops offered close to the examination period and receive supplementary materials such as in-house textbooks, guidebooks, summaries and essays to support their revision.
Students can refresh themselves during lesson time as the economics tuition centre offers a complimentary pantry stocked full of chocolates, cookies, can drinks and cup noodles for a needed brain boost.
Name

Economics @ Tuition Genuis

Website

https://www.tuitiongenius.com/

Contact Details

Whatsapp/SMS/Calls: 8182 3036

Email: eugene@tuitiongenius.com

Outlets

Bishan Branch: 11 Sin Ming Rd, B1-18, Singapore 575629

Bukit Timah Branch: 587 Bukit Timah Road #03-01, Coronation Shopping Plaza, 269707

Level & Subjects

JC Economics

Unique Selling Points

Qualified tutor: Highly experienced tutor with solid academic qualifications, including double master's degree in economics

Learning materials: materials such as textbooks, guidebooks, essays and case studies that are produced in-house; students will receive new materials every term

Additional support: 24/7 access to tutor Mr Toh to answer questions, face-to-face and zoom consultations at no extra charge, homework feedback

Crash courses: Short crash courses and masterclasses that zoom on specific economic topics to address topics which students are weak in

Students' reviews

Really thankful to Mr Toh for his dedication and passion in delivering his knowledge to his students. My child joined his class after doing badly for economics in J1 mid year and within a few months, vast improvement in EOY exam. Without hesitation, I signed up for his J2 class for the whole year. Best investment I did, my child got an A for her A levels.

Review by Sh Ng

Mr Toh's lessons are all very engaging, providing us with real life examples relating them to economic concepts which enables us to understand the concepts better. He is very passionate and is willing to help students clear their doubts. After attending his lessons, I am able to understand concepts which I found difficult to understand at first. If you're looking for an economics tuition, Mr Toh's classes are definitely worth signing up for!

Review by Jolyn Yap

Economic At Tuition Genius is definitely one of the best tuition centre I have ever been so far. Mr Toh's class is engaging and fascinating as he is always able to relate economic contents with the things that happened around us in a humorous way. This makes the theory part so much easier to understand and enjoyable to learn. Beyond our usual classes, he also makes an extra effort to give consultation and prepare extra resources such as compiling the latest economic news for his students.

Review by Alfred Wu Yi
Founder and principal economics tutor Mr Simon Ng has only one main goal for all his economic tuition tutees: to study economics and become more resilient and critical thinkers. This is so that they can better equip themselves for future challenges in their career.
He adopts a rational thinking methodology as his guiding education principle in his economics tuition classes where students will learn skills such as reflection, application and critical review. This, equipped with writing skills, will help students prepare and perform well for economics examination.
Besides regular group economic tuition lessons, Economic Focus conducts intensive class for students whose grades are B and below. The class will focus on brushing up skills through imparting examination techniques such as extraction of important information, drawing diagrams and focusing on the right topics for revision.
Name

Economics Focus

Website

https://www.economicsfocus.com.sg/

Contact Details

Whatsapp/SMS/Calls: 9689 0510

Email: simonngchinsun@gmail.com

Outlets

#01-185, Blk 283 Bishan Street 22, #2nd Storey), Singapore, 570283

Level & Subjects

JC Economics

Unique Selling Points

Qualified tutor: Highly experienced tutor who has over 20 years of tutoring experience

Structured programme: lessons are highly structured to impart important skills such as essay writing, case study and diagram illustration. Topical teaching that focuses on specific chapters complemented by class practice

Online tuition: Online lessons available for students who are more time-strapped or live further than Bishan

Intensive courses: Short intensive courses to help struggling students achieve better economics grade by focusing on exam techniques and practicing of more common exam questions

Students' reviews

Simon is an experienced tutor who has helped to simplify the learning of Economics by teaching useful techniques. His notes are concise and easy to follow. He was able to spot Economics A Level examination questions accurately.

Review by Jerinne Tan

Mr Simon is very engaging in class and has a wealth of experience and knowledge in the economics field. He relates all economic concepts to current affairs to ensure that we can understand and apply these concepts in our essays.

Review by Felice Lim

Simon Ng's General paper and Economics tuition is a very enlightening and productive experience for me. The wealth of knowledge and techniques that he imparts to you is very practical and useful in the A lvl examination. You need only follow his study methods and revise your content and skills well in order to succeed.

Review by Kelvin Tan
8. Eeek!onomics
An Economics tuition and enrichment centre founded by Mrs Michelle Tan, who tapped on her previous work experience as an education consultant of economics in Hwa Chong Institution (JC) and expert training by Cambridge chief examiners, she currently helmed a team of economic tuition teachers to help students who struggle to do well for the subject despite their best efforts.
Mrs Michelle Tan hopes to spark interest in her students by bringing the classroom alive with lively discussions coupled with her energetic, caring and engaging demeanour as an economics educator.
Tapping on her rich experience in curriculum design and planning, she developed Eeek!onomics as a trademark economics tuition programme to help students master the individual content topics and skills to flourish and gain more confidence in economics.
Name

Eeek!onomics

Website

https://www.eeekonomics.com/

Contact Details

Whatsapp/SMS/Calls: 96397517

Email: michelle@eeekonomics.com

Outlets

170 Upper Bukit Timah Road #11-04 Singapore 588179

Level & Subjects

JC/IB Economics

Unique Selling Points

Qualified tutor: Highly qualified and experienced ex-HOE economics consultant and curriculum developer

Small class size: lessons are conducted in small tuition groups for effective learning and individualised attention to each student's question

Strong Curriculum: Structured economics curriculum programme developed in-house and patented. Learning is interactive and discussion-based

Additional Support: Complimentary consultation free of charge and mock papers with marked feedback prior to major exams such as promos/prelims/A levels/Internal IB assessment. Whatsapp/Email support is also available

Students' reviews

Michelle is a patient and dedicated educator. She is able to tailor her pedagogy to suit the learning needs of her students. Michelle seeks not only to equip students with crucial examination skills but also to inspire in them a genuine interest in Economics and motivation to excel.

​Review by Ms Lock W.J

Michelle is known to be a very skillful and effective teacher who is able to explain A-level Economics concepts in an easy to comprehend manner and also bring the subject alive with current real-world applications. She is also an extremely dedicated teacher, known to be patient and caring to her students, regularly spending extra time with them to provide personalised feedback to help them improve on their weaknesses and ace their Economics exams.

Review by Ms Lim P.W

Having taught for many years, Michelle has a wealth of knowledge of A-level economics which she wholeheartedly shares with her students and colleagues. She motivates her students with a combination of warmth, patience and a healthy dose of strictness.

Review by Ms Sophie Lu
Zenith Education Studio has a specialized economics tuition programme that is focused to help students first understand complex economics complex before proceeding to master the application techniques of answering exam questions. This is imparted through their step-by-step methodical approach.
Positioned as an economic tuition centre that provides value-added service to its students including free consultation for assignment and pre-exam reviews, 24/7 support through Whatsapp, Telegram and Zoom, as well as their highly-effective teaching methods derived by team of tutors who used to be A levels students themselves, Zenith Education Studio strives to help all students achieve the pinnacle of economic exam success and move on to their ideal career path.
Name

Zenith Education Studio

Website

https://zenitheducationstudio.com/

Contact Details

Whatsapp/SMS/Calls: 8768 7651

Email: zenitheducationstudio@gmail.com

Outlets

Buona Vista Branch: 35 Rochester Drive #03-22 Singapore 138639

Potong Pasir Branch: Blk 2 Tai Thong Cres #01-15 Singapore 347836

Bukit Timah Branch: Blk 611A Bukit Timah Road Singapore 269713

Level & Subjects

JC Economics

Unique Selling Points

Proven track record: focus on value-adding to student, 95% A level students achieved A or B grade with 65% achieved distinctions and 85% distinction for upper secondary students

Learning methodology: promise to deliver lessons that are fun and exciting and students are able to practise practical application of content.

Additional support: tutors provide 24/7 support through Whatsapp, telegram zoom and even advise such as career counselling, university application and scholarship/interview consult

Exam techniques: tutors will impart tips and strategies to score in exams

Students' reviews

The econs teachers here at zenith are always finding ways to make class more engaging, effective and easy to understand. They are friendly and always have the student's welfare in mind. They also encourage students to ask questions and even book consults so that students can have their doubts resolved. Furthermore, they provide students with curated notes to help make learning easier. The effort put in by zenith and the impact that zenith had on my grades are the reasons why zenith is the best :)

​Review by Jia Xuan

Zenith is honestly quite a good tuition center. My tutor Kane is extremely, patient and makes learning economics a lot easier, incorporating jokes and easy to remember phrases. I'd highly recommend Zenith.

Review by Cherish Ang

I have attended Zenith Education Studio for 2 yrs, and the lessons have been very informative. I was taught by two Economics tutors, Kane Neo and Evan Heng, and both tutors have been friendly and supportive in my education journey. They have also provided free welfare to students to enjoy at the start of every month. Highly recommended.

Review by Zhian Tan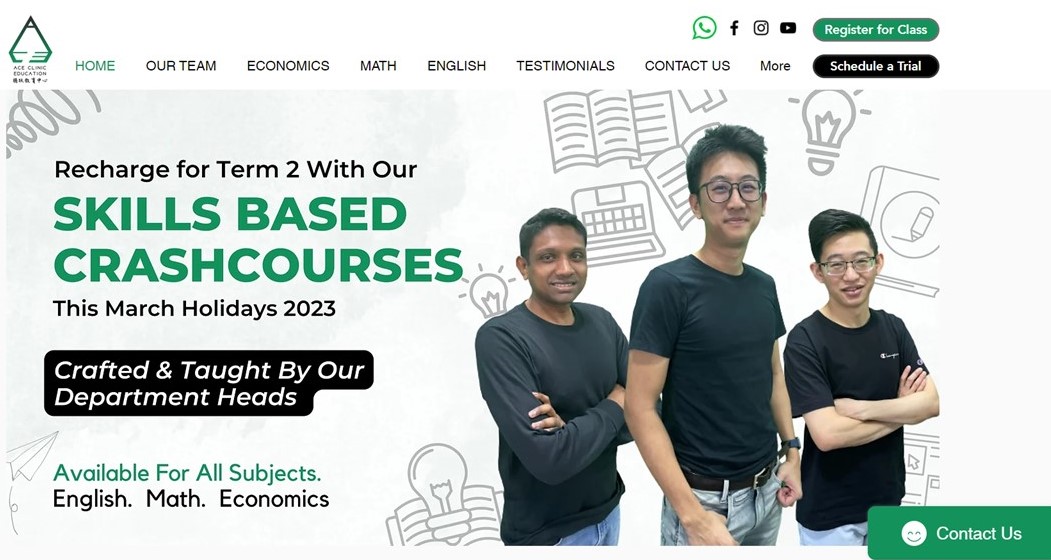 Ace Clinic Education offers JC economics tuition by a team of highly qualified economic tutors. Founded by ex-raffesians who were from humble backgrounds, they understood the stresses of the average students when they worked hard but yet still failed to achieve their desired economics grades.
After a student is enrolled, diagnostics tests are conducted for free to assess the issues and weaknesses; classes are then customised through the teaching approach and assignments given during the economics tuition class. Lastly, the student's progress is actively tracked to ensure improvement in a consistent and sustainable way. With such a well-thought-out action plan laid out, it is no wonder that this economic tuition centre is able to maintain a 90% rate of A and B economics grades yearly.
Name

Ace Clinic Education

Website

https://www.aceclinic.sg/

Contact Details

Whatsapp/SMS/Calls: 8328 8700

Email: t.ang@aceclinic.sg

Outlets

7A Thomson Ridge Singapore 574636

Level & Subjects

JC Economics

Unique Selling Points

Proven track record: 90% rate of students scoring A & B for A levels yearly, well above the national average

Learning methodology: relatively young tutoring team can connect better with JC students, they promise a good mix of fun and effective learning in the class to make learning more relatable

Crash Courses: impart revision and exam techniques to help students get a leg up during the school holidays to catch up on economics concepts and enhance understanding

Attractive discounts: 50% off trial lessons and 50% off first month fees and 25% off march crash courses

Students' reviews

Thank you Terence for your dedication and passion! My son went for Economics tuition 6 months before A levels. We tried a few centres and private tutors before but his grades didn't see much improvements. Through a friend referral, we decided to give Ace Clinic Economics a try and it really was the best decision made.

He jumped from an E in the mid year exams to an A in the A levels. I could also see that he enjoyed going to classes. Thank you Terence for the magic! Highly recommended!

​Review by Grace Yong

Taught by Mr Kenneth. The lessons are meaningful and productive. He is super patient and kind teacher. I like that the lessons highlight important key points to take note so that i will not make the mistake when practising the questions.

Review by Crystal

i have never liked econs, in fact I dreaded it for almost 1and a half year because I do not understand what is going on and what I'm doing tutorials for and honestly I was really going to give up. however after joining the econs tuition, I started to have a little bit of hope. ms sayani's passion in teaching made econs so much bearable for me and I started enjoying doing case studies because it felt so rewarding. i went from getting D/E throughout my year2 to getting a B in A level and it was really ALLL thanks to ms sayani. (not to mention I only attended about 10 lessons) really miss her lessons:)) no stress no pressure just chill vibes.

Review by Kelly Tech
11. That Econs Tutor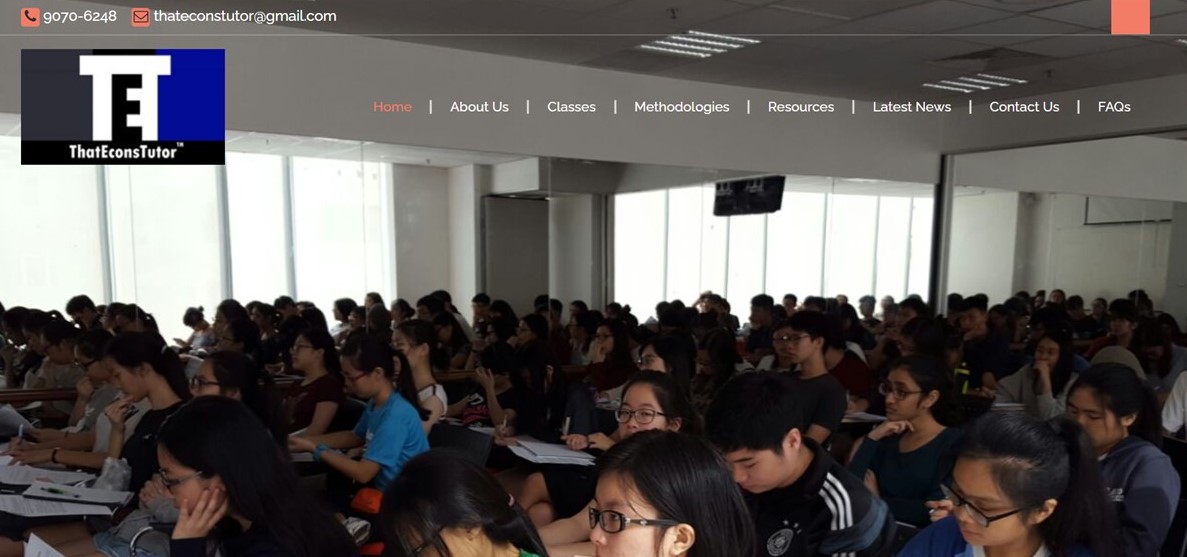 Known as a premium economics tuition centre, That Econs Tutor founder and sole tutor, Mr Melvin Koh is a star tutor who has written several economics ten-years series and assessment books and has achieved an impressive track record of achieving 90% A and B grades, with more than 57% of his economics tuition students scoring Distinctions.
Perhaps, this has to do with his credentials as a first-class honours graduate in economics, a monetary authority of Singapore scholar and winner of 12 university awards related to economics. This makes him a well-respected subject matter expert that is in the best position to coach and mentor A-level students to obtain A grades.
His proprietary CAM framework- where emphasis is placed on content, application, and methodology is a proven teaching technique to develop focus in their learning and positively impact their exam performance.
Name

That Econs Tutor

Website

https://www.thateconstutor.com/

Contact Details

Whatsapp/SMS/Calls: 9070 6248

Email: thateconstutor@gmail.com

Outlets

#03-14, Coronation Plaza, 587 Bukit Timah Rd, 269707 (next to Hwa Chong Institution)

Level & Subjects

JC Economics

Unique Selling Points

Qualified tutor: Highly experienced and qualified tutor with more than 10 years of teaching experience, author of economic assessment books and first-class economics graduate

Learning methodology: proven and established framework that focuses on building up the skills to help students tackle tough economic exam questions

Headstart & Crash Courses: Modular crash courses to help students keep up to speed with mastering certain topics, head start courses for students moving into J1 to lessen their stress of keeping up with the syllabus

Track record: 90% of students achieve A and B grades, with more than 57% of his economics tuition students scoring Distinctions

Students' reviews

I wish to thank Mr. Koh for guiding my daughter through this challenging A level year. I am very impressed that besides the regular lessons, there are weekly tutorials and consultation (upon request) at no extra charge. Mr. Koh teaches very well and is also a very kind tutor. When he learnt that my daughter's friend is from a very poor family and needs help with econs, he immediately offered to give her free tuition and is concerned about her learning. I am really grateful to Mr. Koh. A truly exemplary tutor that is hard to come by. Thank you very much, Mr. Koh.

​Review by Cheng Lim

Melvin is the lighthouse that guided my boy, helping him clear all obstacles ahead and sailed him to success. Many students, including my boy, attest to Melvin helping them grasp Economics. Most importantly his methodology helped them confidently tackle essay questions with ease. Melvin is not only the beacon of light, his dedication, sincerity, warmth and compassion radiates to every student he taught. Being a dedicated and caring tutor, Melvin catered extra consultation sessions to his students on top of his usual lessons. Melvin never failed to give my boy insightful comments on the work he submitted to him as well as promptly answer any of his questions outside lesson time. With Melvin's assurance, wisdom and encouragement my boy was motivated to cultivate a more resilient mindset amidst the A Level period. Melvin is a rare gem, a tutor that goes beyond his call of duty for his students and a great support for parents. Whenever I feel helpless watching my boy go through his ups and downs in his Econs grades, Melvin patiently listened to all my worries and concerns. Even before I seek his help, he was already in touch with my boy, and had given him his pep talk. With Melvin, you know that your child is in good hands.

Review by Jiaxin

When I chose to retake A levels as a private candidate, I knew that it was essential to engage an experienced economics tutor that could help me improve my economics grades, given that I lacked the support of school teachers and regular school curriculum. With Mr Koh's weekly lectures and personalised tutorial sessions, I had managed to improve greatly; from a C to an A! In addition to teaching the content material in a way that is easily digestible, Mr Koh's concise notes offer crucial essay structures and visual mindmaps that allowed me to understand the subject in a way that came more naturally. Being able to write essays that delivered only the most important points in a short amount of time was also another essential skill I learned. Even though I have submitted countless essays for him to review, Mr Koh never fails to offer speedy yet valuable remarks; he even keeps track of which mistakes I tend to repeat, and have thus highlighted them. I have found that this personalised feedback has been extremely effective. Most of all, Mr Koh's dedication to his students and his faith in their abilities is what allows them to excel. I believe that Mr Koh's lessons are for any student looking for an experienced tutor willing to go the extra mile for his students. Thank you Mr Koh!

Review by Charis
A seasoned economics tutor of 24 years and ex-business owner of several set-ups spanning from retail stores to training institutes, Mr Kelvin Hong set up The Economics Tutor economic tuition centre to further his passion for teaching economics as a subject.
He is different from your usual economics tutor as he is able to impart real-world knowledge and skills based on his past work experiences in entrepreneurship to provide students with more relevancy to stimulate their interest in the subject. To better help students retain information, he developed wacky resources such as memes, songs and infographics to make his teaching effective.
He also promises to make learning fun for his students and is able to predict and spot exam questions with accuracy.
Name

The Economics Tutor

Website

https://www.theeconomicstutor.com/

Contact Details

Whatsapp/SMS/Calls: 9336 7511

Email: Enquiries@TheEconomicsTutor.com

Outlets

170, #12-01 Upper Bukit Timah Rd, 588179

Level & Subjects

JC/IB Economics

Unique Selling Points

Qualified tutor: Highly experienced and qualified tutor who has been teaching since 1998, draws on past work experiences as an entrepreneur and government official to impart economic concepts

Learning methodology: Fun and engaging lessons that are not lecture style to help students retain information

Learning materials: Customised materials produced in-house that consist of step-by-step answers and breakdown of important economics concepts and applications

Track record: 80-90% of his students achieve A for economics A-level exams

Students' reviews

When I first started JC Economics tuition with Mr Hong, I was failing in school. However, after his patient guidance and useful materials, my grades improved tremendously, eventually obtaining an A for the A level examination.

​Review by Zanna

Fortunately, under Mr Hong, i was able to brush up on the skills and techniques to ace economics. I think what was extremely helpful was his style of teaching and learning, and that each tuition session was limited to a few students. This ensured that every student will have an opportunity to voice their thoughts about a question posed and he would address any misconception right away, benefiting the other students who could learn from the mistake of others. His timely timed practices before major examinations in school and also before the A levels were also helpful in allowing our minds to adjust to exam conditions so that we could perform our best during exams. Without Mr Hong's help, I doubt I would be able to get A for economics so thank you Mr Hong!

Review by Gabrielle Cheong

I initially doubted that anything could help to improve my economics, what with my unsatisfactory grade of U for promotional exams. I was proven wrong on the first day of Mr Hong's lessons. His use of dramatic sounds livened up the lessons and I found myself eager for more. I could not bear to miss even one lesson as I wanted to enjoy every minute of his extraordinary teachings. His constructive feedbacks and concise teachings made me understand economics and its mechanisms almost instantaneously. He also builds close rapport with students which allows students to internalise his lessons more effectively. Even after I felt that I had understood everything, he did not stop there, and taught more values to economics and its application in real world. During his lessons, I savoured all knowledge he has imparted to us, not only for the improvement in my grades, but also for making me a better person in today's competitive world driven by demand and supply. Results also show themselves quickly. My grade jumped from U to B immediately in the next test. I am proud to say I achieved a stellar grade of A for GCE 'A' Levels economics of which I once never dared to dream. I strongly recommend his lessons but I have to admit one has to work hard and practice to utilise his teachings effectively. Thank you Mr Hong for being my best Economics teacher!

Review by Brandon Ho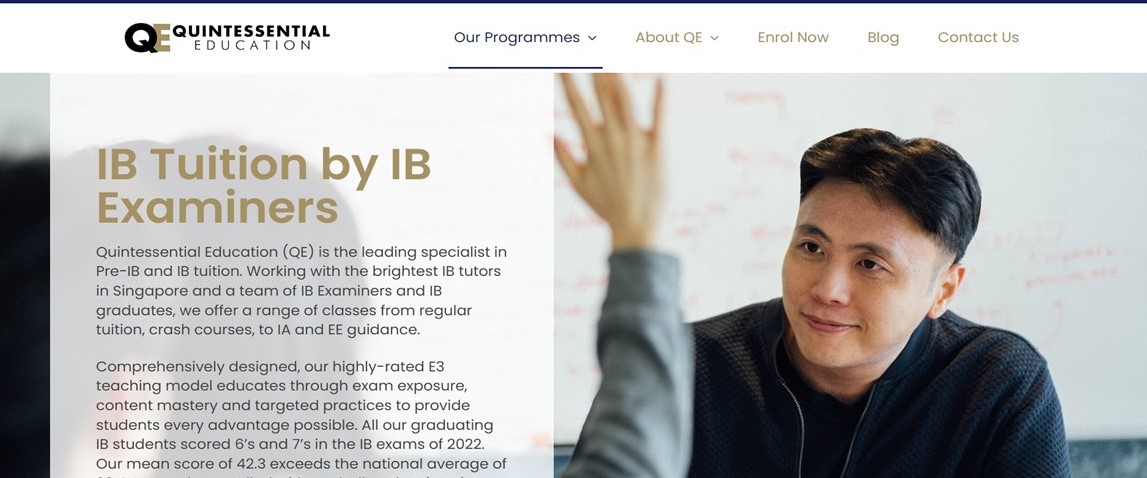 If you are looking for a tuition provider for IB and IGCSE economics tuition, consider Quintessential Education Centre. Its specially selected team of top IB tutors strives to help IB students ace their economics assessments through their rigorous curriculum developed in-house by IB examiners and Oxbridge graduates.
High-impact learning strategies such as analysis of past year exam papers to inculcate problem-solving strategies, concise notes to condense learning materials, experiential learning through tutorials, timed trials and regular assessments are put in place in all lessons to help students achieve the highest quality teachings in their economic tuition classes.
Qualified tutors plus a solid curriculum are the reflection of its name "Quintessential", which means "the most perfect example of a quality or class".
Name

Quintessential Education

Website

https://qeducation.sg/ib-tuition/

Contact Details

Whatsapp/SMS/Calls: 6100 9338 / 9655 0590

Email: enquiries@qeducation.sg

Outlets

545 Orchard Rd, #14-09 Far East Shopping Centre, Singapore 238882

Level & Subjects

JC/IB Economics

Unique Selling Points

Track record: 100% of IB students scored 6 or 7 points in IB exams, 89% scored A in IGCSE exams, 91% scored A or B grades in A-level exams

Learning methodology: Usage of a structured E3 model in the curriculum through extensive exam question exposure, mastery of important economic concepts and regular practices

Qualified tutors: Tutors are top school teachers, experienced tutors and examinators from prestigious Ivy League schools, including mentoring professionals from law, finance, medicine

Specialist in IBDP: Specialist in IB subjects which is not often offered by other tuition centres

Students' reviews

Took their tutoring for almost every subject when I was struggling in IB. Generally, really awesome tutors that break stuff down so I could finally understand some difficult concepts or even topical questions which seemed to be skimmed through in school. From my experience being tutored in the Sciences, Math and Econs, all my tutors were very thorough and encouraging in their teachings, making sure that you understand in depth the basics of each topic (they'll go through the material as many times if you don't understand or forget), before giving you a few tips on some shortcuts you can use for the exams, as well as providing enough practices such that together with your school's past year papers, you don't have to print out any more for self-revision. If you are willing to accept constructive criticism and do the work that's given, I'd fully recommend this for students that feel left behind in school. However, just keep in mind to constantly keep in touch with the tutors and administrators for lesson plans, and notify them in advance if there are lessons that you're taking extra or missing out. The arrangements of lessons aren't the most flexible and smooth, but they can surely rearrange it if you're at least telling them a week in advance.

​Review by Ty Tan

My tutors were very knowlegeable of the IB syllabus, able to tailor lessons according to my needs, and provide me with an extensive amount of useful resources. They prepared me very well for the IB examinations. I recommend teachers Sean and Dawn!

Review by Vivian Wong

From my daughter's experience with QE, the tutors here are professional, nurturing and genuinely try their best to help the student. Administrative staff are friendly and prompt with customer servicing, always willing to resolve any issues or concerns. So far, very satisfied with this tuition centre!

Review by Sharon Loh
A cozy and friendly economics tuition provider with years of experience tutoring students, Habitat Learning Centre, hopes to inspire students to discover the beauty of economics, fall in love with the subject and be well-prepared for their A levels or IB exams.
The centre offers a small class size of between 4 to 6 students to provide dedicated attention to the students during the economic tuition lessons. The uniqueness of this centre lies in its culture of bonding between the tutors and the students, as a supportive learning environment is important to help students to learn best and alleviate the stress and anxiety they face, especially when they are not scoring well.
Habitat Learning Centre is the place to go for students who prefer a more holistic approach to mastering economics.
Name

Habitat Learning Centre

Website

https://habitatlearningcentre.com/economics-tuition-singapore/

Contact Details

Whatsapp/SMS/Calls: 9795 3323

Email: admin@habitatlearningcentre.com

Outlets

1 Goldhill Plaza, #02-27, Singapore 308899

Level & Subjects

JC/IB Economics

Unique Selling Points

Small class size: Class size of 4 to 6 students to ensure dedicated attention for each student

Learning methodology: Adopts a customised pace of lesson according to the student's current level of competency.

Learning materials: Frequently refreshes materials for economics to ensure they are relevant and current. Also produced in-house questions to expose students to different types of questions

Dedicated tutors: Passionate and committed tutors who will go the extra mile to ensure students receive the support they need

Students' reviews

Around late 2019, I chanced upon Habitat Learning when I was looking around Novena area for tuition classes for my then Sec 1 daughter. I was hesitant about signing up initially but decided to give them a try in the end. Now looking back, it was certainly the right decision. My daughter received her O Level results today and she did very well overall and particularly in subjects that she had attended classes at Habitat. Ms Song and her team of teachers are genuinely passionate about teaching and helping their students do well in their studies. They are easy to communicate with and the environment is conducive. Would like to give special thanks to Teacher Leon for his great dedication and support for my daughter. I would not hesitate to recommend Habitat Learning to anyone who is looking for experienced and responsible educators to help them excel in their studies.

​Review by Cloud

My son has been with Habitat since his secondary school days. Under their care, he did well enough to qualify for NYJC. We continued with this centre as my son entered JC, as we totally trust Ms Song ( the owner) and the tutors there

Today, my son received his A level results, and he did well. The encouragement and guidance from his tutors really helped him to recover from failing during JC 1 to scoring As for his A levels. Really happy that we discovered this centre many years back.

This year, my daughter also follows his kor kor and joins this happy tuition centre. Teacher Eunice, pls help to jaga her ok? :)

Review by Joyce Kho

I was initially quite sceptical about being able to improve in such a short period of time since I started lessons mid-way into my J2 journey. However, my tutor was very encouraging and had lots of faith in me. That helped me gain more confidence in my abilities as well. Ultimately, I went from a U to a B!

My tutor made Econs lessons much more engaging and comprehensible for me. Econs used to be really daunting as a subject because I found it difficult to understand the concepts and see them in the bigger picture. He helped break them down and explained them with lots of patience, creating links for me. With that said, lessons were very engaging and was very interactive.

During the lessons I learnt how different economics concepts were related to each other, which made it easier for me to study efficiently for my exams. Whenever I started losing touch with certain chapters, he would go over them with lots of patience and introduce different ways to help me remember them.

Review by Gen T
15. Excel Economics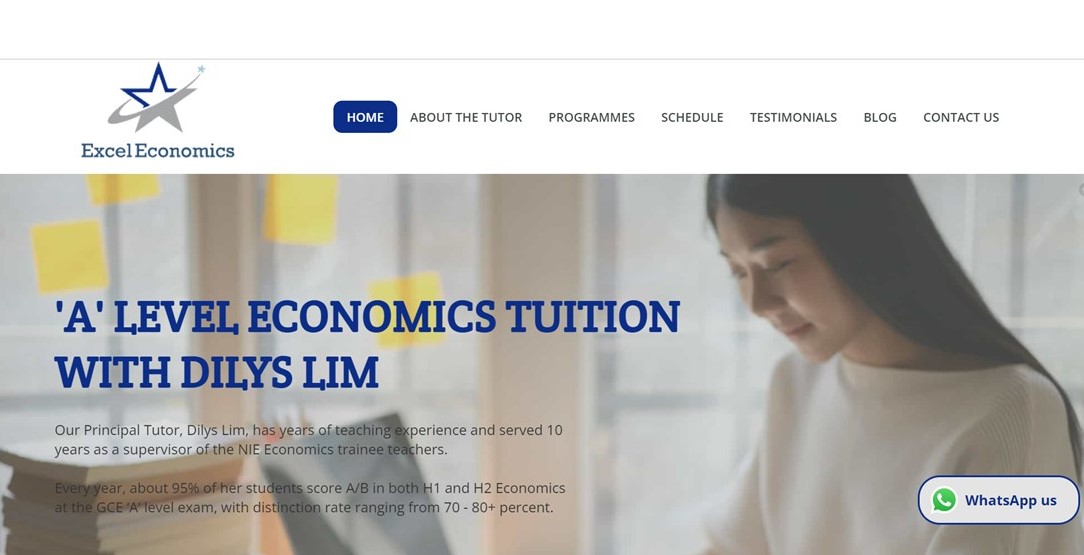 If you are looking for a good economics tuition provider in Singapore, Ms Dilys Lim is an expert tutor who can help you, with an experience of over 10 years of teaching as well as coaching economics NIE trainee teachers.
It is not surprising to know that every year, 95% of her tutees score either an A or a B in the A-level economics exam, with 80% achieving distinction grades, which is proof of her effectiveness as a tutor and dedication to her students.
Ms Dilys has tutored a wide spectrum of students, from the high ability to students who struggle with economics. In her economics tuition class, students can learn about economic theory, apply discussion on real-world issues, develop skills such as essay writing and case study analysis and have regular practice on a variety of exam questions.
Name

Excel Economics

Website

https://www.exceleconomics.com/

Contact Details

Whatsapp/SMS/Calls: 9689 3944

Email: admin@exceleconomics.com

Outlets

304 Serangoon Ave 2, Block 304, Singapore 550304

Level & Subjects

JC Economics

Unique Selling Points

Qualified tutor: Expert in economics, even trained other NIE trainee teachers and has experience teaching local and international students

Learning methodology: Comprehensive learning method including concept mastery, acquiring of skills in evaluation, critical thinking and writing. Regular feedback is provided to help students improve

Online classes: Tutor provides both physical and online lessons to reduce students' commuting time

Track record: 95% of her tutees score either an A or a B in the A-level economics exam, with 80% achieving a distinction grade

Students' reviews

Excel Economics is the best economic tuition in Singapore to me. Ms Lim is an outstanding tutor and mentor. There is no doubt that Ms Lim is capable of guiding her students to excellence and she has a long line of highly successful students to prove it. Her determination and dedication helps her maintain extremely high teaching standards for herself. As a tutor, she was always at the top of her game. When I attended her lessons, I was assured that Ms Lim always put my learning as her top priority. I knew that I had the freedom to ask as many questions as I needed to make sure that I understood everything correctly. There was always a clear plan about what to achieve and she was always ready with all forms of learning material. Her knowledge of what she taught was impeccable- she not only helped me with all of my questions but she also challenged me with questions and concepts that ultimately furthered my learning. Ms Lim's immense teaching experience showed whenever she taught me. Her explanations were clear and succinct; she was acutely aware of my learning progress; and she was hence able to tailor her teaching accordingly. This all meant that Ms Lim helped me to greatly accelerate my learning. Above all, Ms Lim was passionate about what she taught and was genuine to everyone she taught. I definitely felt Ms Lim's sense of purpose whenever she taught and that every student meant something to her. You could feel that she makes it her personal mission to make sure that her students do well. To me, that meant more than anything and simply drove me to do better. Ms Lim is a fantastic tutor and I would highly recommend her to anybody who is searching for one.

​Review by C Oei

Ms Dilys Lim is a caring and dedicated teacher who never tires in friendly teaching and clarifying concepts. With her class, she always tries to make her lessons as interesting as possible by using examples and telling relevant jokes and facts. So my classmates and I would look forward to attending her lessons where the warm and academically rigorous atmosphere is present. Her patience in teaching both the stronger and weaker students has helped many students in their work.

Review by Benjamin

I just want to say, thank you so much, Ms!

I couldn't get an A without your patience and kindness in teaching our class, giving detailed explanations in almost every exercise! It is a big pleasure and fun to be in your class and I have learned a lot. May God bless you always, Ms. Once again, thank you. This is the best economics tuition I have ever had.

Review by Fransisca
Adam Smith Economics positions itself as an economics tuition centre that is able to predict exam questions with 95% accuracy so that its students can score As in their exams. It boasts a 100% improvement of students' economic exam grades, with more than 90% of its students achieving grades A and B.
This accomplishment is achieved through its emphasis on Higher Oder Thinking Skills (HOTs) such as application, analysis and evaluation through its economic tuition classes. Through its usage of Neuro Linguistic Programme (NLP) techniques, tutors help students to learn quickly and retain most of the information to secure good grades.
What sets this centre apart from other specialized economics tuition centre is where whole-brain learning is incorporated into its tuition classes to accelerate learning within a short time among its students.
Name

Adam Smith Economics HQ

Website

https://www.economicstuition.com/

Contact Details

Whatsapp/SMS/Calls: 9695 9650

Outlets

Block 256 Bishan Street 22 #B1-472, Singapore 570256

Level & Subjects

JC Economics

Unique Selling Points

Track record: 100% improvement of students' economic exam grades, with more than 90% of its students achieving grades A and B in A levels

Learning methodology: lessons at the centre are innovative, engaging and effective since they incorporate NLP techniques to help students learn faster and retain more information.

Online classes: Tutor provides both physical and online lessons, and even mobile lessons to cater to time-strapped students.

Qualified tutors: All tutors are economic subject experts, graduates of of both local and overseas universities

Students' reviews

I joined Adam Smith Learning Centre just 3 weeks before Prelim for my Econs. I had an S for the exam before prelim and got an E for prelim . I believed in my self and persevered, under the guidance of the wise and intelligent Economics tutors.

In the end I scored an A for the A levels!! Thanks Adam Smith and your Econs tutors, and your highly recommended Econs tuition

Review by Matthew Rajendra

The teacher in the centres heavy emphasis on skills like analysis, application and evaluation that helped me to analyse the question better and allows me to have a better idea on how to go about applying them in the content to answer the question requirement.

Review by Claire Phee

Mr Tan was very good at helping JC2 H2 Econs students who do not know what A-Level Economics essay and case study questions are asking for specifically. His Econs tuition lessons are very effective in helping JC students help themselves in answering any question (I really mean it, ANY question) that could possibly come out. He is definitely one of the best Economics tutors in Singapore right now. Also, his model essays and case study answers were superb and helped me tremendously.
17. Learner's Lodge
Learner's lodge offers a comprehensive economics tuition programme for A-level students to first understand, analyse and grasp complex economic concepts in a manner that is easy to understand. This is accomplished through the use of real-world issues and connecting them with theoretical concepts in textbooks.
Based on inputs from Cambridge examiners, Learner's lodge has derived a teaching methodology for students to perform well in economics essay writing and case study skills. Class size is also deliberately kept small to provide individual attention. The economics tuition centre has kept its economics syllabus relevant and updated based on the MOE syllabus to complement students' school learning.
"Economics cheat sheet" is also provided to all its economics tutees to distill their learning on the concepts and topics that really matter for more effective learning.
Name

Learner's Lodge

Website

https://www.learnerslodge.com.sg/jc-a-level-economics-tuition-classes

Contact Details

Whatsapp/SMS/Calls: 6970-5650/63874366/ 63362037/68424634

Email: sales@learnerslodge.com.sg

Outlets

Learners' Lodge @ Marymount

Block 255 Bishan Street 22

#B1-462

Singapore 570255

Learners' Lodge @ Bishan

Blk 236 Bishan Street 22 #B1-154

Singapore 570236

Learners' Lodge @ Kovan

Blk 221 Hougang Street 21

#B1-100

Singapore 530221

Learners' Lodge @ Jurong

Blk 134 Jurong Gateway Road

#02-309B

Singapore 600134

Learners' Lodge @ Kembangan

14D Jalan Masjid

Kingston Terrace, #01-04

Singapore 418935

Level & Subjects

JC Economics

Unique Selling Points

Learning materials: customised economics learning notes useful for revision and exam preparation that reflect the latest MOE syllabus update

Student-centred learning: positive and supportive environment where no questions are deemed "stupid."

Small class size: maximum class size cap for economics lessons for more individualised learning

Location: 6 branches island-wide to cater to students living in different locations in Singapore

Students' reviews

Mr Fung is a really approachable teacher who would cater to your learning needs. His content lessons are much easier to understand than the school's and he ensures that he teaches us exam techniques that are fully application for the A Levels. Ultimately, he has made Economics a really enjoyable subject! :)

​Review by Mac

Dear Mr Lee,

I only joined your class at the end of May. I was very lost, confused and I pretty much hated economics as a subject. Within the first few lessons, I've learnt alot from you and my perception on economics has changed. Thank you so much for making economics relatable and easier to understand. From your royal friend stories to you slamming the board to erase certain notes, you've made lessons interesting and I can only attribute my newfound awe for economics to you.

Roses are red,

Violets are blue.

Your teaching is so good,

it sticks like glue!

Review by Hanna

I joined Learners' Lodge Economics class at the start of J2 and although my time with Learners' Lodge was short, I was able to improve by leaps and bounds within this short period of time and even started gaining an interest in the subject. Mr Koh has always been very enthusiastic about classes and he never fails to make them interesting and enriching for us. He explains the economic concepts in a way which allows us to easily grasp them and the notes he provides us with are also very detailed, making learning economics a lot easier. Thank you Mr Koh for guiding us throughout this period of time and I hope that you will be able to continue inspiring many more batches to come :) Would definitely recommend your classes to other people!

Review by Wilbur CJY
A premier Economics tuition centre that is approaching its 12th year of operation in Singapore; Indigo Education Group has a group of JC economics specialist that are ex-MOE school teachers and has more than 10 years of teaching experience to deliver quality classes.
Its varied economic tuition classes include small group tuition, master classes, crash courses and even seminars with industry practitioners to prepare students for their A-level economics exams and get into a university faculty of their choice.
The centre has identified three key reasons why students do not score well, which are weak content mastery, poor essays and lacking knowledge of current affairs. Through evaluation of the student's essays and practice questions, tutors will target brushing up the skills and closing up content gaps to support the students' learning.
Name

Indigo Education Group

Website

https://indigo.com.sg/

Contact Details

Whatsapp/SMS/Calls: 6970-5650/63874366/ 63362037/68424634

Email: contact@indigogroup.com.sg

Outlets

Bukit Timah: 271 Bukit Timah Road #B1-09 Balmoral Plaza, 271 Bukit Timah Rd, #B1-09 Balmoral Plaza, 259708

Tampines: 3 Tampines Central 1 03-02/03, #1 Tampines Plaza, Singapore 529540

Novena: 103 Irrawaddy Rd, #02-01/04 Royal Square, Singapore 329566

Bugis: 116 Middle Rd, #07-02/03/04 ICB Enterprise House, Singapore 188972

Beauty World: 170 Upper Bukit Timah Rd, #01-01 Shopping Centre, Singapore 588179

Level & Subjects

JC Economics

Unique Selling Points

Learning materials: effective teaching methods and curriculum developed by economics specialised, high-quality notes produced in-house

Discounts: $200 discount off term fees if students made the switch over from another economics tuition centre. Referral rewards programme available

Additional support: economic crash courses, masterclass and seminars available, even seminars for parents

Location: 5 branches island-wide to cater to students living in different locations in Singapore

Students' reviews

The teachers here are friendly and are more than happy to answer any of our questions. The lessons here are engaging. With a conducive learning environment here, students are equipped with the relevant skillset to score their desired grades.

​Review by Zander

Lesson materials were very well structured and easy to understand, tutor was clear in his/her explanations, the class content learnt were useful and engaging.

Review by Shirley Sun

I think that the notes and the explanation for how to answer the questions is very clear. The methods are also easy to follow. There are explicit examples and how to elaborate the points.

Review by Nichelle Lee
19. The Econs Don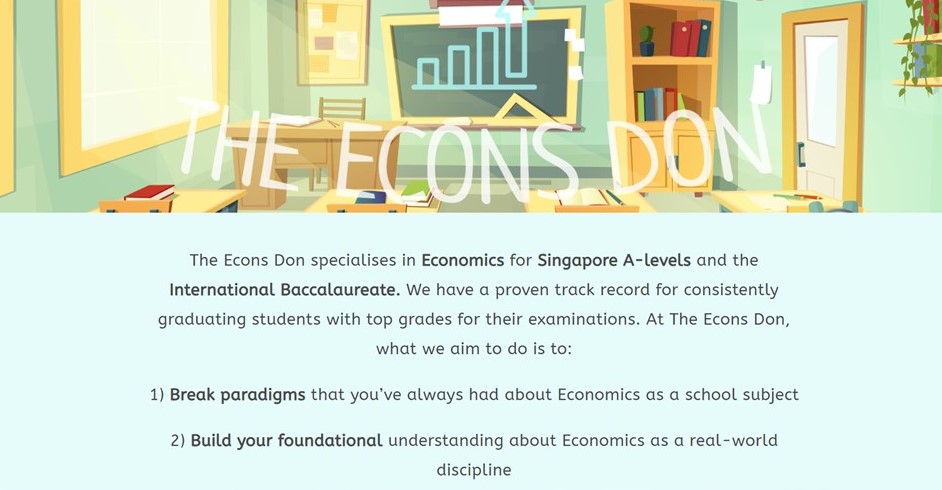 Although Mr Don Chng, who established The Econs Don economics tuition centre in 2019, might not have as much experience as other tutors, he managed to achieve outstanding results by having his students improve one grade after six months of lessons.
Perhaps this accomplishment is possible as he viewed himself more of a mentor to his students, and in his words, "having scaled the mountain once, I fully understand the struggles behind the journey". This experience allows him to establish rapport with his students and connect with them quickly.
He adopts a unique critical thinking process to help students break down complex economic concepts and employs effective revision strategies for students to achieve their peak performance. Each class is capped at a small class size of up to 8 students.
Name

The Econs Don

Website

https://theeconsdon.com/

Contact Details

Whatsapp/SMS/Calls: 91883903

Email: theeconsdon@outlook.com

Outlets

Singapore Shopping Centre, #02-31!

190 Clemenceau Ave, Singapore 239924

Level & Subjects

JC/IB Economics

Unique Selling Points

Track record: 67% distinctions of grade A for A levels and 7 for IB

Learning materials: library of economics resources available, including content summaries, exam application guides

Learning methodology: unique critical thinking process utilises in class to break down concepts and help students comprehend questions.

Class size: class size of up to 8 students maximum

Students' reviews

Don is both a patient and inspiring teacher. Even though I have started lessons a few months before the A-levels, I have managed to improve from a U grade in my examinations. His approach of teaching ranges from the ample resources and applying concepts to answer the different question types. I am grateful that I had Don as my teacher. Highly recommended if you need help with economics.

​Review by Shin

Don's first student here :)) Don is a caring, unique and extremely experienced economics teacher. He is experienced in a sense that he didn't just make me study with the mentality that economics was just another subject in jc, but he also shared his love for economics with me. This provided a more wholesome learning experience as I grew to show interest towards economics through the real life examples he pairs economics concepts and theories with. Don's lessons are not only effective and conducive, but it also takes away the mentality of students such as me studying economics just for the sake of getting through another subject in jc, making the learning experience more interesting, effective and engaging! Don's teaching helped me improve my economics from a dire 'U' grade in school examinations to a 'B' grade at A Levels! Thanks Don!

Review by Javier Ho

I was an nsf who was struggling with my econs and had a messy timetable at work. ( i do office hour ) Don has greatly guided me as to how to answer questions and think about contextual situations in which econs can be used. During times which i have clashes in my schedule, Don was supportive and made it an effort to have lessons during my off days.( as well as to offer face to face lessons such that i can learn effectiently during covid 19 ) Don has been encouraging and supportive, and I am sure that you will see a difference through his careful guidance and tutoring. I am very grateful that i was taught by Don.

Review by Dayne Jong
20. Future Academy
Future Academy is a popular tuition centre that offers A-level economic tuition. With experienced tutors that have the expertise to identify common problems students face when learning economics, improvement can be made instantly without spending time on topics which students are familiar with. The centre adopts a targeted and differentiated curriculum in its small class size of 6 students to ensure every student benefit from quality teaching without the need to compete for attention.
A stringent hiring process is in place to hire the most committed, reliable and passionate tutors to ensure each economic tuition class is led by tutors who can inspire and coach students towards academic excellence and also instill interest in the subject. All the learning materials are also prepared in-house by its tutors, with no additional material fees charged.
Name

Future Academy

Website

https://www.fa.edu.sg/

Contact Details

Call: 6884 6566

Email: 6884 6566

Outlets

Bugis / Rochor

175A Bencoolen Street #06-05, Burlington Square, Singapore 189650

Bukit Timah / Beauty World

170 Upper Bukit Timah Road #15-04, Bukit Timah Shopping Centre, Singapore 588179

Toa Payoh / Braddell

381 Lor 1 Toa Payoh #01-12, OnePeople.sg, Singapore 319758

Level & Subjects

JC Economics

Unique Selling Points

Class size: kept small, about 6 students maximum, so that students are not fighting for tutor's attention

Profile of tutors: each tutor is selected carefully by the founders to ensure that they are of quality, reliable and trustable; their profiles are available on its website.

Learning materials: study notes, summaries and practice worksheets that are customised, complied and put together by tutors to boost their A-level revision.

Online lessons: virtual classes are available through its generic video conferencing platform

Students' reviews

Excellent and all-rounded tuition centre. Provides tuition of a variety of subjects with highly dedicated and amazing teachers! They are extremely helpful and do their best to help you whatever problem you have. The teachers' teaching style is unique and they can adjust the lessons to the topics that you are facing difficulty in.

Review by Ethan P

I like future academy as I find the class very engaging and fun. I received a lot of worksheets each day for every subject and the teacher explains the solutions with very clear explanation for every hard word problems. Yvonnen is a very good teacher and she teaches math very well. She takes every effort to teach each and every student until they master the chapter. She teach us very good tactics to tacle hard questions. Thus when we go for exam and we struggle in a question we could use the tactics she thought us in class and we would definitely would be able to solve the question. This centre is amazing.

Review by Jitesh Arunkumar

Future Academy at Bugis is suitable for all types of students. I used to have a really bad study habit but after attending Future Academy, I felt like studying wasn't that bad after all. Really grateful and special thanks to Ms Chen for pulling up my grades. Amazing tuition center!

Review by Tan Bee Hui Sara
Sophia Education is a tuition centre chain with 5 outlets across Singapore. Its reputation among parents and students is so good that it gives a 14-day money-back guarantee to students who are unsatisfied with their first lesson and wish to withdraw.
The centre hires experienced tutors who have more than 7 years of teaching experience and have graduated from top universities. The syllabus and learning materials are also in line with MOE's curriculum, and its economics tuition lessons taught by tutor Mr Chng is also entertaining and engaging students can get support on Whatsapp if they have any queries.
Therefore, it is no surprise that students can improve their economics grades by a minimum of two grades in just 12 weeks of lessons.
Name

Sophia Education Centre

Website

https://sophiaeducation.sg/

Contact Details

Email: admin@sophiaeducation.sg

Call/SMS/Whatsapp: +65 3129 4400

Outlets

Bukit Timah

01-16 Beauty World Plaza (1 min walk beside Beauty World MRT, 140 Upper Bukit Timah Rd, 588176

Dhoby Ghaut

02-9/10/11 Level 2 Singapore Shopping Center, 190 Clemenceau Ave, 239924

Kembangan

Kembangan Plaza #01-03 (1 min walk beside Kembangan MRT) , 18 Jln Masjid, Singapore 418944

Hougang

02-07 The Midtown 1187 Upper Serangoon Road Singapore 5339721.

Woodlands

12 Woodlands Square #02-81 (Woodsquare) Singapore 737715

Level & Subjects

JC Economics

Unique Selling Points

Track Record: improvement by at least 2 grades within 12 weeks of lesson, 78% achieved A in A levels

Online class: students can opt for lessons on-site or online to save commuting time

Learning support: 24/7 Whatsapp support from tutors if they have questions about their homework or worksheets

Quality tutors: profile of all their hired tutors including their credentials and experiences, is listed on its website

Students' reviews

1st lesson was with Ms Jasmine Chan. She managed to engage my daughter who usually won't open up during the initial session and can be quite a slow learner. However, it was quite interesting to see my daughter asking Ms Jasmine qns actively and I was surprised when Ms Jasmine said that my daughter is a fast learner.

Feedback after the 1st lesson was excellent..

Review by Wan Nooraini

Good tuition center, flexible lesson structure where students can request teachers follow consultation teaching format instead of doing new questions/papers.

Review by Finn

They have really good Teachers and really help you to focus on your weak points and helped me improved a lot.

Review by Aricia Te
22. iEconomics
iEconomics is set up by Ms Ang, the principal economics tuition tutor who has strong credentials as a first-class honours graduate from NIE. Her strength in economics curriculum design and planning translate into excellent classroom practices and teaching that caters to the appropriate competency level of the students.
Students will be equipped with the content and skills needed to master topics in micro and macroeconomics through a 3-step learning model: content enrichment, skills enhancement and time management.
A self-help portal is available as a supplemental learning resource for students to access free essay practices and model answers to improve on their writing skills. Some of the advantages of this economic tuition centre include a reasonable fee of $380 per 4 lessons and a lean class size to maximise students' learning efficiency.
Name

iEconomics

Website

https://www.ieconomicstuition.com/

Contact Details

Email: ieconomicstuition@gmail.com

Call/SMS/Whatsapp: 9732 9931

Outlets

Yishun Branch: Blk 102 Yishun Avenue 5 Singapore 760102 (Beside Chong Pang CC)

Jurong Branch: Blk 135 Jurong Gateway Road Singapore 600135 (Beside Jcube)

Bishan Branch: Blk 513 Bishan Street 13 Singapore 570513 (Beside Bishan Bus Interchange)

Level & Subjects

JC Economics

Unique Selling Points

Structured classes: strong curriculum design that seeks to help students master economics through content, skills and time management

Small class size: maximum student cap to optimise the learning for each student as compared to a bigger class

Track record: 90% of students achieve either A or B in A levels, 100% of JC1 students pass their promotional exams

Quality tutor: NIE-trained professional and local graduate in economics, subject matter expert

Students' reviews

Throughout JC1 and early JC2, I was scoring straight "U"s for all my Economics exams. It was truly a blessing to have been introduced to iEconomics by my classmate.Ms Ang from iEconomics explained trends and question types very clearly, helping me identify my misconceptions and weaknesses! I even started to enjoy it and did my own research for essays! I was pleasantly surprised when I saw the "A" grade for Economics on my A Levels results slip!Thank you so much iEconomics!

Review by Sarah Lewi

Prior to joining iEconomics, I have never achieved anything better than a "D" for Economics, no matter how hard I tried. Thankfully, Ms Ang fromiEconomics has been very patient in guiding me along and always ensures that every tuition session is productive and fruitful. Ms Ang would also givepersonal comments on my exam scripts which helped me tremendously in understanding my mistakes.I'm happy to have achieved an "A" grade for Economics in the A levelsThank you iEconomics!

Review by Jasmine Lim

Scoring only an "S" for promos, I was clueless about Economics. Joining iEconomics was definitely the best decision that I have made in my JC life. Lessons are never boring and always involve active participation and writing assignments.In addition, the notes are comprehensive and easy to understand that I turned to them instead of my school notes. Eventually my grades shot up to a "B" for Prelims and an "A" grade for A levels! Joining iEconomics is definitely a good investment!

Review by Chan Kai Jun
Head up if you are looking for a reputable economic tuition centre that offers International Baccalaureate (IB) diploma tutoring programme. The tutors here are either IB-trained or top IB scorers themselves and have more than 10 years of experience tutoring economics subject at the HL or SL levels.
Their lessons are exam focused and hard to understand economic theories are broken down into bite size chunks to enhance students' understanding. Due to their vast experience with the IB syllabus, they know what internal examiners are looking for in essays, commentaries and teach students the essential essay writing skills to achieve their best economics grades.
Over at IB Super, you can also be assured that all tutors are trained in specific pedagogical skills where tutors can successfully integrate content knowledge with practical classroom teaching practices to address students learning challenges.
Name

IB Super Education Centre

Website

https://www.ibsuper.com.sg/programmes/ib-economics-tuition/

Contact Details

Email: ieconomicstuition@gmail.com

Call/SMS/Whatsapp: 98198928

Outlets

190 Clemenceau Avenue Singapore Shopping Centre, #05-33, 190 Clemenceau Ave, #05-27, 239924

Level & Subjects

IB Economics

Unique Selling Points

Specialised tuition centre: specialised in catering to students in the IBDP, which is their education niche

Qualified tutors: tutors are specially selected and trained, all are well-versed in the IB economics syllabus and mode of assessments with over 10 years of experience.

Online classes: both on-site and online classes are available, can cater to the student's schedule

Structured programme: a 4-step learning methodology adopted in all its classes and in-house worksheets produced to complement the teaching

Students' reviews

After completing only a few classes right before my final igcse after being told I could never get a B, I was able to achieve that grade in my results. The classes are fun and engaging. In addition, great notes are provided. Not to mention, the class is a judgement free zone where I am able to ask any and all questions I have.

Review by Isabella Henry

I have been a student for 4 years and from my experience I can say that all the tutors here are extremely helpful and experienced, especially when it comes to explaining tricky concepts and building efficient exam techniques. I would definitely recommend their services to anyone looking for tuition for IGCSE/IB subjects!

Review by Natasha Cheong

I started IB super not long after my prelims as I still found gaps in my understanding of HL math and econs. Despite my IB nov exams only being months away Bel was very understanding and even went the extra mile of formulating summary sheets to extrapolate my weaker topics and those that were of higher weightage to target. Thanks to her I'd managed to pull a Low 4 to a high 6.Results are one thing but personally I was always looking forward to attending lessons at IB tutor not only was I imparting knowledge for my IB examinations but study techniques that as of now I can transfer to other aspects of life. Not to mention finding my style of learning that suits me the best! Being a relatively lazy student I started taking ownership and initiative to even head down to do some practices apart from the lessons. I'll recommend anyone who's willing to transform their grades and make not only their parents proud but themselves. Cheers

Review by Binghui Yau
The reason why most students fail economics, according to Triquetra economics tuition centre, is their misconception that economics is a complicated, abstract, complex subject with indecipherable theories and concepts.
Triquetra tuition centre aims to untangle all the technical aspects of the syllabus and reteach the subject in a way that students can understand intuitively, which is not just memorization, but a tried and tested methodology to build a strong foundation in the subject. After this, students will be equipped with exam techniques and strategies to ace their economic exams.
In fact, a comprehensive learning pathway is spelt out by the tuition centre from JC1, concentrating on the content mastery of microeconomics topics before moving on to macroeconomics topics in JC2. Triquetra tuition centre utilised a student-based approach to JC economics to make learning easy and enjoyable for their students.
Name

Triquetra Tuition Centre

Website

https://www.triquetratuitioncentre.com/

Contact Details

Email: triquetratuition@gmail.com

Call/SMS/Whatsapp: 6553 0050

Outlets

190 Clemenceau Avenue #03-14/15 Singapore 239924

Level & Subjects

JC Economics

Unique Selling Points

Specialised tuition centre: specialised in catering to economics tuition for JC students, helping them with JC1 promos and A levels

Structured programme: a comprehensive and structured economics pathway laid out for JC1 promos all the way to JC 2 A levels

Learning environment: positioned as a student-based and student-friendly tuition centre, where lesson format and materials are easy to understand and friendly for weaker students

Promotion: 20% off the first lesson for new students

Students' reviews

The tutor changed my perspective of economics completely. I still miss attending his class because of how structured and organised the approach to topics became! In terms of results, I moved up from an E at prelims to receive an A for my As. Introduced my younger sis here and she enjoyed it so much! She got an A too. But really the greatest learning was that we all need to have passion in what we do! If we have passion, that drives us - brought to life by the tutor. First time loving it when I attend tuition class more than once a week sometimes.

Review by Lyd T

I joined Triquetra about a month before my J1 Final Examinations, and after coming for lessons I could understand the concepts a lot better. Mr Lim was a very patient and creative teacher, and I always loved coming for lessons! From disliking Economics and putting off studying Economics, Mr Lim's classes made me love Economics and look forward to lessons. He always provided a good balance of content and practice, and even when he went through answers, he would reinforce the content, making lessons very productive and effective. During content lessons, he would give us his own notes, and he also taught us how to make our own concise summary notes for all of the chapters. He explained the most complex of concepts in a really simple manner and made sure everyone could understand it easily. He also gave an abundance of practices, along with his answers and the model answer keys. In addition, Mrs Lim was a huge moral support to all of us and constantly encouraged us with little anecdotes, which kept me going! Also, there are little tidbits, cup noodles and beverages for us to munch on during lessons, and this was especially helpful for me when I came directly after school and didn't have time for dinner. I definitely wouldn't have gotten my `A" for H2 Economics without the two of them. Thank you so much, Mr and Mrs Lim.

Review by Sowmiya Rajan

I remember being very excited the first time I went for Economics tuition lesson at Triquetra, because of my sister who attended lessons 4 years before me and told me all about it! I was definitely not disappointed as the first lesson I had in J1, all the way to the last lesson I attended in J2 were clear, interesting and comforting as it gave me hope. I could actually understand concepts and was able to draw conclusions of my own with regard to case studies and tricky questions. Mr. Billy Lim's cheerful and approachable character, together with his enthusiastic manner of teaching never failed to make each student keen to learn. I found the lessons so helpful and enjoyable that I called many friends to join me, and introduced many juniors to this little bomb shelter in Bishan! I didn't even have to refer to my school notes while studying for my 'A's, - the tuition notes were sufficient. The friendly face you meet when you first step into the centre, (auntie Hannah) the snacks provided and the affordable fees are just more reasons why I loved my experience at Triquetra, and I'm really thankful for it!

Review by Apphis Choa
25. Afterskool Learning Centre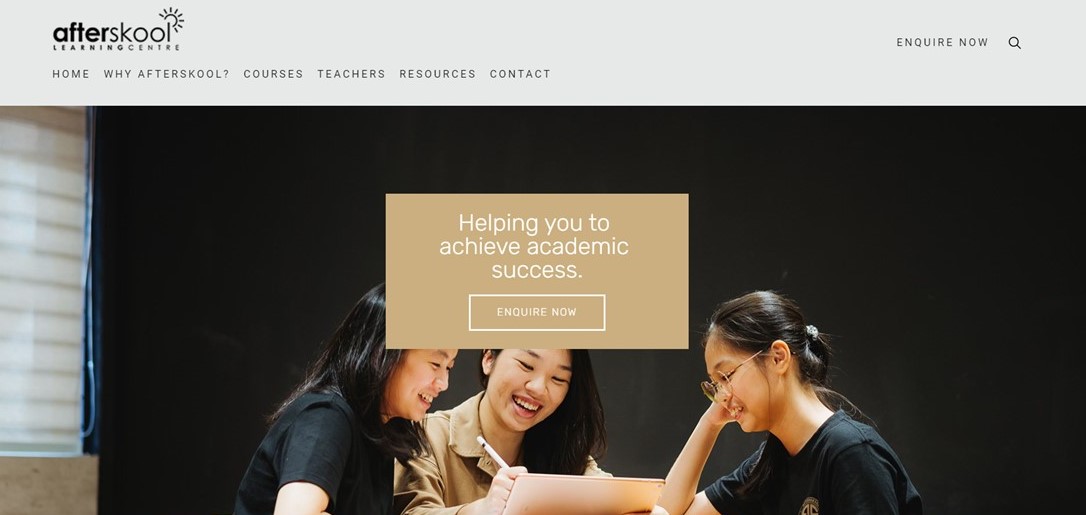 Afterskool Learning Centre is a MOE-accredited tuition centre offering A-level and IB economic tuition subjects. The centre has 18 classrooms that are well-equipped with teaching facilities and even self-study and refreshment areas for students to rest and relax while they catch up with their work.
To provide dedicated attention to each student for more conducive learning, their student to tutor ratio is kept small at 1:8. In the event that there are more than 8 students in a class, a co-tutor will be present to ensure all students can keep to the pace of the lesson.
Their curriculum and materials are regularly reviewed to ensure alignment with MOE's economics syllabus and summary booklets are also provided for students' easy revision. The curriculum is planned to cover topics ahead of the school's syllabus so that students will be left with more revision time to clarify doubts prior to exams. However, intensive remedial sessions are also conducted to help new students catch up with topics covered in the past classes.
Name

Afterskool Learning Centre

Website

https://afterskool.edu.sg/

Contact Details

Email: admissions@afterskool.com.sg

Call: 6339 6787

Outlets

31 Holland Cl, #01-215/217, Singapore 270031

Level & Subjects

JC Economics

Unique Selling Points

Customised materials: produced in-house and regularly updated to be aligned with the MOE economics syllabus

Qualified tutors: full-time tutors are certified by MOE or ex-school tutors that are domain subject experts and graduates of local universities

Learning environment: fully equipped classrooms and self-study facilities, a conducive environment for learning

Small class size: low student-to-tutor ratio of 1:8 to ensure dedicated attention to each student

Students' reviews

Personally, Afterskool has boosted me academically and has helped me grasp on to the concepts i used to struggle learning. Would recommend to anyone looking for a reliable tuition source.

Review by Gerrard Choo

I am a student at AfterSkool Learning center and I feel that these classes have been very helpful for me as they have raised my scores greatly and have allowed me to reach my full potential by providing me with detailed notes with tips on certain topics. The teachers are also very responsive and willing to help, and always answer my queries quickly and with thorough responses

Review by Daved Lim

My teacher is Zibin and he's super welcoming and friendly! He always takes his time to explain certain concepts to us when we're in doubt. The tuition centre itself is clean as well. The notes are very comprehensive and easy to understand.

Review by Regan Ling
Selecting an Economics Tuition Centre: Points to Consider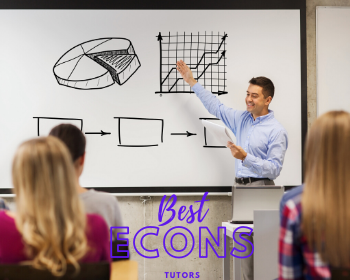 1. Quality and credentials of economic tutors
Whether it is economics at the A level or IB programme, the tertiary curriculum is rigorous, demanding and challenging. Therefore, it is crucial that the economics tutor has the right credentials to teach the subject.
It is preferred that the tutor has at least a good bachelor's economics degree from a reputable local or overseas university, as he or she would be better able to translate the specific economics learning objectives from the syllabus and impart them skillfully to the students. Usually, this means being competent enough to break down, explain and reinforce abstract or complex economics concepts for students' easy understanding.
Getting an experienced tutor is advantageous due to the format of economics exams that require students to write essays and case studies. A tutor with richer teaching experiences would have knowledge of the economic themes that students typically have issues with and develop exam strategies to help them score more points in exams.
2. Economic curriculum and programme structure
Economics is a broad and diverse subject that follows a thematic syllabus. Depending on the programme, it can span across topics including macro and microeconomics, and international and behavioural economics. If you think about it, that is a lot of content and materials to be completed at the pre-university level.
To do well in exams, it is important to ensure that the curriculum and materials in the tuition centre follow either the A-level economics examination syllabus or the requirements for the IBDP economics assessment.
The tuition centre needs to have a structured programme that helps students to score in the different aspects of the exams or assessment, such as tackling essay questions of a variety of topics, case study practices for A levels or commentaries for IBDP.
3. Track record of tuition centre
Track records such as the improvement of grades by students after signing up for economic tuition lessons and testimonials on Google, and Facebook are good indicators of the quality of the tutors in the tuition centre.
Established tuition centres that have been around for a longer period will have a more longer history of students' performance which you can review. Alternatively, you can talk to other parents in the community and ask about their experience with the tuition centre.
4. Resources to supplement student's learning
As there is no standard textbook for economics subject at both A level and IBDP, as students are expected to read widely and extract knowledge from different credible sources to effectively present their arguments and viewpoints.
Therefore, supplementing students' learning with quality materials and notes is as important as teaching during lessons. There need to be sufficient real-world examples of the application of economic concepts in practical problems and issues so that they can formulate more comprehensive and mature answers in their assessments.
5. Tuition fees in relation to class size
Do not fall into the fallacy that an expensive branded tuition centre or a well-known star tutor that charges sky-rocket fees will definitely help you ace your economics grades.
Tuition fees are usually affected as what is known as 'market forces' in economic terms including class size, a rental fee of a tuition centre, number of tutors teaching that subject. Consider your learning style: whether you would benefit from a bigger class where there is more exchange of ideas or a smaller class with more individualised attention, and of course, your budget.
Private Economics Tuition (Home Tuition)
Unlike other subjects, students need to have a wider range of skills to perform well in economics. This is because the subject itself demands interdisciplinary thinking as well as the exam or assessment format.
These skills include critical thinking, analytical skills, maths and statistics, as well as structured and coherent writing and exam techniques.
One-to-one home tuition can help a tutor identify the exact weakness your child displays when answering economic questions and address it accordingly. For example, whether it is a problem with understanding the concept or poor essay-writing skills.
As compared to a group lesson in a tuition centre, where the tutor must take time to address the challenges of all students, hiring a home tutor allows your child more time to cover the other topics in the economic syllabus.
Private economics tuition is especially helpful for IBDP students as experienced home tutors can provide guidance on their internal assessment to ensure that their portfolio of commentaries is relevant and will help them to score the highest possible marks. IB students will benefit from private tuition so that they can apply higher-order critical thinking skills to present their arguments in external economics examinations.
If your child is sitting for important pre-university economic exams in that year, such as the A levels or IB external exams and they need to gain admission to a university course related to economics or finance, you have little time to waste. Help them gain a solid foundation in economics by engaging the services of a tuition agency like Tutor City to hire a reliable home tutor. We help you save time and effort by matching you with suitable tutors for your child based on your requirements at no cost.
Conclusion
For most students, learning economics at the A levels or IBDP levels can be a daunting experience because they had no prior exposure to learning a social science subject previously.
The unique assessments for economics subject require students to not only have a good grasp of concepts and theories, but they must also be able to formulate, structure and then articulate well-thought-out arguments that display their critical thinking, and maturity in a clear and concise manner.
That is why a good economics tuition centre need to (i) help break down complex economic concepts, (ii) show students how to apply knowledge in real-world case studies and scenarios, and (iii) impart essay and case studies formulation and writing skills.
Nearly all of the economics tuition centres we listed above have met these requirements and are good options to consider when looking for the top economics tuition in Singapore.